Blue WhatsApp APK offers you amazing customizability options that allow you to personalize the theme and color scheme, added privacy settings for each contact and chat, and even recover deleted chats.
There is a voice call-blocking feature too that can help you completely turn off the calling function in those scenarios when someone is disturbing you.
This modded Blue WhatsApp let you schedule messages that will be automatically sent to the assigned contact at a specified date and time, a feature that comes in handy when you are busy and wants to send a time-sensitive message to someone like a birthday/anniversary wish or a deadline reminder.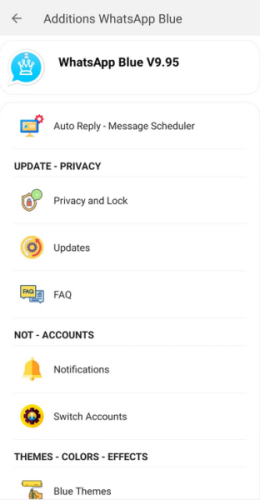 You might have never heard of many unique features before being offered in the official WhatsApp. So continue reading as we provide you with details about each one of them...
Features of Blue WhatsApp
Here is the list of features available in Blue WhatsApp for Android. We have described each one of them to help you figure out its usage:
Fully Hide Last Seen: You can completely hide your last seen and online status from all of your contacts even while you are online and using the app, it will not show anyone that you are online.
Last Seen on Homepage: You will be able to see the last seen preview for all your contacts directly on the home page of the app, this way you don't have to open your contact's profile to see when they were last online.
Based on GBWhatsApp: Blue WhatsApp is based on the well-known GBWhatsApp mod platform so you are going to find almost all those features but with some enhanced changes and modifications.
Identify Broadcasted Messages: On original WhatsApp, you can never tell if the message you received was broadcasted or personally sent to you. But with Blue WA you can identify which message was broadcasted.
View Disappearing Media Unlimited Times: Gives you a superpower to keep disappearing photos and video files in the chat and view them an unlimited number of times.
Download Disappearing Media: You can download disappearing media files and store them on your device, which means you can even share them with other contacts or on other social media platforms.
Quick Backup and Easy App Updates: This allows you to create a quick local backup of your WhatsApp data including conversations, videos, and pictures, which can then be easily restored once you have performed the update or installed a newer version.
Multiple Media Files Transfer: Unlocks the ability to transfer over ninety pictures and videos at a time to any of your contact or group.
Receive Calls from Specific Contacts Only: You can select any specific contacts and only those will be able to call you while the rest of the numbers will be blocked and won't be able to reach you via WhatsApp audio or video call.
Hide Typing and Recording Status: If enabled, your contacts will not be able to see whether you are typing a message or recording a voice note.
What's Modded in WhatsApp Blue
Apart from the usual features found in most of the modified WhatsApp variants, here are the features modded in the WhatsApp Blue for Android:
Status Length Increased: Originally WhatsApp status lets you use limited words but this mod increases the total length to over 250 characters.
Access to the Theme Store: With a theme store, you can customize the user interface and user experience of WhatsApp by downloading and applying custom themes.
Modify Emoji: You have the freedom to modify emoji and personalize it according to your liking.
Group Statistics: You can easily see the overall statistics of the group in the form of a counter along with detailed stats.
Ban Proof: Usually the usage of unofficial WhatsApp apps or mods bans you from the server but this app comes with a ban-proof functionality to avoid unexpected closure of the account.
Video Size Limitation Enhanced: Send full-length videos in Full HD quality of over 30MB without clipping the video into smaller chunks.
HD Videos: Send videos to your friends directly or to a group without compromising on the quality.
Preview Media without Storing on your Phone: You can preview all the media files sent to you without actually downloading them to your device, which helps you cut down unnecessary storage usage.
Copy Status: With the mod, you can easily copy any of your contact's existing WhatsApp status and use it as your own, all with just a tap of a button.
Support for Documents: Although the original WhatsApp document sharing feature supports many document formats the mod enables you to send documents in more than a dozen different formats including zip, xls, doc, txt, vcard.
Modify Ticks: Customize the look and feel of double ticks and single ticks as per your liking; you can even transform it into a bubble format.
Clickable WhatsApp Stories Links: Links shared in WhatsApp stories are not clickable, but if you are using BlueWhatsApp and your contact has shared a link in the story then you will be able to click the URL and directly visit the website.
Easily Copy Messages: If you have ever copied messages from WhatsApp conversation then you must have experienced how it includes name and timestamp, this app exempts that.
Auto Reply: You can configure your WhatsApp to automatically reply to incoming messages, which is similar to the WhatsApp Business account feature.