Clash of Clans apk is one of the most highly popular and widely played online games ever designed for mobile devices. Do you like multiplayer games and want to play CoC on your phone? Here you will find the downloadable Clash of Clans files for your Android phone/tablet.
Clash of Clans is one of those kinds of games where you need to build your own village, add defensive units to protect resources, and then go all frenzy with your troops to destroy your opponents' kingdom, strategically demolish their resources, and collect loot.
CoC is a massively multiplayer online game and a strategy-based game where the bases are built and destroyed online so you need to tactically place your buildings, resources, and defensive units to stop the opponents' troops from looting your resources and minimize the overall damage to your village/base.
But, it's not that simple because there are lots of aspects that you need to take care of while building your base and attacking your opponents, read more to find out…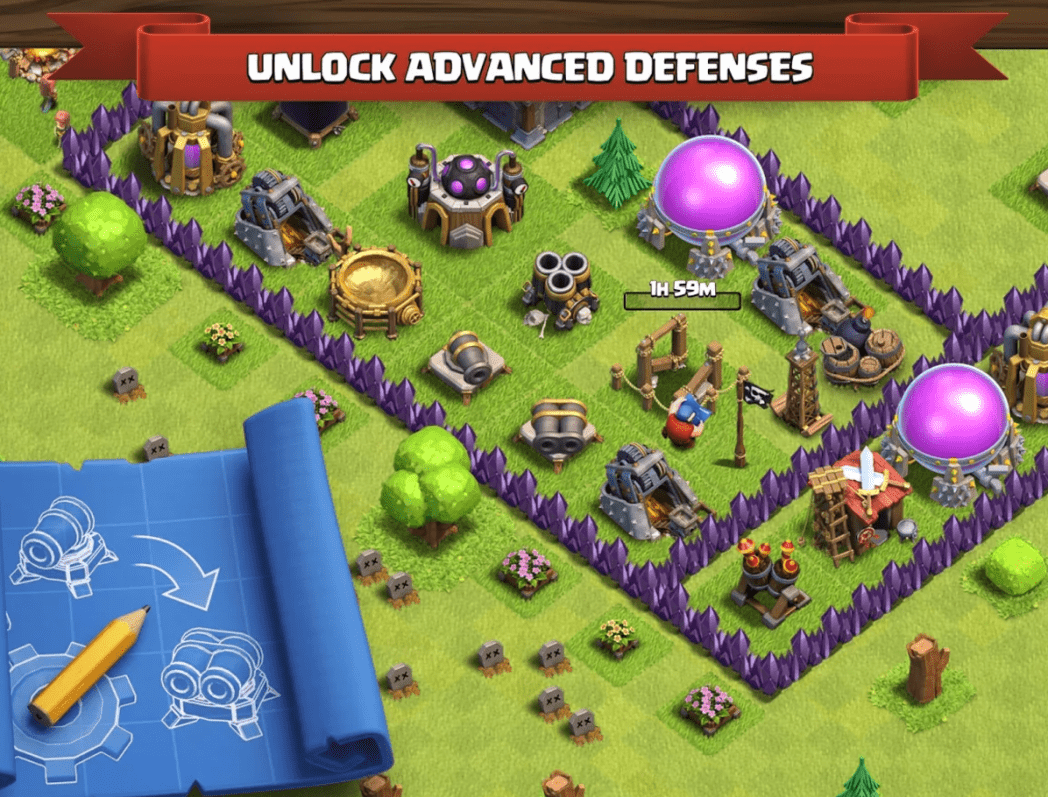 Features of Clash of Clans for Android
Because of the staggering features being offered by the Clash of Clans and the amount of strategizing and planning the whole gameplay actually requires, it has become one of the most highly addictive mobile games in history. Here are some of the features that make it stand out from the crowd:
Builder Base – Inclusion of a completely new world to the game, where you will discover new buildings, troops, and upgrades along with a renewed versus battle mode.
Defend Your Village – The village is where all your resources, town hall, and buildings are located. You need to build archers, canons, mortars, and traps to defend against opponents' attacks.
Join Clan – You can start your own clan or join an existing one, which is actually a group of around 50 players who can then take part in Clan Wars to attack the opponent's clan's bases.
Clan Wars – Clan Wars is a team-attacking mode where all clan members attack the opponent clan member's base to win the war. The winning clan will gain the maximum amount of XP, which helps the members in troop donations.
Join League – Successfully attacking your opponent's village will reward you with trophies, which then help you climb the league. Your current league level decides the amount of loot bonus you will receive.
About Clash of Clans
Clash of Clans is a multiplayer strategy-based game that is being designed and developed by a Finland-based mobile game development company named Supercell. The game is based on the freemium model, which means it is completely free to play but you will find some paid in-game items like gems and coins that can be purchased for real money.
However, purchasing those gems and coins is not a requirement as you can earn them by spending time playing the game. Though, if you are looking for a shortcut and interested in quickly progressing forward in the game then spending some real money (only if you can afford it, of course) would be the best way to go.
Apart from the paid features, the game is pretty interesting and consists of a wide array of resources, characters, buildings, defense units, upgrades for troops and buildings, spells, and whatnot.
Demo Gameplay Video of Clash of Clans
Do you want to see what Clash of Clans apk gameplay looks like on Android before downloading and installing it on your phone? Check the short video below: