Send and receive files between devices at the fastest speed without compromising on the quality with Shareit. Simply connect two devices and start the transfer. The transfers are faster and a lot more reliable as compared to regular WiFi or Bluetooth connectivity. The Shareit mod apk we have included in this post will help you get rid of all the ads to offer you a clutter-free file-sharing experience.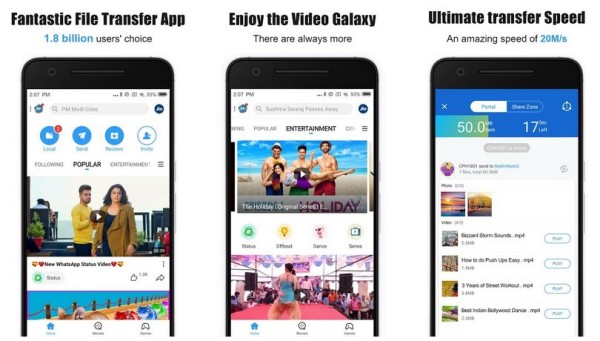 How to Install Shareit Mod?
It is really simple to install Shareit Mod on Android devices, simply follow these steps and you are good to go:
Note: You may need to enable the installation of apps from unknown sources through the Android security menu to be able to sideload/install the app.
Download the Shareit Mod apk file from the download section located at the beginning of this post.
Tap the apk you just downloaded.
Follow the onscreen process to install the app.
Once installed, find the app in the app drawer and launch it. You should be able to enjoy all the premium mod features mentioned in the subsequent section.
What's Modded?
Here are the features that are modded in the Shareit Mod for Android:
Ad-Free: All the advertisements are removed to make sure you can focus on the file transfer tasks rather than being distracted by the ads and popups.
Disabled Analytics: All the analytical and statistical recorders are disabled to avoid getting your data leaked in any way.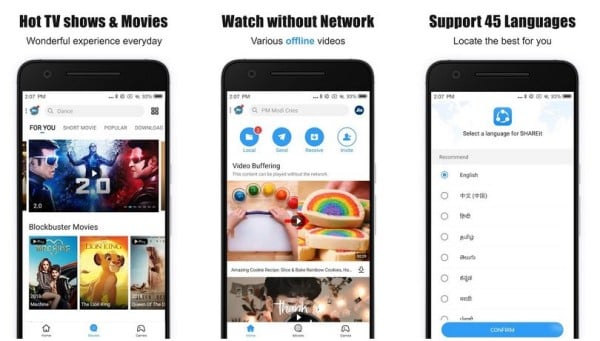 Key Features
In this section, we have highlighted all the key features of the Shareit app:
Quickly Transfer Any File Type: Whether it is photos, videos, apps, music, document, or any other file, you can quickly transfer it and share it with another device without any problem.
Discover Movies and TV Shows: The app has a dedicated section where you can find online videos, movies, and TV shows in various qualities including HD, UHD, and 4K along with the capability to watch offline without an Internet connection.
Find Your Favorite Music: You can discover and find your favorite music and songs as well as thousands of curated playlists, whether you are online or offline, you will be able to enjoy all of them.
Fantastic File Transfer Speeds: You can send and receive files at an unbelievable transfer rate of up to 20Mb/s without compromising the quality; however, speed totally depends on your connection.
Native Video Player: Although it is designed as a file-sharing app since it is mostly used among users who share large file types like movies, HD videos, and music videos so developers have included a video player within the app to make sure you are able to play the files without any issue.
Great Audio Player: A powerful and feature-rich audio player has the capability to play any music format whether it is MP3, M4U, AAX, WAV, and FLAC along with an equalizer that is capable enough to make the music listening experience immersive.
Find Content In Your Local Language: There is support for over forty-five popular languages and you can freely select whichever you find the most suitable.