ToonApp apk is one of a kind app for Android designed to turn any regular photo or a selfie into a cartoon using the power of artificial intelligence (ai).
It is a powerful AI-based photo editing app that comes with various capabilities to transform your usual photo into an avatar, sketch, or even a toon.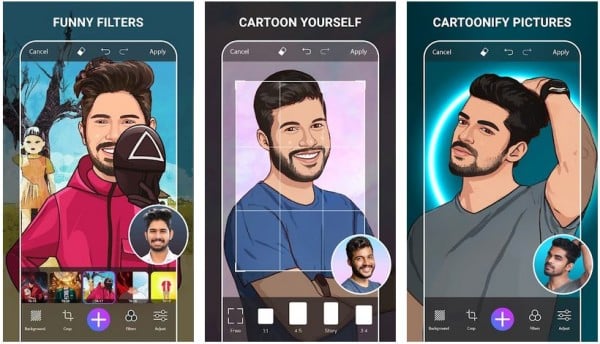 Features of ToonApp AI Cartoon Picture App
Here are the key features of ToonApp for Android:
Funny Filters: There are a lot of funny filters that can transform your simple photo into a cartoonist-styled photo.
Make Avatars in One Tap: Creating avatars has never been easier. With just a simple tap, you can make avatars out of your photos.
Various Layouts: Layouts and styles help create unique photos out of a collection of multiple photos.
Cartoon Filters: The app has a huge collection of cartoon face filters that cannot only help transform your existing photos but can be applied to new photos as well.
Edit Existing Cartoons: If you have already edited any photo with ToonApp then the app allows you to re-edit that photo.
AI-Based Software: Comes with built-in photo editing tools that can transform your regular photo into a toon. Like a pro.
Cartoonify Selfie: There is a huge collection of digital art filters you can use to cartoonify your selfies. Even any existing picture from your gallery.
Magic Brush: With multiple options to edit photos, the magic brush has various effects like a star, glowing heart, and color splash. All of which can help cartoonize your photos.
About ToonApp
ToonApp is one of the best apps to turn yourself into the cartoonized version, and that too with just a simple tap.
You can use any of your existing photos or capture a new selfie. Then apply filters and transform a photo into a cartoon.
There are multiple layouts and templates designed to give yourself a cartoonized and avatar look. If you are interested in some vector-styled art then you can use sketch effects and pencil-style filters.
These filters and frames work very much similar to the ones offered by Instagram, Snapchat, and TikTok.