We all have experienced how most of the Android phone's front camera produces low-quality photos, which becomes annoying when you are trying to take those picture-perfect selfies with your friends but unable to do so. This is where Android selfie apps come in handy.
These apps offer interesting features that let you improve the overall quality along with filters and special enhancements for group selfies, color tones adjustments, beautifying eyes, correcting face structure, adding background blur in real-time. Some apps even let you reshape your body features.
Selfie camera apps, as compared to the stock Android camera app, are designed to significantly improve the overall quality of your photos since the majority of entry and mid-level smartphones and tablet devices' front-facing camera have a weak lens and lack quality.
These apps are so powerful they even allow you to directly share your photos to instant messaging and social media platforms like WhatsApp, Instagram, Facebook, or Twitter.
#1. Retrica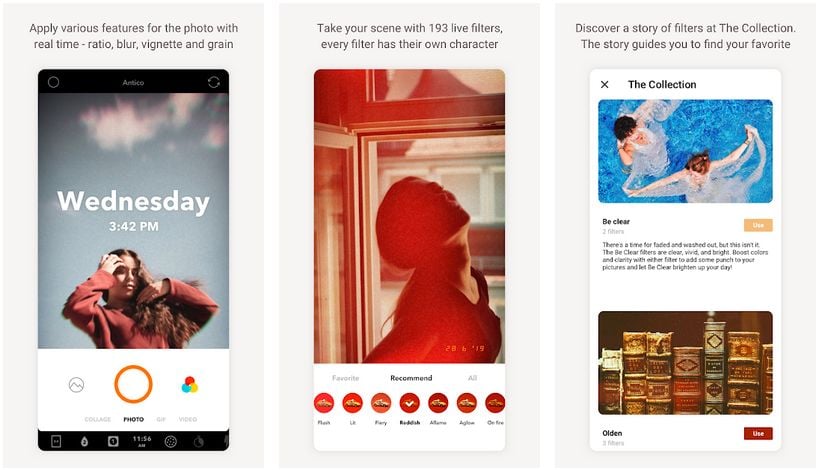 Retrica is one of the most widely used apps for the selfie that consists of more than a hundred real-time filters, which you can use while capturing photo and video selfies with your friends.
The app comes with a private album functionality allowing you to make your very own album with your friends, which makes it even more convenient for you to share the moments you captured together.
There are numerous bonus functionalities like the collage with dozens of layouts and a photo editor to quickly enhance your selfie as well as the ability to transform your collage shots or video into GIF.
A vast range of real-time filters and collage layouts.
Create selfie GIF using video or collage.
Add frequently used filters to favorites.
Auto-save option not available, and sometimes manual saving takes a while to store to the gallery.
Android Marshmallow users will experience bugs and lags.
Front-facing screen flash option not available.
#2. Camera360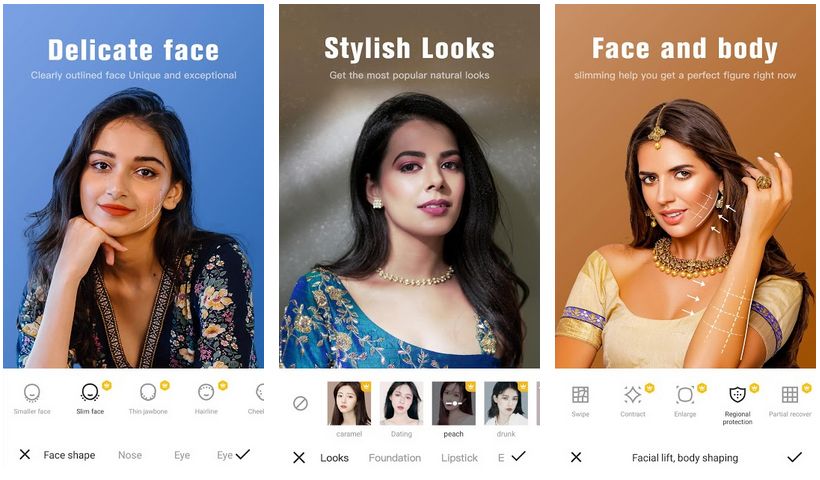 As the name itself suggests, Camera 360 is an all-in-one camera and photography app that let you take beautiful selfies along with customizable filters, cartoonish effects, funny and sketch stickers.
The app is not only limited to selfie capturing capabilities but it allows you to edit photos as well and the good thing is it's easy to use.
The beauty camera will let you stylize your shots with selfie filters like big eyes, slim nose, attractive lips, slimmer face, and a lot more quick and easy touch-up functions so that you can take perfect selfies with your Android phone.
Hundreds of stickers for pictures categorized under sketch, smart, emoji faces, animated, and music stickers.
Live face filters including artistic filters and a variety of photo effects specially designed for the selfie.
Create a photo collage using grids, frames, and layouts.
Front-facing screen flash option not available.
#3. Candy Camera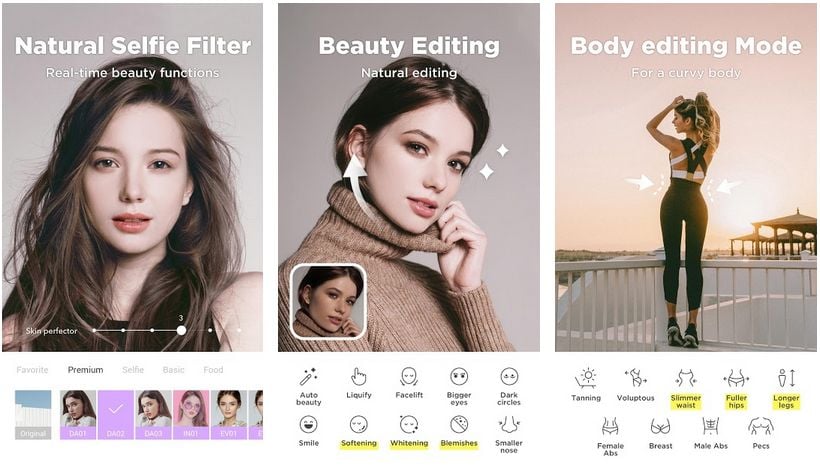 Candy Camera provides you the best face optimization techniques like face softening, whitening, facelift, blemish removal, lipstick, eyeliner, and several other features to help you capture beautiful selfies.
The app comes with a huge variety of real-time filters for realistic-looking selfies and different photography conditions that will help you make you and your skin look pleasing and attractive.
Once you have captured the best selfie, you can then personalize it using stickers for every occasion and event. And every sticker is easily resizable which will further let you add a unique touch to your photos.
Add your frequently used filters to favorites for easy access.
Wide range of real-time filters and tons of stickers specifically designed for selfies.
Take selfies silently with Candy Camera's silent mode.
Slow camera performance on various Android devices.
Captures pictures in slightly lower resolution, which sometimes results in bad photo quality.
#4. B612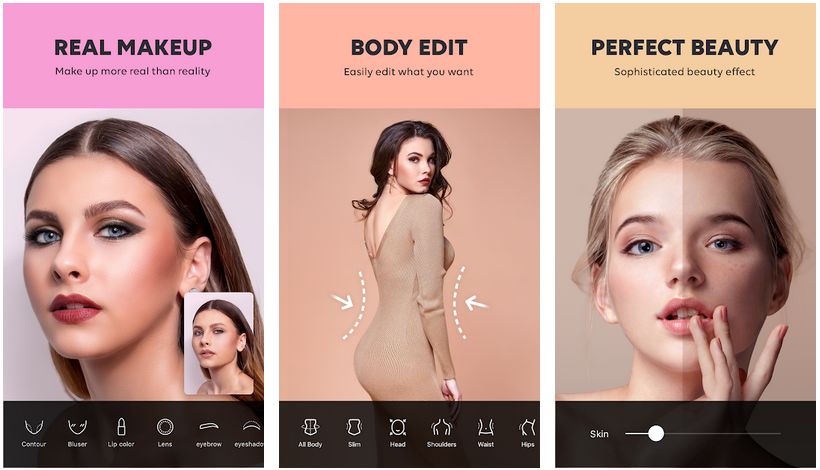 The B612 app is developed by LINE Corporation to help you capture every moment in the perfect way, no matter where you are and with whom you are hanging out.
And to let you capture that perfect selfie, there is a handful of filters that are specially designed to help you enhanced your selfie and collage shots.
The app comes with some unique effects and stickers that are based on the facial recognition system that will allow you to take exclusive selfies photos and videos.
More than twenty selfie filters.
Facial recognition based animated stickers and effects with sound.
Additional camera features like tilt-shift, timer, photo resolution, and vignette.
Compatibility issues with some Android tablets and phones.
Sometimes captured photos lack clarity.
Animated stickers and effects require an active Internet connection.
#5. YouCam Makeup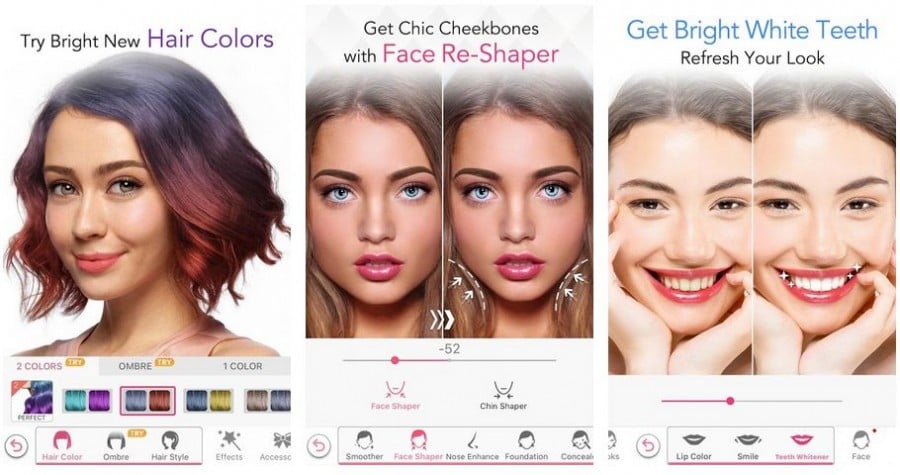 YouCam Makeup is a selfie makeover app that transforms your look in real-time using the stunning makeup selfie cam. This app would be very helpful in those cases when you want to try some makeup on your face but don't know how it will look.
To help you with the transformations, the app brings you a huge collection of lipgloss and lipstick in a variety of matte and glossy colors. The cosmetics are not limited to that, you can even customize your eyes with eyeshadows, mascara, eyeliner, and lenses to change eye color.
In order to complement the makeup, the apps come loaded with a large number of accessories including a hairband, necklace, glasses, earrings, teeth whitening, and whatnot. And all of that can be applied in real-time to give you that glamorous look.
Provide you a virtual cosmetic kit for an easy makeover.
Automated beautify mode to enhance your selfie.
Adjust the size of your face and eye while taking a selfie.
Sometimes the app becomes unresponsive.
Facial recognition might not work if you are wearing spectacles.
#6. Cymera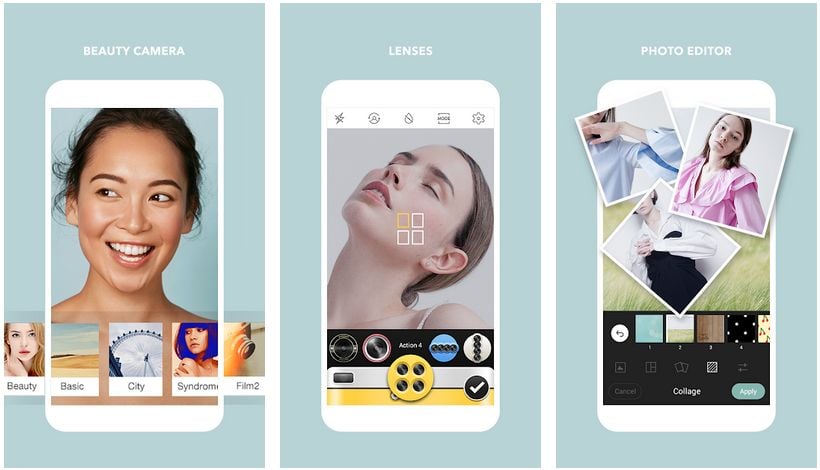 Cymera is a feature-rich selfie app that gives you more than hundreds of professional like filters so you can capture selfies with remarkable results. And you won't have to spend much time choosing the best filter or effect because each one of them is skillfully designed to give your selfies a natural look.
There are additional selfie filter packages that can be downloaded for free right from within the app. And in the editing section, you can even shape and modify your body with body-shaping features.
When you are taking a selfie, Cymera provides you with unique camera lenses like fisheye, lomo, divided, and many others as well as additional features like timer, anti-shake, touch-to-shoot, blurry backgrounds, and a lot more to enhance your shooting capabilities.
Support for Bluetooth enabled selfie stick.
Silent mode to help you take selfies quietly.
Hundreds of filters, effects, stickers, masks, retouching options, and editing tools to help you capture a flawless selfie.
Video recording not supported.
#7. BeautyPlus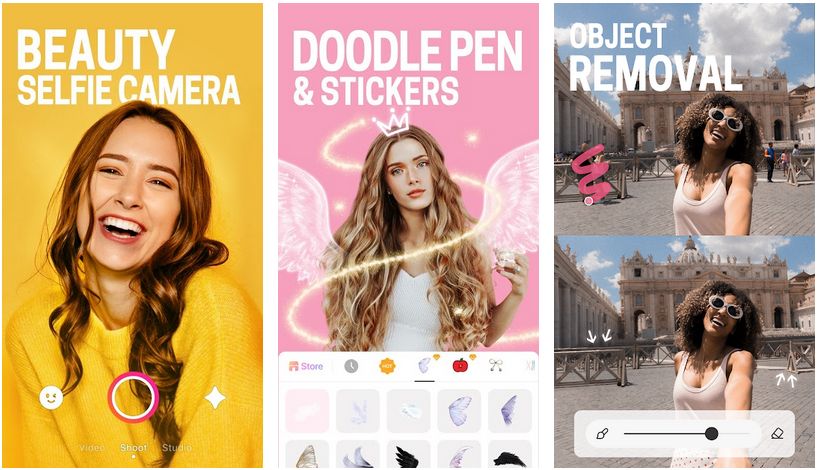 BeautyPlus is a selfie capturing app allowing you to take a natural and beautiful photo and video selfies with ease, even after retouching.
If you compare this app with others in the list, you will get to know that BeautyPlus comes with lots of features and functionalities to help you take perfect selfies, and then, in case you find any imperfections, you can retouch it using the built-in editor to have that stunning selfie.
The unique feature of BeautyPlus is live auto-retouch that will automatically edit your video and picture selfies using multiple effects and filters. Once done, you can then preview your clarity and beauty adjusted selfie before saving.
Magic Brush to fill your selfie with unique brush effects like glow, bokeh, stars.
Live auto-retouch feature to automatically edit your video and photo.
Dozens of photo and video editing functions.
Limited selfie video recording time.
Unable to save pictures on some Android devices due to compatibility issues.
#8. LINE Camera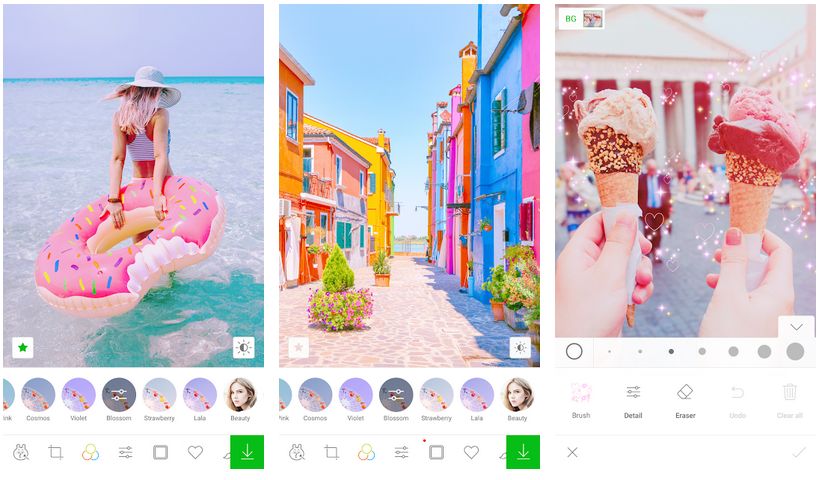 Similar to what we have covered on this list until now, LINE Camera will also allow you to capture selfies, record videos, create photo collage and even edit your selfies stored on your phone or tablet.
What's different in this app is the type of filters, thousands of sticker stamps, brushes, live filters, and beauty features. You can easily use all of these to make your selfie stand out from the rest.
LINE Camera just makes it stress-free and simpler to capture a selfie, add some personal touch to them, make them unique, and then share with your friends.
Beauty effects and live filters specially designed for selfies.
Use classy text, trendy brushes, animated stamps, and lively stickers to decorate and stylize your digital photographs.
Limited text-editing capabilities.
Picture quality is not up to the mark.
The app lags on some Android phones.
#9. YouCam Perfect
YouCam Perfect comes with real-time skin beautifying effects and filters that work perfectly on video and picture selfies. It is designed to make you look picture-perfect in every selfie you take. And the short-length video selfies are aimed towards making your memories come to life.
And in case the selfies you took with your friends on your last vacation trip were slightly deformed due to bad capturing angle then you can quickly fix them using the unique Face Reshaper tool.
Moreover, you can even hide that exhausted and tired face captured in vacation photos using the powerful YouCam Perfect selfie remodeling and editing tool, and make yourself look fresh rather than deleting those memorable photos.
Multi-face detection to help you easily touch up everyone in a group selfie.
Capture beautiful selfie video and photos with filters and frames.
Variety of aspect ratios for shooting photos and videos.
Pictures take a while to save to your phone.
Bluetooth enabled selfie stick might not work.
Front-facing flash not supported.
#10. Lidow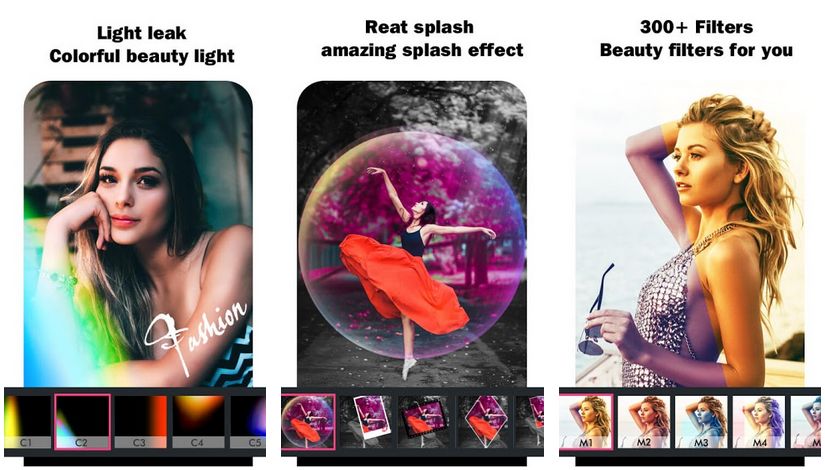 Photo Editor Lidow Snap Pic is an all-in-one app that has gained a lot of popularity among selfie lovers because it offers you the features allowing you to capture beautiful selfies with hundreds of marvelous and spectacular filters and effects like a season, fade, film, mirror, fisheye, color splash.
That was for the capturing phase of your selfie, and once you have done that, you can then edit those selfies using the built-in editor. It provides you the features like background modification, collage maker with dozens of layouts, a large number of color effects that can be further combined with different shapes to give your selfies a professional touch.
Easy to use, which makes it speedier for you to capture and edit photos.
A brilliant collection of filters and effects.
The editing capabilities are not powerful enough as compared to others in the list.
Frequently crash while editing on some Android smartphones.
Saving functionality may not work at times.
#11. Sweet Selfie Camera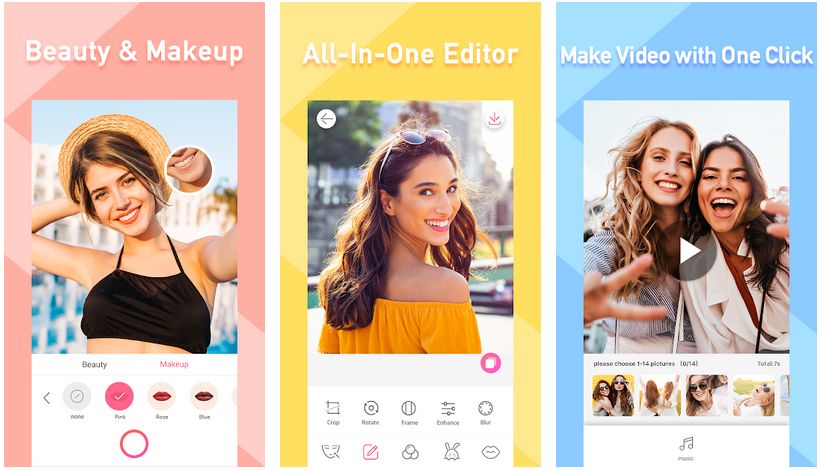 Sweet Selfie Candy Camera is a photography app specifically targeted towards those who love to quickly capture selfies with delightful filters to be able to get attractive photos, no matter where you are and at what time you are taking pictures.
The native smart auto beauty feature will help you capture natural-looking pictures without modifying any settings. And in case if you are one of those who would love to tinker with the features then there are options like retro, blur, vignette, and collage layouts to add that glamorous touch to your selfies.
Real-time stylish and fashionable selfie filters.
Emoji and stickers to decorate your photos.
Support for Bluetooth enabled selfie stick.
Photos are not stored in high definition quality.
Video support not available.
#12. Camera360 Selfie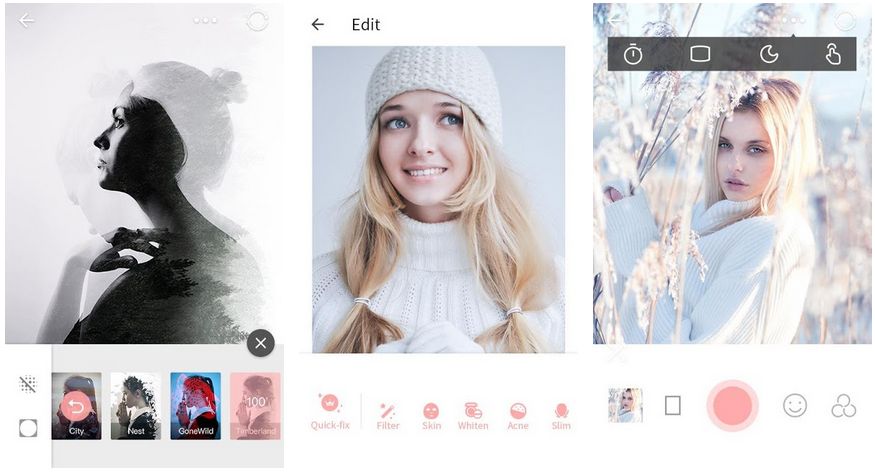 Camera 360 Selfies is one of the top apps on the Google Play Store and it is trusted by many due to the fact that it provides the best utilities and features to capture portrait selfies.
There are over hundreds of camera effects and stickers that you can use to prettify your ordinary photos and make them extraordinary, with just a simple few tweaks and enhancements like airbrushing, highlighter, photo decorator, changing or modifying backgrounds, all from within the Camera 360 Selfies app.
For group photos, you can even use the Quick Snap grid collage feature to quickly capture a series of photos from different angles and then magnificently convert it into a single collage shot, which makes it even more memorable and a lot easier to share with your loved ones.
Quality and amount of filters are brilliant.
Ability to capture video and photo selfies.
Lacks basic photo editing options like rotate, resize and crop.
Video is blurry.
#13. AirBrush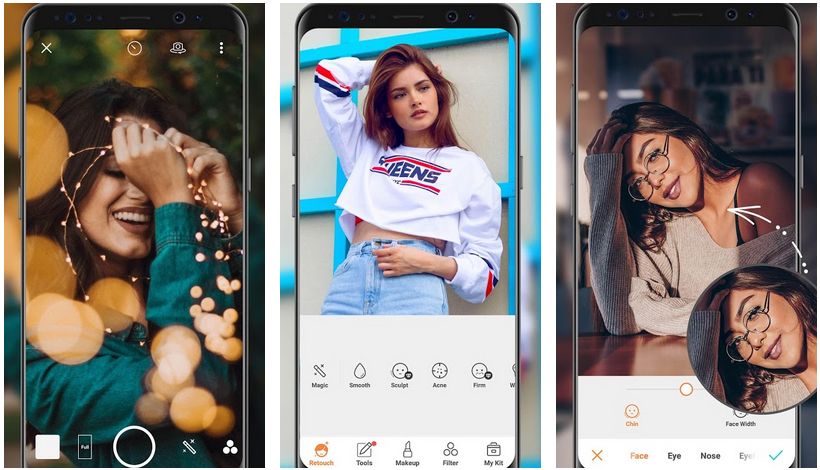 AirBrush is a unique app for a selfie that will allow you to capture photos with utmost perfection.
The unique feature is the real-time editing tool that gives you an option to edit your selfies like automatically removing blemishes even before you capture the picture. This feature is what helps you capture that perfect picture with glam look every single time. And thanks to this pre-editing, you don't even have to spend any time on post-editing.
The best thing about AirBrush is there are tons of photo editing options and the developers continue to listen to the users and keeps on adding new snap editing features to provide the premium photo editing standards along with user-friendly tools and filters.
The most hassle-free and easy to use selfie camera app.
Ability to retouch and stylize your photos.
Save photos in HD quality.
The collage feature is not available.
The video recording option is not supported.
#14. Lumyer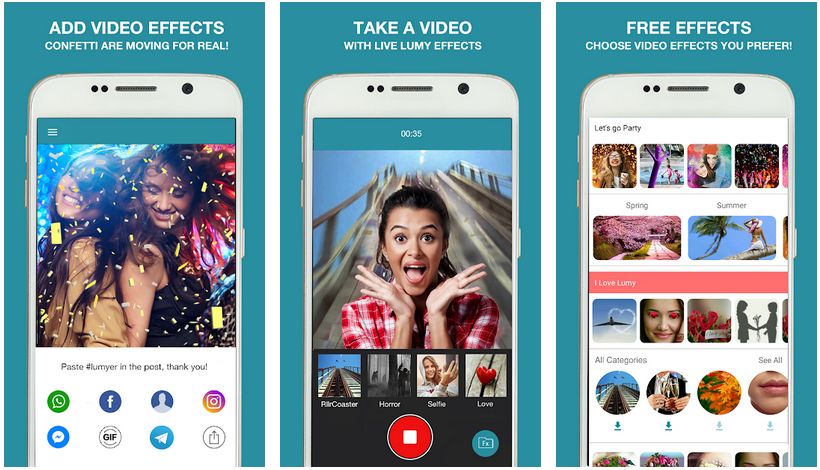 Unlike other selfie apps mentioned in the list, Lumyer is more focused on video selfies and because of that, it provides you with more than a hundred high-quality animated filters to give your selfies a more genuine and realistic feel.
The selfies and photos captured using Lumyer will seem like they have come to life, thanks to the filter animation and effects.
There are so many effects and filters that the database is updated on daily basis by the developers to keep providing you with fresh and exclusive animated filters to better suit every scenery and occasion so that you can keep on creating live photos and selfies.
Hundreds of free animated filters and effects, which can be removed and downloaded from within the app.
Ability to share live animated pics to social networks like Facebook and Instagram.
Filters and effects do not require an active Internet connection.
Consume a lot of space, due to the animated effects.
The app might crash on some phones while editing pics.
Reduces the quality of photos edited using the app.
#15. BeautyCam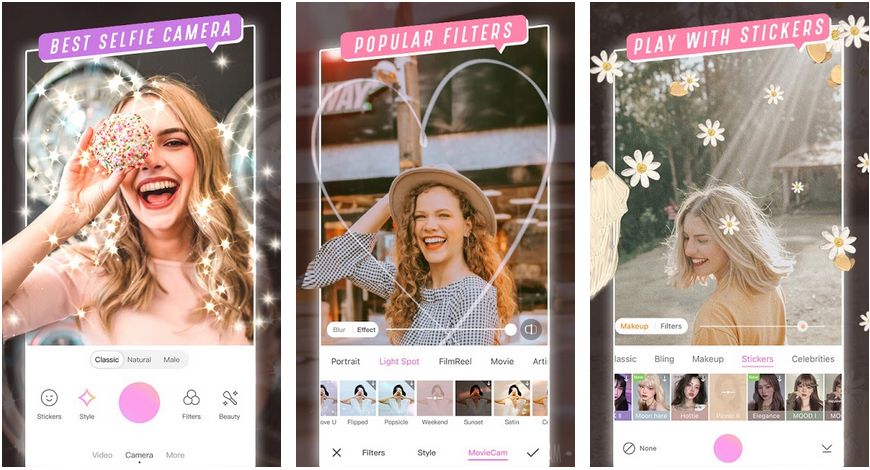 Beauty Camera is a powerful and fun-packed photography app for Android phones and tablets that are designed to help you shoot selfies with the perfect expression, appearance, background, and lighting.
Beauty Camera can help you take pictures with a flawless smile, charming facial expressions, along with perfect complexion.
You can further spend some more time editing your pic using tools like pimples and blemish remover, play with your facial structures, add natural-looking makeup like lip color, eye shadow, shape your eyebrows, add volume to your eyelashes, and a lot more photo enhancement options.
A simplified user interface makes it easy to capture and edit pictures.
Have many live face-filters and stickers to decorate your selfie.
Record video selfies with filters and effects.
No support for front-facing flash.
Some effects are not realistic.
#16. Beauty Camera – Selfie Camera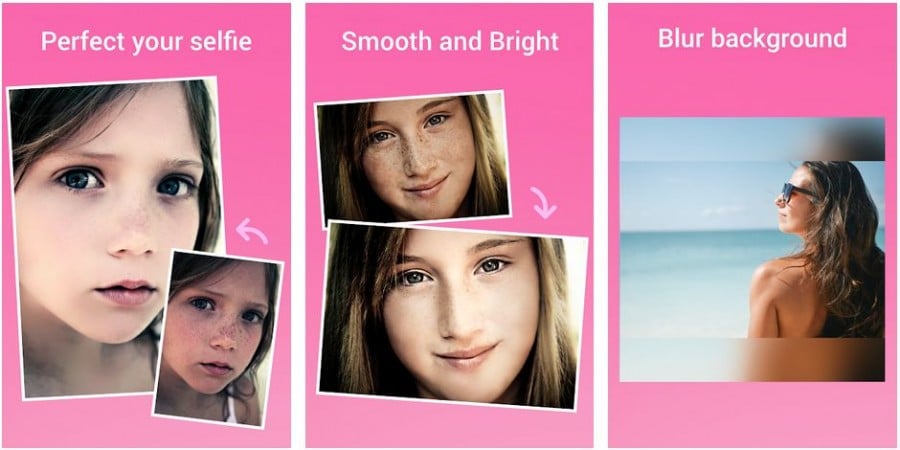 The Beauty Camera is a selfie camera app that contains a great number of options and features to help you capture and edit selfies and photos, and make them look prettier and eye-catching.
The developers of this app claim that the app will allow you to take better pictures in low light conditions. Moreover, you can even do the makeover of your photos to make them look bright and smooth.
To further enhance your photos, the app offers you several special effects like background blur and bokeh overlay to add more detail to the pics while at the same time keeping them in their natural state.
Wide range of adjustable beauty filters to enhance your photos.
Use emojis and emoticons to decorate your photos and make your pics speak for themselves.
Video selfie recording functions not available.
Bluetooth selfie sticks not supported.
The quality of photos captured is not up to the mark.
#17. Noah Camera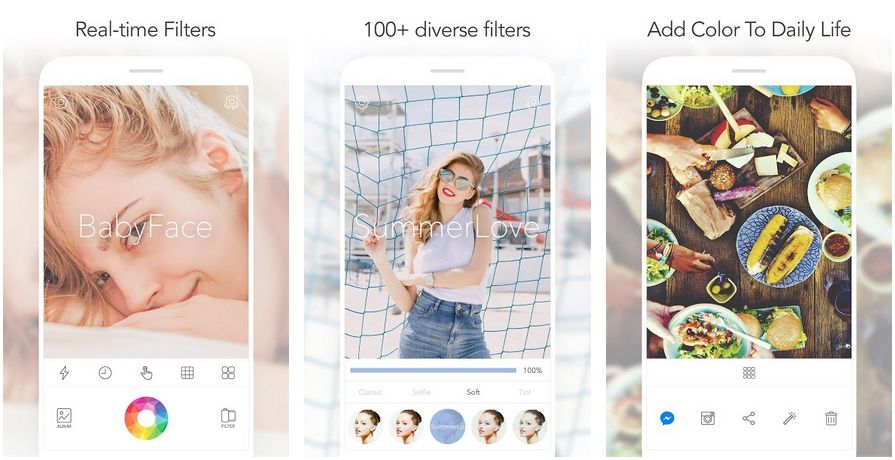 As compared to the other selfie and photography apps covered in this list, Noah Camera is relatively new and offers some quality filters and selfie effects to revamp your pics and make them remarkable so that they express your expressions. And the app is capable of storing high-quality photos.
There are several hundred real-time filters available in the app, which are specifically designed to support you in capturing better photos and selfies using your Android phone camera. And you can easily swipe left and right to choose the most appropriate one according to the event.
More than 100 adjustable filters.
Use the timer function to capture pictures when everyone is ready.
Collage mode allows you to capture in different layouts and sizes.
Editing options might be complicated for beginners.
No option to turn off the Noah watermark.
The camera appears upside down on some phones running the latest Android OS.
Bonus: Retouch Me Photo Editor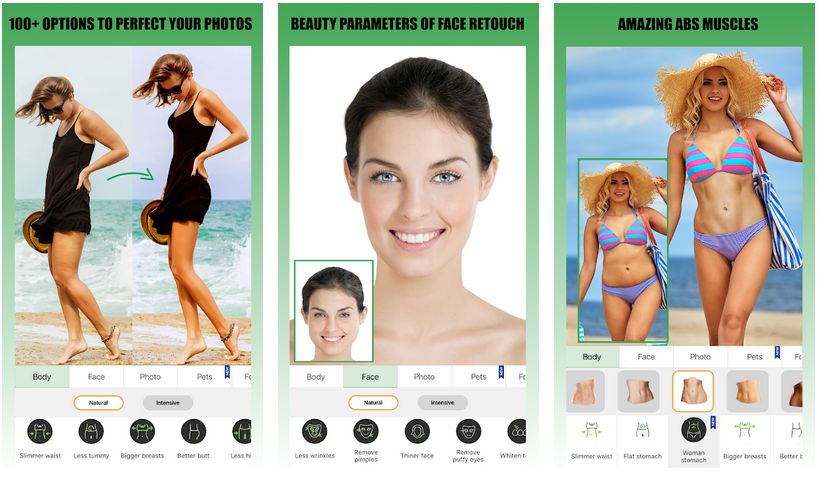 Retouch Me is a unique photo correction service that helps you to get perfect face & body processing without any photo editing skills. It is an amazing app that gives you very professional-looking shots for only $0.99.
Breast augmentation.
Waist slimming & Tummy reduction.
Hips & bun correction.
Taking away the fat folds and cellulite.
Links: Retouch Me Playstore, Retouch Me website
Conclusion
Did you try the top selfie apps we review in this article? Which selfie app did you like the most? And which app offers the best filters and camera effects?
Please share your views in the comments down below. 🙂