Videoder apk for Android is your all-in-one solution to find, discover, and download videos from any social media network or video hosting site on the Internet in 4K and HD resolutions, and then directly store them on your Android device. You can then watch it whenever you want or share it with your friends through social media.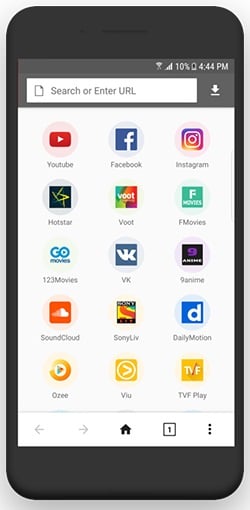 How to Install Videoder?
Videoder apk is easy to download and install on any Android device. Just follow these steps and start downloading music and videos from your favorite social media networks like Facebook, Instagram, and YouTube:
Note: You may need to enable the installation of apps from unknown sources through the Android security menu to be able to sideload/install the app.
Download the Videoder apk file from the download section located at the beginning of this post.
Tap the apk you just extracted and follow the onscreen process to install the app.
Once installed, go to the app drawer, find the app, and launch it. You can now easily download any video in HD and Ultra HD qualities, enjoy all of them without advertisements and watch all the downloaded videos as much as you want without any limitations.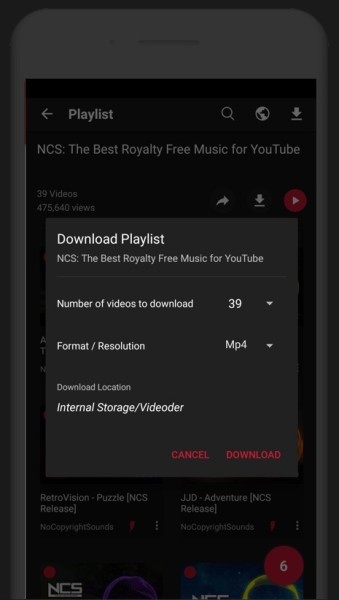 Features of Videoder for Android
Videoder is one of the popular music and video download apps used and trusted by thousands on a daily basis not only to download videos but also to convert videos into MP3 format.
Let's jump onto some of the most prominent features offered by Videoder:
Search and Discover Videos: With the built-in search, you can discover and download videos from thousands of sites including YouTube, Facebook, Instagram, Voot, SoundCloud, TikTok, Vimeo, and numerous other video hosting sites.
Download in Various Formats: You can download videos in various video resolutions including 4K, Ultra HD, HD, and SD. It also gives the option for downloading in MP4, 3GP, and FLV formats.
Convert Videos into Audio-Only Version: The app comes with a built-in converter that has the ultimate capability to convert any video file into an audio-only MP3 format that can be transferred to a music player for audio-only playback.
Built-in Browser with Ad Block: The video downloading app comes with an in-app web browser that has built-in ad-blocking capabilities so that you can browse the web and your favorite websites without being interrupted by ads.
Download Booster: You get a quick download tool that helps in boosting download speeds that helps you download all of your favorite videos and music in the quickest way possible i.e. over ten times faster. And the quick downloading option pops up from where you can download videos in your preferred video resolution.
4K Videos Downloading: This allows you to download videos in 4K resolutions as well as stream and play directly from the player on your compatible Android device.
Support for YouTube Playlist Downloads: If you have a custom playlist in your YouTube account then you can let Videoder open the playlist and quickly download all the videos and music in just one tap or use the drag and drop to add more videos. All you have to do is select the video format.
Night Mode: If you use the app during the nighttime or in a dim atmosphere then enabling the built-in night mode function is going to make it easier for your eyes and improve the overall usability.
Customize with Themes: You can customize the overall interface of the app according to your liking and taste using the preset color theme or you can even customize each aspect using the color palette to give it a personal touch.
Smart Link Detection: Videoder comes with a native link detection tool that comes in handy when you are using an app like Instagram, YouTube, and Facebook and want to download the video or any content that is being played. Simply use the share button, the app will detect it and shows you a popup to download.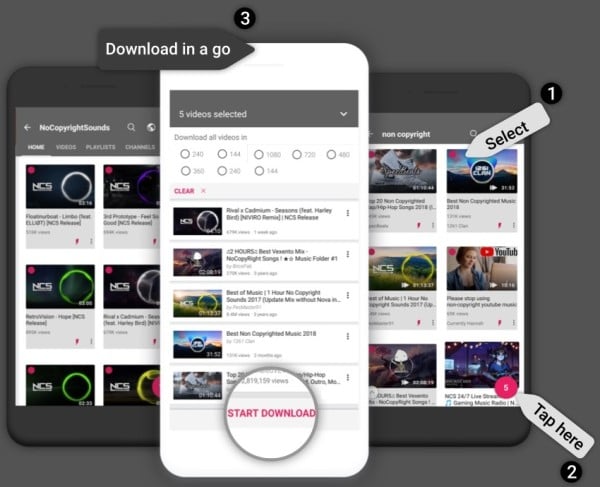 About Videoder APK for Android
Videoder is one of the most highly downloaded apps among Android users to easily grab and download videos from the Internet and quickly store it directly on the device. It is usually used to download videos and music from YouTube and then convert it into MP3 audio-only 128kbps format, which is perfect for music players.
What's amazing about Videoder is its capability to download videos, music, and any other media from more than a thousand sites including YouTube, Facebook, Twitter, Instagram, Vimeo, TikTok, DailyMotion, and SoundCloud just to name a few. And compatibility for new websites is added on a daily basis. And developers are actively trying to improve the compatibility with existing sites too.
Even though the downloading is directly integrated with the system and whenever you copy any video URL the Videoder app will automatically detect and show you a popup to quickly download the video. However, if you are in discovery mode then you can use the built-in browser to find and discover videos from the Internet using Google or any of your favorite search engines. Also, to improve the UX, there is an ad-blocking functionality that allows you to block ads with just a tap.
Since there is an option to directly download videos in MP3 format or to convert any existing video into an audio-only MP3 format, the app allows you to customize and personalize your whole music library with the tag editor that let you add missing aspects like the album cover, album name, and MP3 tags. As far as downloading speeds are concerned, the app is designed to initiate multiple connections that help in accelerating the download speeds by up to ten times, which allows you to quickly download all of your queued videos as quickly as possible, and that too at faster download speeds.