WiFi Tether Router apk for Android can transform your Android mobile/tablet device into a WiFi hotspot. The WiFi Tether Router mod is a tiny little app having the powerful capability to let you share your mobile internet/data connection with other nearby devices without any limitations. :D
The WiFi Tether Router app comes in handy in various cases because many mobile carriers have imposed limitations on WiFi tethering and some cellular contracts even enforce additional data charges if you want to tether your mobile internet connection.
Several providers have dedicated data plans for tethering and mobile hotspots, which need to be purchased individually just for sharing data with your laptop or other WiFi-enabled devices.
Back in 2014, the following clause was mentioned in the T-Mobile USA Terms and Conditions regarding tethering: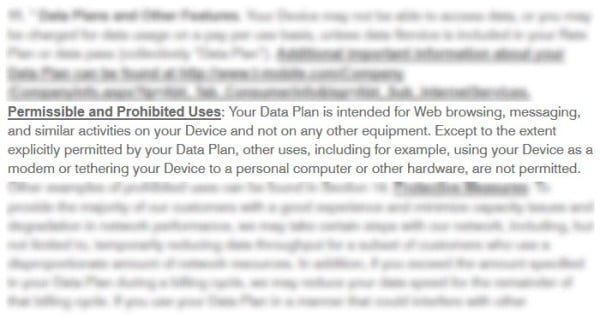 On the other hand, this simple yet great WiFi Tether Router mod is specially designed to help you enable WiFi tethering on your phone and share your existing mobile data bandwidth without paying any extra charges to your cellular provider.
Now, here we are going to share with you all the features and capabilities of this app along with the steps for how to setup and use the WiFi Tether Router app on Android.
If you like WiFi Tethering then you must be interested in the best WiFi hacking apps for your Android phone. ;)
Features of WiFi Tether Router for Android
WiFi Tether Router offers a number of basic as well as advanced features, some of the key features include:
Ability to personalize your phone's WiFi network name (SSID).
Modify the WiFi channel number.
Select WiFi password encryption type (open, WPA-PSK, WPA2-PSK).
Add a custom password for your WiFi hotspot.
Show or hide the WiFi network name/SSID to nearby devices.
Settings for DHCP including pool IP address as well as primary and secondary DNS server address.
Option to blacklist and whitelist WiFi devices based on their MAC address.
Complete statistics for all the data sent and received via WiFi tethering.
WiFi Tether Router mod available here is completely free and ad-free with premium unlocked and patched.
About WiFi Tether Router
WiFi Tether Router is designed and developed by an Italian based mobile app developer named Fabio Grasso with an aim to provide Android users like you with an ability to turn your mobile device into a WiFi router with just a simple tap on a button.
The app eliminates all the complexities of setting up WiFi tethering on Android phones and simplifies the whole process.
All you really need to do is configure your personal Android hotspot by giving it a name and then tap on the "Activate WiFi Router" button. Then within seconds, you will be able to connect to your mobile WiFi hotspot and begin surfing the Internet on your laptop or any WiFi-enabled device.
In case the WiFi Tether Router is not working or you are experiencing low signal issues then we will recommend you to check our best WiFi signal enhancing apps for Android.
However, the app requires root permissions to work properly so you must need to have a rooted Android device to turn your phone into a WiFi hotspot.
If you search on the Internet then you will come across many WiFi Tether Router no root methods but none of them is going to work because the app will not be able to perform tethering capabilities without granting it root access.
WiFi Tether Router Animated Screenshots
To show you what the WiFi Tether Router looks like on an Android phone, please check out the following gif image: