Are you looking for WiFi hacking and security testing apps to hack the wireless networks of your school, office, or neighbor? The tools and apps reviewed in this article will help you out. 😉
WiFi hacking apps to gain access to wireless networks even if they are password protected or secured with WPA2-PSK security.
Switch off WiFi access to anyone connected to your network and gain complete access to the WiFi network.
Using the apps featured in this list, you can hack WiFi passwords right from within the Android app and even sniff the web sessions.
We have reviewed over eighteen apps and we have covered apps suitable for rooted and non-rooted Android devices.
Ability to get free WiFi at your home or office by hacking your neighbor's WiFi network.
DISCLAIMER: All the information provided on this page is for education purpose only. The website owner and the authors will not be held responsible for any criminal charges brought against the individual due to the misuse of the provided information.
The apps reviewed here will help you hack into the WiFi networks of your locality by exploiting the possible WPS vulnerabilities and discovering the WiFi password, which will then ultimately let you gain access to the network.
Some apps are powerful enough to let you intercept and sniff web sessions as well as perform brute force attacks on the target WiFi router and discover the password, and all you really need is an Android phone.
Some of the hacking apps featured in this list are targeted toward advanced smartphone users and may require Android with root access.
1. WiFi WPS WPA Tester
The developer of WiFi WPS WPA Tester has designed this app to enable the users of WPS-enabled WiFi routers to test how secure is your network from these possible vulnerabilities.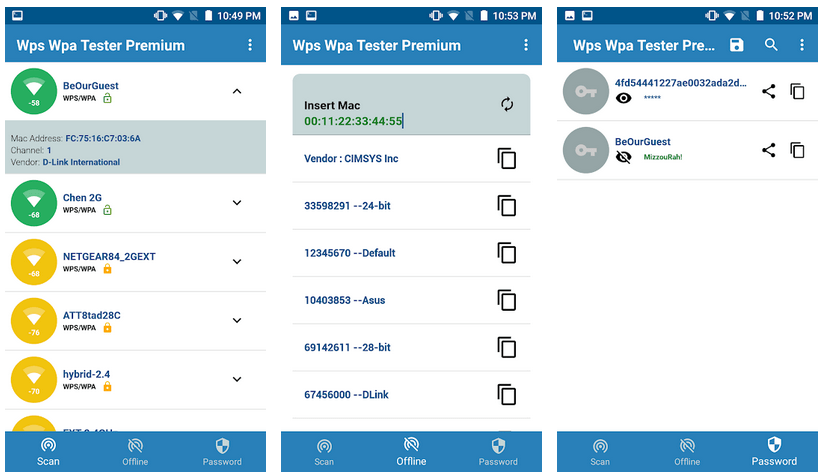 Once downloaded and installed, the app will make use of the PINs already stored within the database and will perform an automated PIN scan on your selected Access Point. If the app manages to exploit the WPS vulnerability in the target Access Point, then it will show you the password. Moreover, you can also enter your customized PIN or select any PIN from the given list.
Perform a WiFi brute force attack on your targeted network.
Hacks the WiFi network via WPS PIN, which is calculated using the algorithm by analyzing the MAC address of the wireless device you are trying to hack.
Find out all the nearby networks that are vulnerable to hacking.
2. WiFi Inspector
Are you frequently experiencing slow Internet connection and have a suspicion that someone is stealing your WiFi without your permission? That is when the WiFi Inspector app will come to the rescue.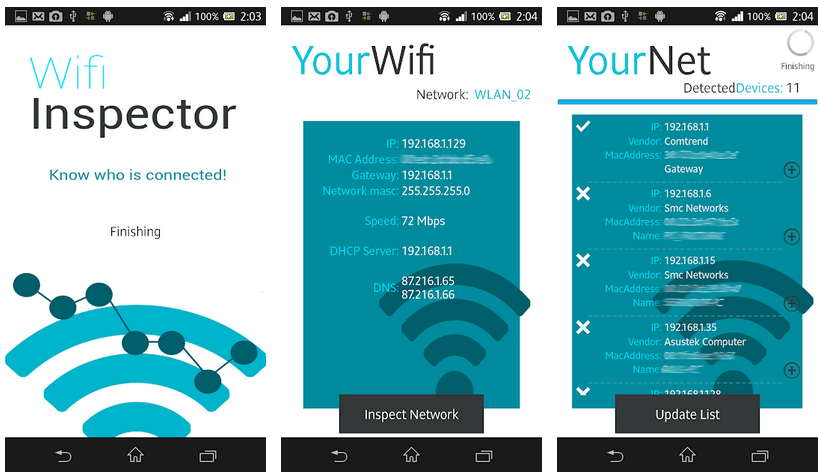 Once you have installed the app and given the required permissions, it will reveal the list of all the devices that are connected to your network whether it is a computer or a cell phone. You will get all the information of each device including its MAC address, local IP address, and device name, eventually helping you in finding the intruder.
WiFi Inspector tool can be used to quickly find out all the devices that are connected to your local WiFi network.
Gives you a detailed report about all the devices including IP address, device name, MAC address, and device manufacturer.
Easy to scan your WiFi network and find out if there are intruders or unknown users connected to your network.
3. FaceNiff
FaceNiff is a WiFi hacker app for Android that let you intercept and sniff web sessions of users who are connected to the same network as you are.
The app is powerful enough to work on any public or private WiFi network that uses either WEP, WPA-PSK, or WPA2-PSK type of wireless network security. The app is designed to make it easier for anyone to test the vulnerability of wireless networks and those websites that are not using SSL (Secure Socket Layer) encryption.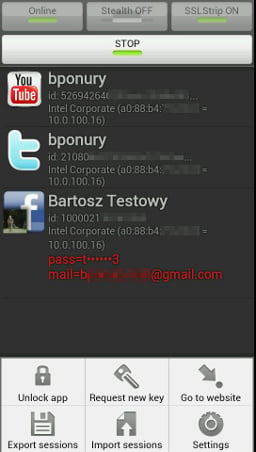 Ability to intercept and sniff web sessions of the WiFi network you are already connected.
You can hijack sessions and perform brute-force attacks even if the network is protected with password level WPA2-PSK, WEP, or WPA-PSK.
Requires a rooted Android phone to fully use the app and perform hacking functions on your targeted WiFi network.
#4. Aircrack-ng
Aircrack-ng, where ng stands for Next Generation, is a complete collection of tools to gauge and evaluate your WiFi network security. There is a variety of different aspects of WiFi security and safekeeping that are tested and analyzed by this tool, which includes:
Monitoring your WiFi network, attacking the WiFi network to hack it, testing WiFi security and capabilities using capture and injection technique, and you can even crack a wireless network that uses older security systems like WPA PSK and WEP.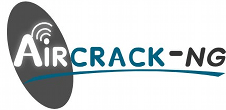 Although Aircrack-ng is designed for Windows, Mac OS X, NetBSD, FreeBSD, and Linux environments you can somehow make it work on Android using a wireless WiFi USB adapter on OTG enabled Android device. The tutorial to make it work on compatible Android phones and tablet devices is already available on the XDA Developers forum.
Designed primarily for Windows, Linux, and BSD environments but works on Android through a hack we have already shared on the link above.
Easy to assess and analyze the security of your wireless network.
Used to perform attacking, cracking, monitoring, and testing of WiFi networks.
WiFi networks using WPA PSK and WEP can be hacked using Aircrack-ng.
5. Kali Linux NetHunter
Kali Linux NetHunter is an open-source penetration-testing platform for Android smartphones as well as tablet devices. In a nutshell, this tool is designed for and fully compatible with Nexus devices including Nexus 5, 6, 7, 9, 10, and OnePlus One.
For those of you who don't know, NetHunter is a joint effort between Offensive Security and Kali community members known as BinkyBear.

Native support for AP mode as well as 802.11 wireless injections along with the capability to support multiple USB-based WiFi devices.
The custom image contains a full Kali Linux toolset, while many tools are available through a simple menu system.
You can easily explore wireless radio space using HackRF provided within Kali NetHunter.
Support for USB Y-cable that allows you to charge your smartphone while continue running NetHunter and run penetration tests.
6. dSploit
dSpoilt is another popular network analysis and penetration suite designed for IT and network security experts, which makes it one of the most advanced professional toolkits using which you can perform security assessments within your network or the network that you want to hack into.
The app doesn't require you to have any high-end device; all you really need is a compatible Android device to execute network penetration. If you are running dSpoilt within your network then it allows you to map your network as well as create a fingerprint of all the running services.
Please note that although dSploit is a great WiFi password-hacking app for Android, the developer behind this app has signed a merger and combined his app with Zimperium zANTI2 with powerful features. If you are interested, we have covered that app in the next.
The program is designed to scan your network and search for known vulnerabilities.
You can perform man-in-the-middle attacks (MITM) like password sniffing to hack any network to which you already have access.
Perform real-time traffic manipulation to hack the WiFi network and gain access to the user's personal account.
7. zANTI Penetration Testing Tool by Zimperium
With just a simple push of a button, zANTI can help you assess the risk and security level of your WiFi network. The app was specifically developed while keeping security managers and network hackers in mind. The program is so powerful that it can be used to manipulate and compromise corporate WiFi networks.
The best thing about zANTI is the man-in-the-middle attack (MITM) that enables you to monitor all the insecure data that is being sent and received between the connected devices.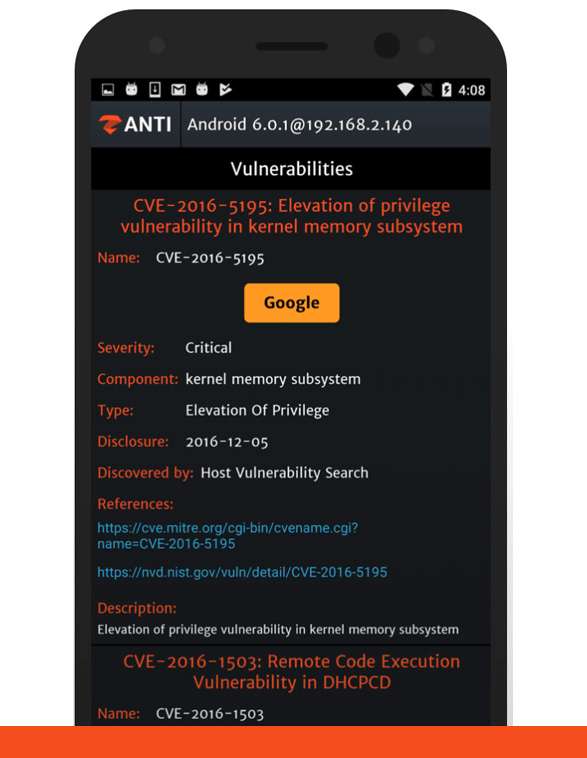 With the zANTI scan, you can conduct deep and quick scans on your personal network and find out the details of all the connected devices along with a report about the vulnerability of each device.
The diagnose feature allows you to automatically diagnose your WiFi network for possible and known vulnerabilities whether those are found in connected devices or on websites.
Diagnostics, tests, and scans are performed through techniques like man-in-the-middle attacks, Metasploit, and password cracking.
Reports are generated using an advanced cloud-based reporting technique through zConsole.
8. Arpspoof
Arpspoof is part of the active development of the popular app dsniff, which is a popular penetration testing and network-sniffing app. You can actively monitor your network or intrude into other WiFi networks and intercept personal data like email IDs, passwords, social media accounts, and even files stored within the local network.
As far as the Arpspoof app is concerned, it is designed with the aim to redirect traffic on your local WiFi network by forging ARP replies and redirecting those to your personally specified targeted URL or web address. You can easily spoof the network and hack the passwords or email accounts using your Android device.
Can be downloaded and installed on compatible Android devices by building your customized APK and installing it on your device.
Easy to execute the binary and build APK from any preferred terminal emulator by running it as root.
Can be used to spoof WiFi network users' traffic and hack user accounts or redirect them to a different URL to hack into their devices.
9. Nmap
Nmap is a tiny little app that helps you hack into WiFi networks and scan the local network for packets, hosts, firewalls, and services. The app is suitable for both, non-rooted and rooted Android devices. Though there is a slight difference in functionality, running it on a non-rooted Android phone will not let you enjoy some advanced features like SYN scan.
The best thing about Nmap is that it allows you to freely audit your WiFi network for security loopholes. This app is being used by network administrators to monitor service uptime and a monitoring host. If you are trying to use it for hacking purposes then you can perform packet filtration.
A suitable tool for WiFi hackers and interceptors to find out hidden network information.
Compatible with rooted and non-rooted Android devices.
Ability to thoroughly perform a scan on a WiFi network to find information about firewalls, services, and hosts.
10. Android Network Spoofer
Network Spoofer is a really very powerful and funny tool for WiFi hackers and network spoofers as it can let you modify the website they are viewing on their mobile phone, tablet devices, or computers. You can perform simple hacks like flipping text on websites, flipping images, change all the pictures to your custom image.
That is not all; you can even hack the website URL and redirect the visitor to any custom URL, which works really well for spoofing purposes. Network Spoofer also gives you access to a few custom hacks and mods using which you can perform your own WiFi hacking.
A powerful tool to perform network hacking and spoofing on any WiFi network.
Spoof the website URL and redirect the user to any custom URL.
The Network Spoofer app can be customized to add malicious features for advanced WiFi network hacking.
11. WIBR Plus – WiFi Brute Force Attack
WIBR Plus is a very powerful app for WiFi hacking that will let you hack any WiFi connection that uses weak password protection. Essentially, the app makes use of a brute force attacking system that allows you to perform customized dictionary-based attacks on the targeted router and discover the password.
The app provides a simplified interface. It will show you a list of available WiFi connections that are within the reach. You can select the one you want to target and choose the type of attack you want to perform including brute force and dictionary.
Let you perform dictionary attacks on your targeted WiFi network to gain access.
Allows you to import your own personal list of passwords and use the WIBR+ app to perform custom bruteforce attacks.
The bruteforce attack on WiFi networks is a bit time-consuming process as it processes eight passwords per minute.
12. WiFi Kill
WiFi Kill is an excellent WiFi hacking app with a light and easy-to-use user interface that allows you to gain complete control over your WiFi network enabling you to see the list of devices that are connected to the network along with their unique MAC address and locally assigned IP address.
Once you have found the list of devices, you can now easily disable the Internet connection of any device from that list, barring him/her from network access. Apart from disabling the Internet connectivity, you can monitor the network activity in real-time of each device including the data transfer rate.
A great app to kill internet access to devices that are network hoggers and steal all of your internet bandwidth.
Can be used on public WiFi networks to gain more internet speed and kill internet access to selected devices.
Makes any WiFi network a lot more powerful by letting you disable the Internet for other users and keeping it enabled for yourself only.
13. WPS Connect
Have you used Android 4.1 Jellybean? You must have seen the WPS connect button under the WiFi settings option that will let you connect to the WPS protocol-enabled WiFi network with just a tap of a button.
WPS Connect app brings back that feature to any Android version so that you can easily connect to the WPS PIN-supported WiFi networks. Moreover, the app comes preloaded with some default PINs using which you can hack into those WiFi connections that are using the default WPS PIN and gain access to the router without a password.
14. AndroDumpper
AndroDumpper is a WiFi hacking app that makes use of the WPS PIN vulnerability found in WiFi routers and tries to gain access to the WiFi network. This app works similarly to the previously mentioned WPS Connect app.
What's unique in the AndroDumpper app is that it allows you to use your customized list of WPS PINs to make it easier for you to crack the vulnerability, helping you in revealing the password and ultimately connecting you to the targeted WiFi router.
15. WiFi Greek WPS Unlocker
WiFi Greek WPS Unlocker works similarly to the other apps in the list that are based on the WPS vulnerability found in most of the WPS-enabled WiFi routers using which the app will grant you access to the WiFi connection without a password.
The developers behind this app frequently release a new updates to add new routers to the list that used default PINs for verification and are vulnerable to WPS-based attacks.
16. inSSIDer
inSSIDer is one of the most highly rated apps related to networking on the Play Store that is designed to show you detailed information about the WiFi and wireless connection environment in your area.
The app will show you in-depth detail related to all the WiFi routers within your locality including any channel conflicts, configuration issues, or WiFi signal overlapping that could result in the degradation of your wireless network's performance.
17. DroidSheep
DroidSheep is very much similar to the FaceNiff app but compatible with many popular social networking websites that use unencrypted connections and web sessions. The app is designed to steal the open web session account of the user who is on the same WiFi network as you are and have already logged into their account.
You can then use the same stolen session ID of that user to fool the targeted social website and gain access to the account without a user ID and password.
Which Android WiFi hacker app is your personal favorite?
Out of the seventeen best WiFi hacking apps we have reviewed, which one is your favorite? Let us know in the comments section below! 🙂