Almost every home and office have a WiFi router installed so that you can enjoy a wireless connection to the Internet, but every WiFi network has its limitation and will only work well when you are within its signal range. And what if you are within the range limit and still unable to use the Internet? How would you troubleshoot the issue?
To help you analyze and optimize your Android WiFi signal strength, here I have handpicked the ten best WiFi signal apps for Android that offers some of the topmost functionalities to enhance your WiFi connectivity.
Here are the 10 best wifi apps that can help you, analyze, improve, and enhance WiFi signal and strength on Android smartphone and tablet devices:
1. WiFi Analyzer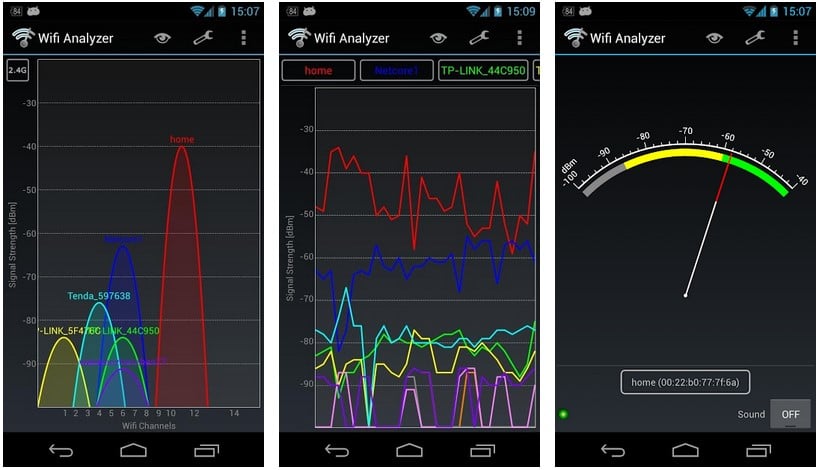 This WiFi Analyzer tool by farproc has been available on the Play Store for the past several years and has managed to gain quite some regular users because the developer has added the capability in the app that turns your Android smartphone or tablet into a WiFi analyzer.
Apart from showing the signal strength and the quality of all the WiFi networks around. You can use this app as guidance to help you in selecting the best channel for your WiFi router, which is less busy.
2. WiFi Manager
The WiFi Manager app will not help you with finding a better signal for your WiFi network, but it can let you have complete control over the WiFi. You can find, connect, and manage WiFi connections and networks while at the same time keeping an eye on the link quality with a neatly designed graphical channel radar.
If your home or office network consists of several WiFi connections for different areas, then you can use this app to connect your device to the best available WiFi network seamlessly.
3. WiFi Analyzer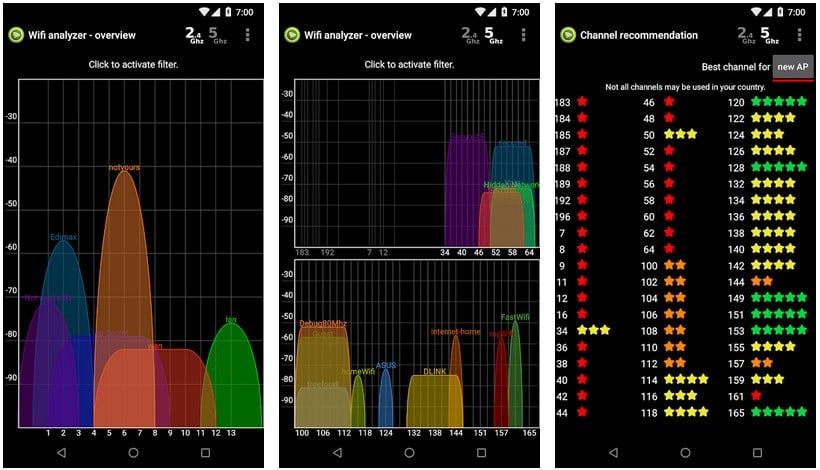 WiFi Analyzer app by Webprovider is designed to provide you with all the valuable information related to the WiFi signals that are available around you. These statistics shown by the app would be helpful for you to decide the ideal location for your WiFi router, which will boost the WiFi signal strength too.
And since you can see the information about each WiFi channel separately, so you can better configure your router for the least crowded channel in your locality and gain the maximum benefit.
4. WiFi Analyzer – Home & Office WiFi Security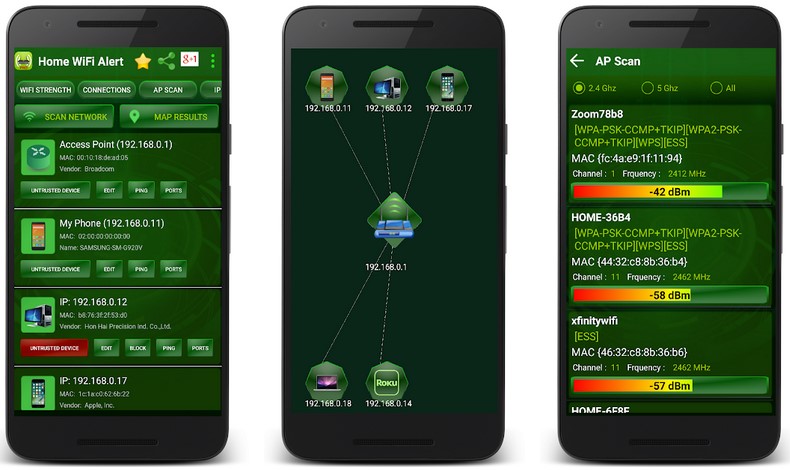 Are you in search of an app that will map all of your configured WiFi networks in an easy to see graphical display? Then you should give a try to this WiFi Analyzer- Home WiFi Alert app.
Designed to help you with analyzing your WiFi network signals in DB while maximizing your link speed, you can even check your WiFi connection using the range of tools and utilities provided within the app.
Do you know you can hack WiFi password of any network using your Android phone? Want to know how? Click here to find out 😉
5. WiFi Signal Strength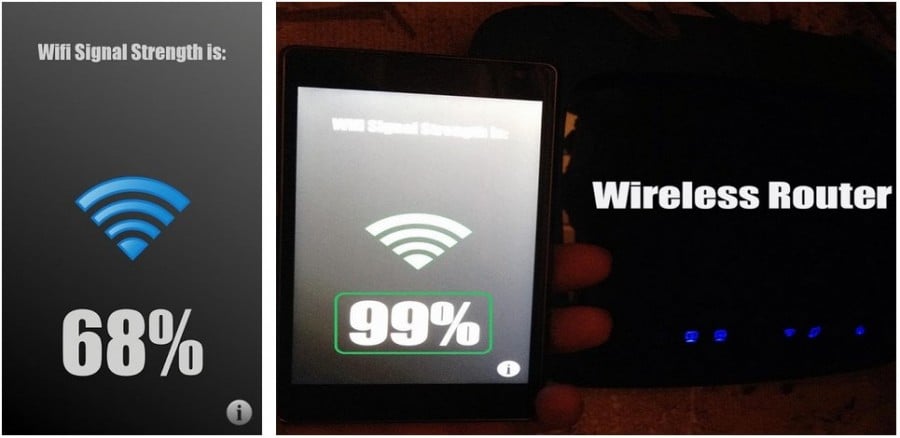 As the name itself suggests, the WiFi Signal Strength app is designed to keep you up-to-date about the signal strength of the WiFi network to which your device is connected.
You can use this app to find the best location within your house where you will get the maximum and the most stable WiFi signal strength, and could also be beneficial if you are planning to install a WiFi extender or WiFi repeater and want to see the best place to install one.
6. WiFi Analyzer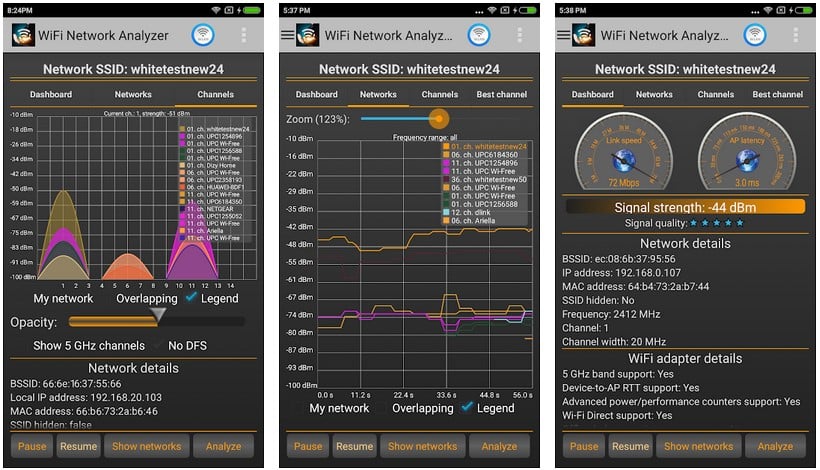 One of the most useful and valuable WiFi Analyzer apps on the Google Play Store. The app is capable enough to monitor and analyze the network you are currently connected to and provide you with in-depth information and will notify you if there is an issue.
The app is best, not only for beginners, but network experts too because it let you know about the network latency, signal strength and power, any overlapping channel, DNS resolving, and other relevant information.
7. WiFi Manager & Analyzer
The app WiFi Manager & Analyzer is pretty impressive because of the details and information it provides about your WiFi connection and can also help you in searching, connecting, and managing all the WiFi connections.
A few unique features offered by this app are dig and OUI lookup along with ping functionality to test your network connectivity.
8. WiFi Analyser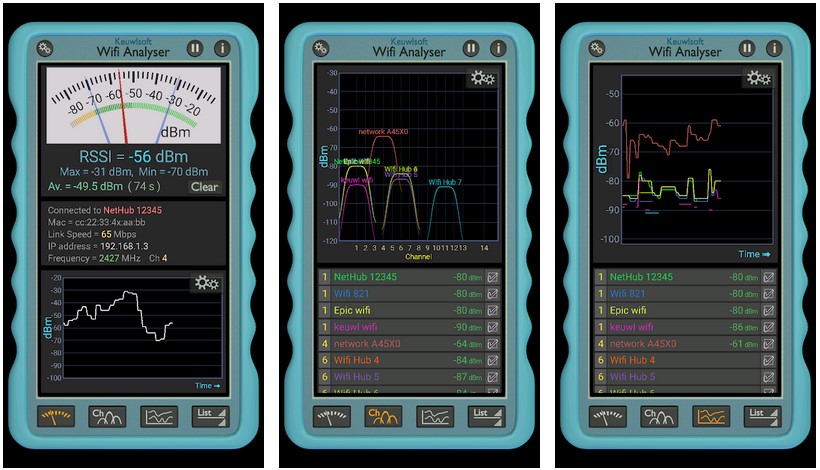 WiFi Analyser is one of those apps on the Google Play Store that give you a lot of features but does not show you any advertisements while at the same time keeping the app free for everyone.
The app is nicely designed and has four different screens for each functionality. Gauge to show you the signal strength; the graph shows all the networks available within the range along with signal strength; channel page displays a list of channels being used by the surrounding networks; and the list page where you can see detailed information about each WiFi network.
Have you ever wondered how many computers or mobile phones are connected to your WiFi router? Click here to learn how you can use your Android smartphone to find out who is using your Internet. 😀
9. Wi-Fi Analytics Tool
WiFi Analytics Tool, which was previously known as Amped, is an app specially developed to give you advanced signal strength graphs while analyzing all the available WiFi channels to help you better with the optimizations and tweaking of your WiFi network setup.
The app comes with a widget too that you can add to your Android device's home screen to keep an eye on the status of your WiFi network.
10. WiFi Data Analyzer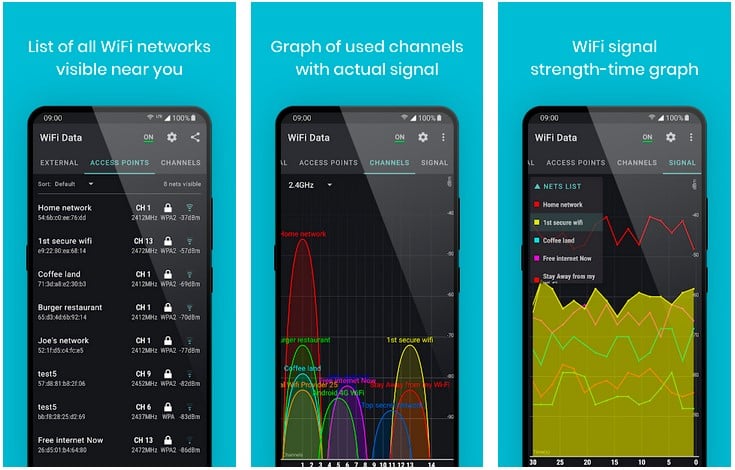 WiFi Data Analyzer app is developed by Propane Apps and is one of the essential apps for WiFi users to help them in the better management and analysis of the WiFi network.
Using this app, you can diagnose the signal strength and keep a frequent check on the status of your WiFi connection. And with the Android Holo theme and impressive user interface, you won't have to spend any time learning the app.
Still Facing Problem
Here are some more guides to help you fix Wifi Problems.
Which one is your favorite WiFi Signal app from the list above? I would love to hear about your review in the comments below! 🙂
Do you know we have an interesting article about funny wifi names that you can use to have a little bit more fun? Share your favorite wifi names in a comment.