You are in a supermarket and while shopping you want to know all the facts and figures about a specific product. There is a barcode on the packaging but you don't have a scanner.
What are you going to do? You will open the web browser, type in the name of the product, and manually check on the internet.
But with a barcode scanner app already installed on your smartphone, you will be able to go straight to the product description within seconds.
For those of you who don't know, barcode scanners are no different from the currently infamous QR code scanners, which come preinstalled on our phones. The key difference between the two is barcodes are one-dimensional and QR codes are two-dimensional.
However, what can be better than having an app that is capable of scanning, reading, and decoding barcodes and QR codes?
Here in this blog post, we have reviewed a handful of useful barcode scanner apps for Android devices that will turn your phone and its camera into a handy product scanner.
Not only this will help you with checking the details and price of any product, but you can share and save contact details, connect to a WiFi network, access URLs, and get location information.
All of which are stored in a barcode or QR code.
Let's just quickly jump onto the best barcode scanner apps:
1. QR & Barcode Scanner
QR & Barcode Scanner is one of the oldest barcode scanner apps on this list. It was released back in 2015 and since then it has managed to secure the top spot.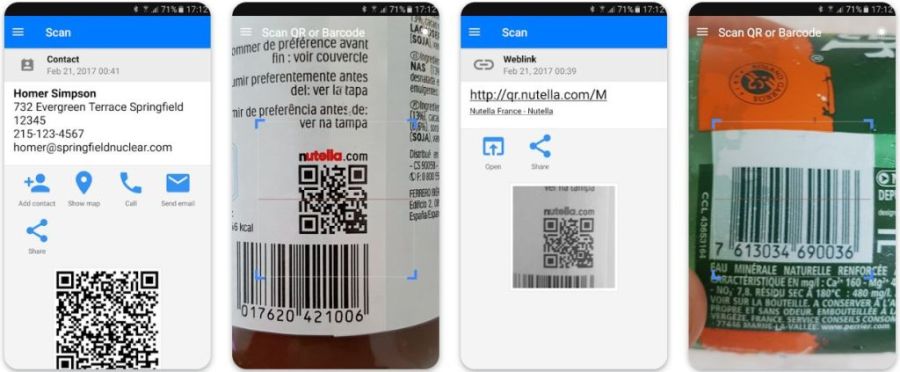 The reason for being the best is that it is the fastest scanner and quickly shows you the relevant details about any scanned product. And you don't have to exactly match the code.
The app is capable of scanning and handling data that includes calendar events, WiFi details, location information, URL, contact, and even text.
2. QR & Barcode Reader
With QR & Barcode Reader you will get all the features that one needs to scan and read barcodes on an Android device.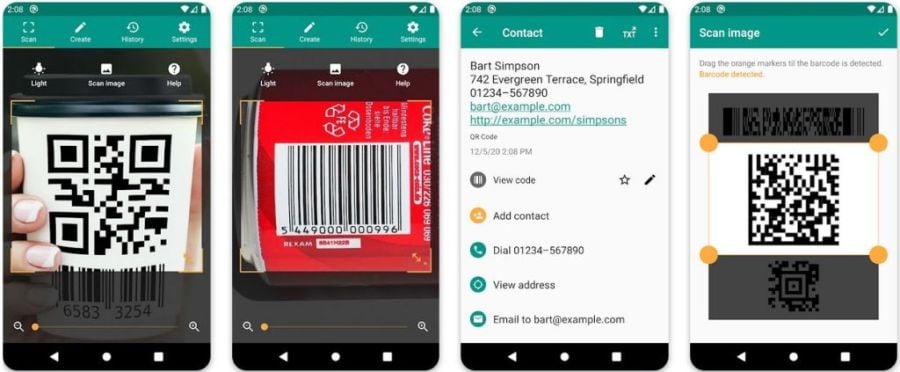 You can scan almost all the barcode formats including the ones that perform a specific action like opening a website or URL, finding a product and its price on the internet, or connecting to a WiFi network.
The app helps you scan a wide range of two-dimensional codes and barcodes, which means greater support and better compatibility.
3. Barcode Scanner
If you are looking for a simplified plus open-source barcode reader and scanner app for Android then Barcode Scanner is something that I can suggest.

The app does not contain any advertisement neither there is any frightening permission request that could force you to rethink your decision of installing this app. Which means your data is safe.
One thing you might notice about this app is the user interface, which looks outdated as it has not been updated for quite a while but the app still gets the job done.
4. QR Code Scanner/Barcode Reader
The best thing about these barcode and QR code readers is that most of them do not require you to have an active internet connection unless you want to look for something over the web.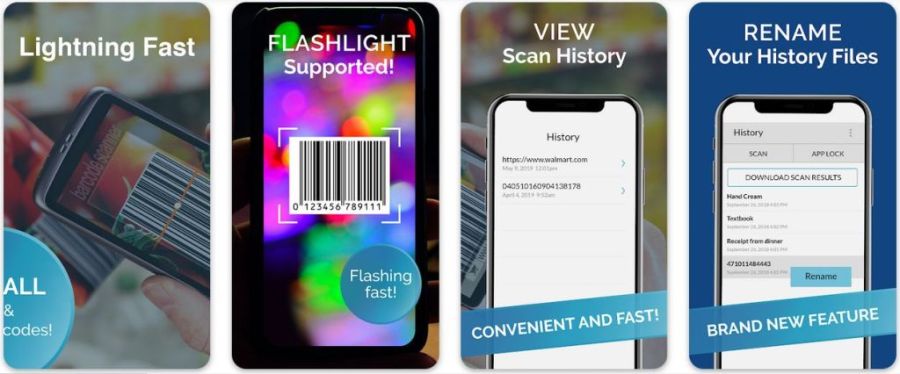 The QR Code Scanner/Barcode Reader app is feature-rich and any code that you are going to scan with your phone will be stored in the app's scan history, which comes in handy when you want to look into the details later.
In addition to the scanning and reading, the app is capable of generating QR codes that will let you share data like contact or location information or even a WiFi password in a hidden format.