We all have our personal pictures, conversations, and even bank-related details stored on our smartphones digitally, which is sensitive and we carry it everywhere with us. Although there is a native app locker on Android OS, however with the installation of an app locker you can add an additional layer of security in the form of a PIN, pattern, password, or even fingerprint.
The best thing about the Android ecosystem is that you can get the majority of the apps for free. Here are our recommendations for the best Android app lockers, which can help you add another layer of security and further secure the data stored in your Android phone/tablet. All the app lockers we have reviewed below will offer you a range of security options including pattern, PIN code, and password.
#1. AppLock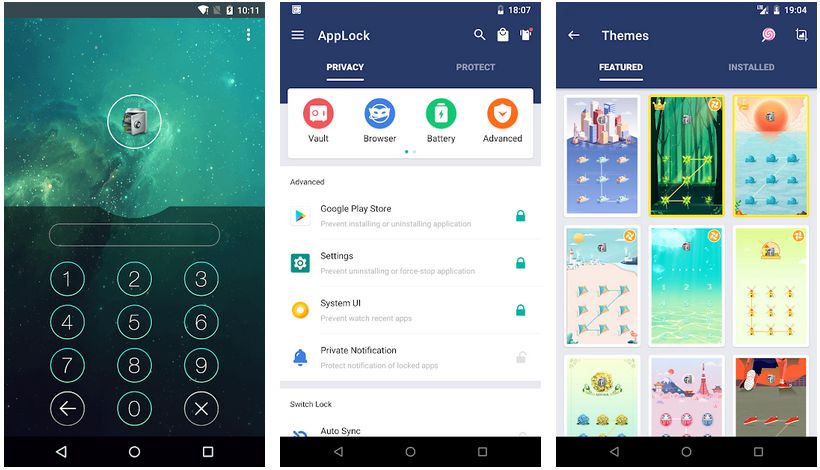 AppLock by DoMobile Lab is one of the oldest players in the app lock game and is hands down one of the best app locks the Android ecosystem has seen. It has many features to offer and further includes a theme store as well. AppLock can also offer additional security through the helper app, which makes it pretty secure. With additional security 'activated,' it prevents any attempt to uninstall or force stop the app.
The feature list doesn't just stop here. It comes with a vault built into it to hide your private media files. The vault did pass our security test, and we weren't able to get the media file however we were able to delete them, but that wouldn't have been possible without knowing if the app exists on the device, which you can hide using the app itself.
Other features include setting up custom profiles for locking apps and notifications. It also has a built-in power-saving mode. It is limited to three ways of authentication. To be more precise, it has all the essential features you will ever want in an app locker. The best part is that it is available for free and if the app fulfills your requirements then you can also buy the paid version which enables a few advanced features and removes ads too.
Pre-equipped with Gallery Vault,
Power saver and app uninstall protection,
Theme support,
Hide app icon,
Automatic locking based on time, location, and SMS,
Allows multiple custom profiles with the ability to lock system apps,
Recovery through security questions and emails.
#2. Avast Antivirus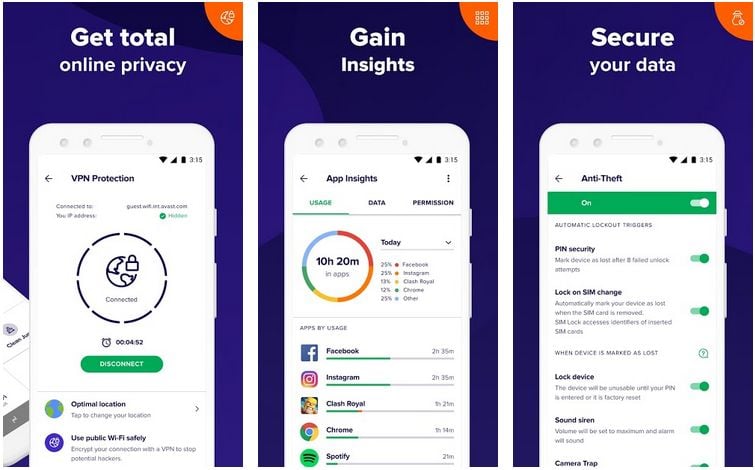 In case you are looking for an application that does everything then Avast Antivirus is the one you should install on your Android smartphone. It not only gives us the functionality to lock apps and media files but it also gives us added security as it is one of the most famous antivirus and security programs.
Avast also gives you a VPN service to protect your privacy as well as the anti-theft lock that locks your phone if it gets stolen. The downside is that being an antivirus program, it does not come with as many features as other app lock applications do, but it gets the job done.
Provides antivirus (security from malicious files),
Features an App Lock functionality,
Adds the facility of Call Blocker (supported on Android 8.1 and later),
Provides Anti-Theft, VPN, and RAM Booster,
Also gives the option of Photo Vault to store your private photos,
#3. AppLock Fingerprint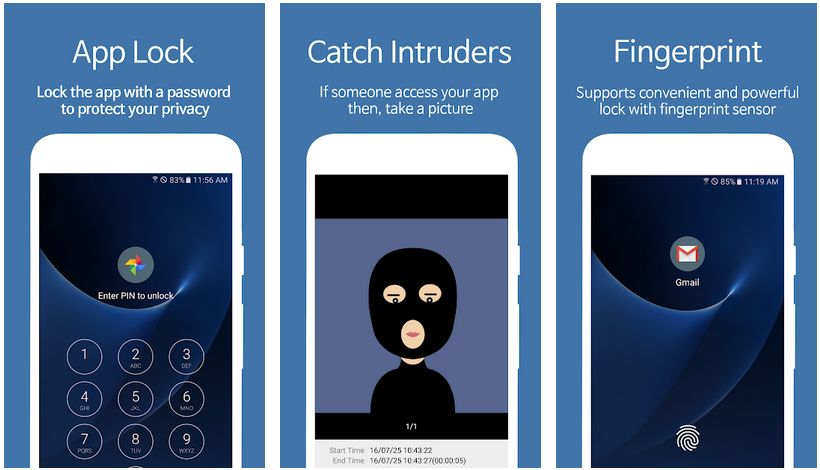 AppLock Fingerprint takes a lean approach to the footprint of the app size. If the other two apps are too big for you then you can give this one a try as it comes with most of the features of the app lock except for some features like hiding the app and getting it back using the dial pad or browser URL.
This AppLock app not only shares similarities with other apps in the list but also offers features like scalable pattern lock, fingerprint lock, and multiple passwords for different apps. It also offers the functionality to lock the screen with its lock in case you find it more secure or aesthetically pleasing as compared to the stock screen locker.
Lightweight and small app size around 3MB,
You can replace the stock Android home screen lock with this lock app,
Scalable pattern lock, which means the pattern matrix size could be as big as 18×18,
Supports fingerprint locking,
Intruder notifier that takes a picture and sends it to your email in case someone tries to access the locked app.
#4. Perfect AppLock (App Protector)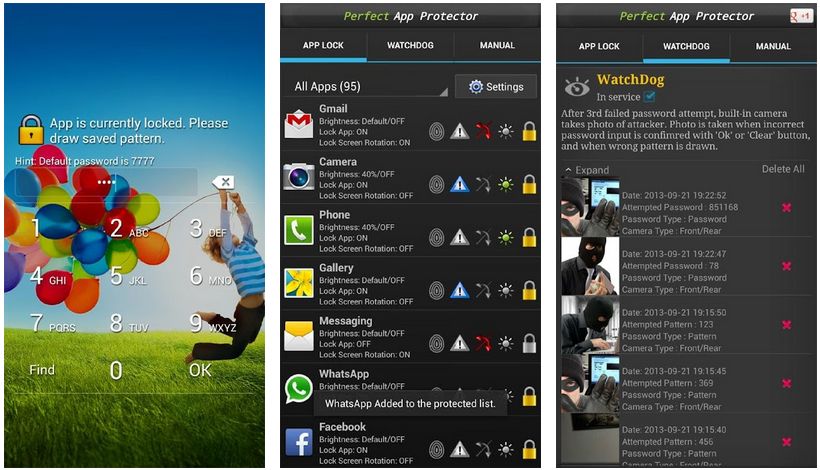 Beyond a conventional app locker, Perfect AppLock checks all the boxes for being one of the great apps for locking and privacy. It comes with the features like intruder detection, automated locking based on location or connected device, vault, preventing force uninstall and force close of the app. The thing that separates this app lock from other apps is the ability to control settings like screen rotation, screen filter, and screen brightness for individual apps.
The downside of the Perfect AppLock is that the free version comes with ads, and it doesn't have other cool features like controlling brightness and rotation for apps. Aesthetically the app is kept simple and mostly adapts to the user wallpaper for the lock screen.
Lock any app by using a PIN, pattern, or gesture,
Screen Filter support that helps you effectively manage screen brightness of individual apps,
Rotation Lock support prevents unwanted screen rotation on selected apps,
Intruder detection that takes a picture of the intruder on the 3rd failed to unlock the attempt,
Time and WiFi-based locking policy,
Ability to remotely start app lock service using SMS command.
#5. MaxLock Xposed App Locker

If you are a power user and got root and Xposed module setup on your Android device then MaxLock is the app locker designed for you. Due to the app being dependent on the Xposed module, it puts less strain on the system and is a stronger app locker compared to other options. It is also completely ad-free and bloat-free with multiple powerful app locking mechanisms.
The downside of the app is that it doesn't come with a media vault; however, it makes up for that missing feature by providing other one-of-a-kind features like support for tasker as well as the ability to disable the app from appearing in the recent apps list. The app also has a non-Xposed version for no-root devices, but it is less powerful and overshadows the true potential of the app.
Lock any app by using different locking methods PIN, pattern, gesture, knock code, or fingerprint (Fingerprint requires Android Marshmallow),
Completely free of cost and clean from the advertisement or any bloatware,
Requires very fewer resources to perform app locking magic,
Native support for Tasker, in case you are looking for automation,
Lots of customization options in UI,
Option to hide incoming notifications from locked apps.
#6. AppLocker Lock Apps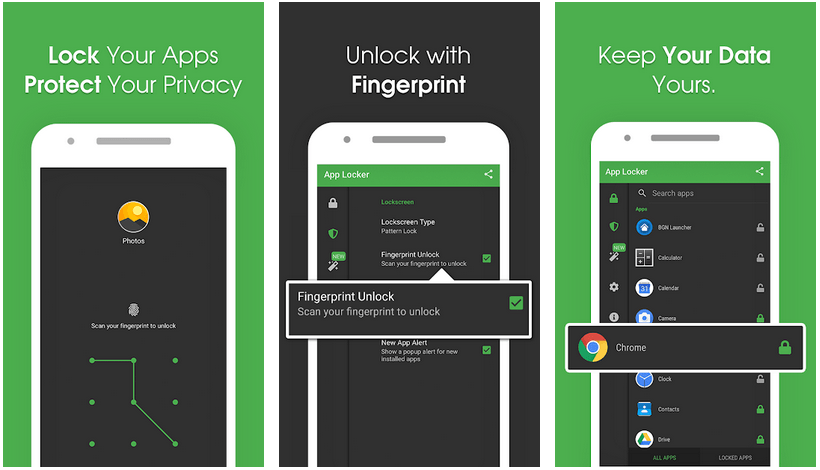 The AppLocker by BGNmobi has a more colorful approach. It focuses on customization but falls short on the feature list and can also be terminated easily from the settings. The cool thing about this app lock is that it gets the job done and offers customization with no complicated stuff.
If you want a colorful and highly customizable app locker that does not consume a lot of resources and doesn't put much stress on the system resources then this is the app locker you should have on your Android device.
Lock any app by using a PIN, pattern, or fingerprint,
Lighter on the system resources,
Lots of customization options for a personalized user interface,
Allows you to lock your pictures gallery so no one can gain access to it,
It prevents the uninstallation of the locker app from the App Manager.
#7. Smart AppLock (App Protect)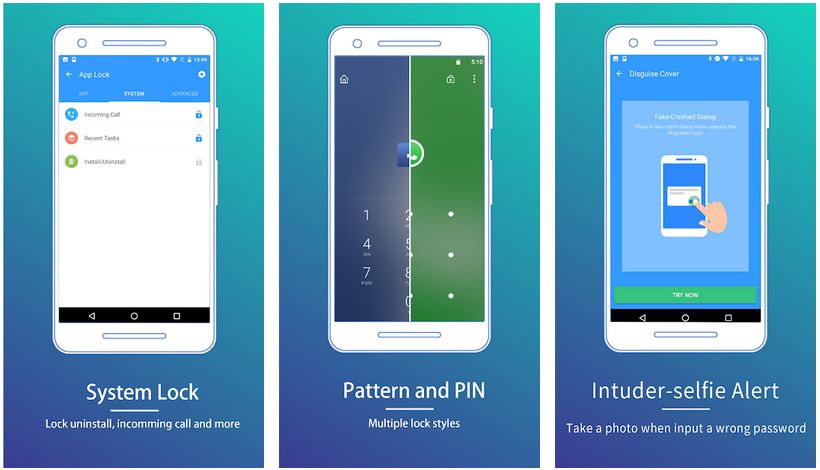 Smart AppLock aims to enhance and improve privacy through app-lock. It can lock call logs, galleries, and even incoming calls so that no one else but only you can attend the call. In addition to this, it has a beautiful UI with lots of customization, including custom lock screen styling, a custom lock screen background.
Smart AppLock also includes an intruder detection and locking policy with the capability to set a custom time. The does come with ads and can be killed by the system however when you restart your phone the app starts without any delay.
Lock any apps by using a PIN, pattern, or fingerprint,
Lighter on the system resources,
Option to put incoming calls as well as call logs behind a secure lock,
Intruder detection automatically captures a picture whenever someone enters an invalid password.
#8. lockIO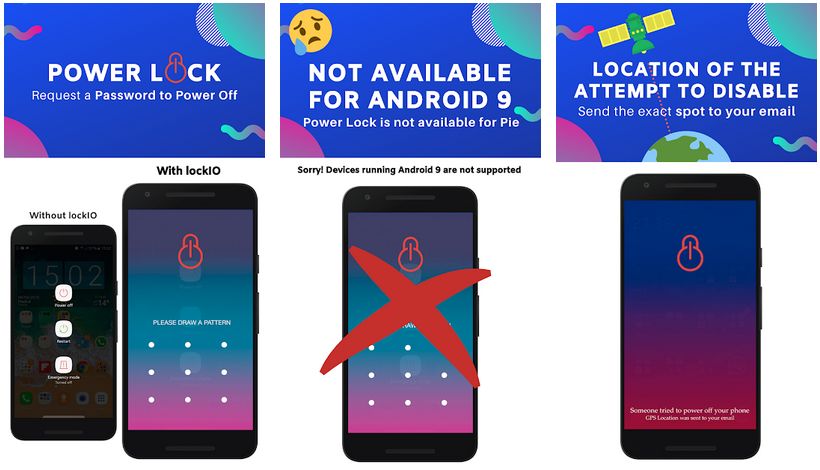 As the name suggests, Password to Power Off is an app that allows you to put a password on the option to turn off your phone. The philosophy of this app lock is to prevent the phone from theft. The app is fairly strict in terms of enforcing security; therefore, it prevents the killing or uninstallation of the app.
Other than locking the power off option, it can send the location and take a picture in case of an attempt to break into any of the locked apps is recorded. The app also offers a media vault to hide photos and videos from the gallery and puts them behind a stronger password.
The Power Lock feature blocks any attempt to shut down the device by requesting a password or a pattern when the power button is pressed,
The Power off GPS location feature sends immediate location in case someone tries to turn off the location of the device,
An alarm is played by the SIM Extraction alert feature when the SIM card is removed,
The App lock feature locks the apps with either a PIN, password, pattern, or a fingerprint sensor,
The Hide Media feature hides the selected photos and stores them in the password-protected vault.
#9. Applock Fingerprint Password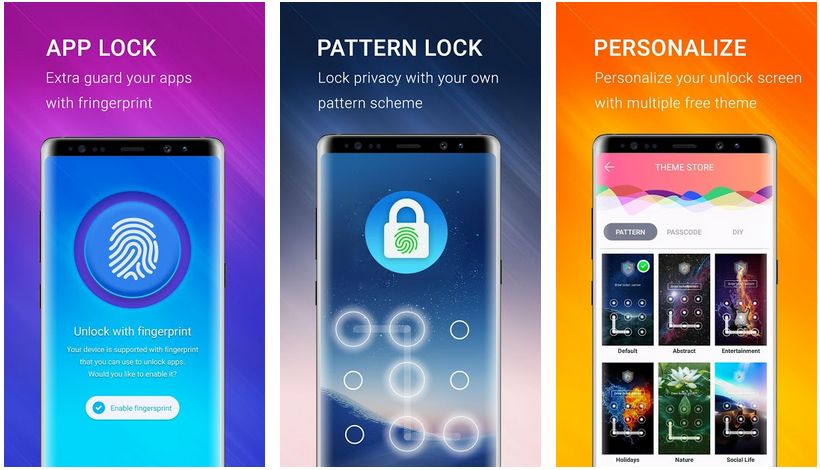 For the Android user who is looking for a highly customizable app locker, AppLock Fingerprint Pro has the most powerful theming and personalization options. It comes with a privacy guard too to make sure your phone's security is up to par, and your data is secure.
AppLock Fingerprint Pro is the first paid entry on our list of best app lockers for Android that doesn't have a free option. The AppLock Fingerprint Pro also comes with a vault to hide media from the gallery. Unfortunately, the security of the app itself is weak which means that the app locker can be easily killed or uninstalled from the system.
Provides great customizability options including themes for lock screen and pattern,
Protects your call log, emails, messages, and any app you want,
Media Vault lets you keep your private photos and videos hidden behind a secure lock,
Lock apps with a password, pattern, PIN, and fingerprint.
#10. Lockdown Pro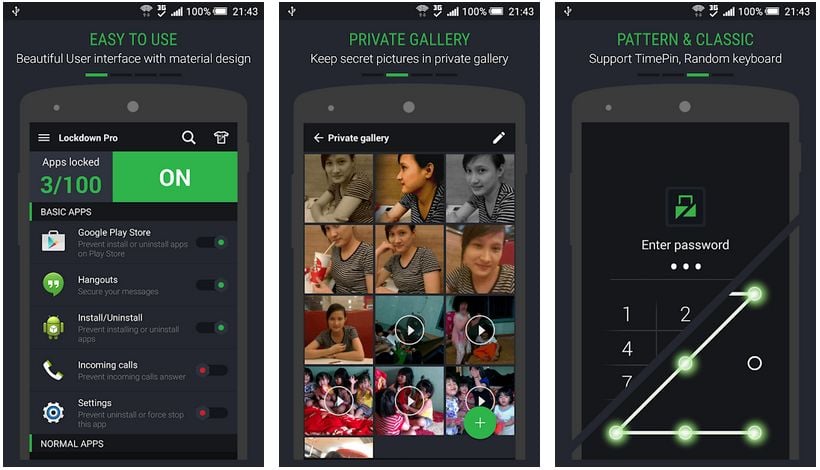 XDA's favorite app lock Lockdown Pro has all the necessary features one needs in an app locker app. Though, Lockdown Pro falls short, as it doesn't have the most important functionality, i.e. the ability to prevent force stop and uninstallation of the app.
Despite that limitation, Lockdown Pro has some features of its own that differentiate itself from its competition. There are different lock modes, including calculator lock and time lock, a smart unlocking feature that unlocks your device through a smartwatch, car, or even WiFi. You can create a backup of all of your locked apps, which makes the restoration process easy. Prevent screen rotation and select custom timeout for locked apps. Other than these awesome features, the app comes with a media vault, theme library, and randomizing keyboard.
Password-protect any Android app with a variety of locking options like Pattern Lock, Classic Lock, Calculator Lock, and Fingerprint,
Time pin security support, which means if the current time on your phone is 12:46 then PIN will be 1246,
Intruder Alert sends an email to the configured email address with the picture of an intruder trying to open a locked app,
Ability to create a backup as well as restore the list of locked apps,
Theme store with tons of theme choices and material design,
Hide the app icon from the drawer and home screen.
#11. US Mobile Security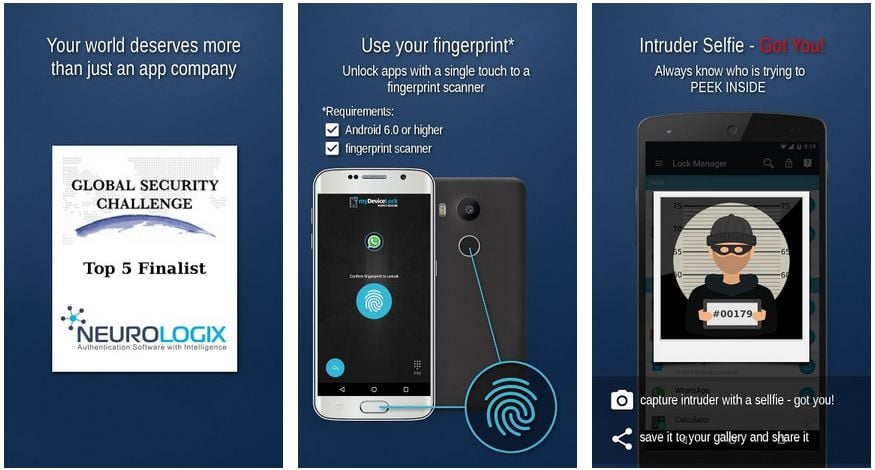 On the surface, this app may look just like a regular app lock that can help you lock your gallery, settings, and other apps with a fingerprint, pattern, or PIN but originally the app provides some of the best security features to secure your Android device. What sets this app apart from the rest is its ability to use and recognize signatures drawn on the display to unlock your device.
MyDeviceLock offers optimized resource usage so that it is less stressful on the resources like CPU and battery. The icon hiding is pretty convenient, you can access the app from the browser once you have hidden the icon without any issue. The app also features other must-have features of app lock that include intruder selfies, lock screen theme support, and uninstall protection.
App locker with multiple locking mechanisms including biometric, PIN, and password.
Locking of your device and selected apps through the Signature locking feature,
Ability to hide the app icon and convenient access to the app through a browser,
Efficient usage of hardware resources for optimal battery life.
#12. Ultra Lock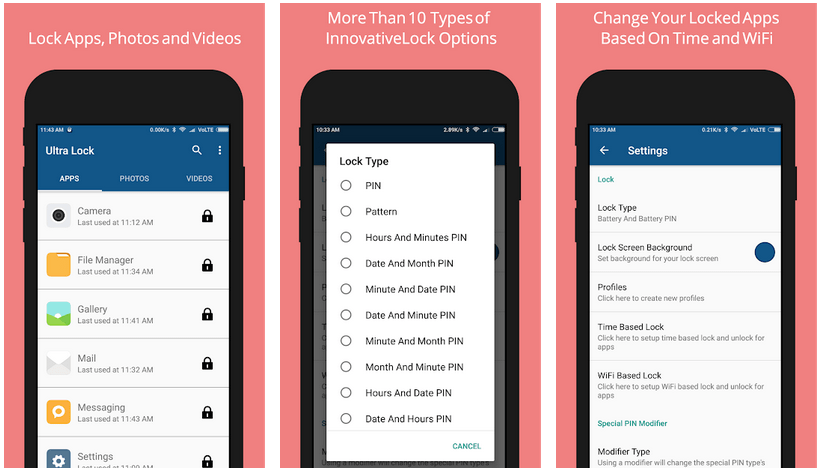 If somehow you keep losing your phone password to other people or while unlocking your phone your friends peep over the screen and finds out your password or PIN then Ultra Lock addresses that issue with its unique dynamic phone and app locking functionality. This powerful app can set the passcode of your phone based on your phone's battery percentage, current date, or the current time.
For example, if you select the current date passcode method then on 18 December your passcode will be 1812. Then on the next day, the passcode will be 1912. It will keep changing every day. Other features include intruder detection, media vault, and time for last used apps, which can be a nifty feature if you plan to track your app usage statistics.
Support for dynamic passwords including battery percentage, current date and month, current hour and minutes,
Option to reverse the dynamic password order for a stronger and securer PIN,
Ability to track overall usage time of recently accessed apps,
Intruder detection captures the photo using the front camera whenever someone tries to access your locked apps or phone while you were away,
Media vault allows you to lock your photos and media gallery and put it behind a lock,
A random numeric keypad that once enabled will show numeric keypad in a random order whenever you are going to unlock your phone or locked app,
Automatic locking and unlocking based on time and Wi-Fi location.
Conclusion
There you have it. We have handpicked and reviewed the best app lockers for Android that allow you to individually lock any app you want with additional security and passcode. This feature comes in handy when you have handed over your unlocked phone to anyone in your university or workplace, but you don't want them to access specific apps like galleries, messages, or email.
We would love to hear your opinion about your choice of app locker and which one you have decided to install on your phone to lock apps. You can share your valuable feedback with us as well as our readers in the comments section below.