Best online dating apps for long-term and serious relationships. In this era of technology, we are surrounded by various mediums like smartphones, social media networks, various messaging services, but still dates are hard to find, and entering into the world of dating is difficult for many.
If you are tired of trying your luck at your local bar, then the dating apps specifically designed for smartphones might help you out to find serious relationships and dates!
However, selecting the right dating app is the first step to being able to have a successful online dating experience through the Internet. Here in this article, we have featured the ten handpicked and best dating apps for Android that will make your task a little bit easier.
#1. Happn Online Dating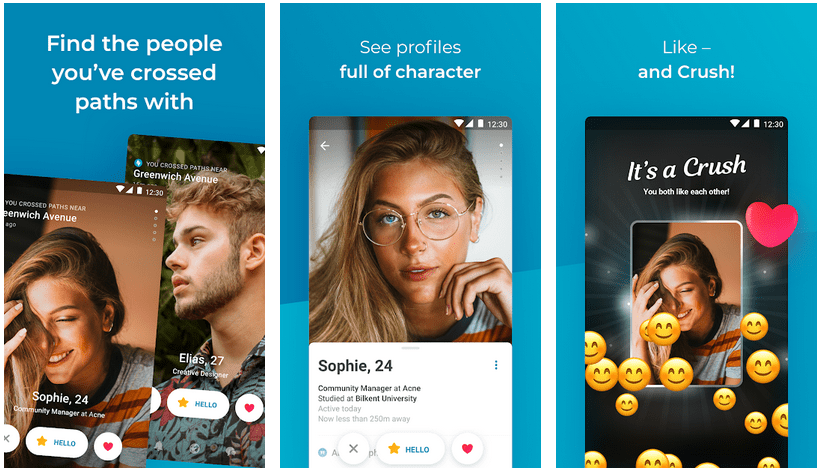 Have you ever wondered how you would be able to find, meet, and date the person you have seen around in the coffee shop? Happn will help you out! 😉
This is a geographic location-based dating app that allows you to meet new people you have crossed paths within the real world. The way these app works is very simple. And it is so beautifully designed that you won't receive any spam.
Whenever you walk past a person, the app will detect the encounter, and their profile will automatically show up on your Happn timeline along with the details of your meeting. You can then go ahead and like that person, if you want. And once the liking is mutual, you two can start a conversation!
It is needless to mention, but I would like to point out, the other person must be using the same online dating service app.
Pros
It is frequently updated with performance improvements and bug fixes to provide a better experience.
Mutual opt-in based dating app.
Cons
Contains ads.
In-app purchases to buy 'Charm.'
You cannot start a conversation right away. The other person must need to like you back first.
#2. Jaumo Dating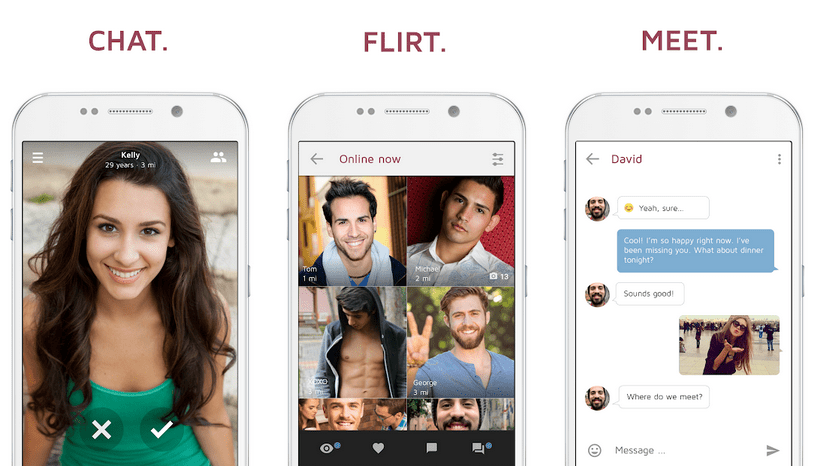 With Jaumo you can find new people, chat, flirt, and have fun with them. It is a free app and provides a simplified user interface making it much easier for you to find out who you like, who is your perfect match, and start a conversation. You can do all that right from this dating app.
The match filtration option in this app is the most useful that allows you to gain more control over your profile and who can contact you. The filter system can limit the search results based on the gender, location, age, and availability of the profile picture.
These advanced filtrations and limiting functionalities are what helps you to find the right match for yourself.
Pros
Active support team to resolve issues.
It is frequently updated to fix bugs and improve performance.
Cons
Provide in-app purchases for VIP status.
Contains ads.
#3. Anonymous Online Dating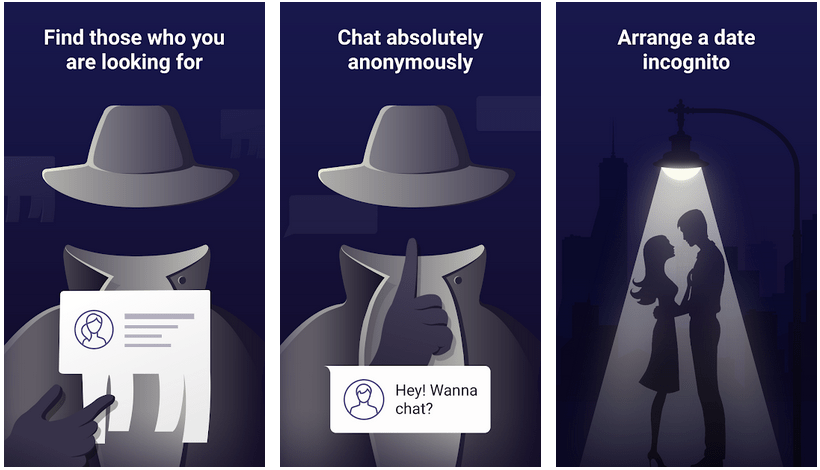 Are you exhausted to see that every dating app first requires you to like the looks of a person rather than his/her intellectual and logical level?
Anonymous Dating, as the name itself suggests, is a unique dating service app for Android that does not require you to register, does not require photos, and does not need your name.
Yes, you read that correctly! This one-of-a-kind dating app allows you to remain completely anonymous while at the same time meet new people, have to chat with them, and go on a date. It entirely focuses on the person's mind and their intellectuality level rather than focusing on the looks.
Pros
Provide total freedom to every age and gender.
Ability to search and find people based on similar interests and preferences.
Cons
Provide in-app purchases
It can be hard to find real matches due to an extreme level of anonymity.
#4. Badoo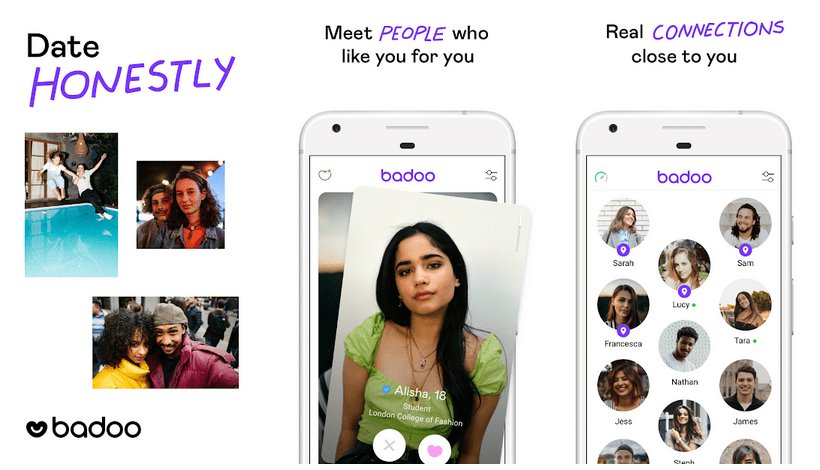 Badoo is similar to Happn and notifies you whenever you bump into the interested people in your day-to-day life, like in a coffee shop or a restaurant. Not only that, the app even allows you actually to start a conversation and meet them right there. But remember, chatting is a paid feature!
Now you know. The concept is similar. Moreover, we all know that unplanned encounters are a lot easier and are equally suitable for those who find it hard to plan a meet-up. And this is the reason why Badoo has gained popularity among those who are looking to meet new people.
But you should be aware that because it is one of the most popular online dating apps, and the majority of people around the world use it to find and meet new people, so there could be some people who use it for malicious purposes.
Pros
The app is frequently updated with new features and improvements.
Very active support team.
Cons
Contains ads.
Provide in-app purchases for premium services like credits, Super Powers, VIP, and other additional features.
#5. OkCupid Dating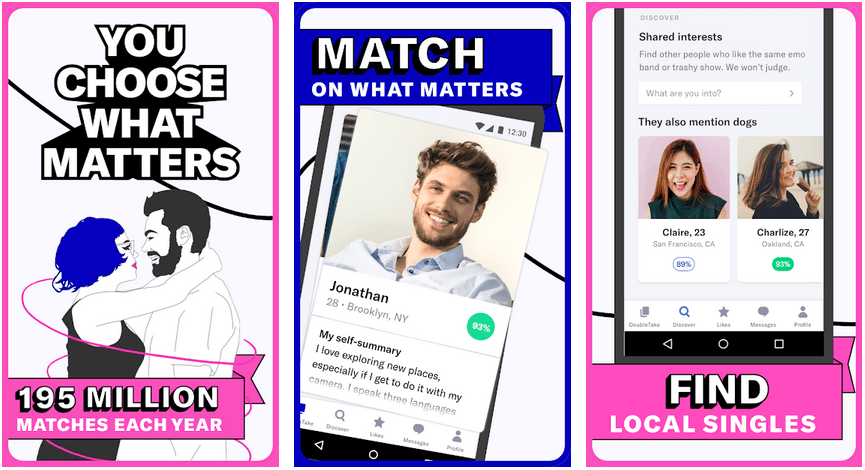 Are you tired of waiting to find suitable matches? Are you in search of an app or a dating site that will suggest your matches quickly?
OkCupid would be your best bet as it is a popular website and has a well-rated app too! Their matching technique is what makes it the most popular app on the Google Play Store.
To suggest you with the well-targeted and best-matched profiles, the app will ask you to answer a few questions. And then, based on your answers and some math calculations, you will be suggested with the most suitable profile matches.
What's unique in this app is that you are allowed to send and receive as many messages as you want without paying a single penny. Yes, messaging is free! So make use of free messaging and send interesting messages to them. It's quite common for people who date each other to send Good Morning and Good Night messages to show their love. This shows them that they are the first on last thing on your mind every day.
Pros
Do not charge you for messages.
Access to your Facebook profile is not required.
Cons
Contains ads.
Provide in-app purchases to boost the profile and get premium features like upgrading to the 'A-List.'
Less frequently updated.
Lacks proper support for issues.
#6. POF (Plenty Of Fish)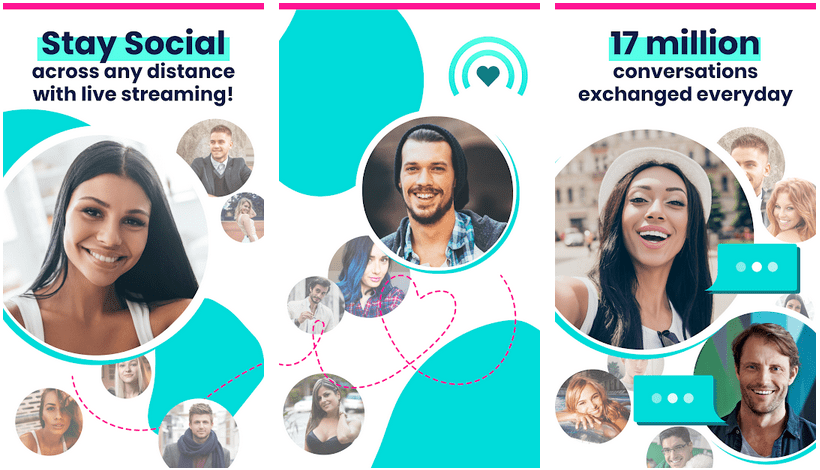 Plenty Of Fish is one of those dating apps that do not require you to frequently make purchases or buy premium features to be able to communicate with new people. Yes, the app provides you with most of the free features.
POF has its algorithm that will help you find the right match for yourself. You can then sort and filter those matches with the filtrations like last online, old users, new users.
The app does not impose any limitation on sending and receiving messages so that you can freely communicate with your new friends, know each other and then plan for your first date. The app even shows you the list of people who recently viewed your profile so that you can find those who might be more interested in you.
Pros
Free messaging.
Voice calling functionality.
It is frequently updated to fix bugs and improve the app.
Cons
Provide in-app purchases.
Contains ads.
Since messaging feature is free so you should expect to receive some weird messages.
#7. Zoosk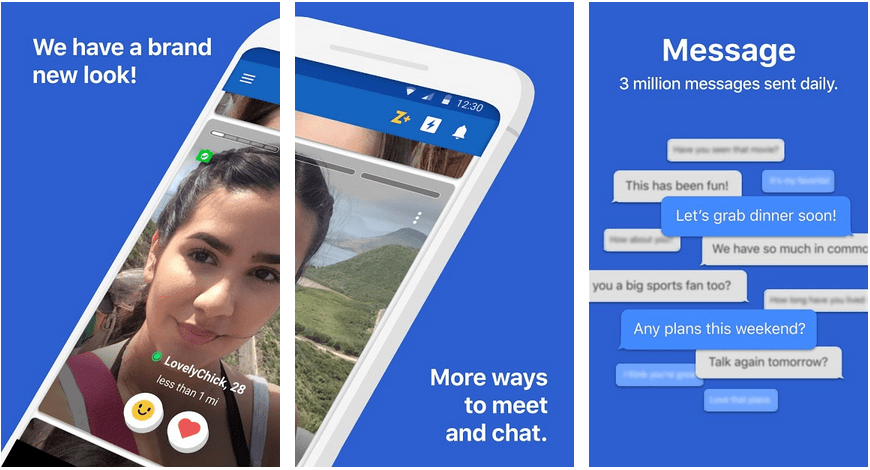 Zoosk is one of the top paid dating apps for Android that allows you to connect with millions of people from all over the world, chat with them, and meet the singles living in your area.
The dating app is well integrated with popular social networks like Google Plus and Facebook. It will require you to sign-up for the dating service using any of the two networks to authenticate your identity.
Zoosk, just like any other dating app, makes use of their algorithm that smartly finds and picks the best matches according to your liking and preferences. The advanced search and filter option within the app will allow you to discover and meet up with other locals based on their religion, height, body type, and others.
Pros
Frequently updated to make sure the app is bug-free and functional for every user.
Cons
Contains ads.
In-app purchases to become a paid subscriber and get premium features.
#8. Tinder Online Dating App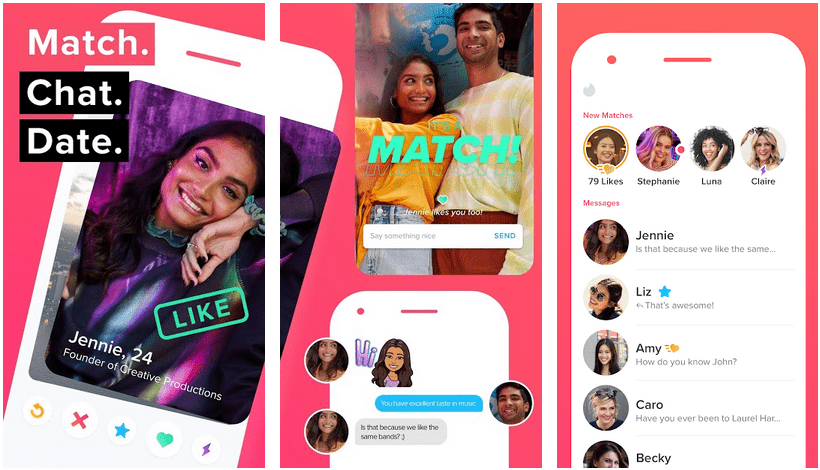 Tinder is one of the well-known and highly popular Android dating app that has been around for a quite a while now and has a vast user database. The reason it gained so much popularity is the swiping-based liking and passing match feature, as well as the location-based matching system.
The online dating app will allow you to find and discover interesting people around you, meet new people, take them on a date, and create new relationships. You can use the swipe feature, i.e., if you like someone's profile, swipe to the right else swipe left to pass them!
And in case the other person also swipes your profile to the right, then it will be a match. You will then be allowed to send a message and spark a conversation.
Pros
Easy and simple to use.
It is frequently updated to fix bugs and known issues.
Cons
Require access to your Facebook for authentication.
Contains ads.
In-app purchases to upgrade to Tinder Plus with premium features.
#9. CMB (Coffee Meets Bagel)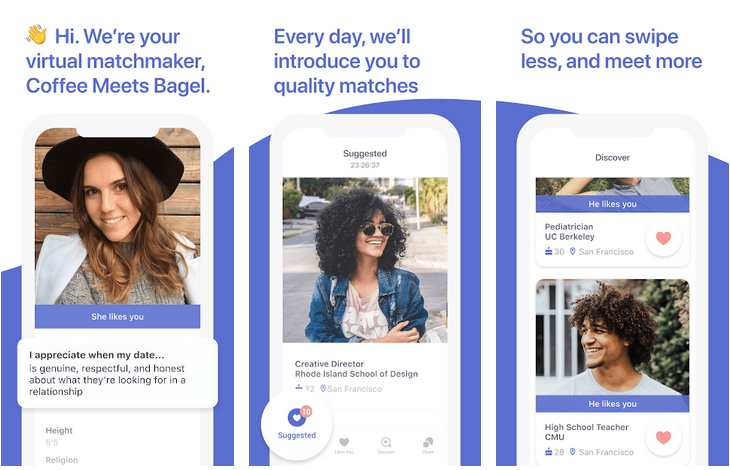 Are you tired of wasting a lot of time on dating websites and apps, which continuously requires you to find new people, message them, and wait for their responses?
Have a look at Coffee Meets Bagel. It is unique. Provides quality matches. And one of a kind dating app. The app uses a smart algorithm and artificial intelligence that will find you a list of the most relevant profiles and matches with your requirements and interests.
The tag of the app says it all correctly, "Guys make the first move. Ladies have the final choice."
Yes, you read that, right! The app shows the profiles of the best-matched girls to the guys and waits for them to express interest. Then, those girls on whose profile the guys (Bagels) showed interest and are serious about connecting will be sent to the girls for review.
Pros
Provide greater privacy to both genders until connected.
Receive frequent updates to add new features and fix bugs.
Active help and support team.
Cons
Require access to your Facebook account for authentication.
In-app purchases for premium items.
#10. Match Dating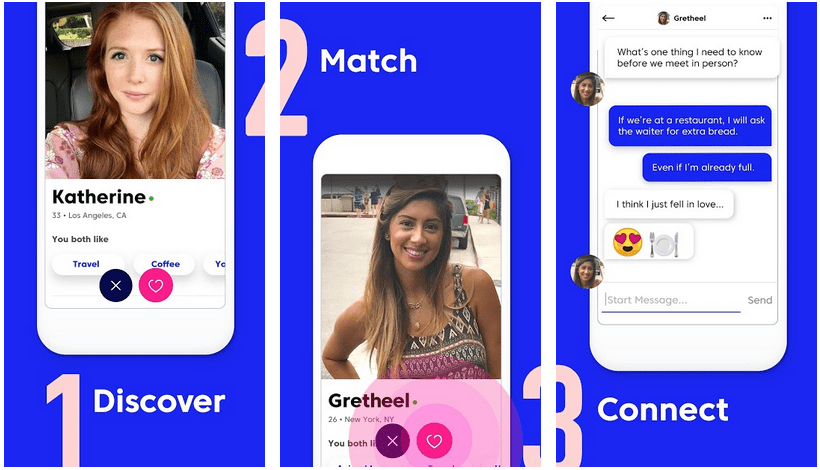 The Match Dating by Match.com is another popular freemium dating app that has been around since the very beginning, and this is the reason why they are high-end and even have a useful and frequently updated app for Android users.
If you are one of those who is looking for a free online dating service then you are going to face certain limitations and be able to create your profile with few pictures, discover the people around you, engage with the available ones using winks. The app will provide you with personalized matches daily too.
On the other hand, to be able to make the most out of the dating service and gain access to the additional services, you will be required to purchase a premium subscription that is going to cost you around $20 for a month!
Pros
Compatible with Android Wear.
Frequently updates the app to add new features and improve stability.
Cons
Require subscription for premium features.
Which Online Dating Apps Have You Tried Already?
Have you ever tried any dating apps for Android? Which one is your favorite? Did that app help you date any person or let you start a meaningful relationship in a real-life?
Share your online dating experience with us in the comments section below! 😉