Are you moving out to a new country and worried about being lost? There are many navigation apps available for Android that will help you find your way to your destination.
If you search for navigation apps on the Android App Store, you will come across many options, but not all of them are reliable. Here I have included the top best navigation apps for Android, and most of them come bundled with voice-guided functionality and offline map support that will make your direction-finding task easier than ever.
1. Google Maps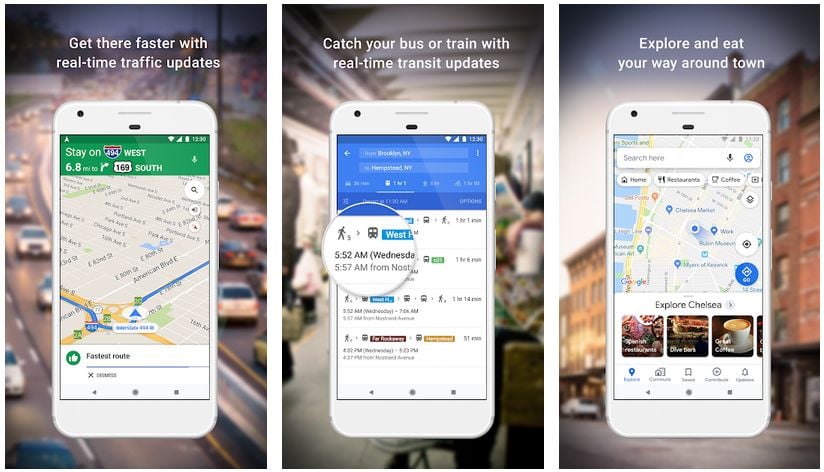 The Maps is the official app designed by Google to help you with your daily navigation and transit tasks. It is one of the most reliable apps and gives you real-time GPS navigation functionality along with some valuable information about traffic, transit, and details about every place that touches your route.
Depending on your locality and country, the app is also capable of updating you with real-time traffic conditions, estimated time of arrival, and navigational statistics. The app supports over 220 countries and territories.
Easy to use.
Navigation based on Traffic scenario.
Not Work Offline
2. Waze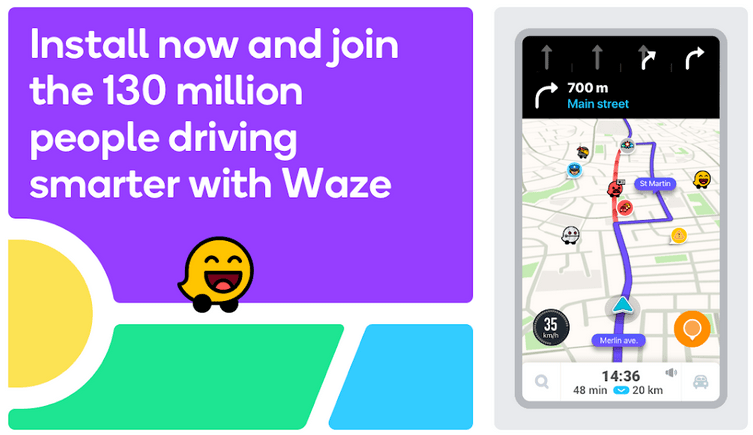 Waze is one of the world's largest traffic and navigation apps that is populated and supported by the active community and comes with offline map and navigation support. The app can help improve your day-to-day commuting as it has been actively updated by the local community within your area which keeps you aware of any unforeseen occurrence and other hazards on the road.
The app provides you a turn-by-turn navigation along with voice guidance so that you can concentrate on the road while the app guides you. And the map supports automatic rerouting in case you missed a turn or skipped a block.
Updated information.
No Traffic Updates.
3. Sygic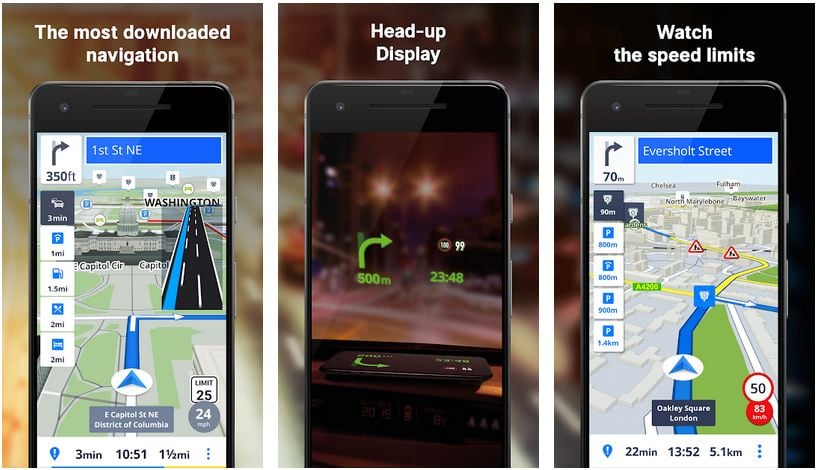 GPS navigation and maps app by Sygic is one of the most advanced on the Google Play Store because it gives you access to three-dimensional high-quality offline maps for every country via TomTom.
The ability to download offline maps on your Android device is what makes it the best navigation app for the platform and will also let you navigate even when you are offline. The built-in heads-up display feature will project GPS navigation on your vehicle's windscreen so that you can concentrate on the roads while driving.
One of the Most Recommend apps for Navigation.
It may not work in some countries.
4. MapFactor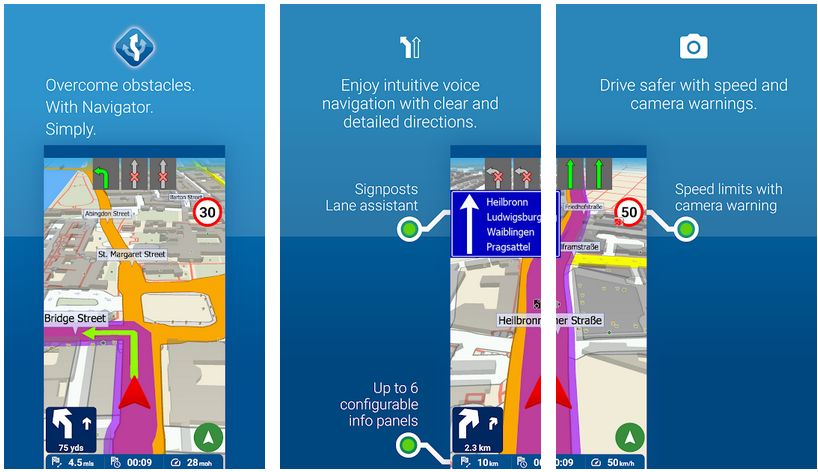 MapFactor is a free GPS navigation maps app that gives you access to offline maps from OpenStreetMaps along with frequent updates and turn-by-turn navigation. That will make sure that you can reach your destination without any requirement for Internet connectivity.
The simplicity of the app and the easy to configurable options are what make it the favorite navigation app for most users. And it provides voice guidance in various languages too.
One of my favorite apps works offline and is available for free.
Easy navigation, a lot of features.
It Consumes a battery and heats up the phone quickly.
5. MAPS.ME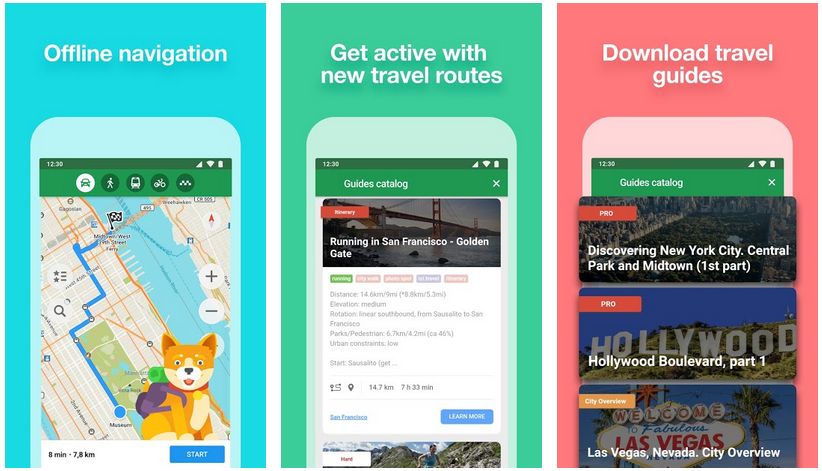 Maps.me has been downloaded by over forty million users around the world, which is what makes it the top travel and navigation app in more than a hundred countries. The app gives you instant access to detailed maps of every country in the world, and above all, you will not be required to have an Internet connection which means all the maps and data are stored on your device for offline access.
The app supports over 345 countries and islands to make sure that you are never lost. The maps are highly detailed with information about billions of points of interest including restaurants, shops, tourist attractions, supermarkets, gas stations, banks, ATMs, and whatnot.
6. Navmii GPS World (Navfree)
Navmii is a free offline GPS navigation app that provides you with accurate directions without an Internet connection. The app features a voice navigational system that gives you voice-guided turn-by-turn navigation along with constant verbal updates about the name of the street you are crossing.
The Navmii maps are available for over a hundred and fifty countries and help more than twenty-four million users in their daily transit, globally. You can even perform a search for local places that are powered by Foursquare, What3Words, and TripAdvisor.
7. HERE WeGo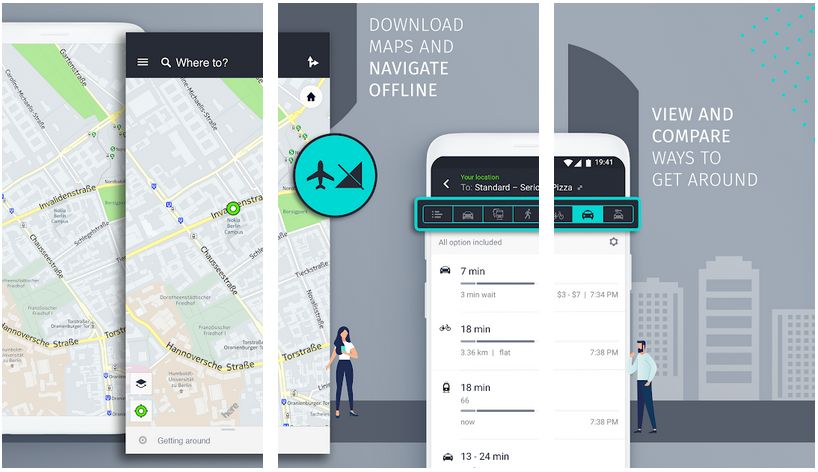 Here WeGo navigation app is one of the most useful offline transit apps that is compatible with both, smartphones and tablets, making your navigation uncomplicated and less time-consuming.
The app allows you to plan your route so that you can prepare yourself for traffic delays, signals, and the overall time it would take you to reach the destination. The navigation maps have support for more than a hundred countries and thirteen hundred cities globally.
8. OsmAnd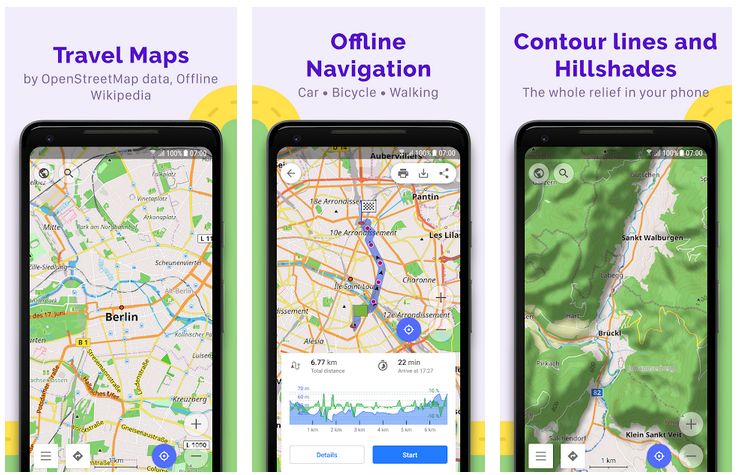 For those of you who are wondering, OsmAnd stands for OpenStreetMap Automated Navigation Directions. It is another maps and navigation app that uses OpenStreetMap data as its base to provide you with free access to high-quality maps from around the world.
The app feature turn-by-turn navigation and voice guidance support along with automatic rerouting. You can add some of your frequently visited places in the bookmarks.
9. GPS Essentials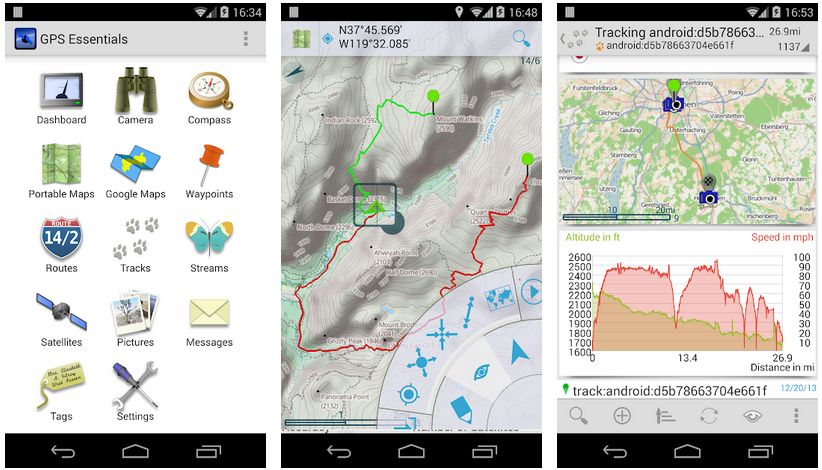 GPS Essentials is also a really minimalist yet cool GPS Navigator app for Android which gets the job done without any difficulty. GPS essentials focus is a little bit less on directions in a little more on other stuff you can view stats like average speed, altitude, distance traveled, ETA, and other stats along with some standard navigation features.
It is also available for free in the Google Play store and you can download it today. You can also add waypoints and what it does is, it drops a pin where you want and later you can get directions to your waypoint. If you like to go hunting, hiking, or fishing you can add a waypoint to your camp and later come back to your camp with ease.
Following are the features of the GPS essentials app listed below.
Freemium app, means that you can check the ability of this app by using the free version of the app and if you feel comfortable, you can upgrade to the premium version which adds up to the functionality.
Claimed to be the most complete GPS Navigation app, by the developer. It has 45 different widgets including moonset, moon phase, and many others.
It imports maps from Google maps and Google Earth and gives you Turn-by-turn instructions for your route.
The interface is overwhelmingly simple which makes it really easy to use.
If you like to fish, hunt, hike, or be a traveler, this is the app for you.
10. Backcountry Navigator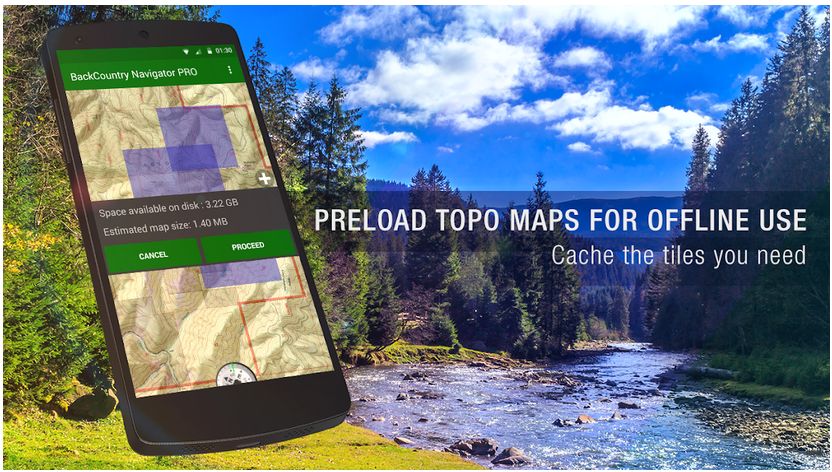 This is one geared specifically toward hikers and backpackers. It features offline map support, topographical maps, and map marking see can track and plan your hikes. It has a bunch of maps that come bundled with it that help you save data while traveling. Most of us go hiking to places where finding a data connection is a tough job, this app makes it easier for us to hike.
Some of the key features of the Backcountry Navigator app are listed below.
Backcountry Navigator allows you to drop pins to different locations and you can get navigational instructions while traveling to the waypoints.
This app is an expensive one if you are not a serious hiker but if you are really into hiking, you get a solid app that can save you a lot of effort by making it easy to navigate.
There is a free trial version that you can try before buying it.
11. Here WeGo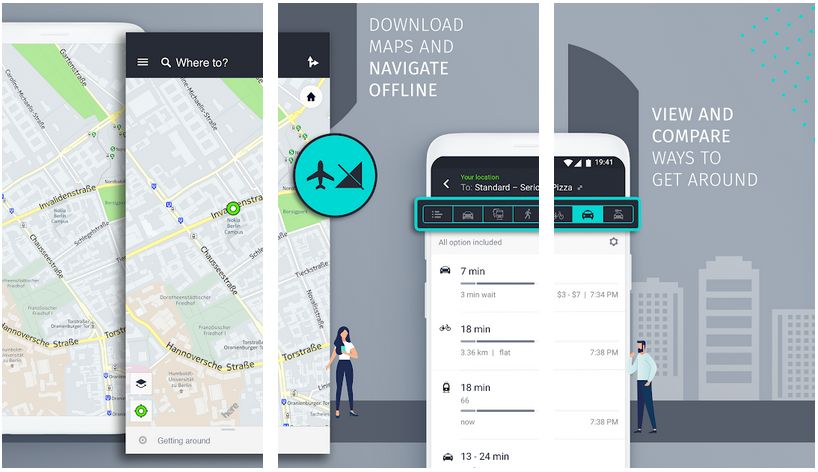 Here Maps navigation app is designed by Nokia and the interface of HERE is really elegant and simple just like other Nokia Apps. You can download HERE maps for Free from Google Play Store and it allows you to download the maps for offline navigation without charging you anything. Some of us like to travel around, and HERE maps make it easier for us, without adding any bulky software to our devices.
Below are some of the key highlights of HERE Maps.
You can turn off data for only HERE Maps and it will continue to give you instructions if you have the maps already downloaded.
Turn-by-turn audio navigation instructions are just like all other navigator apps discussed already.
It is a completely free app including any maps you want to download, with no charges.
12. Copilot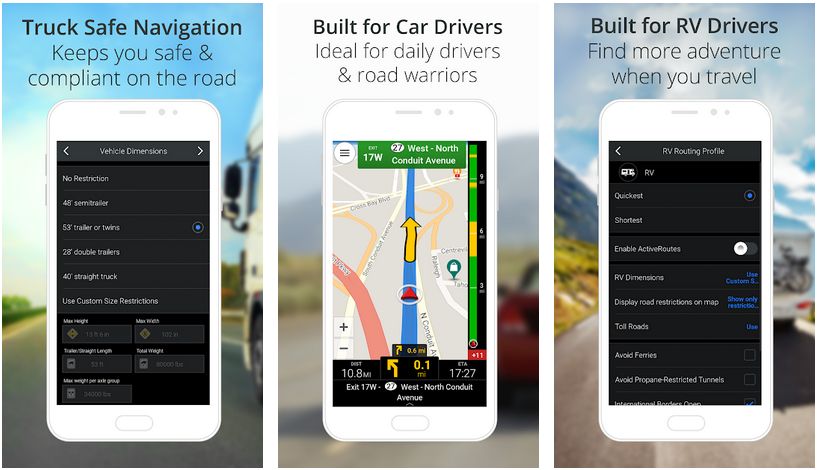 Copilot is a more traditional GPS navigation app that features voice-guided turn-by-turn navigation and it's also available in many countries all over the world. The number of supported countries is not as many as Sygic though. It also comes with offline map support and a 3D guidance display. Copilot is a premium app that comes with a free trial of 7 days and then you can choose to upgrade or not. There are more than 14 Million users of Copilot according to the developer.
Features of Copilot are listed below.
Turn-by-turn voice-guided instructions to navigate.
14 Million users from many countries around the world.
7 Days free trial and then you are asked to upgrade or leave.
Which Navigation App Is Your Personal Favorite?
Do you have any favorite navigation apps for Android? Please let me know in the comments below why you love that app! 🙂