We all get super-overwhelmed after we discover our favorite podcast series that are worth hundreds and thousands of hours. Then we find it hard to properly manage all of our playlists in the right way. Suddenly we become so carried away that we almost forget to bookmark it or subscribe to it for later access. To resolve that, we have brought you a review of the nineteen best podcast apps for Android.
Every day we spend a lot of time in front of screens to consume various digital content in the form of video, audio, and news. On average, millennials spend whooping seventeen hours a day on the consumption of electronic media listening, watching, browsing, and reading.
Talking about audio-based content, especially podcasts, which have gained a lot of traction lately as they are easier to consume and you can listen to them while commuting, cooking, or even when you are exercising. Now, to keep yourself organized, we have reviewed the best Android podcast apps for phone and tablet devices.
#1. Anchor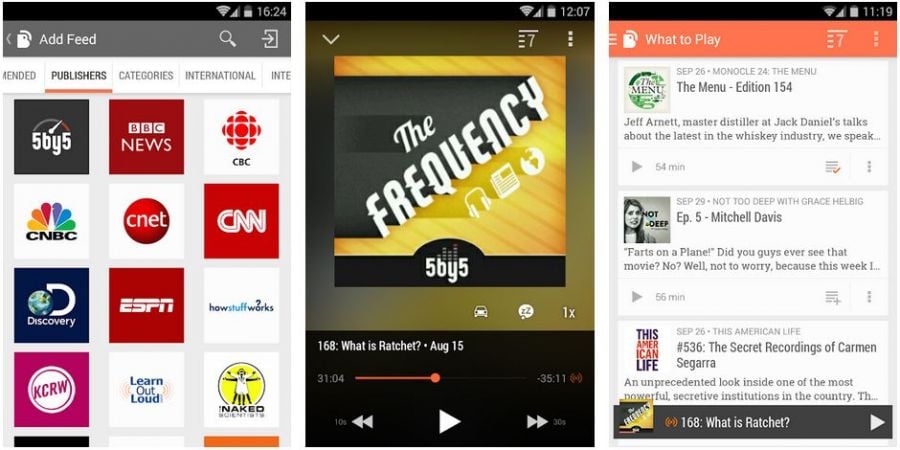 As I mentioned above, there are plenty of apps available for downloading and listening to podcasts from the web. However, Anchor is one of the exceptional apps which offers both podcast creating and listening features. It is available for free at Google Play Store, but you can purchase a paid subscription as well. It offers free unlimited hosting space for your audio files and lets you publish them instantly. 
You can use this app for recording podcasts and importing other audio files from your devices. It can be used for editing the audio files to make a perfect podcast episode. You can add background music and edit the audio file as you wish. After editing the audio, the Anchor app will publish the podcast to its platform and all other leading music hosting platforms. It will let you broadcast your podcast on all premium and common podcast platforms including Apple Podcasts, Google Podcasts, iTunes, Breaker, Castbox, Overcast, and Spotify. 
Anchor offers a great experience for subscribing to quality podcasts from popular creators. The beautiful user interface and the functions make it easier for everyone to listen to their podcasts anytime. 
#2. Pocket Casts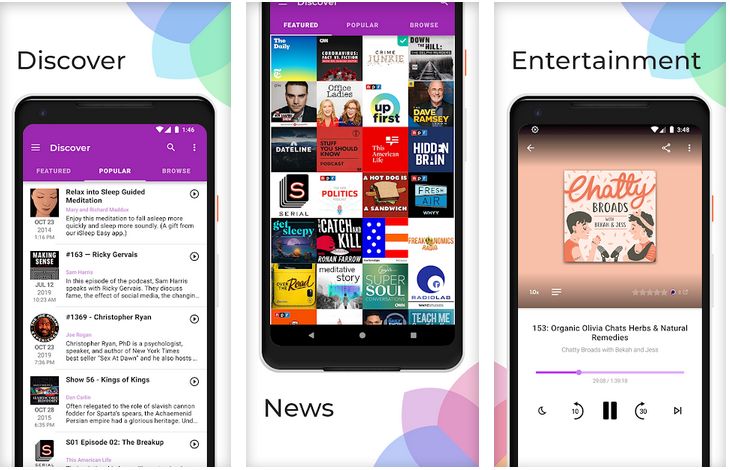 Pocket Casts is a very productive podcast player app on the Android platform. It offers a wide range of controls and functionalities for podcast lovers. You can customize many of the podcast settings easily within the app. It has the best search and discovery tools for finding podcasts across the world. You can download this app from Google Play Store. It is not a free app, you will have to pay around $2 to own this app. 
It is worth purchasing Pocket Casts as a premium one with multiple control systems. The app is generally considered the best podcast app on the Android platform. It has some hand-curated podcast recommendations for active podcast listeners. It comes with a handful of playback effects and synchronization capabilities. This app has received many awards including Google Play Top Developer, Google Material Design Award, and Google Play Editor's Choice. 
#3. Podcast Addict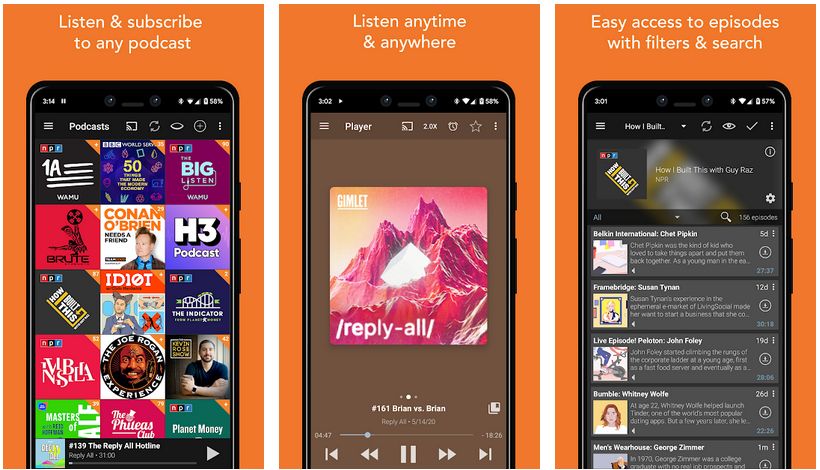 Podcast Addict is a well-known podcast app for mobile users with over 9 million downloads on Google Play alone. It is not only a normal podcast listening app, but it is also known for its ability to download and listen to Audiobooks, Radio, YouTube, Twitch, SoundCloud channels, and RSS Newsfeeds. Podcast Addict is a one-stop destination for all your audio listening experiences. 
The app comes with selected playback effects, playback speed, volume boost, skip silence, mono playback, and other handy features. You can create and follow multiple playlists. As described above, this app can play audio files as a standalone app so you can listen to audio files from the phone's internal storage. 
The podcast Addict app comes with attractive widgets and a customizable user interface. You can try out the available three themes as per your preference. You can easily filter the search and podcast discovery by specific keywords and episodes. This app is available for free at the Google Play Store. You can download it now and explore the podcast world.
#4. Google Podcasts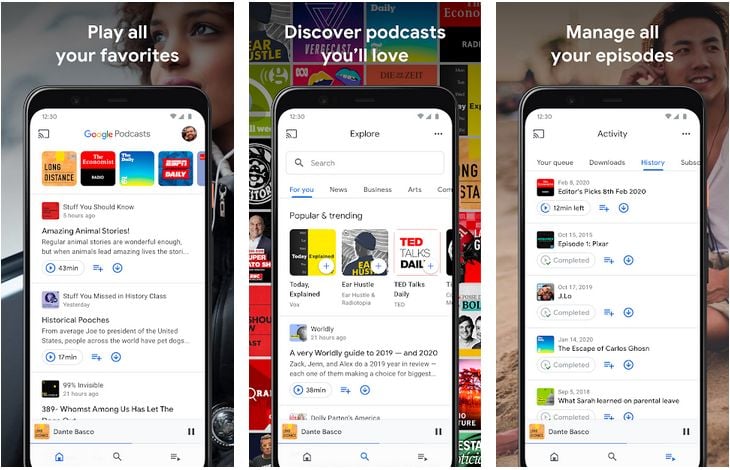 Podcast listening on the Android platform has become easy after the launch of the Google Podcasts app. Google has three platforms for podcasts. You can listen to podcasts on Google Play Music, YouTube, and Google Podcasts app. As you might expect, it is a completely free app and comes bundled with search integrated results as well as native support for Google Assistant. And Google's Material Design 2.0 provides an excellent user experience.
Google Podcasts app comes with standard podcast features including playback speed control, the ability to skip silence, and playback effects. Thousands of quality creators and famous people publish interesting podcasts on each topic to Google Podcasts, making the podcast listening experience great on all the Google services.
If you ask for my opinion, the best feature of Google Podcasts is streamlined syncing capability across all your connected devices. While listening to a podcast on your phone, you can pause it anytime and then resume from where you left off on your Google Assistant device. It's that easy.
#5. Player FM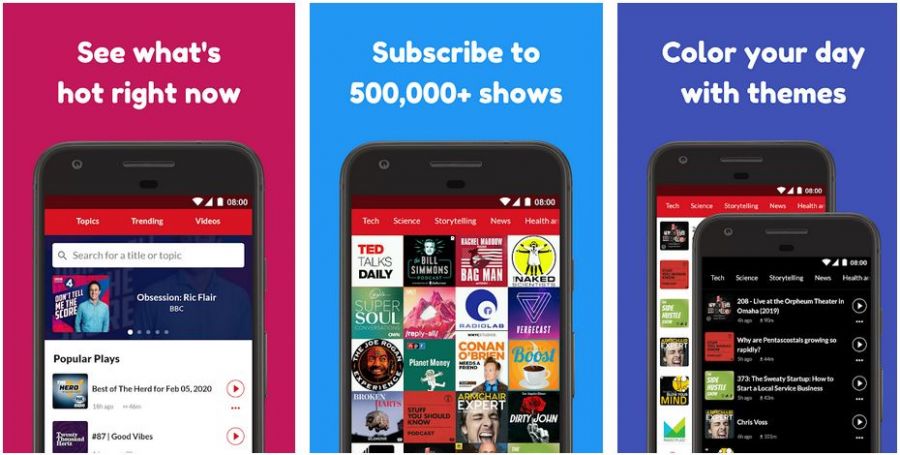 Player FM is a well-known podcast listening application available on multiple platforms. However, it is mostly known for its special content discovery tools. Upon signup, the app will ask you to enter your interests, so that it will automatically find the best podcasts from the top sources and make them available at your fingertips.
This app is not free and you need to subscribe to any of its paid subscription plans. Player FM offers three subscription plans priced at $1 per month (Gold), $4 per month (Pro), and $10 per month (Patron). 
I don't recommend purchasing a monthly recurring subscription to listen to podcasts on your Android smartphone. However, there is no issue in paying just $1 if you are looking for an automated app with personalized content discovery and zero advertisements. Once you have purchased the plan of your choice, you can then put all of your focus on podcasts thanks to the ad-free listening experience.
Player FM also features theming and app customization to further enhance the user experience. In addition to that, it offers seamless syncing between devices using Google authentication. This app supports integrations with a large number of IoT devices including Android Auto, Chromecast, WearOS, TeslaUnread, TalkBack, Samsung Gear S notifications, LG Quick Circle, Music Boss, Podchaser, Drivemode, RockScout, and Wearcasts. 
#6. CastBox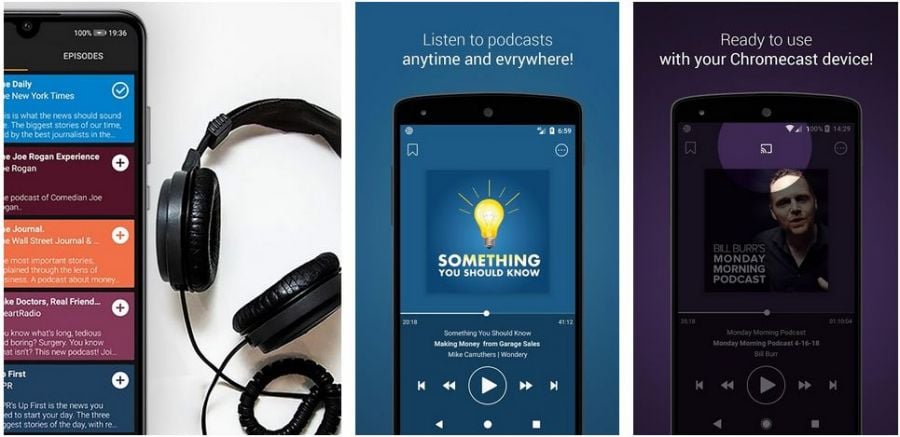 CastBox is one of the best free award-winning podcast apps for Android devices. It has a great collection of selected quality podcasts from different podcast hosts such as Apple Podcasts and Google Podcasts. The app is available for download for free at Google Play Store with no ads in the free version. That can be considered the best offering from this app. However, it includes an optional in-app purchase too, which costs $2. 
With over one million podcast channels, CastBox supports more than seventy languages globally. Just like a standard podcast app, this one also features playback effects that ensure seamless playback for podcast lovers. It also supports features like cloud syncing and listening to podcasts on any device. The app works with Google Home devices, Amazon Echo devices, Chromecast, and Android Auto service. 
In addition to the standard podcasting features, CastBox offers a great collection of finely recorded sounds to enhance your life. The newly introduced Zen mode gives you some great natural sounds and music to ensure better sleep and happiness. This app got several Google Play awards and a few other third-party awards, where it was placed as the top winner. 
#7. Stitcher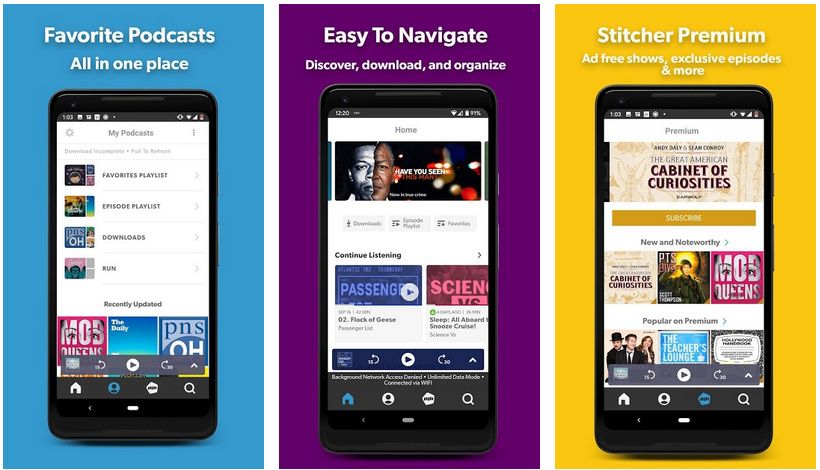 Stitcher has some special recognition on the list as it focuses mostly on original and premium content. It has a great collection of premium exclusive podcasts for its paid subscribers. The app is free to download at Google Play Store but contains advertisements. You can opt for any of the premium subscription plans available for an ad-free experience. It is priced at $4.99 monthly or $2.92 per month billed annually.  
In addition to the Stitcher's original contents, the premium plan gives you a great collection of comedy shows, news, and other entertainment shows. It works as a podcast and news hub simultaneously with a personalized home page and enhanced discovery options for audio lovers. It can be used for listening to the radio too. Stitcher's free plan is enough for you to fulfill all your podcast needs.
#8. Spotify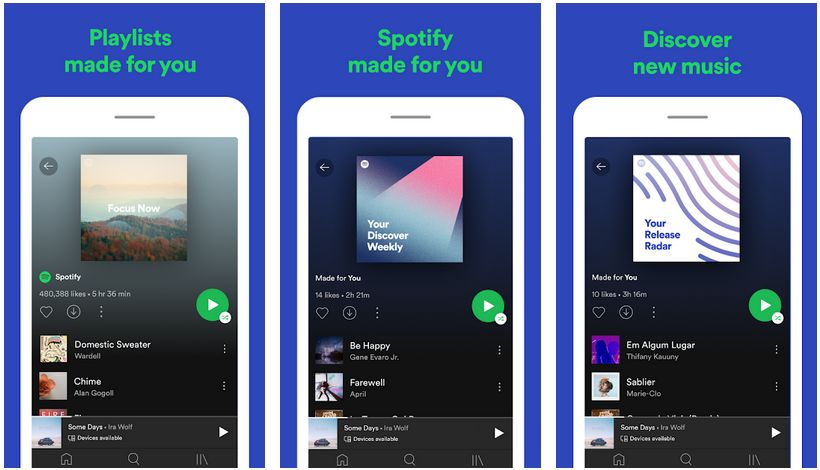 There is no need for a special mention of Spotify. Because it is one of the most popular audio streaming services in the world. Spotify introduced podcasts to cheer up its subscribers and followers for a few years. You can download the app for free at Google Play Store, but it has paid subscription plans available for you to experience all of the premium streaming features. 
Spotify can't be considered a mainstream podcast application because it is known as a music streaming service. Podcasts are not the main focus of the people behind the company. Anyways, they offer a collection of podcasts in different categories including comedy, storytelling, news, entertainment, and whatnot. 
#9. SoundCloud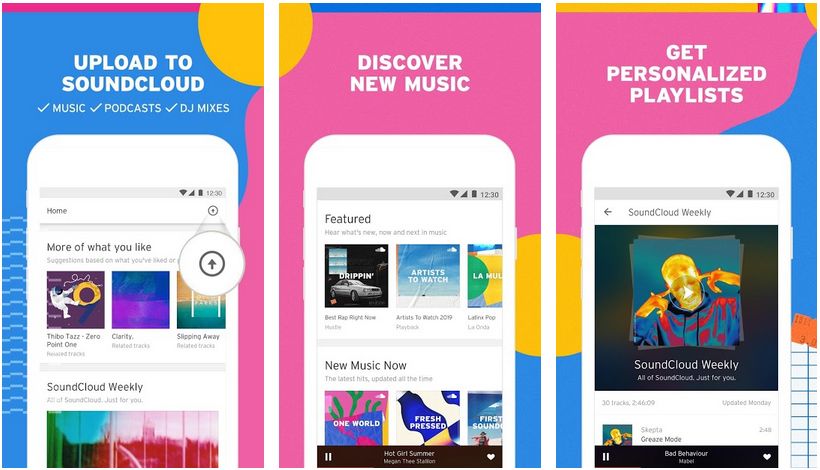 SoundCloud is a famous audio hosting service that does not require a special introduction. It is available for free at Google Play Store and you can also use the web version. The free plan should be enough for you to discover great podcasts related to news and entertainment. Believe it or not, it has one of the largest libraries for audio files and music collections. 
However, similar to Spotify, SoundCloud is more of a music-focused platform so podcasting was never a mainstream feature. However, now all popular creators and celebrities are using this app as their most-preferred podcast service. The easily available hosting options and integration attract music lovers to use SoundCloud for creating and publishing podcasts.
SoundCloud's free plan includes advertisements but offers many features and standard capabilities. But if you are curious, you can check out their premium plan named SoundCloud Go and SoundCloud Go+, which offers an ad-free experience, offline listening, and high-quality audio. You can save unlimited tracks for offline listening. If you want, you can try the premium version for one month as a free trial.
#10. Podcast Go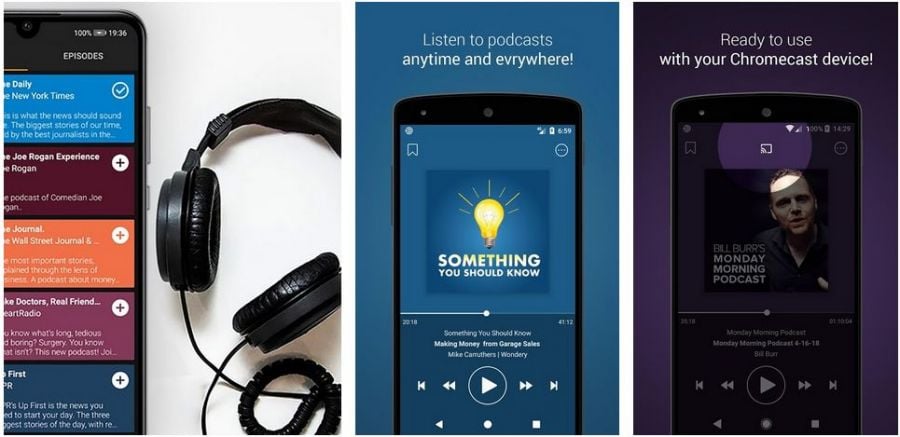 Podcast Go is a very standard podcast app for mobile platforms and is well known for its user-friendly material UI. The design is very attractive and simple for beginners as well as expert-level podcast audiences. It is a free app and you can download it at the Google Play Store. However, the company is offering an ad-free version at a rate of $2.99. 
We won't suggest you purchase the ad-free version, as it contains very few ads and they are kinda acceptable. Podcast Go is a Chromecast ready application with advanced casting settings. With over 800,000 shows, you can enjoy the best podcasts from a variety of categories including comedy, music, news, games, and education.
The app lets you download podcasts for offline access too. Other features of Podcast Go include a sleep timer, speed rate control, the ability to make modifications to the theme, option to create your personalized playlists. 
#11. TuneIn Radio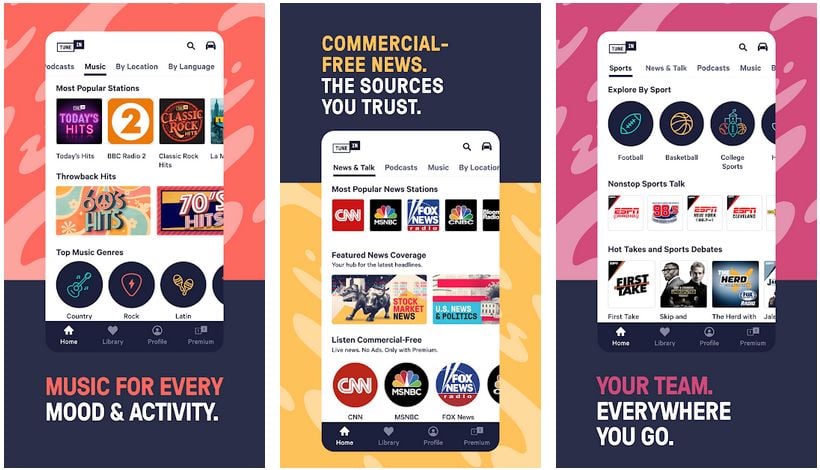 TuneIn doesn't require a special introduction as it is one of the most popular online radio streaming hubs. It is free to download and use without paying anything. However, there is a premium subscription, which lets you listen to game channels like NBA, NFL, NHL, ESPN, and MLB, ad-free news from CNBC, MSNBC, and Fox News Talk, and tons of nonstop ad-free music stations. 
TuneIn is a one-stop destination for all your audio needs. You can listen to some of the great podcasts and other audio collections from popular channels. It has advanced streaming options for sports, news, and other shows so you can immerse yourself in a world of talk. 
The app is mostly used by people for keeping themselves up-to-date with the latest sports and news updates. TuneIn Premium subscription costs you a lot as compared to any other podcast app and that's because it offers rich content and ad-free entertainment. 
The monthly subscription fee for TuneIn costs $9.99 and it is billed every month. You can also get a yearly subscription for just $99.99 which renews every year. Anyways, the premium subscription is an asset for every audio-entertainment and podcast lover.
#12. BeyondPod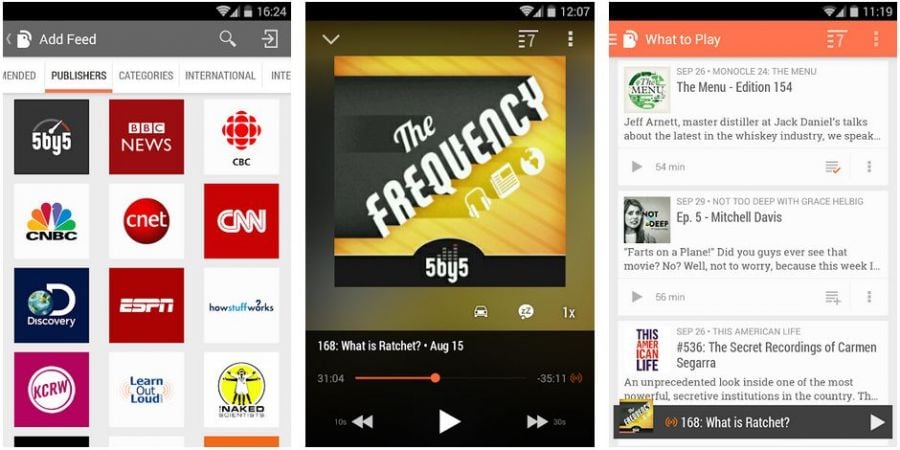 This list is incomplete without mentioning BeyondPod. It is a trusted podcast app for Android users with free and paid plans. You can choose to enjoy podcasts with the free version. However, the paid version will cost you a one-time fee of $5 for premium unlock. The free app along with the BeyondPond premium unlocker, both are available at Google Play store. 
BeyondPod is a feature-rich podcast app that comes with a smart playlist that automatically creates playlists based on your interest, playback speed control, replay/skip functionality, sleep timer, volume booster, and ability to cast podcasts to Chromecast enabled TV devices. You can also make use of the discovery tool available for free users.
The paid option is only to enable some premium features like Chromecast support, customized playback speeds, ability to download multiple podcasts at the same time. BeyondPod has Feedly integration too that allows you to synchronize subscriptions and personalized feed between your Android device and PC.
#13. Podbean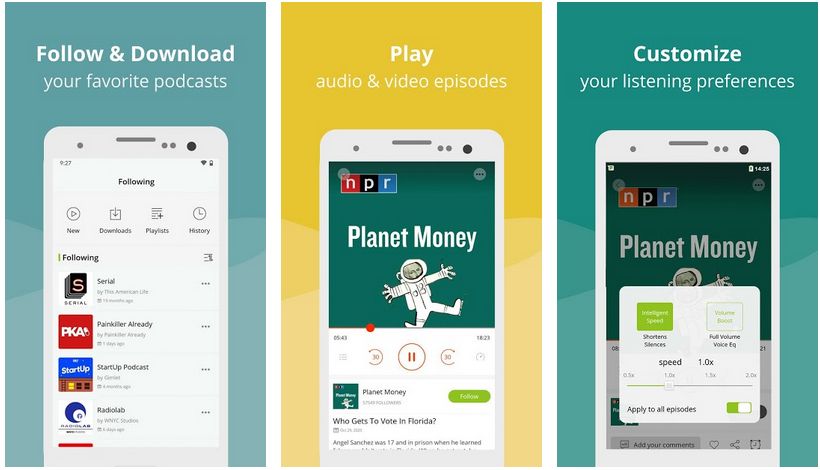 Podbean is an advanced podcast app with an attractive interface and clean layout, and it got nominated as one of the top podcast player apps. Its advanced podcast discovery functionality is well known for its efficiency. It has a huge amount of podcast collections in all the niches which are neatly categorized in libraries and playlists. It features offline listening support as well.
In addition to the podcast, radio, and audiobook listening, Podbean offers a professional podcast creation studio as well, just like the Anchor app. The app includes notification and automation support too, you will receive a notification whenever a new episode is released by the channels you are following, whereas on the other hand, the automation feature will automatically download new podcasts and delete the ones you have watched.
Podbean is designed to amplify your overall podcast listening experience by offering some of the most notable features like volume boost to normalize the volume, intelligent playback speed that removes silence parts from any podcast, customizable playlists to help you stay organized, support for mini-podcast player in a form of home screen widget, can be easily integrated with Amazon Alexa.
You can download the Podbean podcast app for free from the Google Play Store and start enjoying all the features of the free version.
#14. Podcast Republic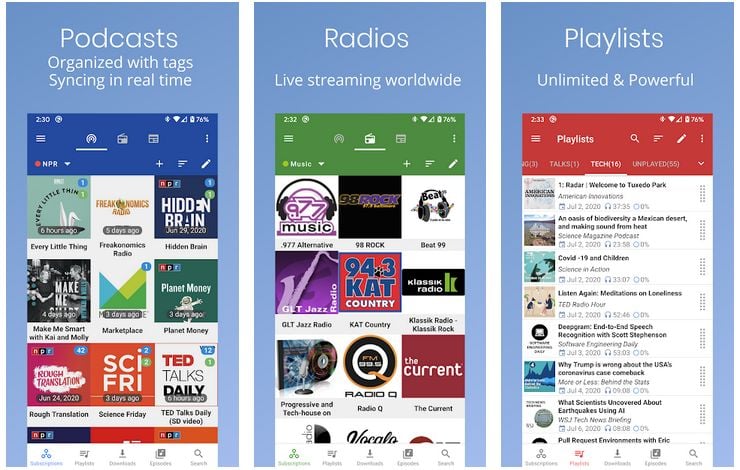 The Podcast Republic is an app that has a lot of similarities with the Podbean app as it offers all the premium podcast features without any subscription charges. However, Podcast Republic contains advertisements but you have an option to opt-out from advertisements by purchasing their premium plan through in-app purchases. You can download this app from the Google Play Store for free.
The Podcast Republic offers unique playback features and audio effect functionalities that you may not find in other podcast player apps for Android. The features include an equalizer, an option to skip silence from podcasts, a variable playback speed that helps you save time with a fast listening experience, a priority playlist to prioritize your podcast listening, podcast schedule to play your favorite podcast at your specified time.
There is even support for customizable shaking gestures and actions that help you control podcast and radio playback without unlocking or opening your phone, the ability to remember your last podcast playback position and resume from exactly where you left, and you know you can even control the Podcast Republic app through automation apps like Tasker.
#15. Acast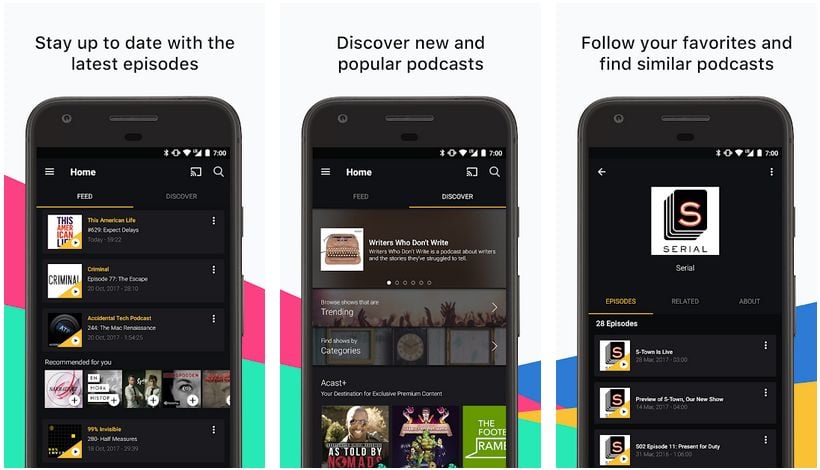 Acast has received loads of appreciation from popular publications and companies as a great source for quality podcasts and audio shows from a wide range of genres including news, sports, culture, comedy, health, and education. You can even download complete podcast episodes and listen to them while you are traveling or away from Internet connectivity.
For those who are into finding interesting podcasts, Acast offers a dedicated Discovery section where content is curated based on your interests and liking while offering you something new to listen to so you can keep yourself entertained. What's great is that all the podcasts and audio content are neatly categorized. Out of many usual podcasting features, lock screen control is one of the most notable features that let you skip, play, and pause podcast episodes.
Acast app is available for free at Google Play Store, however, they have recently launched their premium subscription which offers some of the most exclusive audio contents. If you want to tune in to the premium podcasts, you can purchase a monthly subscription which costs $1.99 per month.
Note: No longer Available on Playstore
#16. AntennaPod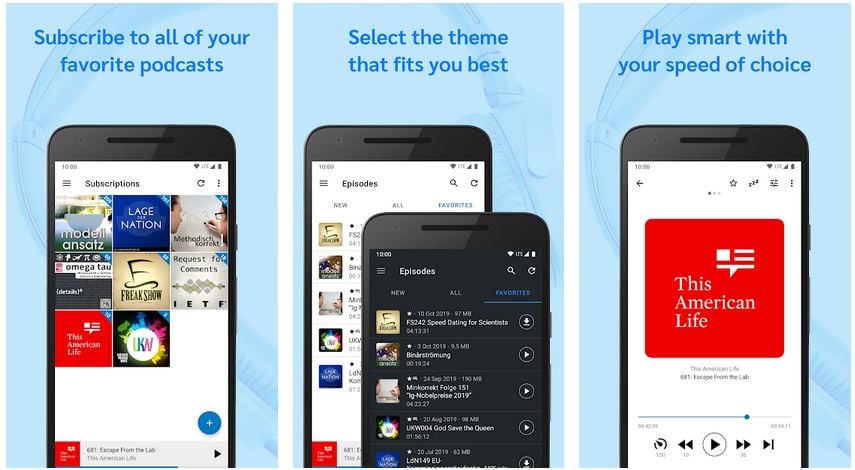 AntennaPod is an open-source podcast listening app that is completely free, has no cost, zero ads along with all cool features right at your fingertips. Being open-source, it has a great community of active contributors and developers on GitHub. The company has a beta program, which lets you contribute to the app's development.
The best thing about AntennaPod is that it has access to the iTunes database and gPodder.net directories, both of which offer a huge collection of interesting podcasts so you can easily import and export podcast feeds right from the database. It also supports RSS URLs and OPML files.
AntennaPod has one of the most powerful and advanced automation controls for downloading podcasts, where you can take complete control over downloads and specify which episodes to download and from which feed, whether a mobile network/data connection should be used for downloading, if podcasts should download when your phone is on a charge, and you can even set custom times.
Apart from that, it has all the standard features including playback speed control, sleep timer, ability to access password-protected feeds, and chapter support. It is a very successful open-source offering for all podcast lovers but the user interface of this app is not so great. 
#17. Podcast Guru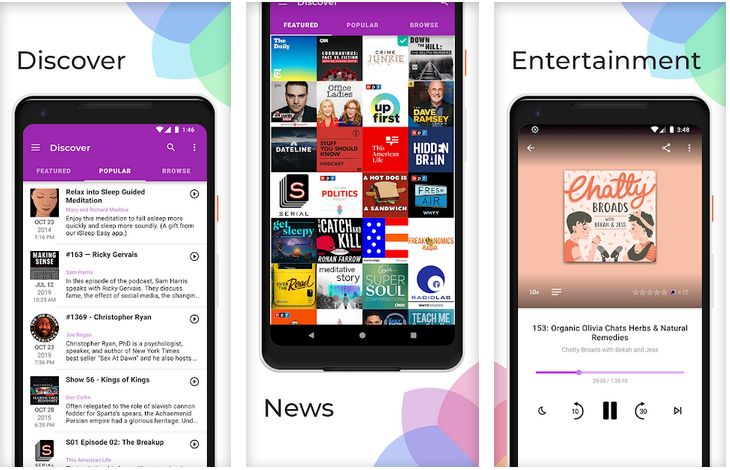 Podcast Guru is known as a no-ad podcast application. As it claims, the app does not show you any advertisement or promotional content that could interfere with your podcast listening experience. It has a simplistic interface that lets you access your podcasts instantly in the most straightforward manner, making it one of the easy-to-use podcast players with no complexity.
The developers behind Podcast Guru focuses on saving the time of their users and straightforward podcasting experience so they have implemented the most streamlined user interface. The overall size and speed of this app are so small that they claim that you can download the app and start listening to the large collection of podcasts within 30 seconds. And because of its simple structure, it offers very limited features.
This app is available for free at the Google Play store and does not include any paid plans.
#18. Podcast & Radio iVoox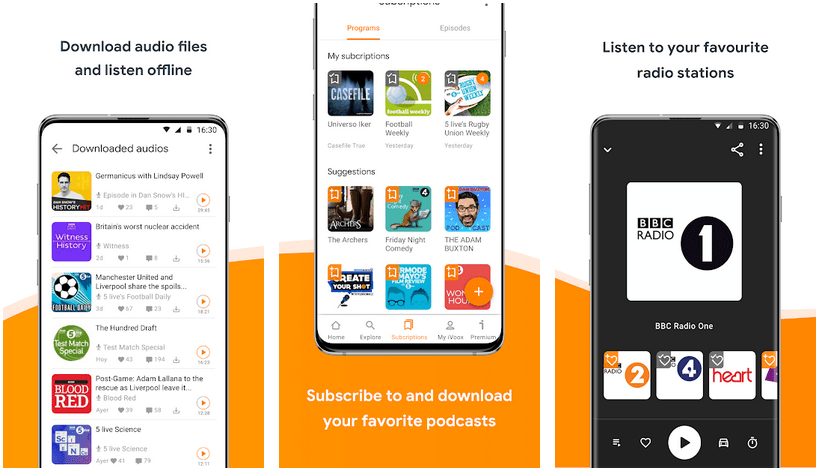 Podcast & Radio iVoox is one of the most widely accepted podcast player apps which allows you to listen to and download podcasts from a wide range of neatly organized categories, whenever you want and wherever you want. The app has a follow feature where you can follow your favorite podcasts, subscribe to them, and even download the newly released podcasts automatically. And there's even a playback control on the lock screen to have complete control without unlocking the device.
Although the app is feature-rich and has a great number of downloads and positive reviews, there are users who are experiencing issues like the user interface of the app is being displayed in the Spanish language. The developer has already suggested a solution where you have to manually select the language within the app and then restart the app, which should work.
Podcast & Radio iVoox app is available for free to download via the Google Play store but the free version contains advertisements, however, you can purchase an ad-free version through in-app purchases.
#19. Hubhopper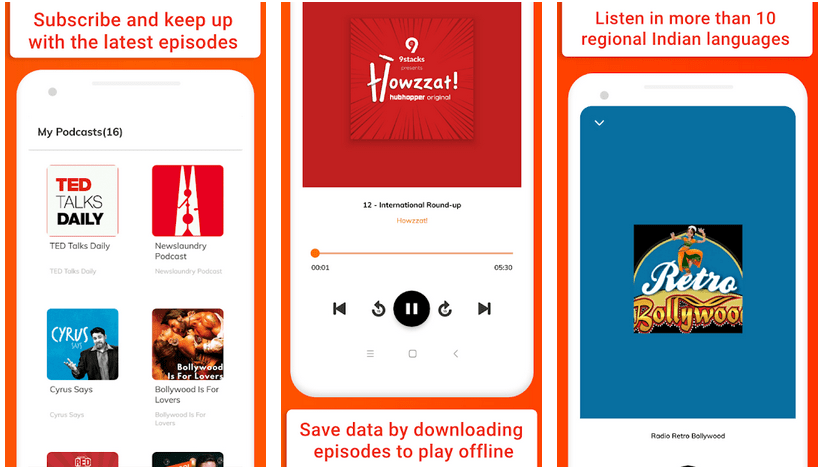 Hubhopper is a new generation podcast app that is known as the best free podcast app in India with a great library and features. The app grabs the best free audio content from podcasts, audiobooks, and other audio libraries for the best user experience. This app is available for free at the Google Play store.
It offers podcasts in several regional languages and from regional shows. Besides podcasts, it focuses mostly on audio stories. This app is popular for its collection of thrilling horror stories and podcasts. It has different playlist collections as per your mood for your complete entertainment at any time.
Conclusion
There you have it guys, our review for the best podcast apps for Android is now effectively over and we have tried our best to include the most reliable and feature-rich apps to fulfill your everyday podcast requirements.
Did we miss any best podcast apps that you find reliable and use frequently but we forgot to include in our list? Let us know about it in the comments below and our editor will make sure to add it to the list after testing. 🙂