Your SnapStreaks with your friends is about to expire or maybe you are out at a party and trying to capture some exciting snaps but Snapchat is not working and now you are stuck and unable to send any snaps. I can understand your frustration, which is why I have listed all the tested methods to help fix the issue that will eventually let you access your Snapchat account.
Also, even if your Snapchat app is unexpectedly crashing and freezing, the solutions and workarounds I have outlined here will help you out. So without wasting a second more, let's hop onto the techniques:
#1. Use Downdetector to Check Snapchat Service Status
Downdetector is one of the most reliable online apps to see if there is any underlying issue with the Snapchat services in your area, which could be stopping you from using the app. It takes about ten seconds and it will give you an instant report about the current status as well as of the past few hours in the form of a graph.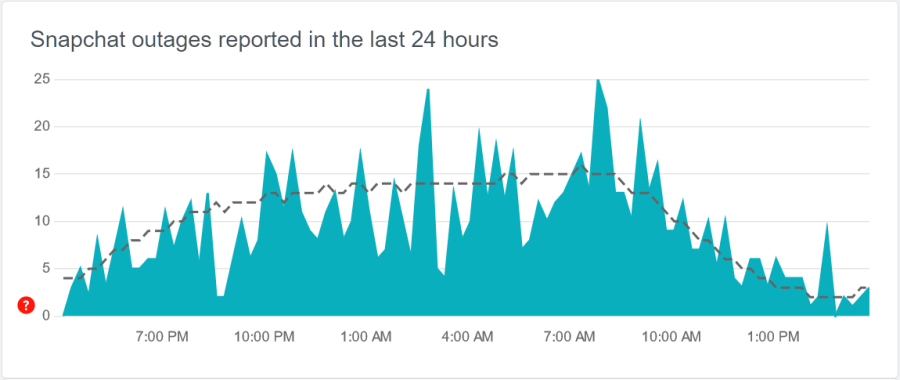 The dedicated Snapchat page linked below will show you exactly when and where the outage is being reported and what issue is being experienced by the majority. This will confirm that you are not the only one and that others are facing a similar problem. So you need to wait until Snapchat restores its services.
#2. Check Twitter for Possible Outage Reports
Twitter is one of the best social media apps to instantly get updates related to any issue being experienced by the majority. The users there are very active and you can find tweets about it with the hashtag #Snapchat or #SnapchatDown. All you need to do is open Twitter and search for these hashtags. If there is any known issue then you will find relevant tweets about it.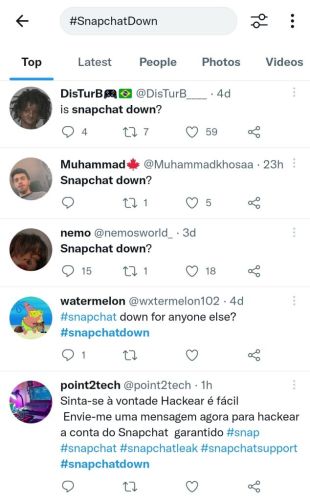 If in case there is nothing recent in there then please proceed to the other workarounds mentioned below to troubleshoot the issue.
#3. Check Your Internet Connection
If you are connected to WiFi then disconnect your phone from your WiFi network then reconnect and try to use Snapchat again. Restarting your WiFi device or router also helps if there is an internet connection problem.
If you are using mobile data, then check for cellular service in your area and see the signal strength. Alternatively, you can try switching to a WiFi network, as it will be a more reliable and stable option.
Also, if you happen to use a VPN with Snapchat then I will recommend you to temporarily switch to a non-VPN network. Otherwise, you can even select a new server location as it helps too. It could be a possibility that VPN is being blocked by Snapchat.
#4. Clear Snapchat App Cache
As you use the app, for instance, Snapchat app, it creates cache data and stores it on your phone's storage to speed up each process without putting pressure on your phone's memory. This app cache sometimes unexpectedly breaks things up and stops you from logging into your account.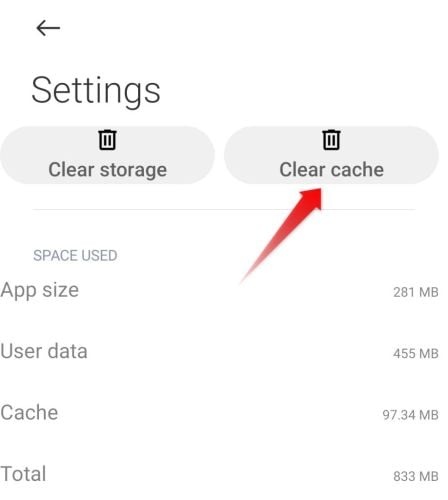 However, it is really simple and easy to get rid of stored app cache and it won't harm any of your data in any way. Clearing the app cache is safe. Here is how you can do it:
Find the Snapchat icon on your Android and perform the long press gesture.
A popup menu will appear. Tap on the App Info option.
In the app info window, find the Storage and Cache section and tap it.
Tap the Clear cache button.
Open Snapchat and see if the issue is resolved.
Do you know some so many Android users use third-party app cache cleaners on their phones and tablet? This helps clear the cache of all apps with just a simple tap. If you are interested, we have reviewed a handful of them here.
#5. Double-Check Snapchat App Permissions
Snapchat, by default, asks you for certain permissions to work properly. If any one of those permissions is missing then there is a possibility the app may not work as designed. This obviously means the app might stop unexpectedly or may crash and will not function properly.
You need to make sure Snapchat has access to the following permissions:
Camera,
Microphone,
Location,
Files and media, and
Contacts (not necessary).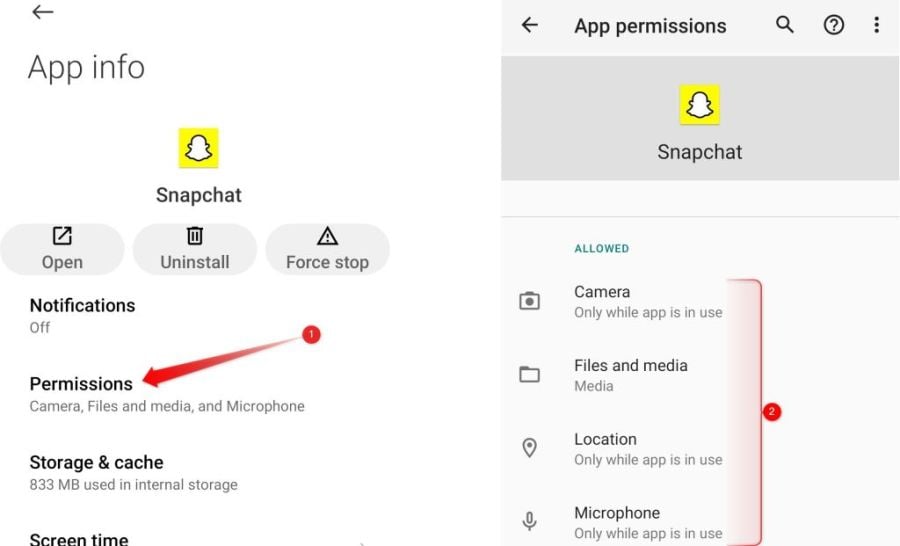 To ensure these permissions are granted, you need to go to the App Info by long-pressing the Snapchat icon and then tapping on the "i" icon to go to the App Info page. Once you are in there, tap Permissions and you should be able to see the list. Tap on the permission you need to allow and then from the list, you have to select "Allow only while using the app".
Once done, try opening the app again and see if everything is working as expected.
#6. Force Stop Snapchat and Reopen It
Force closing the app and then relaunching it is known to help fix a lot of problems with the app especially when the app doesn't respond as designed and starts to throw up errors.
Forcing closing the Snapchat app on Android is simple. Here is how you can do it:
Find the Snapchat icon on your Android and perform the long press gesture.
A popup menu will appear. Tap on the App Info option.
In the app info window, find the Force stop option and tap it.
Now you need to open the Snapchat app and see if it is working or not. And whether the issue has been resolved.
#7. Uninstall and Reinstall Snapchat (this will update it to the latest version too)
Uninstalling and reinstalling is usually the last solution when we are troubleshooting an error. The reason being a fresh installation of the app usually fixes all the issues that you might be experiencing. Moreover, since you are doing a brand new installation so the latest version will be installed from Google Play, which reduces the chances of issues with the installation file.
Here is what you need to do to reinstall Snapchat on your Android phone:
Find the Snapchat icon and long press on the icon.
A popup menu will appear. Tap on the App Info option.
In the app info window, find and tap on the Uninstall option.
Now open Google Play Store and install Snapchat. Once installed, you can now open the app and see if the issue is resolved.
Did you lose your Snapstreaks due to Snapchat issues? You don't need to worry as here we have a quick solution for you to help get back lost Snapchat streaks. The trick will easily help restore your streaks within a matter of minutes 😉
#8. Try Using Snapchat for Web
Yes, maybe you are not aware of this feature but Snapchat has a fully functional web version (just like the Instagram web) where you can log in to your account through a web browser on a PC, no matter where you are. The web version let you send a snap to your friends, and chat with them, and you can even have a video call with them.
If you are going to use this method to see if Snapchat is working or not, then make sure you are using the latest version of Chrome web browser. The web version is not compatible with older versions.
#9. Get in Touch with the Official Snapchat Support Handle on Twitter
Did you know Snapchat has an official support handle on Twitter? If you are experiencing any issues, you can tweet them and they will actually respond to you and will even help you resolve it. They even send out a public tweet to let everyone know if there is any known issue with their services.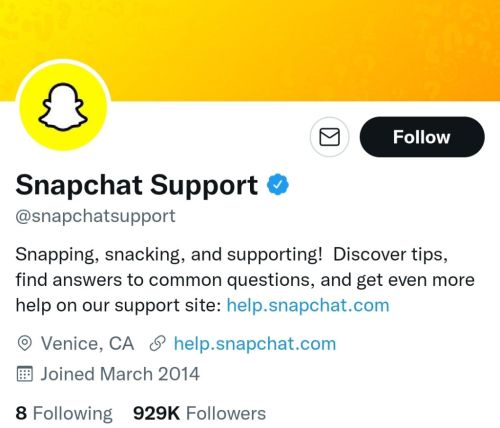 The link to the Snapchat Support Twitter handle is given below. However, you need to have a Twitter account to make this work.