Are you being overbilled or overcharged by your telecom company for using extra data? Or maybe your data limits were suddenly exhausted out of nowhere and you are clueless about it? The solution is to install mobile data usage tracking and monitoring app on your Android device.
We are depending on the internet for everything. From booking a taxi online to having a video call with our dear ones, we need a working internet connection on our smartphones. This makes it a must for us to keep an eye on our mobile data usage because, in the absence of cellular data, almost nothing online can be accomplished from a smartphone.
If you do not monitor your mobile data then someday you may find yourself in a situation where you need mobile data and it is not working because it is already exhausted, or if you have a postpaid connection then you may be overbilled.
To help you out, here we have reviewed the eight best mobile data usage tracking apps that allow you to monitor your data usage and protect yourself from these problems.
1. Check Data Usage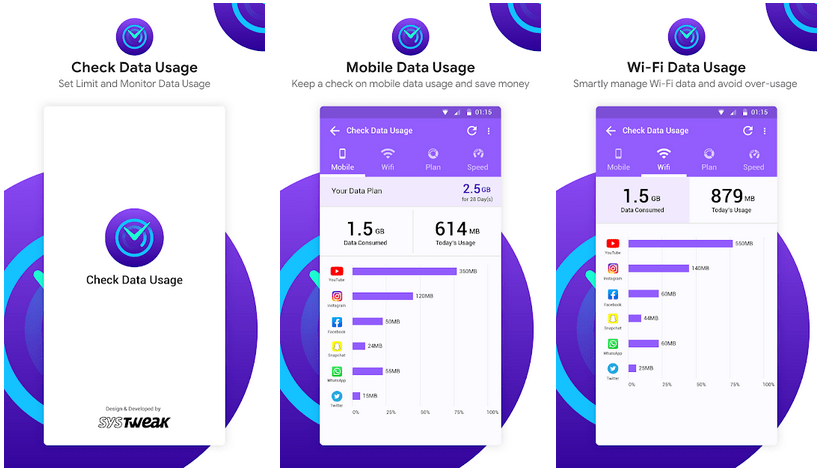 If it is checking and monitoring your data usage, then the "Check data usage" app from Systweak Software is heading the list. Application delights its users by offering a number of features with allow them to monitor data usage.
When we talk about some of the key features of the app then it gives you a statistical representation of your data usage, you can easily set your data plan, and the app also allows you to clean cache and clear RAM. It also gives you the flexibility to set when you will get a reminder before your mobile data gets exhausted.
2. My Data Manager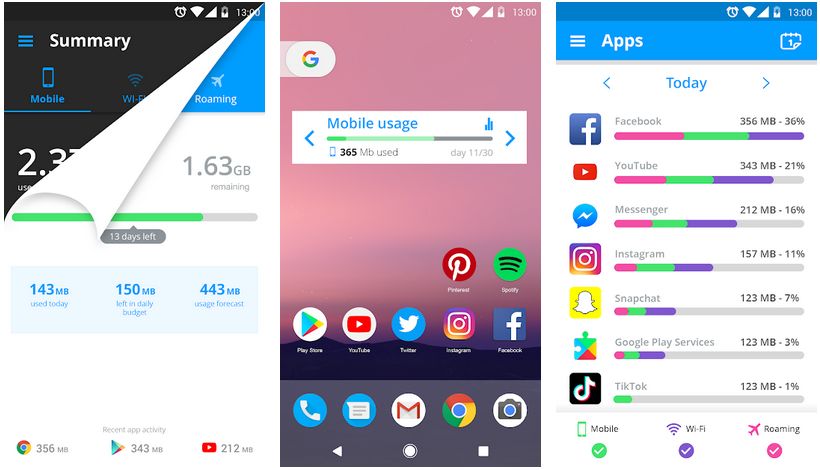 Another decent application to manage data on your smartphone is "My data Manager", just like other data managing apps, it helps you to save money by taking control of your data usage.
The application not only tracks and manages data but also helps you to track your free calls and message usage. The best thing about this app is that it works with shared data plans. It is also capable of managing your data across devices.
3. Samsung Max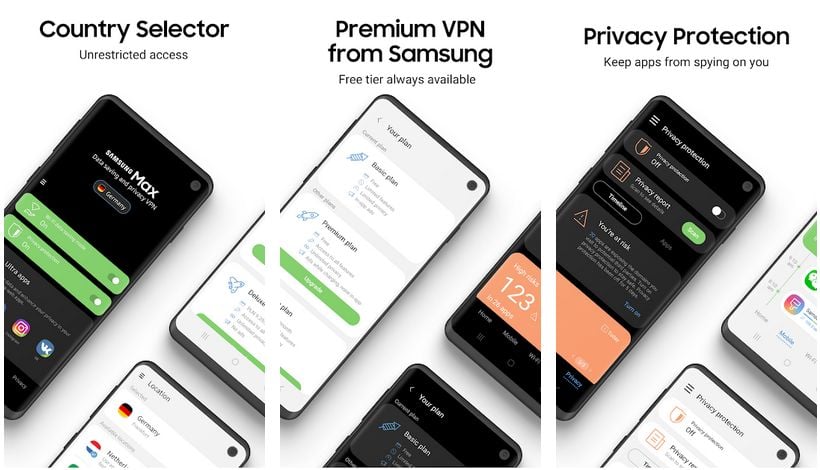 Hope you have heard about the opera mini web browser. It is a cross-platform web browser and is loaded with a number of attractive features. The company also has a data usage manager on the play store. Opera's data manager tracks your applications and their habits of using data.
Opera Max offers you a tailored savings tool for Facebook, keeping you longer engaged with your friends on Facebook without wasting your data plan. The app not only allows you to manage your mobile data it also ensures your security over the public Wi-Fi network.
4. Data Usage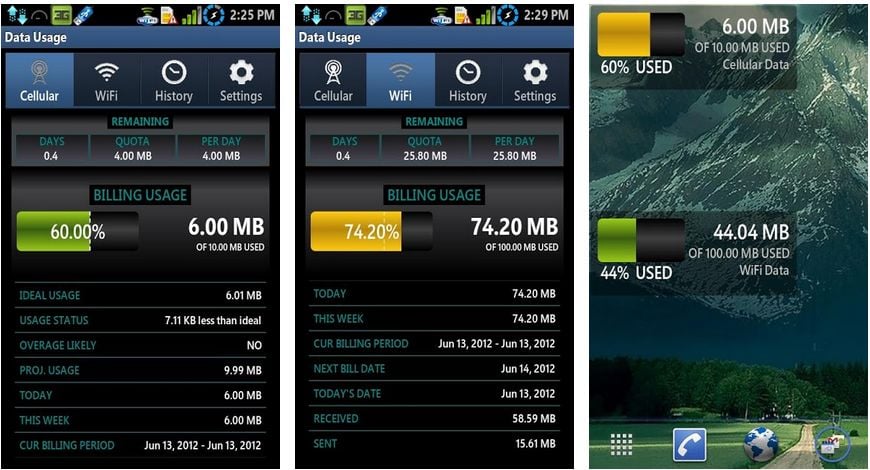 If you want an application on which you can set your daily data usage limits and which should be a cross-platform app as well then you should go for Data usage.
The app is compatible with Android and iOS, you can also add a widget with set data usage limits. The design of the app is very basic and easy to understand.
5. Data Usage Monitor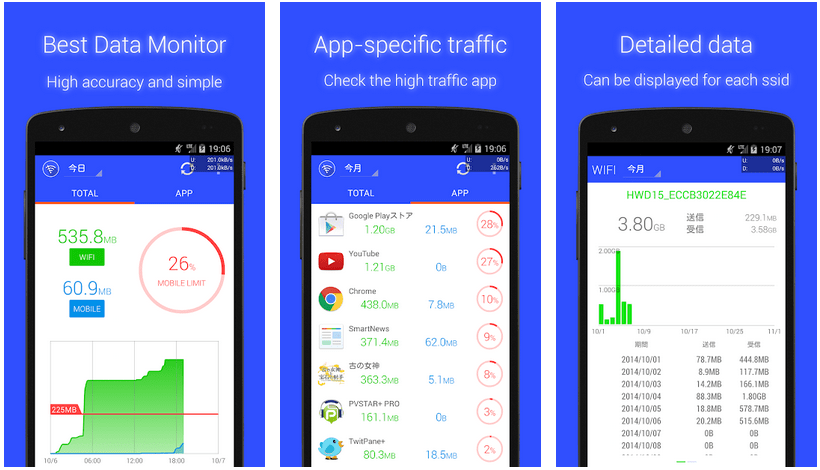 Another data usage application loaded with amazing features is very easy to use it precisely measures the data usage and gives you alerts when you are about to run low on data. Some other premium features are to display mobile data usage on the home screen through a widget.
Measured usage is separated on the basis of Wi-Fi and Mobile data is displayed in graphs that are easy to read. You can also check which app is consuming data in the background and how much data is being spent on which app.
6. Traffic Monitor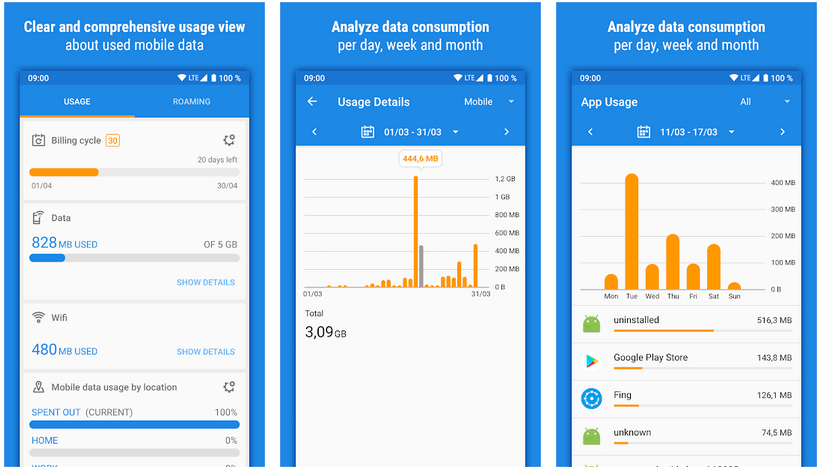 This application can be used to monitor data usage over data only. It is not meant for those who want to check data usage or speed over Wi-Fi. The application also allows its users to check the speed of the internet.
You can individually track how much 3G/4G and 5G data is used as well as how much data is used over the roaming. These statistics help a lot in minutely monitoring the data usage of your smartphone and avoiding surprising mobile bills when you are back from a pleasant holiday.
7. Internet Speed Meter Lite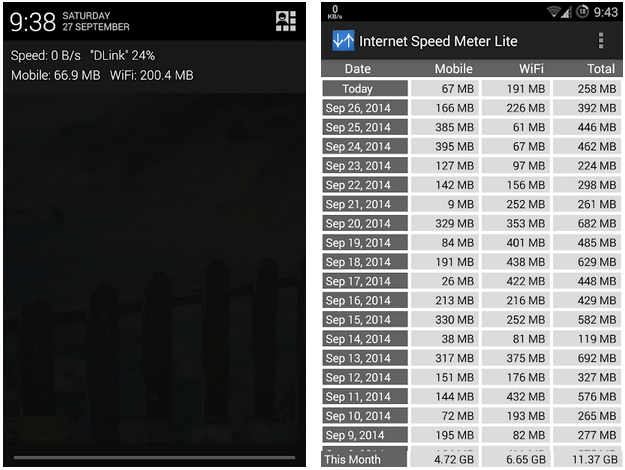 If you want to keep it simple and tabular formats are more understandable to you instead of graphical representation then go for this data manager app.
You will see internet speed at the top and in the app, you will find a simple and clear table that how much data is used on which date. Like other apps on the list, you can put a cap on your data usage.
8. Data Usage by TouchSpot MX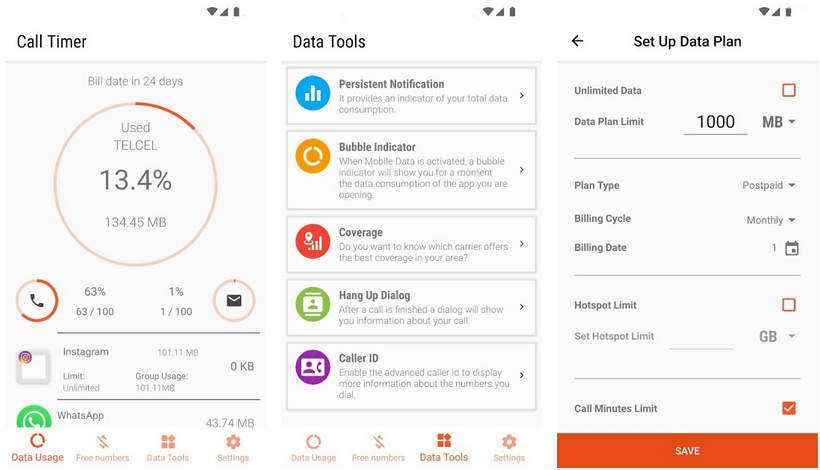 If with data usage control you are looking for a call timer as well then you can go for this application. It is having the same features for calls as in the case of data you can set call timers and auto hang-ups after a fixed time.
You can also track the basic location of the caller. The displays statics for both call usage and data usage. If you have different call rates applicable for different operators, then you can set different hang-up times for different contacts.
Conclusion
So these were some of the apps which will help you save money on your mobile bills that arise due to excessive data usage. Hope you found this blog post helpful. In the comments down below, tell us which Android data usage tracking app worked best for you. 🙂