There are hundreds of MP3 downloader apps available on the Google Play Store that promises to let you download MP3 files, but due to some legal terms and copyright limitations imposed by Google and content publishers, most of these apps will never allow you to download copyright content from YouTube and other sites.
So what you should do now? And how you can download MP3 on your Android?
I have got the seven best MP3 downloaders for Android that will let you download music, songs, melodies, and podcasts in MP3 formats without any limitations.
Using these apps, you can download any type/genre of song and music in an MP3 format including pop, rock, classic, R&B, rap, and Latin, most of these apps are also free.
Apps For Desktop PC
These are apps to listen to music on Desktop PC or Mac.
#1. VideoProc Audio Downloader (Desktop only)
VideoProc is a desktop video processing software gathering downloader, converter, recorder, compressor, and editor in one go. It can download videos/audio, subtitle, streams, playlists, and channels in seconds. Download from 1000+ online sites, batch download 999+ URLs. And Convert any video to mp3 and 420+ formats in one click.
PROS
Easy to use
Fast downloading speed
Rich features in one go
Cons
It's only available for PC and MAC
---
Apps For Android Phones & Tablets
You can use these apps to listen to & download music on your phone.
#1. SONGily MP3 Music Downloader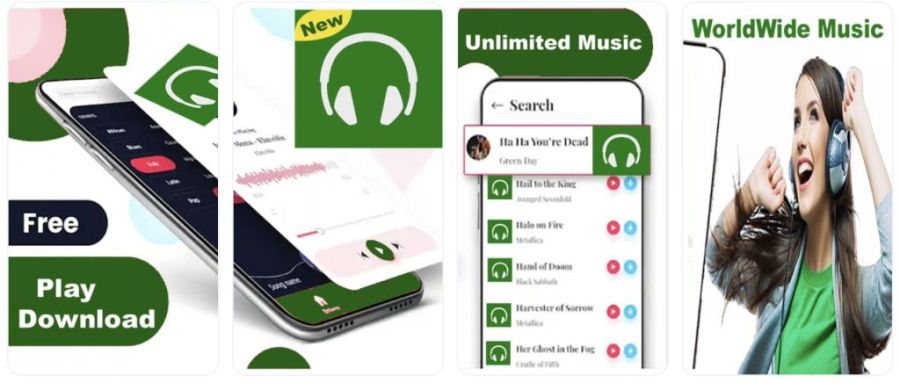 SONGily is the most reliable MP3 downloader app available on the Play Store that allows you to search, discover, and easily download MP3 music on your Android phone.
Surprisingly, you can even download HQ video music right from YouTube if you want to, though the service is still in the beta phase.
SONGily is a perfect MP3 downloader app for you if you are looking to download covers and remix versions of the original music. There are original songs by original artists too, but you will need to listen to each song on the list to be able to find the original one.
Pros
Easy to preview and download MP3 music.
Have a huge database of music.
Ability to download music from YouTube (under beta phase).
Cons
Contains ads.
It might be a little bit time-consuming to find original MP3 music.
#2. SuperCloud Song Downloader
SuperCloud is the most simplified song downloader app for Android enabling you to search and download thousands of songs quickly. The app contains two tabs i.e. Search and Downloads.
The Search tab has a search bar that allows you to search for songs using the artist, album, or song name. Hitting the search button will populate the list of songs available in the database. Just tap on the song, use the Play icon to preview, and the Download button to start downloading.
The Downloads tab will show you a list of all the songs you have downloaded on your phone.
Pros
Simplified and clutter-free user interface.
Preview MP3 songs before downloading them to your phone.
Compatible with Android 2.3 and above.
No ads.
Cons
Not available on the Google Play Store.
#03 – XTunes MP3 Downloader
XTunes MP3 Downloader makes it easier than ever to browse, search, and download your favorite MP3 songs on your Android phone. The inbuilt search feature allows you to find, listen to, and download all the MP3 songs from various music websites on the Internet.
The app has numerous sections to make it streamlined for you to browse the latest and top MP3 songs including the latest albums and singles, top album charts, and a list of hit songs for every month.
Pros
Separate tabs for regional, pop, English, and Hindi songs.
Material design with an easy-to-navigate user interface.
Ability to preview MP3 songs before downloading.
Cons
Contains ads.
Not available on the Google Play Store.
#04 – YTD2 MP3 Music Downloader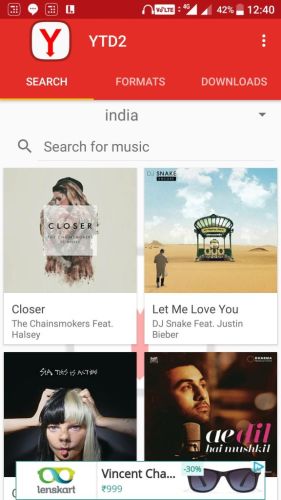 YTD2 is an advanced MP3 music downloader for Android that is capable enough to download any music from the Internet.
The built-in search bar in the app performs an in-depth search on the music websites available on the Internet and shows you a list of all the MP3 songs available for download.
There is another exciting feature of this downloader i.e. the app is not only limited to streaming and downloading MP3 audio formats, but you can even stream and download music in HQ video formats including 360p and 720p resolutions directly from YouTube using the share feature.
To be able to download and convert video files to MP3 audio format, the app will prompt you to download the required FFMPEG plugin.
Pros
A huge variety of top music is available on the app's homepage.
Easy to search, browse, and download the MP3 music of your choice.
Ability to download music videos and MP3 audio from YouTube.
No ads.
Cons
Not available on the Google Play Store.
#05 – Osons MP3 Downloader
Osons is a free MP3 downloader app available on the Google Play Store that let you search and download any MP3 music on your Android phone without you needing to go to any website.
The app finds a video version of your music, then automatically converts it into an MP3 format and downloads it on your phone.
Similar to other MP3 downloaders in the list, Osons also has two tabs i.e. Search and MP3 Downloads.
Under the Search tab, you will have a search bar using which you can find and download any music. And the successfully downloaded music files will then be available under the MP3 Downloads tab for you to play.
Pros
Simple and easy to find and download any MP3 music.
You can set the downloaded MP3 music file as your ringtone directly from the app.
Cons
No option to preview music before downloading.
Contains ads.
#06 – Hungama Music Downloader & Player
Hungama is a popular app for music lovers to listen to, download, and stream their favorite music tracks right from their Android phones. You will find a broad range of MP3 and video songs in various languages including English, Tamil, Hindi, Telugu, Punjabi, and others languages.
The app has the most up-to-date database that contains over 3.5 million music and songs from all over the world. You will find almost any music to match your mood.
To be able to download MP3 music and songs, you will need to upgrade to the Hungama Pro which will unlock HD quality music and unlimited full-length videos, and also removes advertisements.
Though, you can enjoy offline music playback for free. 😉
Pros
The most up-to-date app along with quick developer support.
Relish songs in MP3 and video formats.
Remove ads with Hungama Pro.
Cons
#07 – SnapTube Music & Video Downloader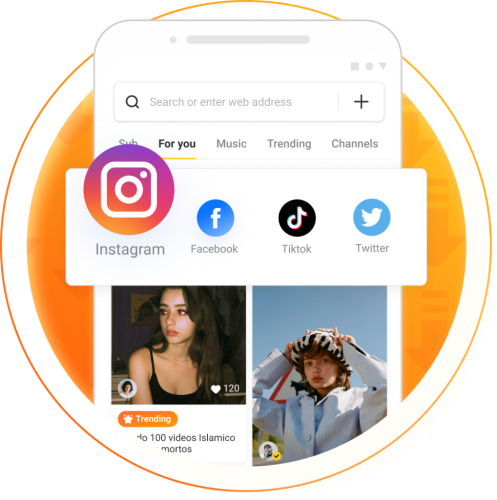 SnapTube is the easiest, fastest, and free app to find, stream, and download any media file format including MP3 music and songs from virtually any website on the Internet to your Android phone.
You can use the search bar located in the top left corner of the app and enter the name of the song or artist, and it will show you all the available sources. You can even download MP3 music and songs directly from YouTube using this app.
Pros
The Straightforward user interface makes it easier for even beginners to download music and songs.
Download MP3 audio from YouTube, Vimeo, Vevo, and other streaming websites.
Built-in fast download mode to speed up the download.
Cons
Contains ads.
Not available on the Google Play Store.
More Websites You Can Use
Here are some more sites you can use to download and listen to mp3 songs.
Which App Helped You To Download MP3?
Were you able to download the MP3 songs? Which of the seven MP3 downloader apps helped you the most? I will love to know! 🙂