Are you planning to save money for your project or retirement, or maybe looking for an app to swiftly manage all of your assets while keeping an eye on your day-to-day expenses? Look no further, here we have reviewed the five best budgeting and personal finance apps that are suitable for not only Android but other platforms too.
All you need is your phone and a little time to properly configure your preferred budgeting app, based on your financial requirements and the unique features of the app. And not to forget the pricing structure. We have discussed it all.
1. Money Manager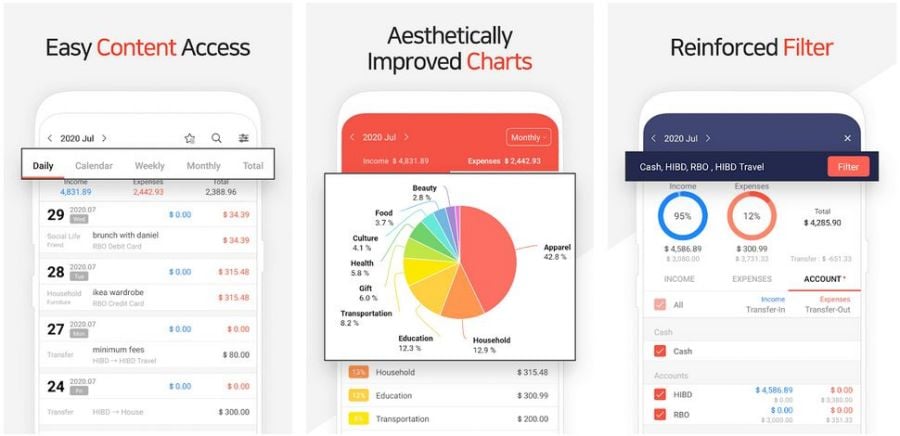 Money Manager by Realbyte Inc. is one of the most effective expense and budget management apps for Android that offers features like financial planning, expense tracking, reviewing your budget, and the option to easily manage all of your personal assets. The app can show all of your data for various periods including daily, weekly, and monthly.
You can quickly record your spending whether those transactions are personal or related to your business. We, humans, can easily understand graphical representation of data so Money Manager shows both your budget as well as expenses by a graph, which can help you make quick financial decisions. The app even offers the ability to manage expenses using your PC.
What Is This Best For: Graphical representation of the change in assets, income, and expenses; active backup and restoration of data; and managing your personal assets.
Unique Features: Double-entry bookkeeping accounting system; connects to your debit card for automated entries; and password protection for added security.
Ads: Yes, the free version is ads supported.
Price: Free with ads / Pro version costs $3.99, which removes ads, offers unlimited assets, and the ability to edit on PC.
2. AndroMoney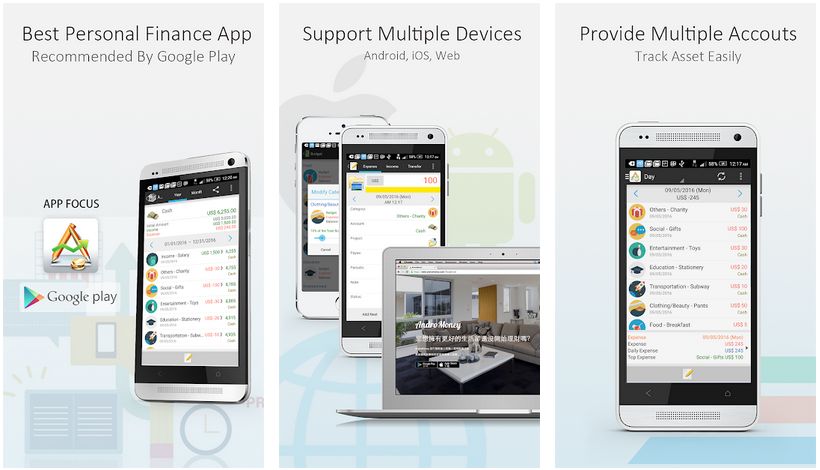 If you use more than one mobile device to track your expenses like Android and iOS then AndroMoney will be the best app for your budgeting and personal finance management needs. Being supported on multiple platforms and having an intuitive interface, you can manage your wealth in the best way possible.
Being a finance-related app AndroMoney has password protection to make sure you have access to your data only. For easy and prompt calculations, the app offers a conveniently located numeric pad. And the best aspect of this app is the ultimate customizability you can personalize it the way you want.
What Is This Best For: Sync all your financial data with other devices; support for all currencies with fresh forex exchange rate downloading option; and cloud storage.
Unique Features: Export data to Mac number/Excel; add custom categories to record income and expenses your way; and graphical representation in bar and pie charts.
Ads: Yes, the app is ad-supported.
Price: Free.
3. Wallet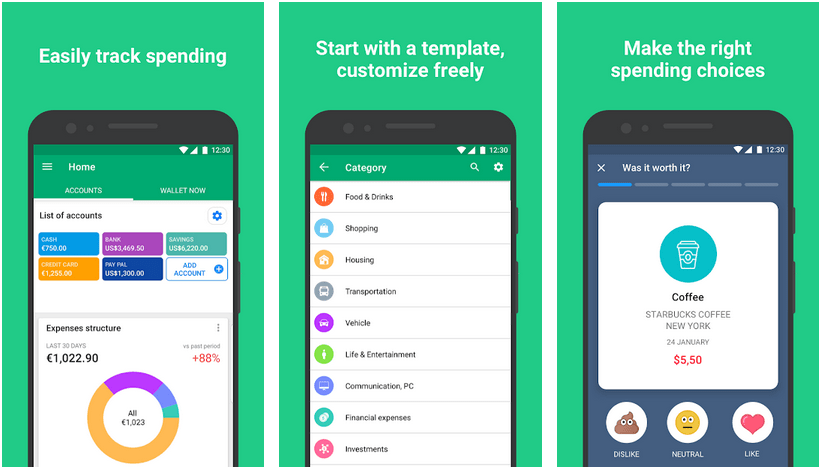 Wallet offers direct integration with all the compatible banks, which then automatically synchronizes all of your data including income and expenses, and those data are smartly stored in their respective category so you don't need to manually fill in the details after every expenditure.
The app Wallet is designed with the aim to help you gain complete control over your finances. And for long-term financial budgeting, the app makes sure to give you financial insights whenever you need one so you don't overspend and keep your expenses under control.
What Is This Best For: Effective budget planning with a partner by sharing any specific income/expense head; and secure syncing of transactions directly from your bank account.
Unique Features: Import financial data from a spreadsheet or bank statement; PIN-secured app; ability to geo-map transactions; and bill tracker with a due date.
Ads: No ads.
Price: Offers in-app purchases.
4. Monefy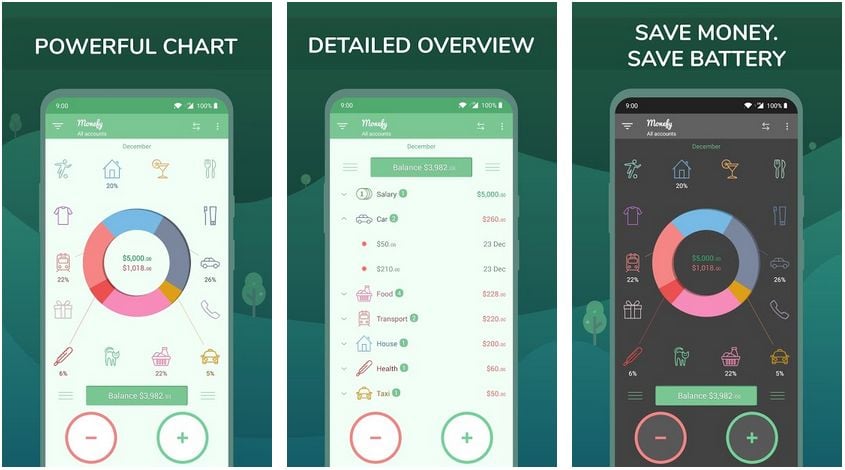 Monefy makes sure to make financial tracking and money management the easiest task as the app is designed in a way to provide a better way to track each of your expenses, whether you are on Android or iOS. Even if you use a tablet or phone, you can sync all the data between different devices thanks to cloud integration i.e. Dropbox and Google Drive.
Monefy gives you the absolute freedom to personalize the app the way you want it to be. The moment you install it on your device, the app will auto-generate categories to help you get started without much effort. However, you are allowed to change currency, create new categories or modify the existing ones. You are then free to begin recording your expenses and income.
What Is This Best For: Backup and export data; password protection along with the support for fingerprint and face ID; ability to manage categories and currency.
Unique Features: Support for multiple devices and multiplatform; sync your data from one device to another within minutes; quickly record financial data with just 2 taps.
Ads: Yes, the app shows ads.
Price: Free / Pro version costs $2.49 to remove ads and offers added features.
5. Daily Expenses 3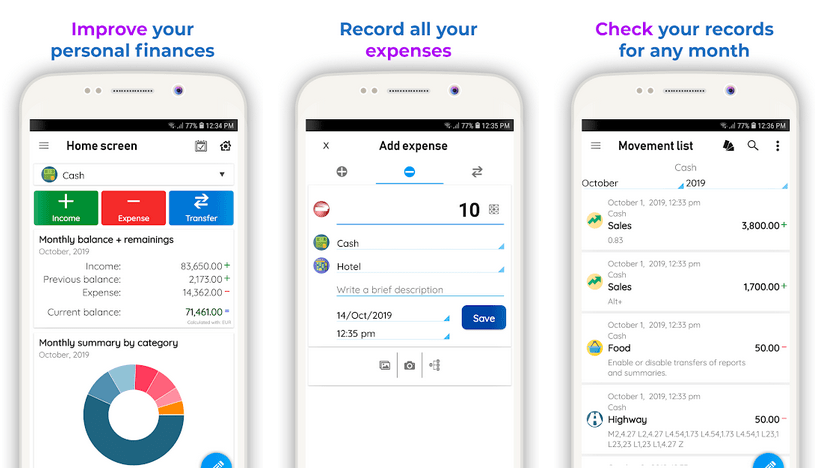 Unlike others on the list, Daily Expenses 3 is a bit different because it doesn't offer integration with your bank account, which is the best suitable solution for those who are scared of their sensitive data being accessed by a third-party app and want to manually record data. You can record both, the inflow and outflow of money and can create multiple accounts like cash, bank, and savings.
Daily Expenses gives you complete freedom to modify and delete your previous records, in case you want to make corrections or any expense or income is mistakenly recorded in the wrong account. This is one of the simplest apps to track all of your income and expenses along with the ability to classify those financial records the way you better understand with the help of custom categories.
What Is This Best For: Manually recording financial data; generating reports based on specified periods for selected accounts or categories; widget support.
Unique Features: Schedule recurring expenses or income; password protection for enhanced security; available in multiple languages.
Ads: Yes, the app is ad-supported.
Price: Free with ads / Get pro for $3.49 to remove ads and unlock exclusive features.
Conclusion
We hope you found value in this review. If we helped you make a better decision about budgeting and personal finance in any way then please share your opinions with us in the comments down below, we read and respond to each one of them! 🙂
Also, if you chose an app we haven't included in our review then let us know what influenced you to make that decision. We will have a look at it and might include that app in our review during the next update.