WARNING
This article is meant for an adult audience only. By reading further past this warning, you agree that you are over the age of 18 or older and legally allowed to consume pornography, nudity, and adult content in your country. All the information provided here is for educational and experimental purposes only.
Are you in search of adult content to entertain yourself? Look no further as here we have reviewed porn apps for Android and a handful of other entertainment apps where you can effortlessly find, stream, and even download all the pornography you want. That too in HD quality, all for free.
Due to the nature of the content, there is a possibility you might come across certain advertisements and links that could possibly redirect you to third-party sites with malware. As a precautionary measure, I will recommend you install a reliable VPN for Android to protect your identity, and get an antivirus too to secure your phone.
Without any further ado, let's dive into the actual meat 😉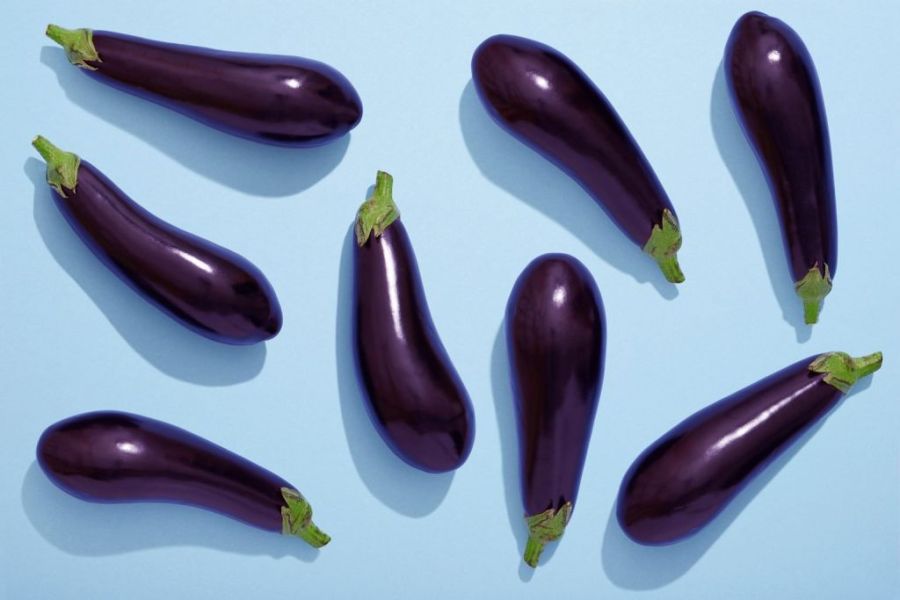 #1. PornHub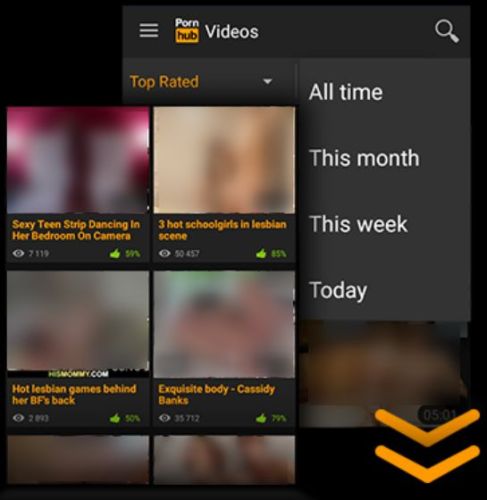 About App
PornHub is a popular porn website that has a dedicated app for Android that comes with countless hours of free short videos and full-length movies from lots of registered users. They have a huge network that comprises of YouPorn, RedTube, Tube8, ModelHub, PornMD, and Thumbzilla. And each one of them is fully optimized for mobile devices.
Why I Picked It
Hands down, PornHub is one of the best porn apps for mobile devices as it let you stream your choice of videos with just a couple of taps. The app is super-fast and easy to navigate as it comes with endless scrolling. The app has built-in password protection to keep access secure.
| | |
| --- | --- |
| What I Liked | What I Didn't Like |
| Built-in password protection to lock the app. | There are a lot of ads if you are not a PornHub premium subscriber. |
| Native support for Chromecast. | |
| No need to worry about your browsing history. | |
Price: Free to download and use. However, you can opt for a premium to remove ads and get access to exclusive content.
App Link: pornhub.com/apps/android
#2. Firefox with Ad-Blocker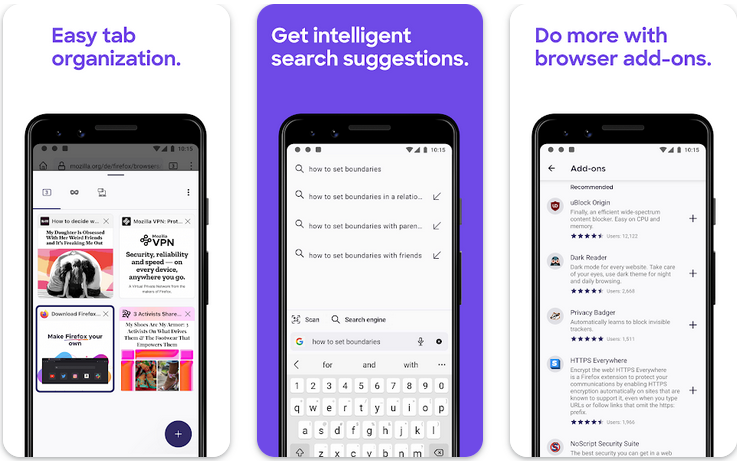 About App
No wonder using a web browser of your choice is one of the quickest and simplest ways to get access to porn videos on the internet as most of the porn movie streaming websites these days are fully optimized for mobile devices and feature a full-screen native player too.
Why I Picked It
Mozilla Firefox comes with powerful private browsing and is the only browser that allows you to install add-ons on mobile. You can simply go to the Add-ons section and enable uBlock Origin. Now you can access your favorite porn content without worrying about being bombarded with ads.
| | |
| --- | --- |
| What I Liked | What I Didn't Like |
| Allows you to access almost any porn website on Android without any restrictions. | Some sites are not optimized for Firefox. |
| Capability to block advertisements at the browser level. | |
| Enhanced privacy with Private browsing. | |
#3. Reddit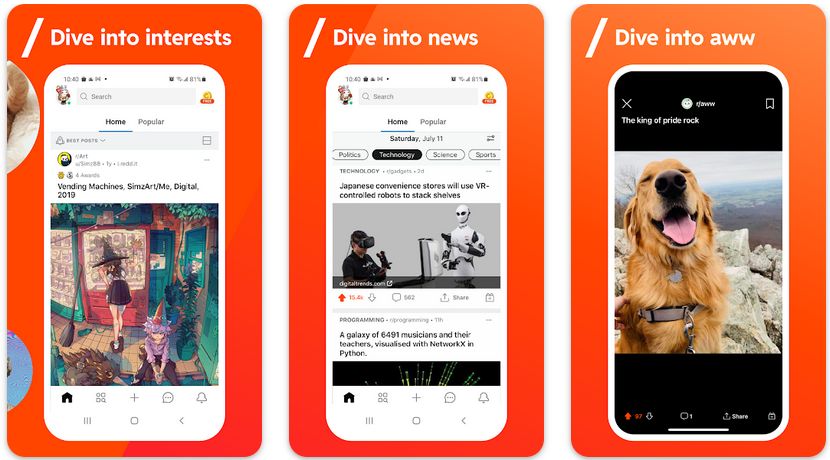 About App
As the Reddit tagline suggests, you can actually dive into anything and any topic of your interest. There are subreddits you can easily join where you can interact with people who have similar interests. You might not believe it but you can even find genuine porn content creators on the app.
Why I Picked It
Reddit has tons and tons of NSFW subreddits and you can easily join and be a part of the active community and directly consume a never-ending stream of porn videos in GIF format without even leaving the app. If you are lucky, you might be able to join live video streams. Search for your favorite category and I am sure you will find some interesting subreddits.
| | |
| --- | --- |
| What I Liked | What I Didn't Like |
| Easy to find and join subreddits of your choice. | You will have to leave the app if the uploader has added a third-party website to share a video. |
| No one will be able to figure out you are using Reddit to watch porn. | |
| You will get to follow your favorite porn stars. | |
#4. Snapchat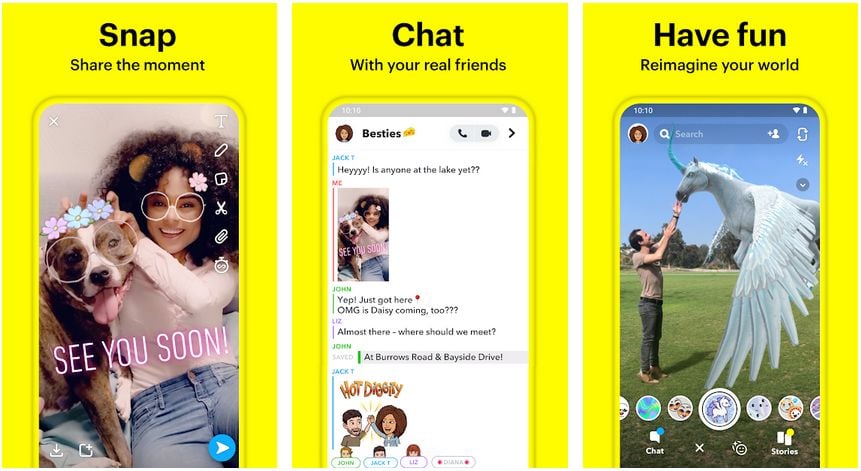 About App
Snapchat is advertised as one of the fastest ways to share moments with your friends, in real time. You can either publicly share those snaps as a story for everyone or you can privately share snaps with your friends and selected Snapchat contacts only. And interestingly, privately shared snaps will disappear once opened, which adds a layer of privacy.
Why I Picked It
If you are looking for something more personal then Snapchat is the perfect spot as here people can share fresh and new content along with daily happenings from their lives. Content creators and those who like to share their bodies publicly can be found on this platform. However, you need to do some extra legwork to find their Snapchat usernames.
| | |
| --- | --- |
| What I Liked | What I Didn't Like |
| Snaps and moments are shared by adult content creators in real time. | Hard to find real profiles and usernames. |
| You can keep your identity hidden and secure. | You can't see details and snaps of another user unless they add you back as a friend. |
#5. Twitter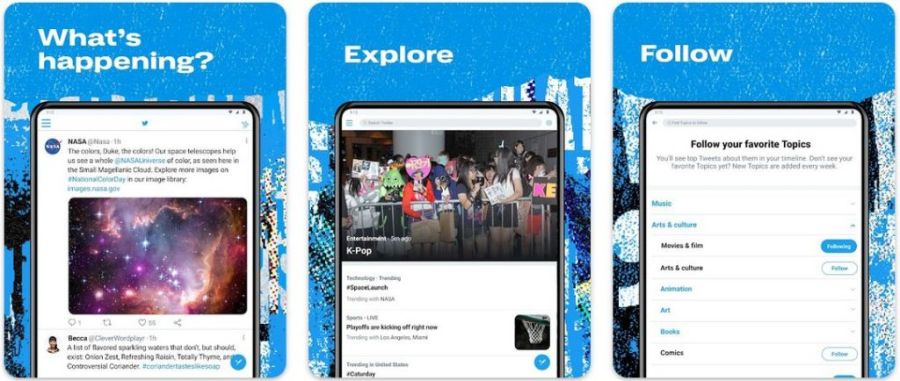 About App
Just like any other social media network, Twitter has a lot of adult content than you can ever imagine. The reason is obvious i.e. porn stars, porn websites, and porn apps have their official Twitter handle where they promote newly released content. You can search for those accounts and see what hashtags they are using, this way you can find relevant videos.
Why I Picked It
Twitter allows hashtags, you can search for your favorite category hashtags or any adult content-related hashtags and you will be able to find hundreds and thousands of videos and pictures. The platform is easy to use and history can be cleared with just a simple tap. All you have to do is turn off Twitter safe search.
| | |
| --- | --- |
| What I Liked | What I Didn't Like |
| Easy and simple to find and browse content. | You might come across spam links. |
| Hundreds and thousands of accounts share adult content around the clock. | |
Which porn app did you like the most? Did any of these help you in finding and streaming porn on an Android device for free? Share your experience in the comments below. If you know about any other best porn apps for Android that should have been reviewed then tell us more about them in the comments.