One of the greatest benefits of having an Android-based device is its ease of customizability. You can install icon packs, launchers, add widgets, themes, and whatnot, not to forget the ability to have custom wallpapers for the home screen and lock screen. And it can be a live wallpaper too, that moves based on your interaction with the phone or its movement.
To help personalize your smartphone according to your personal preference, here we have reviewed more than ten live wallpaper apps for Android that comes with various animations and effects. 😉
#1. Dandelion Live Wallpaper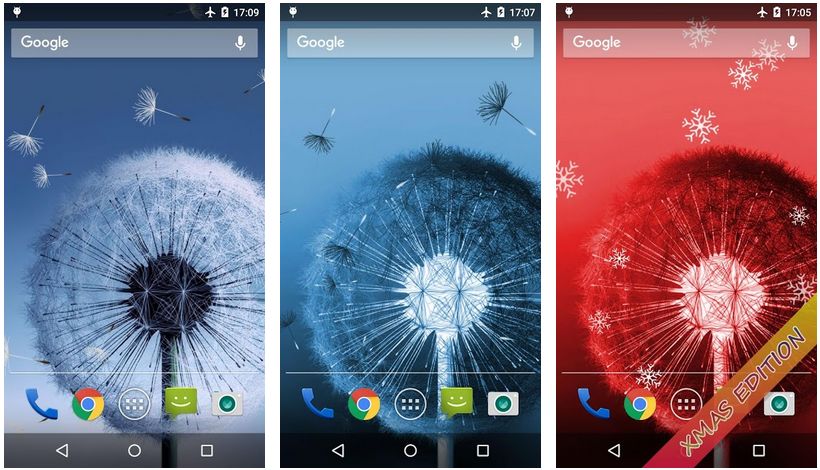 First up on our best live wallpaper apps list is an app that features Dandelion flowers wallpaper. The word Dandelion actually came from the French word 'dent-de-lion', which means lion's tooth because it looks like one. And what's interesting about this flower is its seeds can fly and travel up to eight kilometers from the starting point.
This live wallpaper app will imitate the same flying seeds process and brings it to your Android phone's home screen. You will also find a couple of additional live effects specifically designed for Christmas and Halloween.
You can set any custom photo as the background.
Christmas and Halloween effects with flying snowflakes and bats.
Frequently updated to improve compatibility and fix bugs.
Contains ads.
No additional option to change/customize flying effects.
#2. Nano Aquarium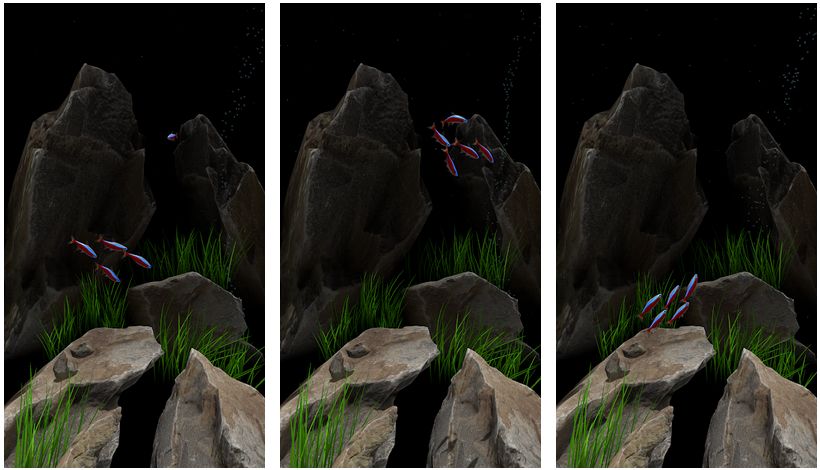 Do you love to see the underwater world filled with lots of small fishes, specifically located around the sea coral? If yes, then you would love to have this artificial aquarium live wallpaper app named Nano Aquarium installed on your Android device and use it as a home screen background.
Even though the fishes and effects might not be as good as any real aquarium, the animations are smooth. Moreover, if you are stressed at your job or work, constantly glancing at the aquarium will give you a relaxing and calming effect.
Realistic animations for fishes and air bubbles.
Smooth and lag-free effects.
Frequently updated to fix compatibility issues with newer devices.
Contains ads.
Do not allow you to customize any effect.
Lacks diversity in fishes.
Want custom live wallpaper?
If you are looking to create a custom live wallpaper for your phone then don't forget to check out the app we have reviewed in number 10 on this list! 😀
#3. Waterfall Live Wallpaper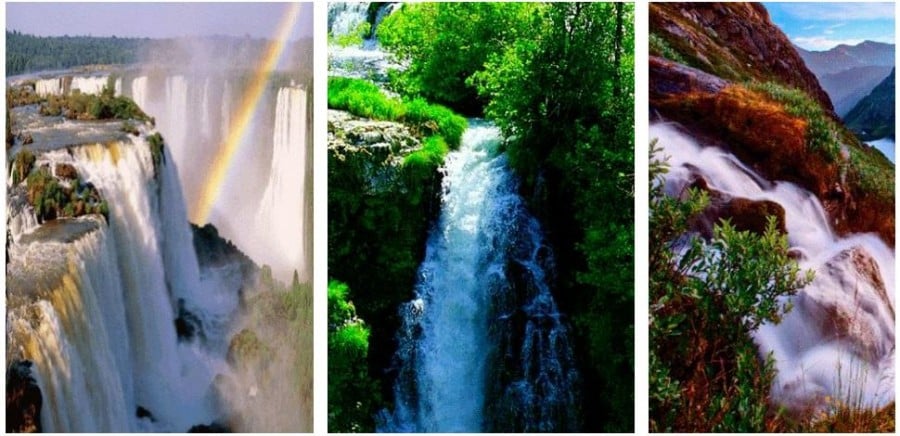 Waterfalls, no matter how massive they are in height and how powerful the stream is, are the most beautiful, and people just love to gaze and spend their time around to appreciate the magnificence. The uninterrupted flow of water is simply fascinating for everyone.
Keeping all of that in mind, the Waterfall live wallpaper app is specifically designed for Android users who love to be mesmerized by the waterfalls. The waterfall featured in the app includes Angel Falls, Niagara Falls, Gullfoss, and Victoria Falls. And it shows you live wallpapers with realistic waterfall animations.
Realistic waterfall animations.
Varieties of waterfalls live wallpapers.
Contains ads.
Low-resolution wallpapers.
#4. Analog Clock Live Wallpaper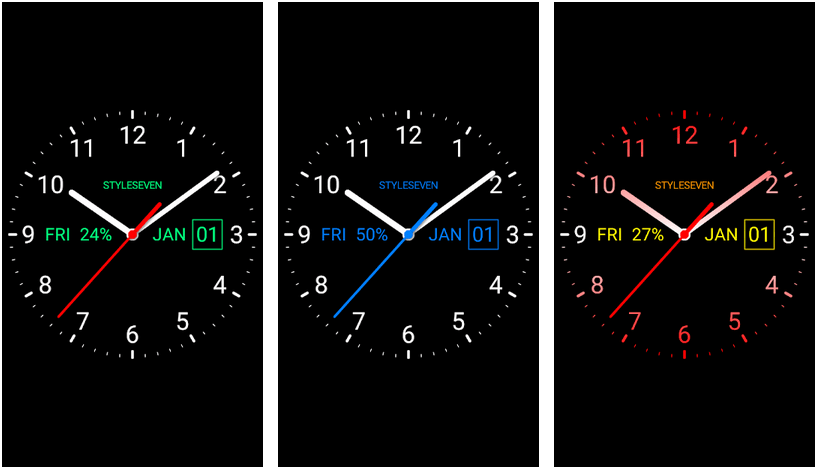 The Analog Clock Live Wallpaper app not only provides you with live wallpaper but it also comes with a home screen widget. You can use the long touch gesture to open the application menu.
The analog clock supports both 12-hour and 24-hour time formats and is capable of showing you the month, date, and day in your selected language. The display is available in solid as well as gradient styles. The settings section even lets you customize the size of the clock, enable and disable the second hand, and select the color for primary and secondary.
Comes with a number of customizability options.
Shows the date, day, and month.
Supports home screen widget (might not be compatible with all devices).
#5. Petals 3D Live Wallpaper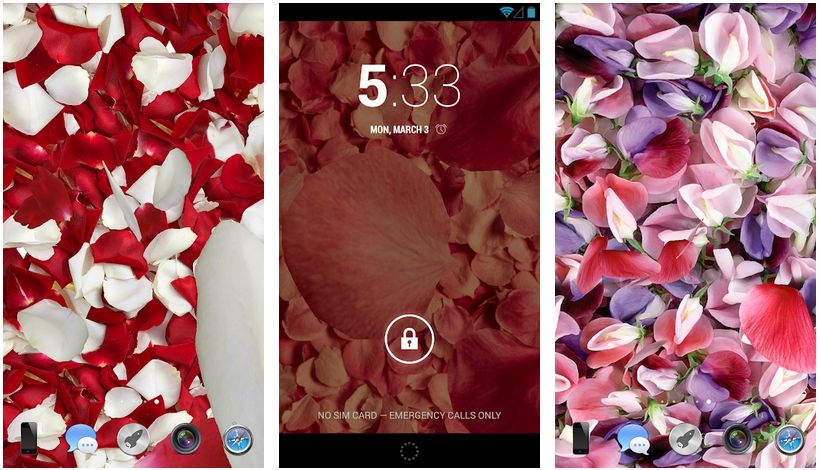 Petals are an important part of any flower that mostly has bright colors and a pleasing scent, which makes them a symbol of happiness and love. It has been discovered that being around flowers has a lasting positive effect on the mood of the person.
Similarly, having the beautiful 3D petals set as the wallpaper of your device will somehow affect your mood in a positive way. The app comes with settings that allow you to modify the speed, quantity, and color of petals appearing on the wallpaper to better suit your mood and interest.
Select from a range of petals styles.
Ability to change the quantity, color, and speed of petals appearing on the wallpaper.
Beautiful 3D animation.
Contains ads.
#6. Fluffy Chu Live Wallpaper
The Fluffy Chu live wallpaper app is about the Chu who is a fluffy little cute gnome with whom you can interact and see the reactions made by the troll. The Chu sings and makes noises when poked. The app comes with several customizable options that allow you to change the background picture as well as the Chu's clothing.
However, to be able to customize and personalize the character you need to play the Chu Jump game, rather than purchasing with cash. And the points you earned in the game can then be used to unlock items. This makes it a uniquely interactive live wallpaper for your Android device. 😉
Compatible with phones and tablets.
The Chu can be personalized and customized using the points earned through the Chu Jump game.
Frequently updated to bring new items.
Might consume a little bit of battery.
#7. Paperland Live Wallpaper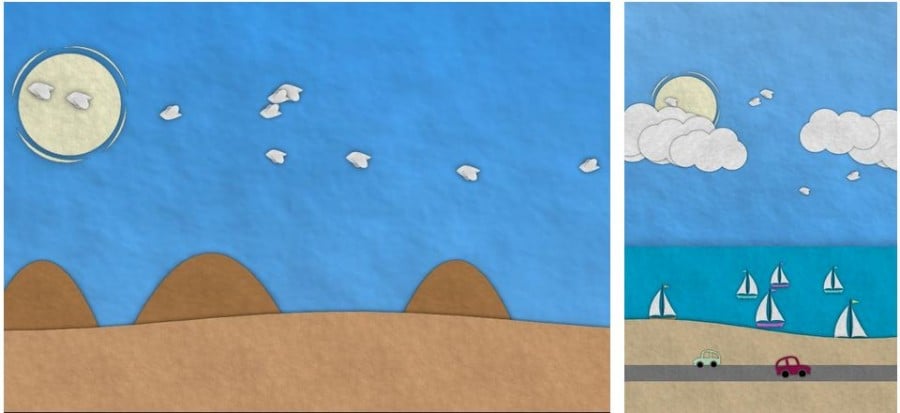 Paperland is a fantastic live wallpaper for anyone who loves art and craft because this live wallpaper app uses paper cutout landscape (including trees, mountains, clouds, and any other object) for the animation. What's more interesting is the automated time-based option that will exactly imitate the daytime and nighttime on your home screen.
The free version of Paperland comes with three themes including silent night, grassy, and desert migration. But if you opt for a pro version then you will get a couple of dozen themes to choose from including Christmas, Easter, autumn.
Lightweight live wallpaper app.
Paperland Pro comes with customization possibilities for color and objects.
Support live weather updates via AccuWeather.
You might face compatibility issues because the app has not been updated since October 2015.
#8. Minima Live Wallpaper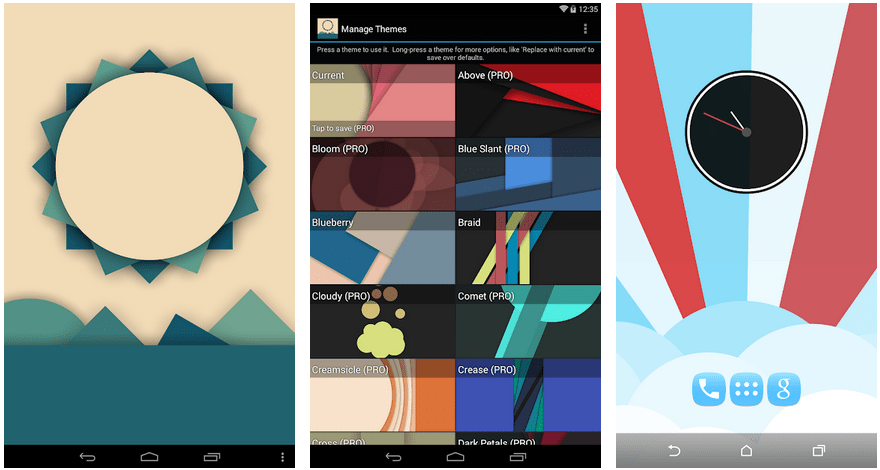 Minima is a true live wallpaper app that brings a never-ending range of shifting colors and shapes to your Android home screen that suits absolutely well with the material design elements. The effects and animations of the wallpapers would look similar to the 3D parallax motion, which makes the shapes shift and tilt as you scroll through your home screen.
The app comes with over thirty-five themes and you can easily modify the color of the shapes and items according to your preference and taste. Though the editing option is available in the pro version only that comes with more than ninety additional themes and along with the option to create your personalized wallpaper.
More than a hundred pre-built themes and wallpapers.
Randomizer that will automatically bring a new wallpaper every day.
Pro version brings additional functionalities and features.
Might not be compatible with devices running new Android OS because the app is not updated for past few months.
#9. 3D Parallax Background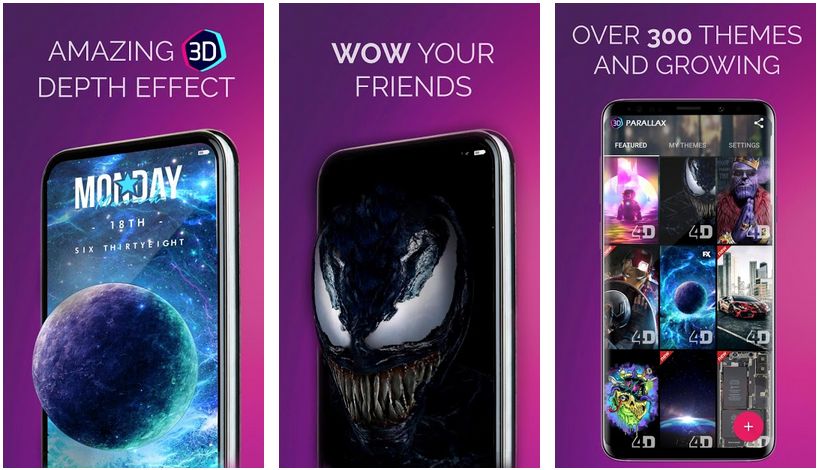 3D Parallax is a uniquely designed hologram-type live wallpaper app for your Android device. The developer has used the well-known parallax effect, which will give you the impression that any item located on your home screen (including icons and text) is hovering over the top of the wallpaper. It was first introduced by Apple in iOS 7.
3D parallax wallpapers are actually considered multilayer wallpaper with amazing eye-catching 3D effects. Moreover, the wallpaper is controlled by the gyroscope and accelerometer to make the visualization even better. There are over seventy theme packs and you can even create personalized parallax wallpaper on Android.
Over 70 different 3D parallax wallpaper themes to choose from.
Ability to create your own parallax wallpaper.
Enhanced 3D effects with gyroscope and accelerometer.
Helpful support staff and active developer team.
The 3D effects might not be interesting for those looking for live wallpapers only.
#10. KLWP Live Wallpaper Maker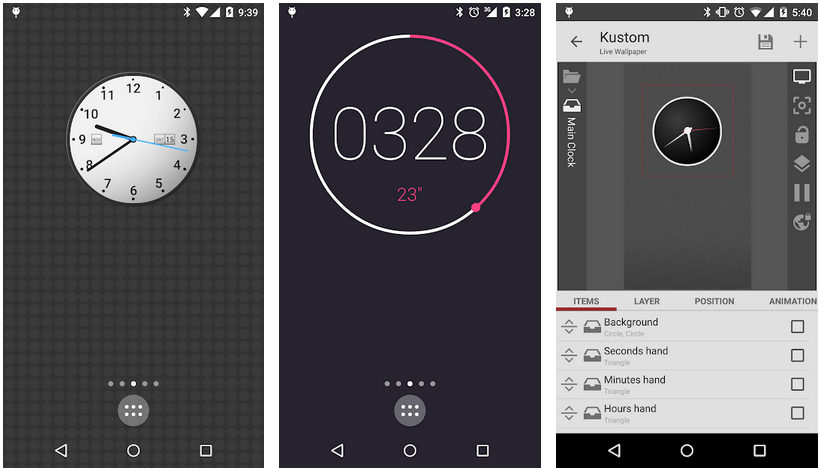 KLWP is a Kustom Live Wallpaper Maker app that is designed by the developer with an aim to help you create a unique and personalized live wallpaper for your Android device. The app comes with a powerful WYSIWYG (What You See Is What You Get) wallpaper creator and editor to make it possible for almost anyone to design and develop customized wallpapers along with magnificent animations.
KLWP comes preloaded with tons of possibilities to let you design nearly any type or form of live wallpaper including clocks, stylish meters, gyroscopic effects, live maps.
A lot of customizability options to create a unique live wallpaper.
Support for the gyroscope to provide enhanced animations and motion.
Ability to add different objects and items to show data in live wallpapers.
Contains ads, but can be removed with the purchase of the pro version.
Not compatible with Go Launcher.
Might be complex for an average user.
#11. Sun Rise Live Wallpaper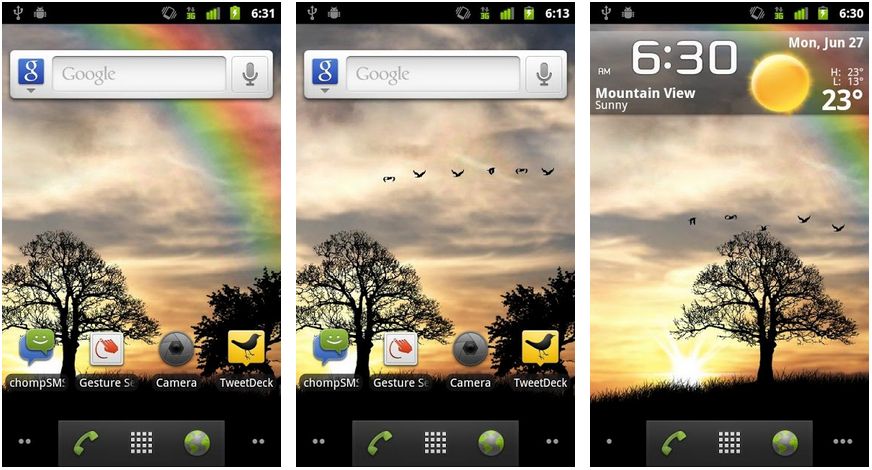 Imagine looking at the sky at dawn over the hill. This live wallpaper features a tree silhouette, on top of a morning sky background with soft clouds moving, birds flying, and a rainbow appearing occasionally. In the morning, a flock of birds will come out and cheer your morning with a greeting. The scene has a full parallax effect.
#12. Christmas Rink Live Wallpaper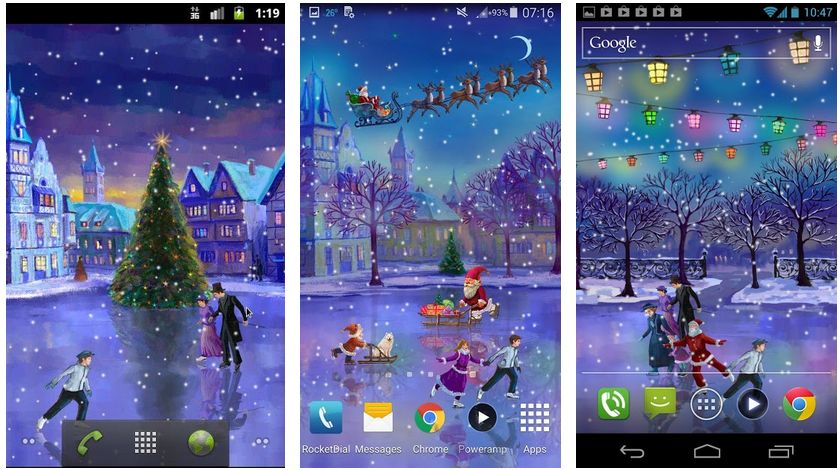 Skate right into Christmas with this beautiful winter-themed Live Wallpaper. Featuring several groups of interactive Christmas characters who are gliding along to the softly falling snow at various ice rinks.
#13. Fireworks Live Wallpaper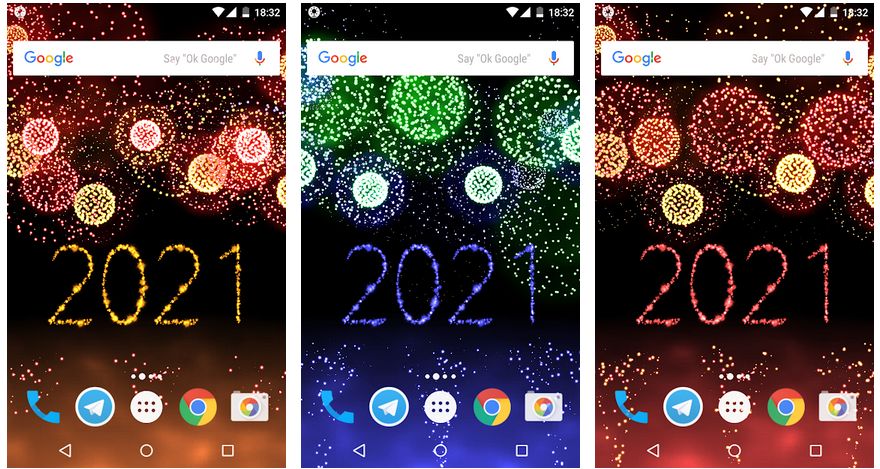 Enjoy all year Fireworks on your device as live wallpaper! Set this live wallpaper on your favorite Holidays like Independence day on the 4th of July, New Year's Eve – Holiday, or Christmas!
#14. Garden Live Wallpaper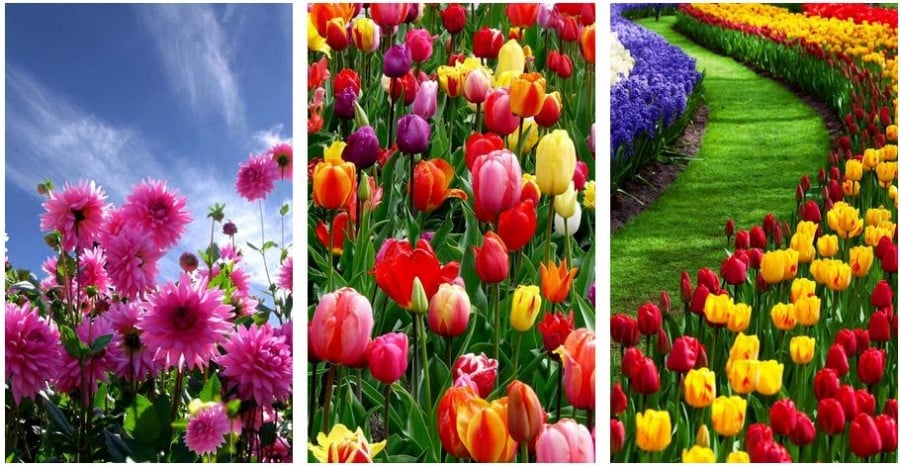 Garden Live Wallpaper is here to make your day! If you love nature and beautiful landscapes then this is a perfect LWP for you! Experience the lovely scenery of luscious green nature in the summer from "Garden Live Wallpaper" and you'll always be in a good mood.
Do something for yourself, allow yourself to enjoy every moment of your day! Get this amazing serene nature wallpaper now, it's totally free – lay back, relax and enjoy!
#15. Awesome Land Live Wallpaper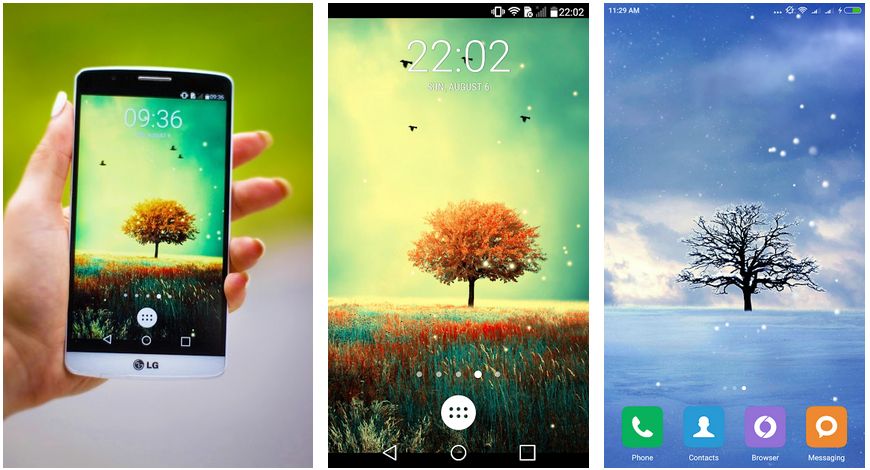 Save Trees, Save nature. Ever dreamed of a magic Land where you can live with your loved ones? Well, this is it. Awesome Land, Turn your Devices into a heavenly experience, Share it with your friends and family.
With a total of more than 5 million free users, it's the most recommended Best Natural Live wallpaper for all the latest Android Devices.
#16. Night Sky Live Wallpaper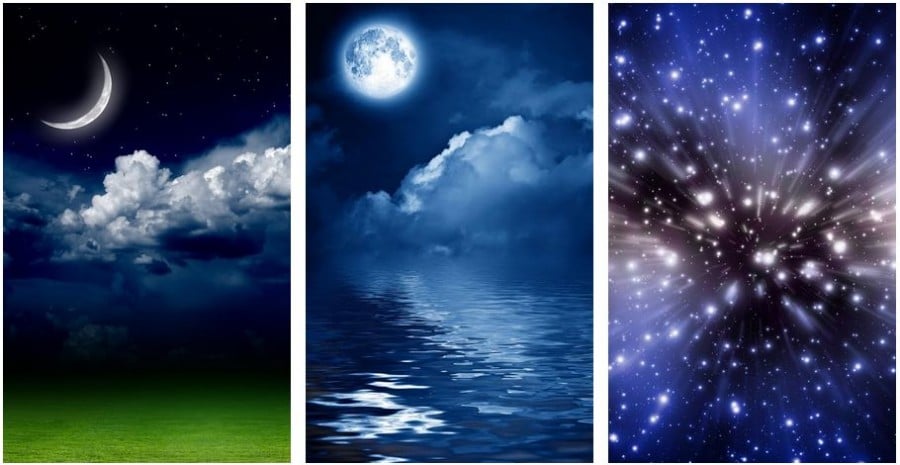 If you are a true fan of astronomy, night sky, moon, and stars in the sky then this awesome app is perfect for you. Download these amazing HD wallpapers and set your favorite background image.
"Night Sky Live Wallpaper" is the latest night-sky app for your mobile and you could be the first to have these beautiful pictures. With this awesome app, you will see shooting stars every time you look at your screen, make a wish and enjoy the best night sky background.
Did We Miss Any Live Wallpaper?
Did we forget to include any live wallpaper in the list that you think should be featured on the list? Please let us know in the comments section below. We would be more than happy to include it. 🙂