From overclocking your phone's CPU and creating a NANDroid backup of your Android OS to improving battery life and installing a custom ROM, you can pretty much modify and enhance every aspect of your mobile device as per your liking. All you need is the right app for that specific task.
Here are the sixteen best root apps that are specifically designed for advanced users who already have rooted their Android devices and gained superuser access:
#1. Titanium Backup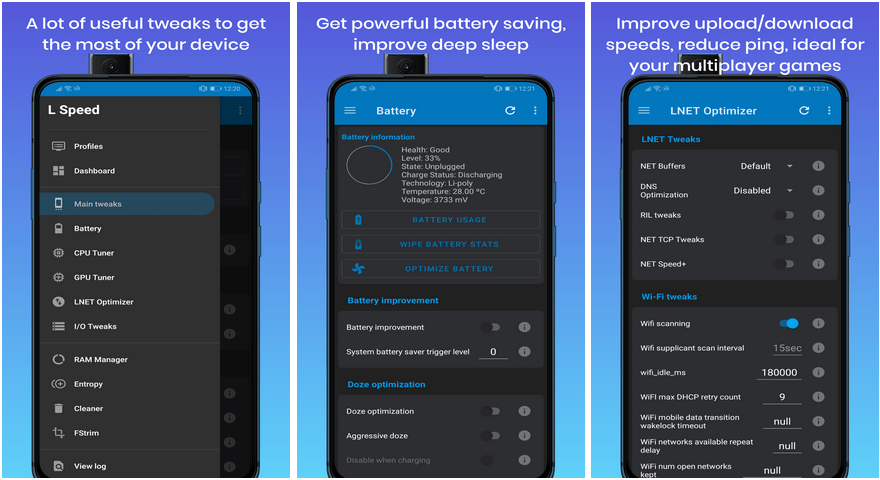 Titanium Backup will help you backup the apps as well as their relevant data (including system apps), which is then stored on your device or external storage. These backups are important in those cases when you want to reset your device or flash a new ROM but don't want to lose the apps, settings, and data.
A powerful backup tool with the option to restore data or app.
Option to uninstall system apps and bloatware.
The Pro version available for $5.99, allows scheduling backup to cloud storage without closing the app.
The interface is hard to understand and may take some time to get hold of it.
#2. Greenify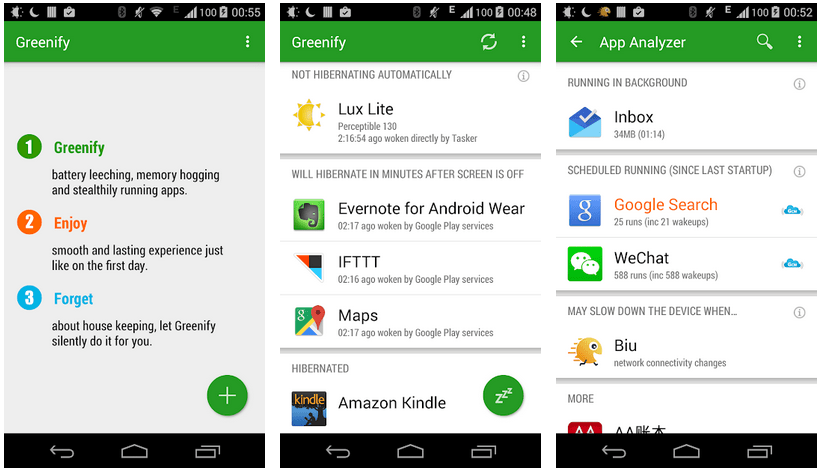 Have you ever seen an app consuming your phone's entire RAM, and battery power, and making it slow? If yes, then you should try Greenify as it can hibernate those apps while you are not using them. The moment you exit the apps, Greenify will hibernate it to save battery while improving your device's performance.
Lightweight doesn't require much processing power and consumes a minimal amount of battery.
Save a huge amount of battery power by completely stopping the apps.
#3. System App Remover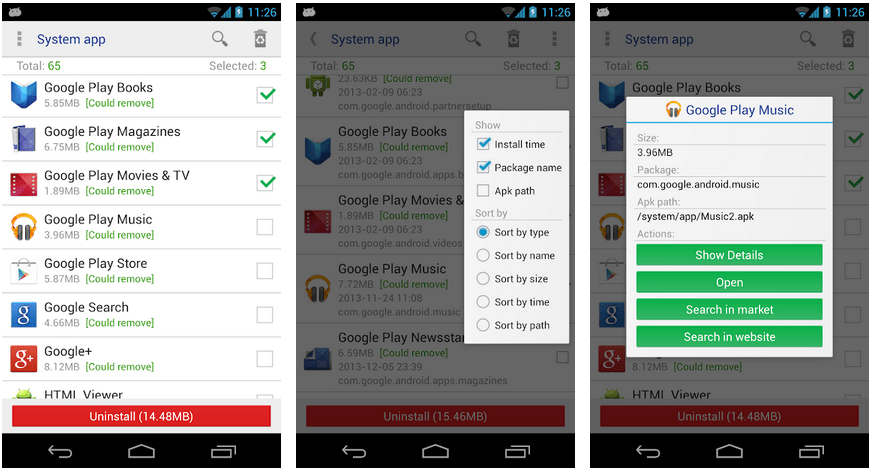 Most people root their Android phones to remove bloatware and unnecessary apps that come preinstalled as a system and consume a lot of device memory. With System App Remover, you can easily uninstall multiple system apps or needless apps in less time, and as a precaution, an automatic backup of all the removed apps will also be stored on your device.
Powerful app remover and reliable APK manager for Android.
Option to move apps from internal storage to external SD cards.
Cannot backup app data or user data.
#4. Tasker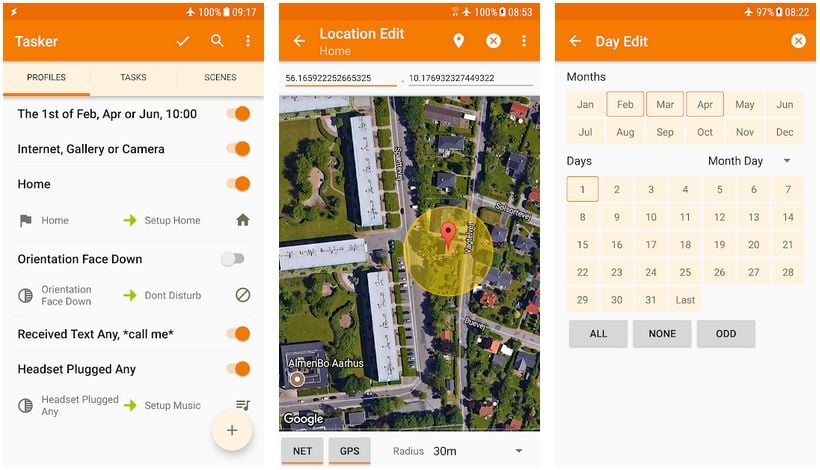 With Tasker, you can automate simple as well as advanced tasks to save time. This app will truly make your smartphone a lot smarter and more powerful. For example, you can instruct the app to automatically launch the Music player when you connect your headphones. Or, automatically toggle your phone's GPS receiver and WiFi when you leave your home. The possibilities are infinite.
Most powerful Android automation tool to automate tasks.
Hundreds of triggers and actions along with the support for the plugin to enhance capabilities.
The UI is unintuitive and functionalities are hard to understand for an average user.
#5. Lucky Patcher
Lucky Patcher is an Android toolkit through which you to tweak, edit, and modify any app including their permissions, backup/restoration of user data, removal of advertisements, and bypassing premium license verification, you can even create a modified APK file of any app and install it on your other non-rooted Android device.
Ability to create a backup of app APK before modifying and tweaking.
Modifiable and non-modifiable apps are highlighted in different colors.
Sometimes patching a secure app corrupts the APK, making it unusable.
#6. Xposed Framework
There are many Android features and modules specially designed and implemented in specific Android versions. However, with the help of Xposed Framework, you can have those modules and features installed on your device despite the Android version running.
The modules include tweaking of UI, themes, button remapping, and performance modification, you can enjoy all of these without flashing different ROM, which saves a lot of time and effort.
Hundreds of easy-to-install modules and modifications.
Some modules are designed for specific Android versions and cannot be installed on non-compatible ones.
#7. ViPER4Android
ViPER4Android is the best sound modification, amplification, and audio enhancing app for rooted Android phone/tablet users. It is an audio driver for Android OS. It provides a ViPER4Android FX, which acts as the main control panel where you can adjust and access all the popular audio settings by ViPER.
Cutting-edge ViPER fidelity control options including bass, clarity, surround plus for headphones.
Optimize sound quality for a better listening experience on speakers, wired headphones, and Bluetooth headsets.
The installation process might be complicated for users with less Android modification experience.
#8. AdBlock Plus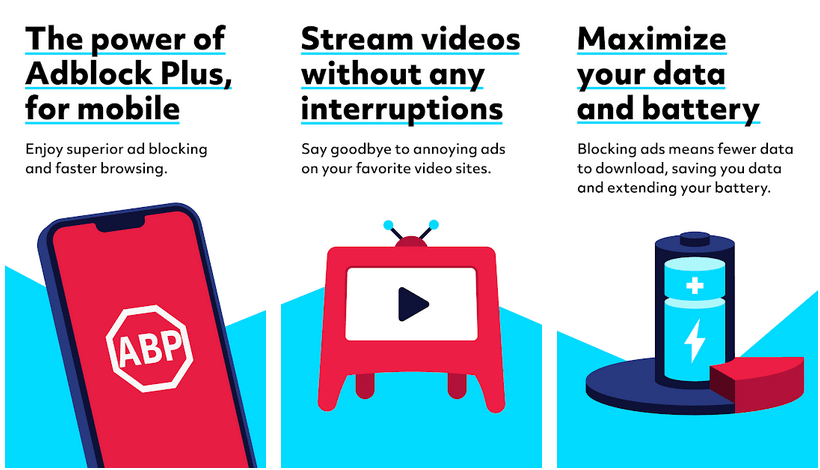 Adblock Plus is an open-source ad-blocking app for Android devices that has the capability to block all the ads whether they are in a form of banners, tracking, popups, within apps, or contains any sort of known malware. There's even an option to whitelist apps or websites.
Free Android app that blocks advertisement pop-ups, tracking sites, malware, and more.
Only non-intrusive and unobtrusive ads are allowed, but they can be blocked from within the settings.
#9. Link2SD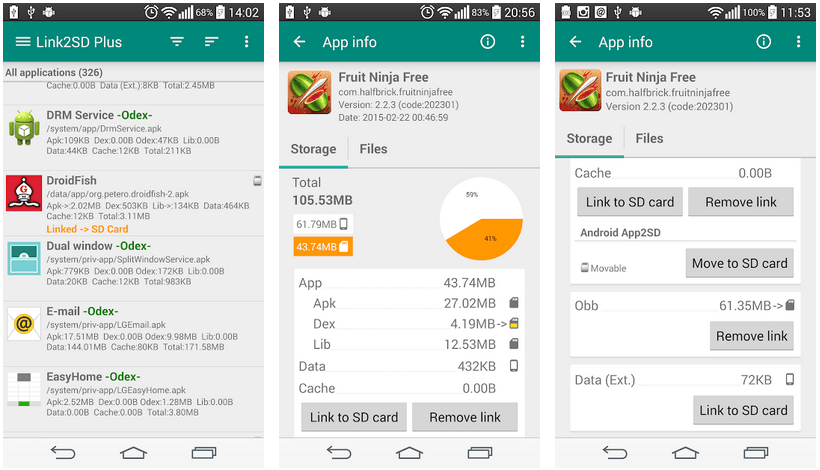 If you are looking for a better internal and external storage management of your Android device and want to increase the internal storage capacity then Link2SD app can be very helpful as it can create a link to any app from the internal storage to the external microSD card, which fools the app to believe that it is actually installed in the internal storage.
Option to link APK, LIB, DEX, and data of the apps to SD card.
Ability to convert system app to user app as well as user app to system app.
Apps moved to the external storage may perform slowly due to the sluggish transfer speed.
Some advanced features require the Link2SD Plus version, which is available for $2.35.
#10. ROM Toolbox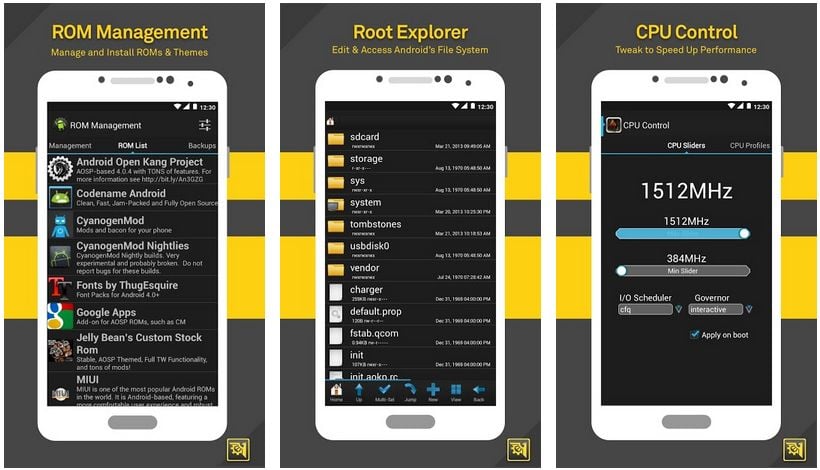 ROM Toolbox is an all-in-one timesaving app for Android that allows you to customize your device the way you like. It is a combination of all the apps like BuildProp Editor, Boot Animation, Font Installer, Autorun Manager, Root Explorer, Titanium Backup, Terminal Emulator, and other several others, making ROM Toolbox the most powerful modification app for rooted Android devices.
Ability to manage ROMs, create a backup, wipe data and cache, and install zip.
Create and run scripts using the Terminal Emulator.
ROM Toolbox Pro version with added features is available for $5.99.
No further development in the last few months, making the app and ROM database-less reliable.
#11. SD Maid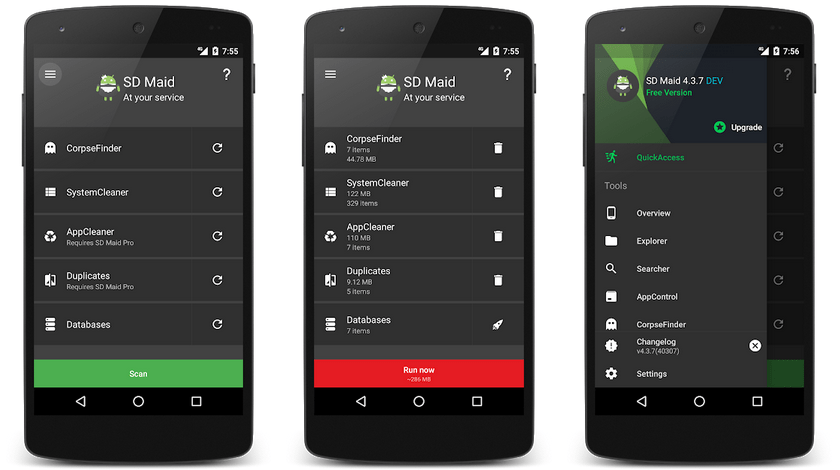 No matter how optimized and efficient the Android OS becomes, some apps will continue to leave files and folders that shouldn't be there. This is where SD Maid can help you find and remove those abandoned and residual files/folders that were once associated with previously installed apps.
Browse through all the files and directories stored in the internal and external storage using the root file manager.
Quickly optimize database through a procedure known as the vacuum.
Pay close attention to the files and directories you are cleaning from your device.
#12. Solid Explorer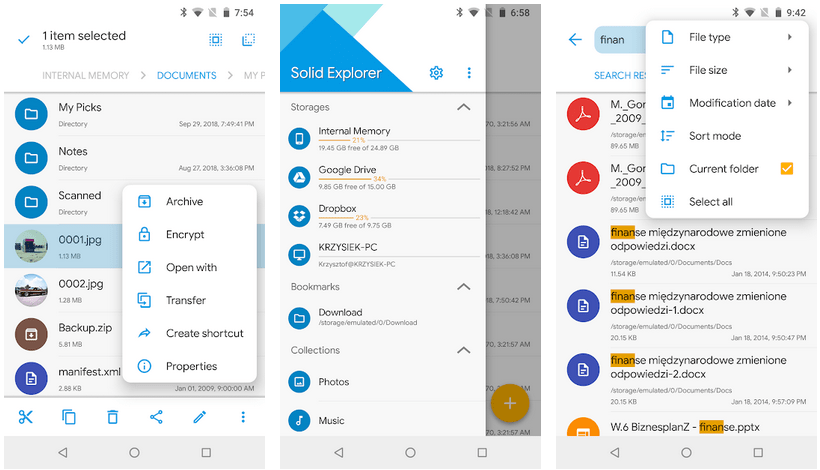 Solid Explorer File Manager is currently the best file and cloud storage manager for Android devices. And with root privileges, you can use it as a reliable and fully functional root explorer. It even supports FTP, SFTP, SMB, CIFS, and several other clients.
Material and intuitive UI with a simple and easy-to-use interface along with various customization possibilities.
Encrypt and protect any files and folders using proprietary encryption algorithms, and create password-protected compressed files.
14-days full-featured trial period, after which you need to purchase the Solid Explorer Premium through in-app purchases.
#13. DiskDigger Photo Recovery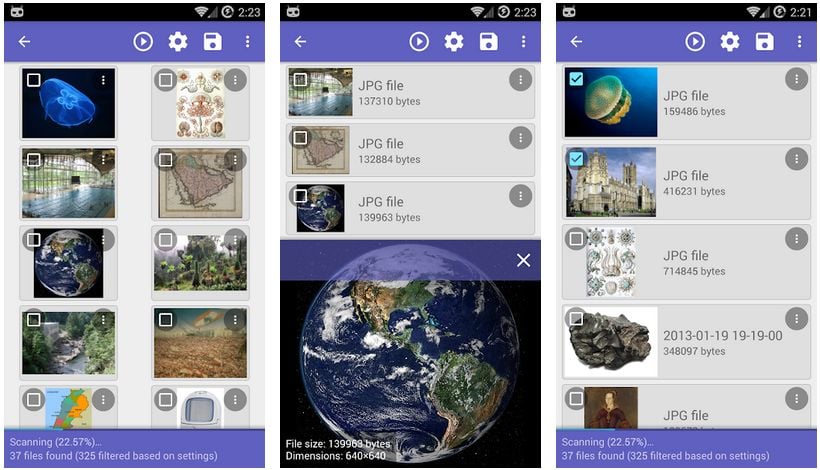 Have you ever accidentally deleted a photo from your Android phone/tablet? There is nothing that could be done unless you have a backup somewhere in cloud storage. However, if you have a rooted Android device then the DiskDigger Photo Recovery app can help you with finding and recovering those deleted photos and pictures whether they were in internal or external storage.
DiskDigger with root access can perform a deeper scan while increasing the chances of recovering deleted images.
Ability to upload recovered files to cloud storage or send via email.
Sometimes recovers the thumbnail of those deleted pictures via cached data, which are usually of no value.
#14. LSpeed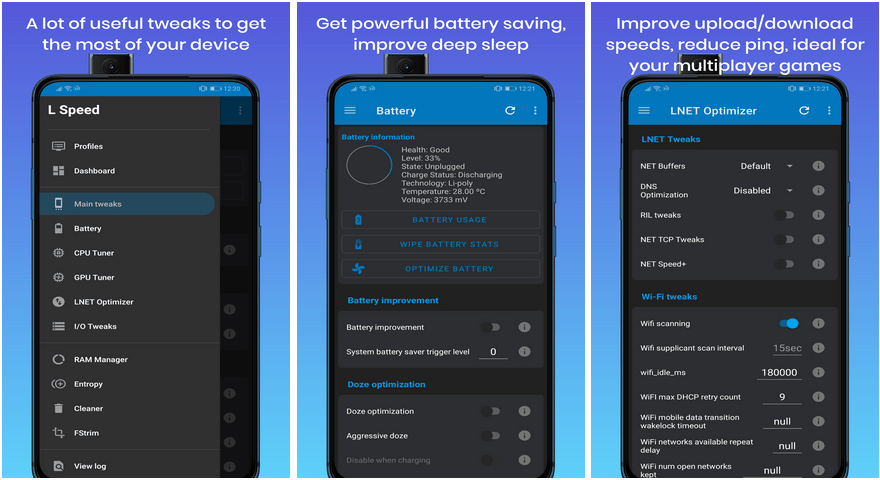 LSpeed is an advanced tweaking app for rooted Android devices that comes with pre-optimized profiles like battery saving, balanced, and performance, which delivers simplicity and minimalism without any need to tweak advanced settings. There are some advanced and manual tweaking and customization possibilities too that are targeted towards power users.
Advanced tuning and CPU governor tuner and optimizer with innovative power-saving and performance improvement features.
A simplified interface and predefined settings make it easier for non-technical users to optimize their devices.
#15. BetterBatteryStats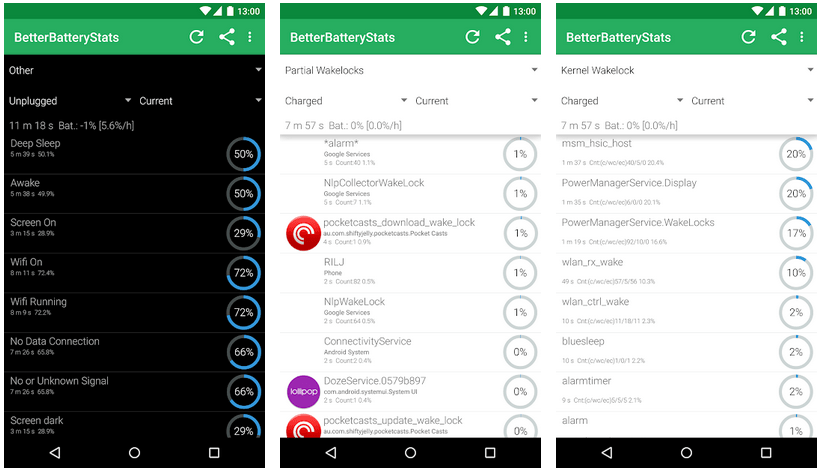 Most Android users opt to root their phone and tablet in an attempt to better optimize their device while saving the maximum amount of battery power. If you are one of those then BetterBatteryStats is one of the apps that you should install to better analyze which part of your device is using the most amount of battery and how you can minimize it.
Search, find and analyze the raw data of the apps causing any unusual battery drainage.
Detect and observe how fixing and tuning those battery-hungry apps can improve overall battery timing.
#16. BusyBox
BusyBox is an essential utility app designed for rooted Android devices. This app is required by most of the mods and apps in order to function properly and perform those powerful root-based commands. The most notable feature of this app is that it is free from all advertisements and doesn't ask for unnecessary permissions.
Simplified, clean, and efficient BusyBox installation utility for Android.
Supports all the ARM and Intel-based Android devices.
Required for those mods and functionalities which are dependent on the BusyBox.
Conclusion
If we have missed any of the best root apps for devices with root access that should have been included in this list then please let us know in the comments down below, we will be more than happy to try and include them for everyone! 🙂