Not all torrent apps for Android are well optimized. In my experience, I have found that some apps are quite sluggish which made the downloading experience worst, I wasn't able to attain full downloading and uploading speeds although port forwarding was configured on my router. On the other hand, other apps performed really well without a hiccup.
This is why I have created this blog post where I have reviewed some of the best torrent apps that you can install on your Android to download torrents on the go, without a computer, and quickly download files. 😉
Torrenting is one of the best and fastest ways to download large files and multimedia as well as share files over the internet because all Android torrent clients use peer-to-peer (P2P) networking systems.
#1. Flud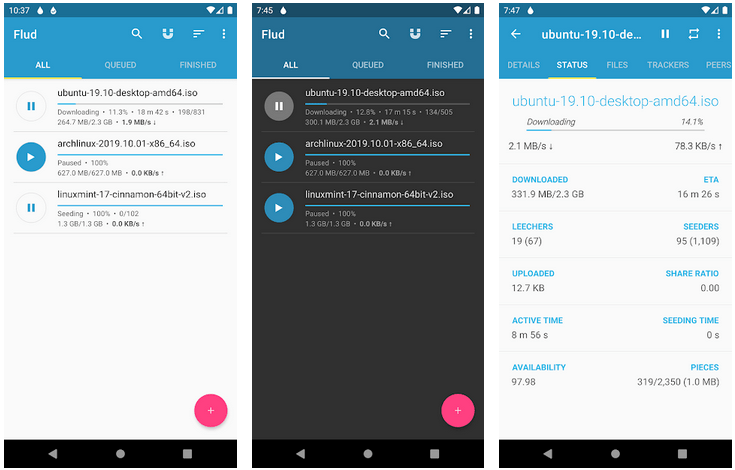 Flud is a beautifully designed premium-level torrent downloader client app that comes with a simplified user interface and beautiful material design, allowing you to download torrent files directly to your Android phones and tablets. It provides support for several protocols including NAT-PMP, UPnP, DHT, PeX, and µTP.
There is a Flud Pro version too that is designed to remove advertisements only, which means there isn't any difference (features-wise) between the free and paid versions. If ads don't bother you then you can continue enjoying the free version, else you can purchase a pro version for $1.50.
Magnet URI – Support for torrent magnet URI link.
Proxy – Support proxy for peers and trackers.
Overall UI – Fast, lightweight, smooth, and easy to use.
Background Downloads – Might not work well when the device is locked.
Known Issue – Sometimes the device might hang while downloading.
#2. aTorrent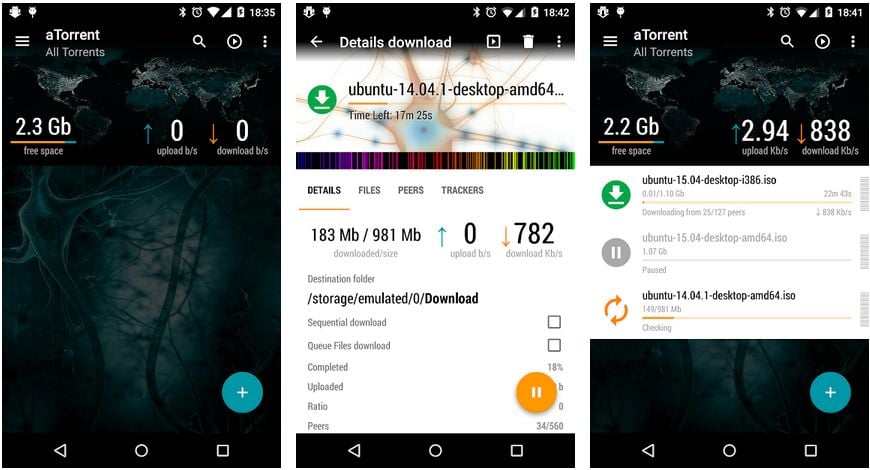 aTorrent provides you with a simple, elegant, and efficient way to download torrents on your Android device. It has a material design UI that enables you to download torrent files with effortlessness along with the support for magnet URI.
The app allows you to partially download torrents, multiple files downloading at a time, the option to download torrents only when the device is charging, and even lets you choose the destination folder for the torrent files.
Widgets – Native support for home screen widgets.
Trackers – Support for multiple protocols and trackers.
Advertisements – The app is ads-supported, but the ad-free pro version is available for $2.99.
Scheduling – There is no support for download scheduling.
#3. tTorrent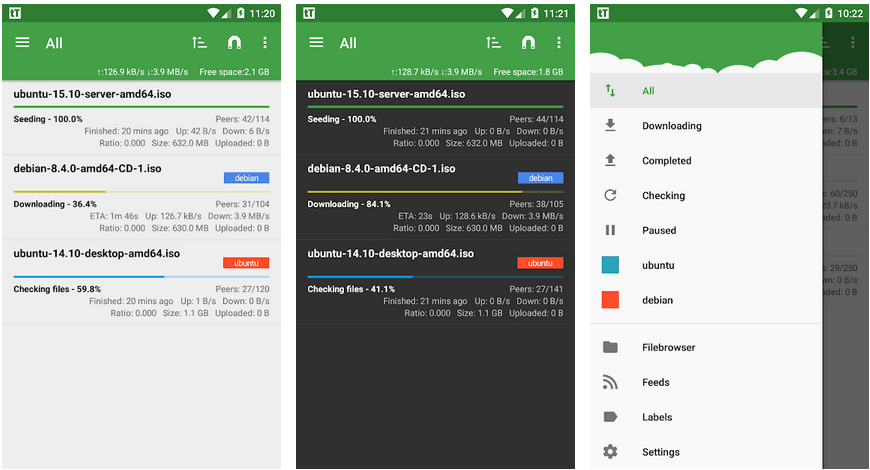 tTorrent is one of the best and the most trusted torrent downloader client for Android that enables you to download large files and media without putting any limitation on the downloading speeds.
It has support for magnet URI links and there's even a WiFi-only model, which once enabled will force the app to download torrent files on a WiFi connection only.
Multiple Files Support – Download selected files from torrents with multiple files.
External Storage – Support for external micro-SD storage.
Proxy – HTTP and SOCKS proxy support.
Advertisements – This contains advertisements, but the ad-free version is available for $1.99.
Customer Support – Incompetent customer support team.
#4. FrostWire
FrostWire is an open-source torrent downloader client app for Android that provides a built-in torrent search so that you won't have to open any torrent website on the browser and look for magnet URI or torrent files.
The search functionality even allows you to filter out the results by the file type including torrent, images, music, and video. And because the search functionality is built-in to the app, there is easy to use the one-tap download option.
Download Location – Select the destination location for torrents.
Stream Torrent – Ability to play streamable-torrent files while downloading.
WiFi Only Mode – Once enabled, will force the app to download in WiFi mode only to save mobile data, in case you are on the go.
Search – Native search function becomes unreliable at times.
#5. BitTorrent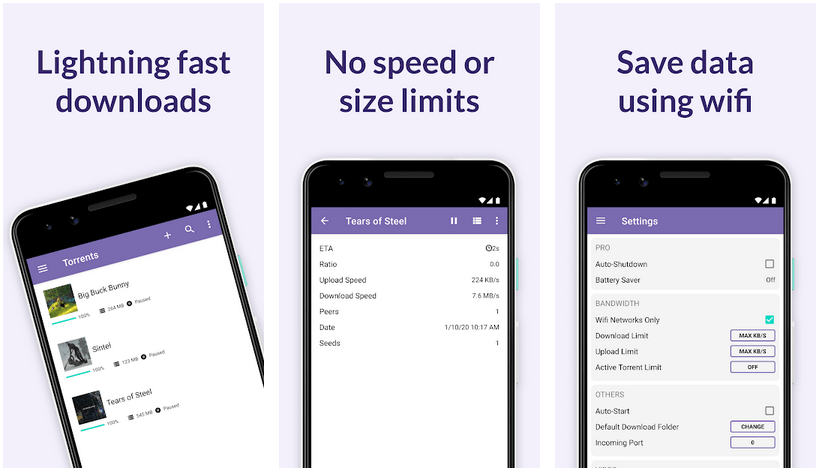 BitTorrent is the popular torrent downloading client for PC users and the developer team has created something similar for Android users, which gives you the most simplified way to find, download, and play streamable media files on your smartphone and tablet devices.
The latest release of BitTorrent makes use of the latest torrent core that improves the downloading performance and stability along with better integration and support for magnet links. There is a BitTorrent Pro version too that, apart from being ad-free, comes with premium features like auto-shutdown and battery-saving mode.
No Capping – No limitations on download speeds and file size.
Media Player – Built-in music and video player.
File Destination – Ability to select the download location for torrent.
Advertisements – Contains advertisements, which can be removed with the purchase of the pro version.
Known Issue – Sometimes torrents will not start downloading.
#6. µTorrent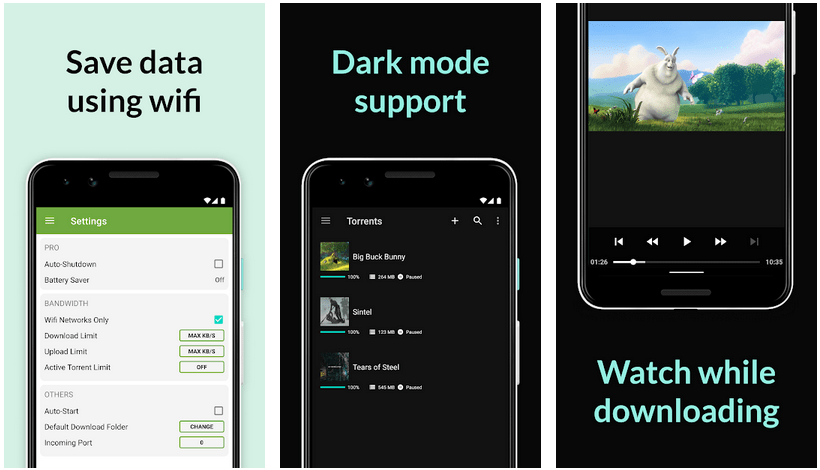 µTorrent has been all over the place since the very beginning and has gained a lot of popularity among torrent downloaders because of being lightweight, minimal, and ease-of-usage. And all of those traits are available on the Android counterpart too.
The user interface looks similar to that of BitTorrent as the app is developed by the same developers. However, the simplified interface will make it easier than ever for you to add, download, and manage torrents on your smartphone and tablet.
Magnet Link – Best support for magnet links.
File Selection – Ability to select files from the torrent bundle before starting download to save valuable bandwidth and storage space.
Advanced Torrenting – uTorrent supports the latest torrenting core technology for maximized performance.
Advertisements – Bloated with ads, but they can be removed with uTorrent Pro available for $3.99.
External Storage – No support to download torrents to an external storage or micro SD card.
#7. Vuze Torrent Downloader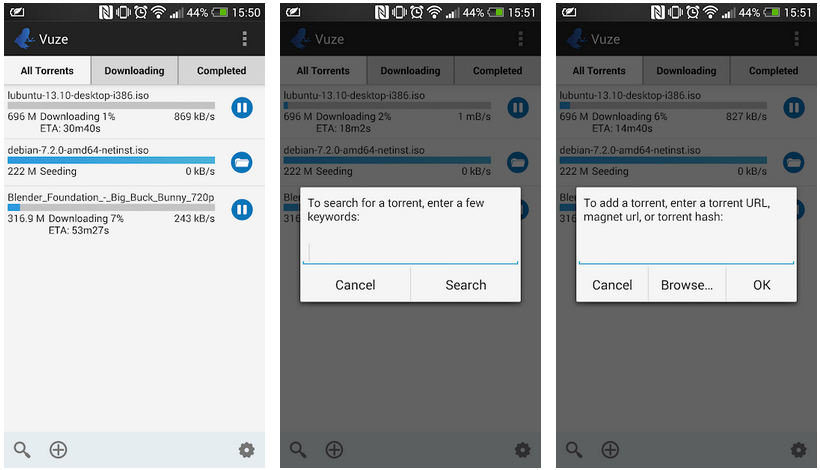 The Vuze torrent downloader client app for Android is powerful and lightweight and allows you to keep your torrents in your control. The app is best for those who are looking to download torrents on the go as well as the convenience and efficiency to manage torrents.
What's unique in Vuze is that it let you modify the downloading and uploading speeds for your torrent files, and gives you the ability to manage downloaded torrents, along with the search and discovery function to help you find torrents.
Notifications – Gives you a notification whenever a torrent download has been completed.
Advanced WiFi Settings – There are some settings specific for WiFi connections only.
Launch at Boot – Auto-start app when device boots up.
Advertisements – Contains ads, but can be removed via in-app purchases.
Magnet URI – Support for magnet URI but might take some time to read and load data.
#8. ZetaTorrent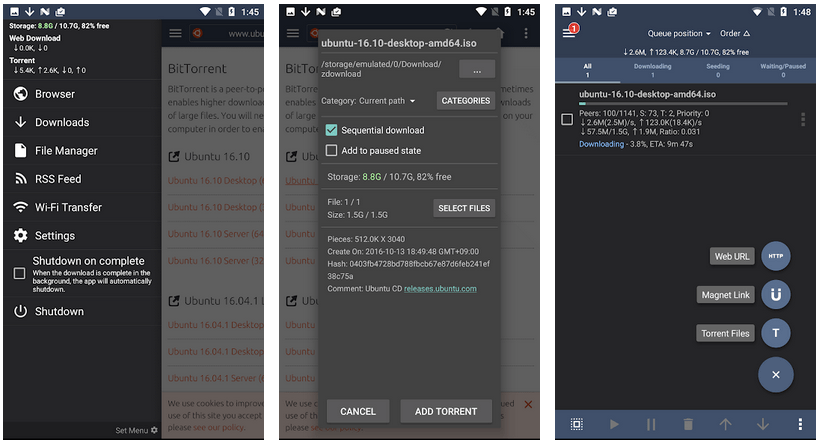 ZetaTorrent is another torrent downloader client app designed for Android devices that come with a built-in web browser to help you search and find torrents. The browser supports proxy and is capable enough to automatically detect torrent and magnet links from the website.
The app provides you with an option to assign action upon completion of the torrent, you can put limits on the download and upload speed, and the app supports various protocols. And there are power management features as well as a native file manager to help you manage downloaded files.
MicroSD Support – Supports downloading the torrent to external storage (Android Lollipop only).
Web Browser – Built-in web browser with ad-blocker.
Premium – The ZetaTorrent Pro version comes with several premium features including proxy and IP filtration.
FAQs
Which is the fastest torrent downloader app for Android?
Although the speed depends on your internet connectivity but as per my personal experience with downloading a torrent on Android, Vuze and Flud are some of the fastest torrent-downloading apps.
Which app supports torrent streaming on Android?
FrostWire and uTorrent are the apps that allow you to stream content on Android while it continues to download files in the background.
Which Torrent app worked for you?
Out of 8 torrent apps I have reviewed here, which one worked for you? Do you have any personal favorite torrent clients for downloading torrent files on your Android phone and tablet that I didn't include in the list?
Please let me know in the comments, I would love to hear your suggestions! 🙂