If you are into getting yourself in a good shape or want to have a healthy lifestyle then download Samsung Health APK for Android and start keeping a track record of your daily activities along with the ability to examine the habits to help yourself in maintaining a proper diet and ultimately leading a lifestyle you always wanted to live.
Features of Samsung Health
Here are some of the key features of Samsung Health apk:
Health tracking through sensors – Sensors that are built-in on your Android smartphone will help you in keeping track of your daily activities including cycling, running, walking, and any other indoor or outdoor activity.
Keep track of your food intake – You can manually record your entire food intake including water, snack, and caffeine while keeping your weight and calories in check.
Sleep tracker – The app has a sleep tracking section where you can daily record your sleep cycles i.e. when you went to bed and when you woke up.
Achieve your health goals – The app comes with a wide range of fitness programs and activities that are designed in such a way to keep you motivated enough so that you can accomplish your daily goals and milestones.
Compatibility with smartwatch – Samsung Health app is fully compatible with a variety of smartwatches that will help you keep track of your health that includes stats like heart rate, amount of oxygen in the blood, as well as blood glucose levels.
About Samsung Health
Samsung Health, which was previously known as S Health, is more or less like your personal trainer that stays in your pocket and helps you set challenges and objectives to keep yourself in a good shape while maintaining a healthy lifestyle. You can enter into the fitness programs from within the app and then the app will assist you in achieving your daily fitness goals and positively improving your health and lifestyle.
The key objective of Samsung Health app is to keep a proper track of your daily physical activities like the number of steps you took, the number of calories you have burned, and all the distance you have traveled regardless of whether those were covered by walking, biking, and hiking or through any indoor or outdoor sports activity.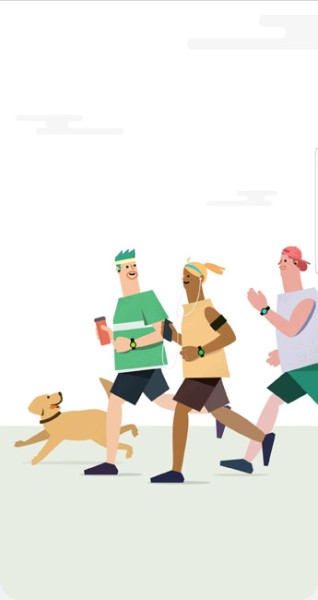 Most, if not all, of these activities, are tracked using sensors present in your Android device. While other activities can be recorded in a lot more detailed manner by using a pedometer or Android smartwatch devices that records all of your activities, syncs those data with your mobile device, and help you keep track of your health and fitness goals.
That is not all. To help you track your diet and improve your overall lifestyle, Samsung Health apk even allow you to record and analyze your diet by letting you enter information about your food, snacks, and fluid intake as well as track your daily nutrients.
On a daily basis, the tracked information recorded through sensors and those diet information provided by yourself within the app, both data will be used to analyze and check whether you are gaining or losing weight. And depending on that, the app will recommend your activities and objectives to help you maintain a healthy lifestyle.
Samsung Health Demo Screenshots
Here are some of the demo screenshots of Samsung Health app for those who are interested in trying it but want to have a look at its appearance first: