Want to listen to music from your iTunes account? Download Apple Music APK for Android and listen to all of your favorite music directly on Android.
Features of Apple Music
Apple Music is a paid application, but it has some nice features, some of which are listed below:
Download music – Apple Music gives you the option to download any music you like.
Playlists – create your own, share, and follow your friend's Playlists to see what they are sharing.
Discover – discover music and playlists through the Discover tab updated daily.
Radio – listen to your favorite radio stations.
About Apple Music for Android
Apple Music is Apple's original music application that was developed for iOS devices only, but now they have launched it for Android as well. It is fast, simple, and elegant.
By using this app, you can listen to all the music from your iTunes account. You can listen to all of the songs you've saved on your iTunes or even listen to all the Radios stations available.
But you'll have to pay to use this application. Although Apple gives three months of free usage, it is going to charge you the following month automatically. After three months you'll have to pay 10 dollars per month to use the service.
Apple Music comes with all of its features for Android. That is, you can enjoy all of your favorite playlists and music without any trouble. You can also listen to all of your favorite artists by searching their names.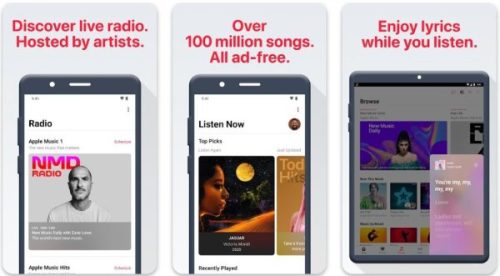 It also comes with a nice feature that you can download any music that you like, to save data or the internet which is a great feature as you can play any of your favorite music anywhere, any time without internet connectivity.
You can also make your playlists and share it with your friends. The app also shows music that is similar to what you like to hear. It also updates the feed every day to show you the latest music that is available.
You can also follow your friends and family and see what they are listening to. You can also see their playlists and see if you like anything new and they can do the same with you.
You can access all of your music from the My Music tab that has been purchased by you. If you don't pay the service charges, then you won't be able to listen to all of that music until you pay for the service charges again.
It has a very easy-to-use interface which is nicely spread out. You can find everything within your reach easily and without any problems. And if you hate ads, then this is the best application for you.