We've all been there – you need to verify your account, and the website insists on a phone number. You don't have one or don't want to give out yours. What do you do? Fear not! With today's ever-evolving technology, there are plenty of virtual phone number apps that can help you get through the verification process without giving away your personal information.
In this blog post, we'll look at some of the best virtual phone number apps specifically for account verification purposes. So if you're looking for an easy way to protect yourself while verifying accounts online, then read on!
Using your mobile phone number for temporary accounts that you are going to use for a limited time can be risky due to privacy concerns and then getting your number out in the public means you are going to get flooded with marketing calls and messages, which becomes annoying.
To help keep things private and to avoid annoyance, I have put together a list of the best virtual phone number apps (including free and paid options) that you can download and install to receive OTP or verification codes for account verification purposes whether you are looking for free US phone number or a temporary number for any other country.
You should be able to verify online accounts like Facebook, Instagram, Twitter, Google, Tinder, and tons of other online services.
Keep in Mind
I have manually tried each app to see if they are working fine, and at the time of writing, all the apps featured in the list were working perfectly fine but it's possible that some might not be available or work when you try.
#1. Hushed Second Phone Number
Hushed is a paid service that provides you with disposable phone numbers from more than forty countries including the US, UK, and Canada. This way you can keep your real number hidden from your acquaintances. A temporary number, if you go out to purchase from them, will cost you as low as $1.99.
However, as a new user, they will give you a free-of-cost number along with 20 free texts or 20 free minutes that will be valid for a trial period of 3 days, which is enough to test out their service. If it worked, then you can easily go ahead and pay them to keep that number for as long as you want.
What I like:
One free phone number for 3 days, upon registration.
Choose your choice of a phone number that can be purchased for as low as $1.99.
Variety of paid plans to choose from, including 7-day, 30-day, 90-day, and 365-day.
What I don't like:
A free phone number cannot be used for account verification.
Using the free phone number, you cannot receive a call or message unless you have called or messaged that number first.
You must need to purchase a number first to verify accounts via call or text.
#2. Burner – Private Phone Line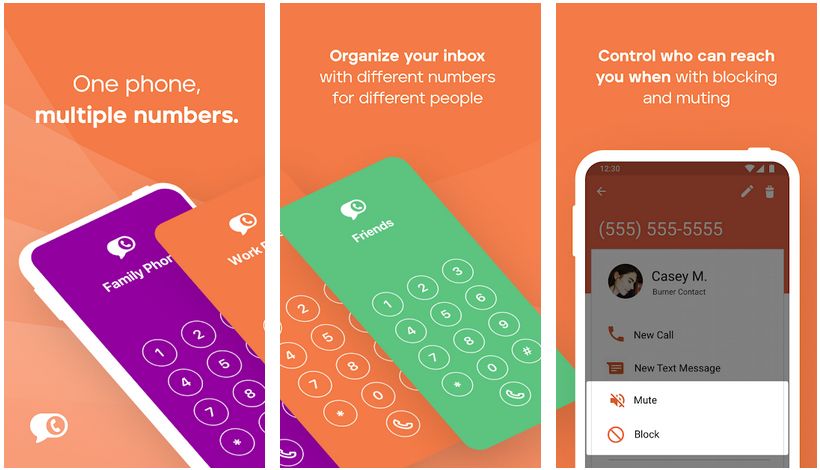 The Burner is a paid service that gives you a private Burner phone number so that you can keep it separate from your real number and can easily use it for web-based forms, buying and selling things on the Internet, and you can even share it with your temporary contacts.
On signup, the company will give you a free sample Burner phone number that comes with 20 free minutes and 40 free texts, and this sample number will be valid for 7 days. If you liked their service then you can easily opt to purchase an extension pack/Burner that suits your need, right from the in-app purchases.
What I like:
One free sample phone number is valid for 7 days upon registration.
Maintain multiple Burner phone numbers for different account verifications.
Variety of credit packs, starting from as low as $1.99 for 3 credits.
Burner numbers can be used to verify social media accounts/dating accounts.
What I don't like:
Require a USA, Australia, or Canada number for signup.
The app will force you to leave a review.
#3. Temporary Phone Number (Web App)
Save time with TemporaryNumber – a free, easy, and user-friendly service that gives you verified temporary phone numbers from the US, UK, Lithuania, Netherlands, and Ireland – in mere minutes! Never worry about entering personal information or credit cards; just select the country code of your choice, double-click a specific number, and immediately enter it into the service you're trying to register with. And that's not all – you can use this free service as often as you'd like! So say goodbye to long and tedious registration processes and hello to the super convenient TemporaryNumber!
#4. eSIM Plus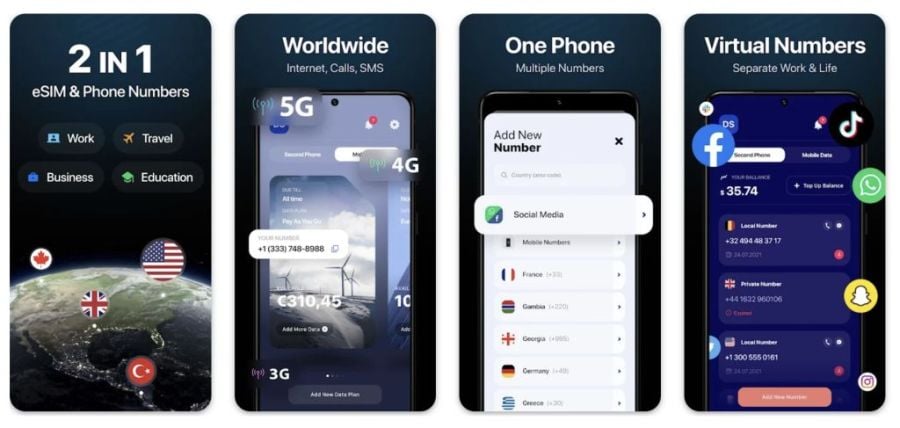 It is a service that provides virtual numbers for verification on various websites, services, and apps, including even WhatsApp. The eSIM Plus database is huge! It contains more than 10 million numbers from 70+ countries all over the world. When buying numbers, they are issued exclusively in one hand for rent for a whole month.
The eSIM Plus service is fully automated. You can rent a virtual number at any time of the day. The number becomes available after a few seconds after payment.
Phone numbers are pleased for one month and are automatically renewed for the next month if there are enough funds on the balance to renew it.
What I like:
You can try a free test virtual phone number in the eSIM Plus service. You just need to ask for its support for the opportunity.
Receive incoming and outgoing calls with this virtual phone number. Make and receive calls from any number or service.
No additional phone number activation is required. You can use the virtual phone number for calls and text messages immediately after purchase.
What I don't like:
You can't buy a virtual phone number for a shorter period.
The automatic payment renewal is a bit difficult to set up.
#5. Talkatone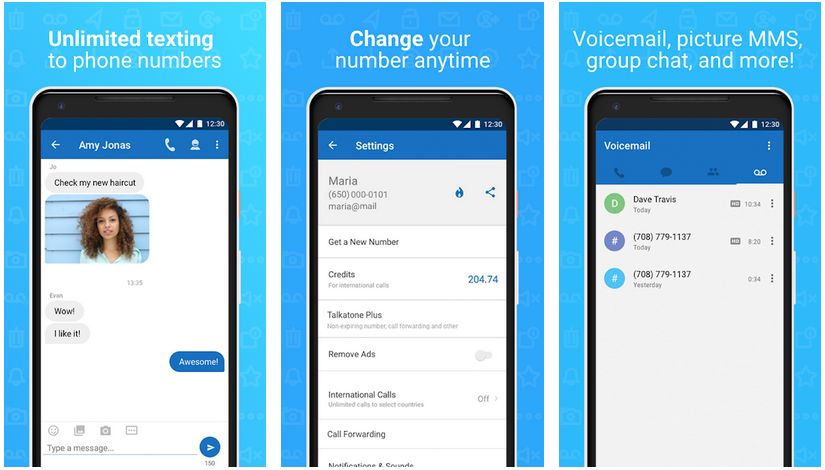 Talkatone is one of those services that give you a free US phone number of your choice that will be valid for as long as you continue using it. And you can use this number to make and receive free calls and messages to US phone numbers as well as for account verification purposes.
The best thing about Talkatone is that in case you don't have an existing phone number then you can use your email address to create an account and receive your free phone number.
What I like:
Purchase credits via in-app purchases for outbound calls and messages.
Ability to create and verify the Talkatone account via email address.
Get a free US phone number upon verified registration.
What I don't like:
You need to make one call or send one message once every 30 days to keep your account and phone number active and valid.
#6. Nextplus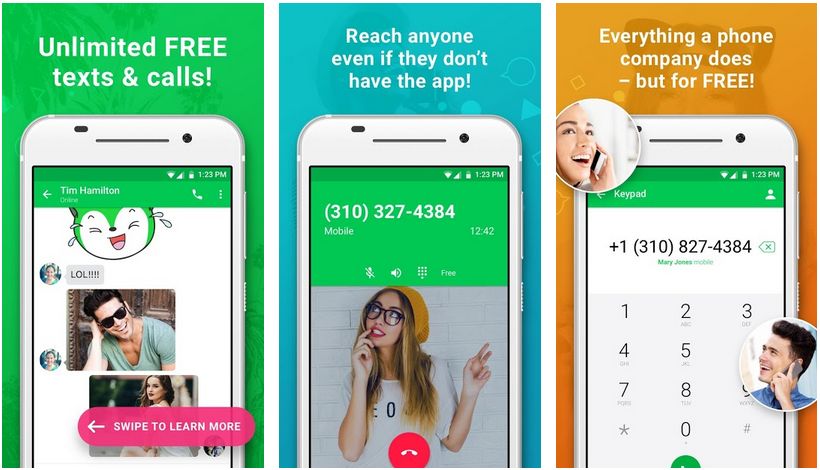 Ever wanted to have a free phone number that not only helps you with your account verifications but can also keep you connected with your friends or family members without any cost, no matter where they are in the world? The app makes use of advertisements, the revenue of which is then used to cover the calling and messaging costs.
All you have to do is register your account and then claim your free US phone number by selecting the state and area code from the provided list. And the app will assign you a new number within a matter of seconds. The number remains valid as long as you continue to use it.
For those of you who don't know, Nextplus is an improved version of textPlus. So if you are a textPlus user or want to try textPlus instead then you can download it below.
What I like:
Get a free US phone number after registration.
Ability to customize/change your number once (in case you are not satisfied with the assigned number).
Use the provided phone number for quick account verifications.
You can subscribe to a plan or Remove Banner Ads for a month or year via in-app purchases.
What I don't like:
You cannot call or send text messages to International numbers.
The calls and messages are limited to the United States and Canada phone numbers. But you can watch video ads to call other numbers for free.
The app is banner ads supported.
#7. TextPlus: Free Text & Calls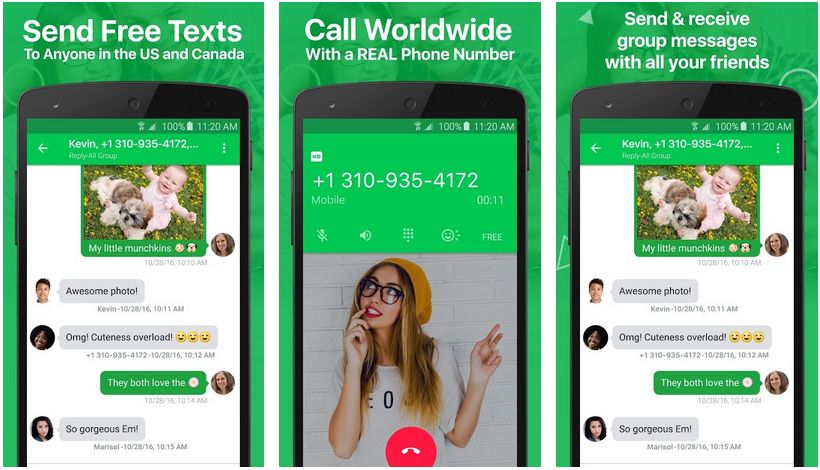 This is one of the most-used apps for free calls and texting. This app gives you a free US phone number for a few days so you can verify your accounts but recently some of our fellow friends reported that numbers provided by this app are now spammed by Google and some other companies and cannot be used for further verifications but still it can be helpful for other stuff.
Offers you a free US-based phone number.
The service cannot be used for Google account verifications.
#8. SMS Man (Web App)
The SMS-man platform offers temporary phone numbers that can be used to register with more than 3,000 online services, including social networks, messengers, payment systems, crypto exchanges, and others. SMS-man has phone numbers available for 180 different countries, such as the U.S., U.K., India, China, Canada, Germany, and others. You can not only take one SMS message but also rent a phone for up to 3 months.
Thanks to a convenient and modern design, the whole process of getting a virtual number takes a few minutes. And due to full automation, the services are available round the clock.
What I like:
The availability of free virtual numbers, which are updated daily, can be obtained on the page with free numbers or through the Telegram bot.
The geographical flexibility gives you the ability to get a phone number from almost any country without restriction. 24/7 technical support that works 24/7 and will promptly help you with any problems you may have.
What I don't like:
There is the ability to only receive text messages, you will not be able to send or receive a call.
There is no possibility to choose a specific operator and extend the rental period. 
FAQs
What is a virtual phone number?
A virtual mobile phone number is a number that does not have any directly connected phone line to it. In most cases, these numbers are configured to forward all the incoming calls and messages to any existing destination, which could be a mobile, VOIP (Voice Over Internet Protocol), or any fixed telephone line.
What are the possible uses of a virtual phone number?
When you are running an e-commerce or offline business and want a medium to directly communicate with your customers, but don't want to give your number, that's when you need a virtual phone number as it provides privacy and more control over the number. Sometimes these numbers are used for account verification purposes too.
What are the benefits of VOIP number apps?
Apart from giving a dedicated local phone line for your personal/business usage, VOIP offers cheap international and local phone calls to almost every country. That's why VOIP is the most preferred choice for online businesses.
Is it legal to use virtual phone number apps?
Yes, it's legal in all countries to purchase and use a virtual phone number as long as there isn't any illegal activity being carried out using that number.
Tips
Virtual phone number apps can be a great way to protect your privacy and security when using online services. Here are some tips for using them for online verifications:
Choose a reputable provider. There are many virtual phone number providers out there, so it's important to choose one that is reputable and has a good reputation for security.
Read the terms of service carefully. Before you sign up for a virtual phone number service, be sure to read the terms of service carefully. This will help you understand how the service works and what your rights are.
Use a disposable number. If you're only going to use a virtual phone number for a one-time verification, you can use a disposable number. This will help to protect your privacy even further.
Be aware of the limitations. Virtual phone number services typically have some limitations, such as the number of calls or text messages you can send or receive. Be sure to understand these limitations before you sign up for a service.
Which of the mentioned apps was the easiest for you to get a virtual phone number? Did the provided apps help you with the online account you were trying to verify?
Let me know your views in the comments section below 🙂