There are so many music apps out there that it's hard to decide which one you should get. So here I have reviewed fifteen of the most popular free music apps for Android.
Some of the music streaming services offer premium features like high-quality streaming, offline listening, ad-free listening experience, all of which will cost you a monthly subscription. However, basic music streaming remains free for most of these services.
#1 – Spotify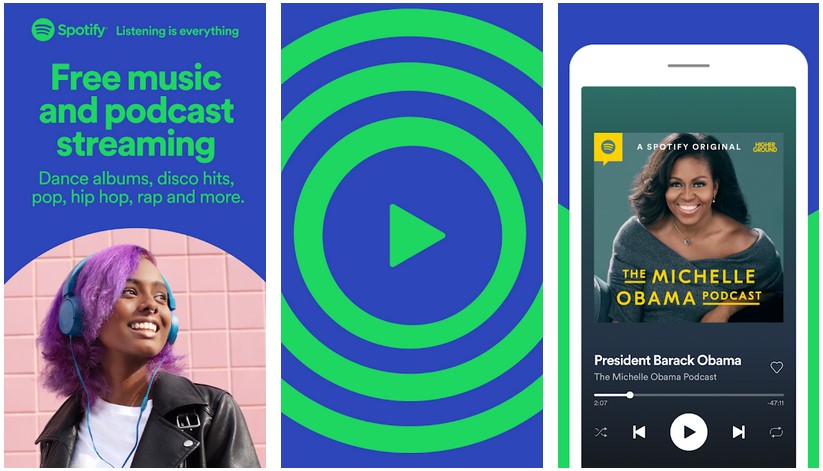 One of the most widely recognized music-streaming apps, Spotify, is available on almost every platform and is supported in most parts of the world. Although they have paid subscription-based plans to offer you features like offline listening, unlimited skips, and a high-quality listening experience, the free version is one of the best compared to the other services.
Apart from music, it also offers radio stations where you can find variety in music as well as songs in different genres.
#2 – YouTube Music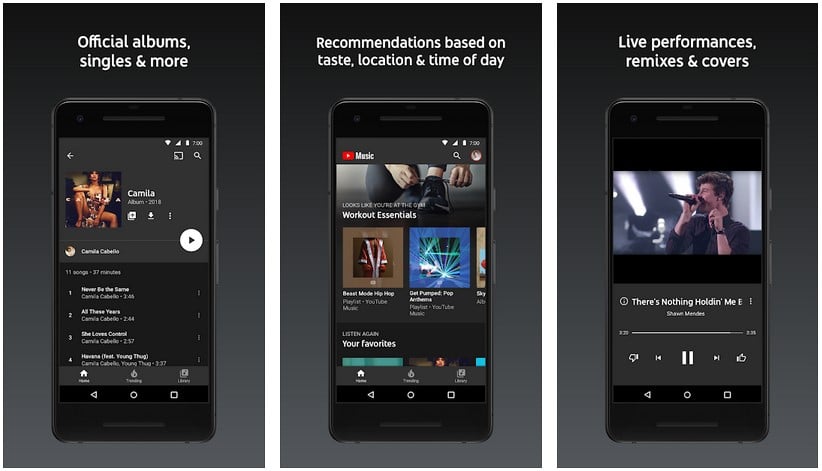 YouTube Music is a new music-streaming app from Google that helps you find and discover your favorite music and get recommendations based on your music taste and current trends. You can easily find music albums, remixes, and whatnot. The app even allows you to find music using the lyrics.
YouTube Music is replacing Google Play Music and most of the features are being shifted to this new app. The best thing about YouTube Music is the wider selection of music since it sources YouTube to help you find your favorite music.
#3 – Deezer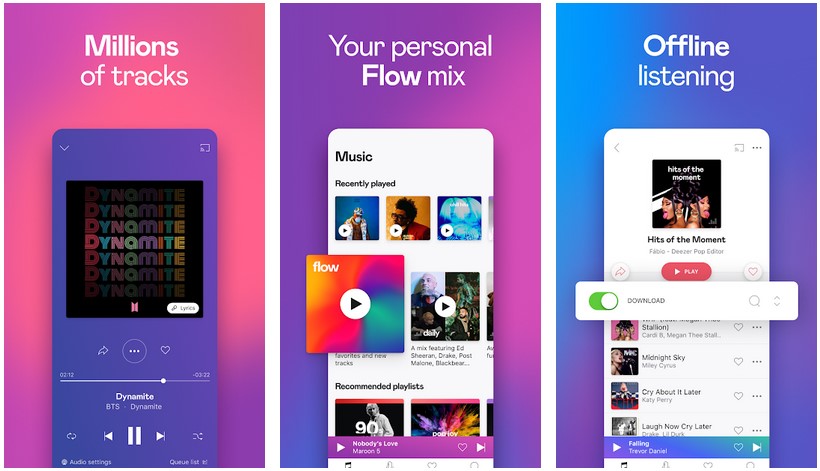 Deezer is one of the best music streaming services and they have designed their app for Android devices. Although they offer a premium version that will help you unlock additional features and functionalities like offline music listening, the ability to listen to music in high quality along with the native support for Android Auto.
However, the free version is enough to stream all the music from a wide range of genres and albums from almost every artist. The best feature without any doubt is the Hi-Fi streaming option offered in FLAC quality.
#4 – Pandora Music, Radio, and Podcasts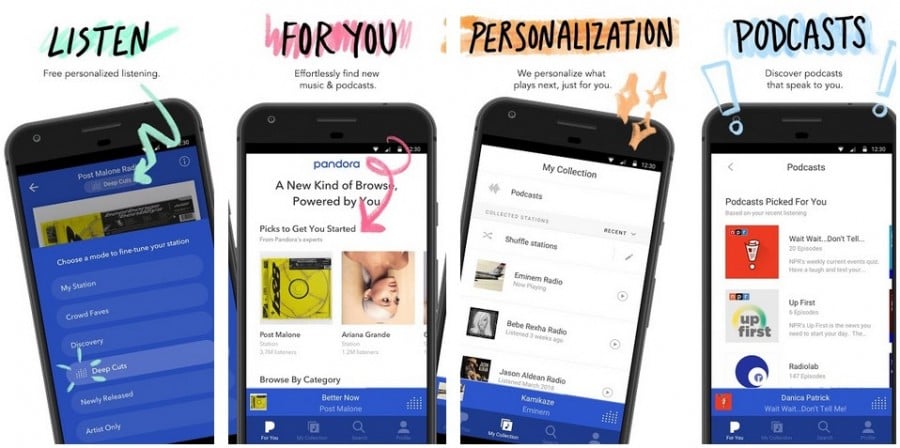 Pandora offers an uninterrupted radio experience for music lovers along with the option to listen to music and podcasts, which are handpicked by athletes from all around the world. It has native support for Android Auto that will help you take Pandora along with you on your daily traveling or road trips.
It offers you voice functionality, using which you can search and control music as well as the ability to adjust the volume. There is a premium version too, which offers an on-demand service for music and podcasts along with the ability to download music on your device for offline listening as well as ad-free music listening.
#5 – iHeartRadio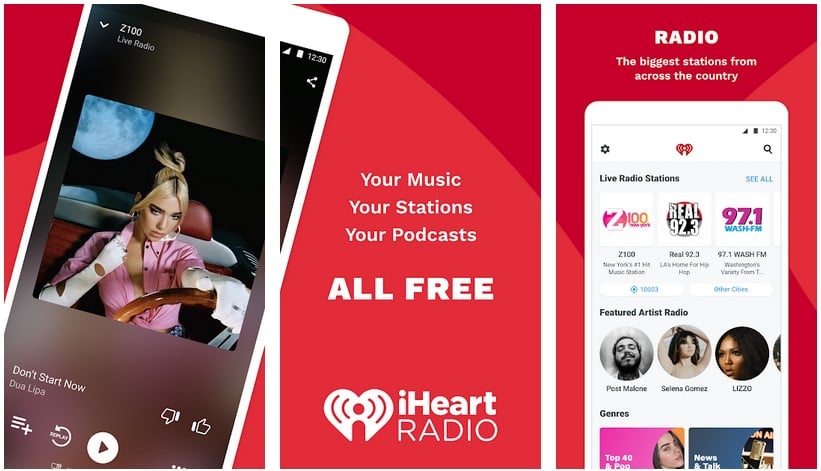 iHeartRadio lets you stream unlimited music as well as hundreds and thousands of live radio stations from which you can make your selection based on your current activity or mood. You will get to listen to your favorite stations, music playlists as well as podcasts. It is fully compatible with Android phone and tablet devices; above all, it's free.
Apart from the music, the app offers you radio stations fully targeted towards sports as well as breaking news, comedy, and talk radio shows. The free version will show you advertisements however the premium variations like iHeartRadio Plus and iHeartRadio All Access will eliminate all the ads. That's not it; premium will give you additional features like unlimited skips and download functionality.
#6 – LiveXLive (formerly Slacker Radio)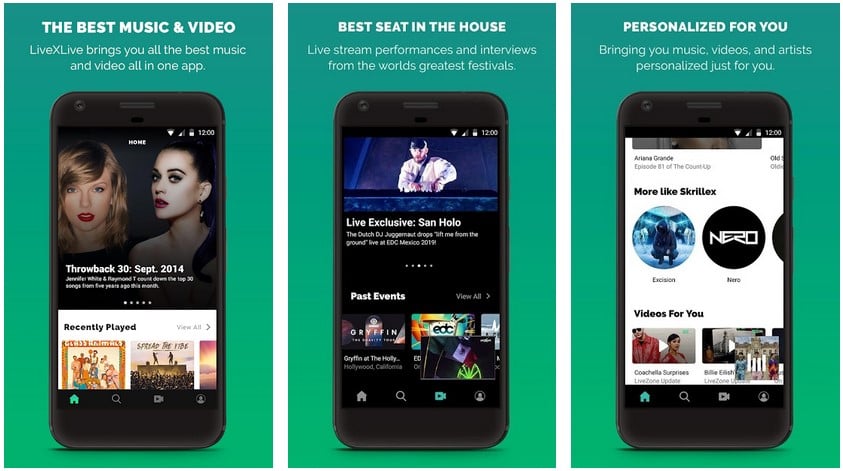 Formerly known as Slacker Radio, LiveXLive is a reconceptualized music streaming service for Android phone and tablet devices using which you can stream endless music as well as watch live performances for free, which means the app is not just limited to audio but you can watch music videos as well.
You can create a personalized feed, which features music and hundreds of radio channels from your favorite artists. LiveXLive even allows you to make your collection of favorite music and listen to all of them offline, which becomes handy when you have limited cellular data or somewhere without internet connectivity like during traveling. Some of the features are for paid members only and it costs around $3.99 to $9.99 per month.
#7 – SoundCloud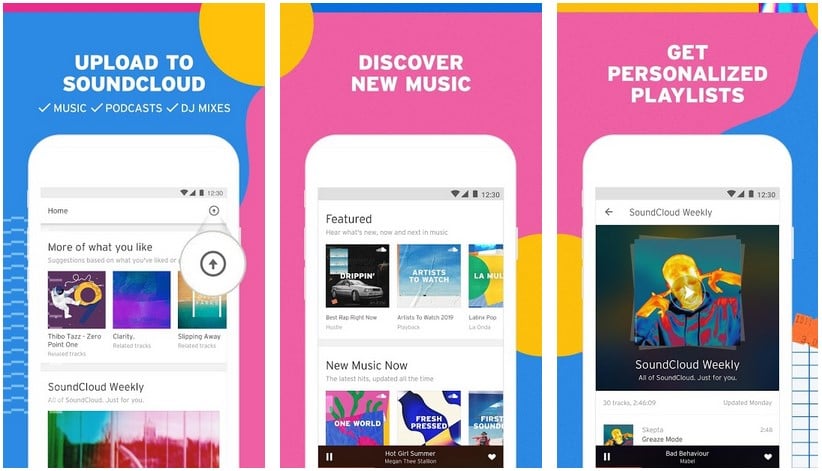 SoundCloud is very different from the other music streaming services and websites I have featured in this list, and that's because this is more like social media for music. We can even categorize this as a global community for sound and music where you are free to upload a soundtrack and the same can be discovered by anyone from any part of the world.
Apart from the free music shared by all the community members, you can opt for SoundCloud Go+ as well, which provides you with a premium high-quality listening experience. You will get access to every soundtrack along with offline listening so that you can take your favorite music anywhere you go, and that too without any ads. The premium will cost you about $5.99 to $9.99 per month.
#8 – Tidal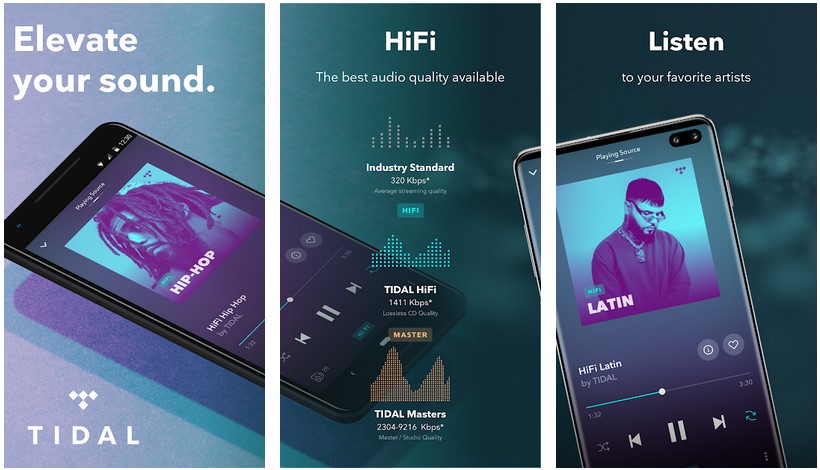 Tidal has a huge database of music and soundtracks, around more than 70 million. You will also get offline playback, unlimited skips, and radio along with a native discovery feature that will help you discover new tracks. It is one of the very few music streaming services to offer features like high fidelity soundtracks, 360 Reality Audio, and Dolby Atmos.
The music streaming service is compatible with a wide range of platforms including Android phone and tablet devices, smart TVs, and Amazon Alexa, just to name a few! Some of the features I have mentioned require a premium subscription but you can try it free for 30 days.
#9 – TuneIn Radio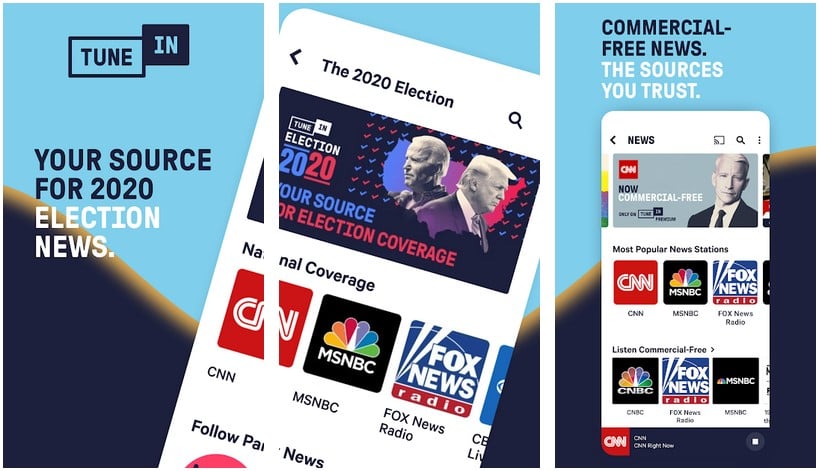 TuneIn Radio is a powerful radio app, which lets you stream tons of content from all around the world. There are a variety of channels within the TuneIn Radio app including music, podcasts, news, sports, and radio. And you can stream and listen to hundreds of channels as well as soundtracks.
Similar to others we have mentioned on the list, TuneIn Radio also offers premium subscriptions, which will help you listen to music and news without commercials and fewer advertisements on radio channels.
#10 – Amazon Music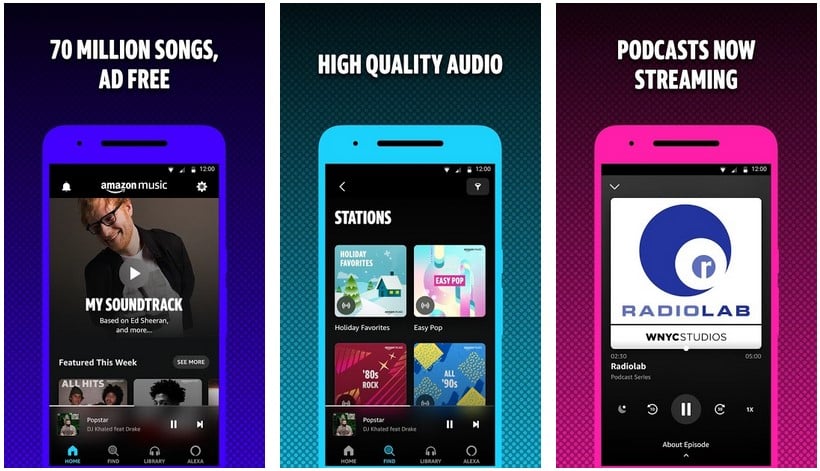 Amazon Music is a great app to discover and stream songs, podcasts, and radio stations. This is a decent music app, which can provide you with the cheapest premium music services, provided if you are an Amazon Prime member. Alternatively, you can opt for Amazon Music Unlimited which gives you access to over sixty million songs in high definition at a higher bit rate of over 24-bit, 192 kHz.
In case you are looking for a free option, then you can listen to Amazon Music without any limitations and this option doesn't even require a credit card. You will get access to thousands of radio stations, an option to stream podcasts along with the ability to listen to all soundtracks on your favorite devices.
#11 – SongFlip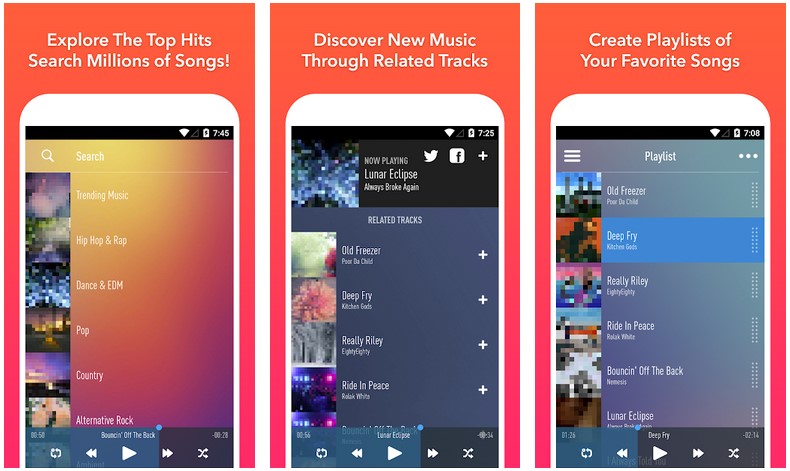 SongFlip is absolutely free of cost music streaming app for Android devices. If you have ever been an iOS user then you must have heard about SpinTunes, if yes then you will be happy to know that both of these apps are designed by the same developer. This music service offers you millions of soundtracks and songs that you can stream 24/7 without any charges.
Other than searching, you can discover new and popular songs in categories like dance, country, EDM, rock, hip-hop, and a handful of other genres. You can even create your custom playlist so that you can listen to them quickly in just a single tap. The app, however, does not support music downloading functionality.
#12 – Jango Radio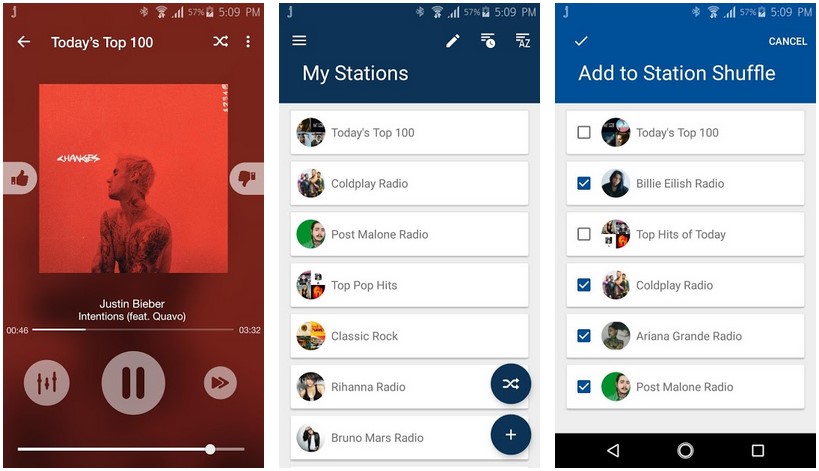 Unlike the majority of other services we have mentioned in the list, Jango has its website as well as an Android app that is compatible with smartphone and tablet devices. All you need to do is create your account for free and start personalizing it by selecting your favorite stations and radio services.
You can begin by searching for your favorite music album or artist and then Jango Radio will automatically start suggesting your music based on your selections. Apart from those recommendations, there are several other stations divided into categories like rock, classic, country, hip-hop, top 100, and the latest trending.
13 – Last.fm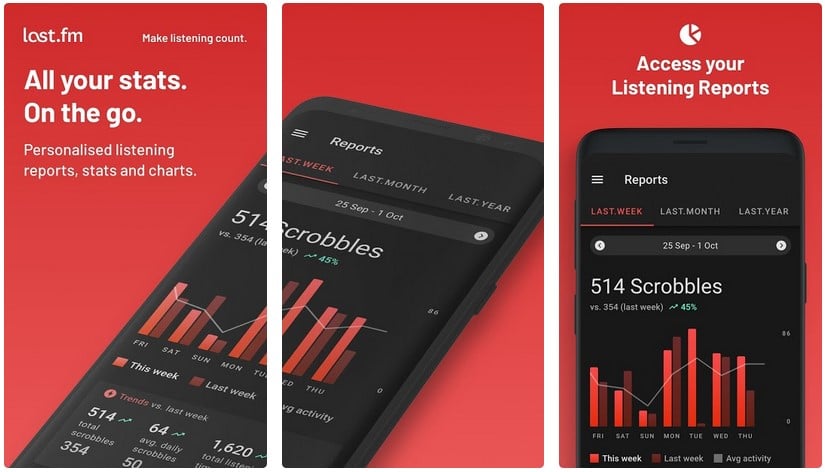 Last.fm is very much different from other music streaming apps I have featured in the list and that's because it helps you track your music listening stats and shows all of those reports in the form of visual charts. It can keep track of your music from the past week to the music you have listened to over a year ago.
Apart from the music and soundtracks, Last.fm also shows you your favorite albums and artists during the last seven days as well as from the date you first started using the service. This helps you explore your music listening history and recommends other music based on those stats and your music taste.
#14 – Mixcloud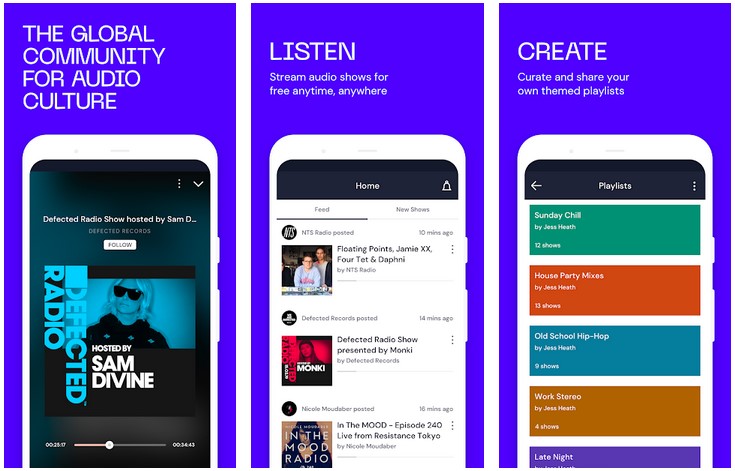 Mixcloud is kind of a different music app as it is solely based on radio stations divided into different genres, playlists, and DJ mixes. It will even offer you radio-style shows and podcasts curated by passionate creators from different parts of the world.
The major plus point of Mixcloud being radio-based music streaming app is that it offers you a free listening experience whenever you need it, without any limitations. There is a wide range of genres and categories to choose from; moreover, you can follow channels of different creators to keep yourself updated with the latest shows.
#15 – Dash Radio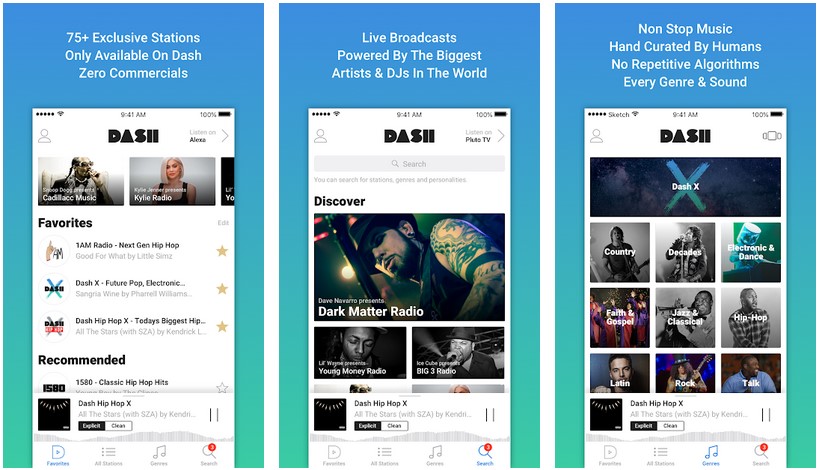 Dash Radio is commercial-free music and digital radio broadcasting app and web service, which streams its services live all day long without any interruption. You will find music from all the major artists, DJs, and curators. There are over seventy-five high-class stations in all the genres that offer you endless music.
On the Dash's home screen, you are going to find several channels and music genres, which include rock, Latin, jazz, classical, electronic, dance, talk, and many more. All the music and soundtracks are offered in top-notch quality.