Have you ever wondered how much time you spend on your phone daily? If you find yourself constantly checking your device several times a day, chances are you have been addicted to your smartphone. Here we have reviewed apps that can help you track screen time on Android to break your phone addiction.
Many of these apps offer you specialized features that are designed to curb your smartphone usage. These apps help you keep track of and limit your dependence on your smartphones. Let's find out which app is best for you.
1. SPACE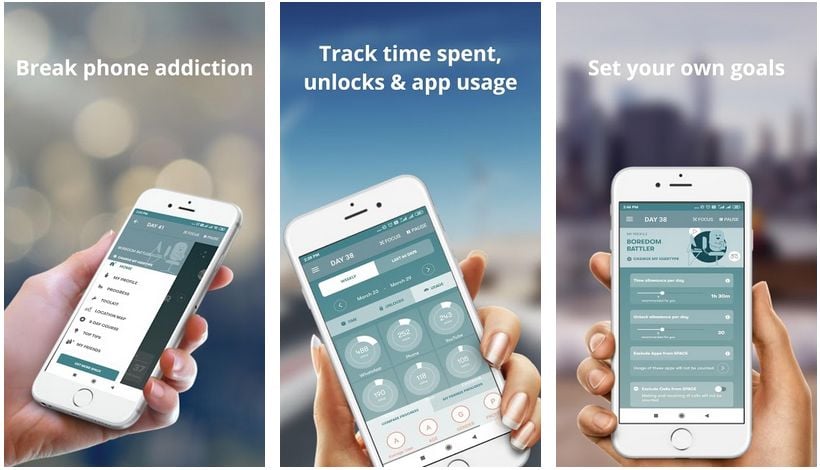 Space is an interactive app that works on a simple yet effective interface to help you keep a tab on your smartphone usage. It is equipped with tons of customizable features & functionalities to help you break your smartphone addiction.
It allows you to set and refine daily usage goals. You can view the phone usage pattern, and screen time, and see a detailed history of the app and phone usage. Further, it offers features like a notification blocker, space-time, screen dimming, and much more.
What Can This App Do?
A personalized program based on your own phone usage habits and personality.
The opportunity to set and refine your goals for time spent on your phone and the number of unlocks.
Usage monitoring to study your phone usage patterns, with a quick way to track your progress over the course of 60 days. You can view usage stats for your most-used apps to shed light on how you're really using your phone.
Tools, such as screen dimming, notification blocker, and SPACE-time to help you disconnect
Non-intrusive notifications to interrupt your unhealthy phone behavior and keep you on track
Achievements for meeting your goals which will build a beautiful galaxy over time
The opportunity to share your results with friends and family with SPACE Pro, to help them get over their unhealthy phone usage
2. UBhind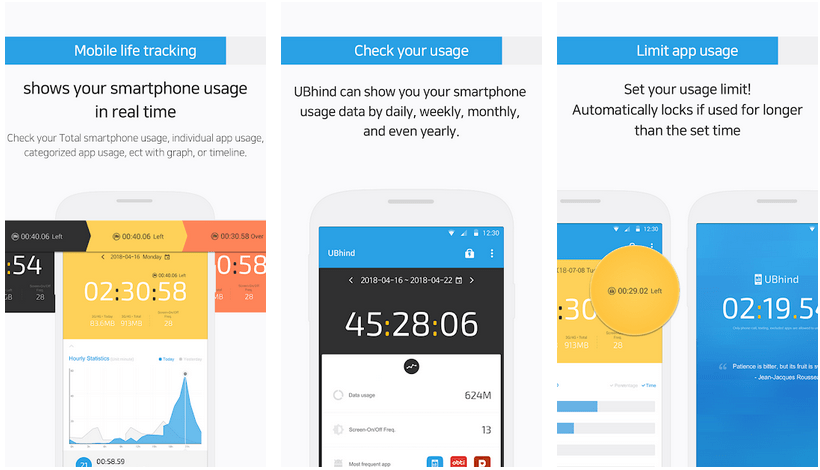 UBhind helps you depict your mobile phone usage accurately. You can use this tool to curb smartphone usage and improve productivity. It offers a comprehensive analysis and detailed statistics for a better understanding of your device usage.
You can view a graphical representation of app usage on an hourly, daily, weekly, or monthly basis. It offers features like an alarm and locks to avoid over-usage. It offers you greater flexibility to help you manage your smartphone usage.
What Can This App Do?
UBhind enables you to accurately depict your mobile app usage.
The Alarm and Lock feature alerts you when usage limits are exceeded and in the worst-case scenario, blocks you from using those pesky apps.
3. QualityTime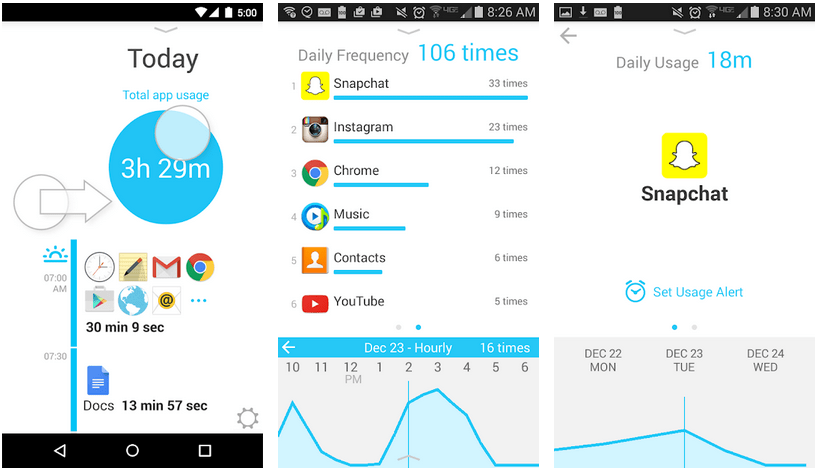 QualityTime helps you track your phone and app usage in real-time by offering you various detailed reports. It tracks your phone usage and mentions information like individual app usage, total screen unlocks and displays daily and weekly summaries.
You can even set breaks and alerts when you overuse the device. You can use this nifty tool to check app-specific usage history, share top apps, and customize or exclude tracking by apps.
What Can This App Do?
The smartphone usage activities log is displayed as a fun, visually engaging, and easy-to-navigate "timeline".
Daily and Weekly Usage summary of total device usage, screen unlocks and your top apps with time spent on each app and the number of times accessed – your "digital diet".
Create a device usage alert (usage time and screen unlock) and an app usage time alert (e.g. addicted social or games app).
"Take a Break" to immediately unplug from your smartphone; one-click access via the "Take a Break" widget.
Plan your "Take a Break" in advance (Scheduled Breaks) with repeating schedules.
4. AppBlock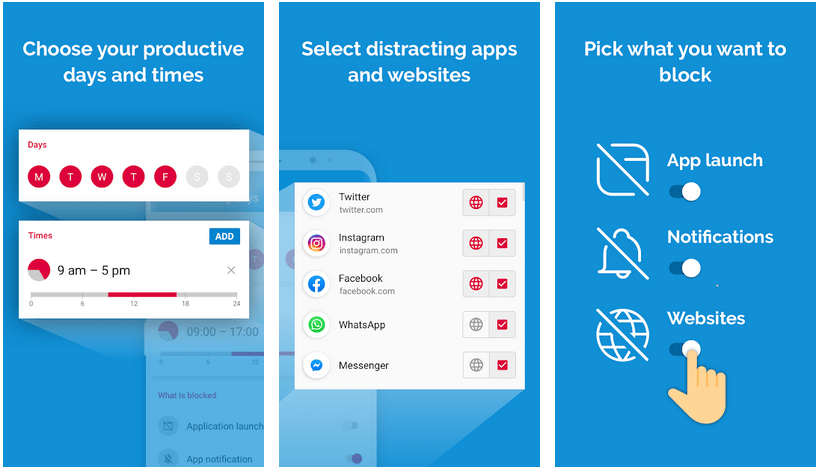 AppBlock as the name suggests, helps you block any app on your device for a pre-defined time duration. Using AppBlock, you can block any app temporarily if you are using that app too much or not at all.
It helps you disable notifications for any app and helps you create profiles with rules for a different group of certain applications. It even helps you track app usage in real time by offering your Timer. It is a useful app to boost your productivity by avoiding distractions.
What Can This App Do?
Block application launch: be choosy and selective about app launch.
Select how long you want to spend on a particular application per day when a profile is active. No more than 15 minutes of Facebook in school or during working hours.
Disable notifications from the particular application: you can avoid unwanted communications.
Create profiles with rules for groups of particular applications: you can impose restrictions on the public profile.
Use a timer and activate profiles for a selected time window.
Protect your AppBlock application with a PIN code: it will enhance your security protocol and privacy configurations on your device.
Boost your productivity: you can work with better concentration and colleagues will not be able to distract you with their tweets and pokes on your device.
5. App Usage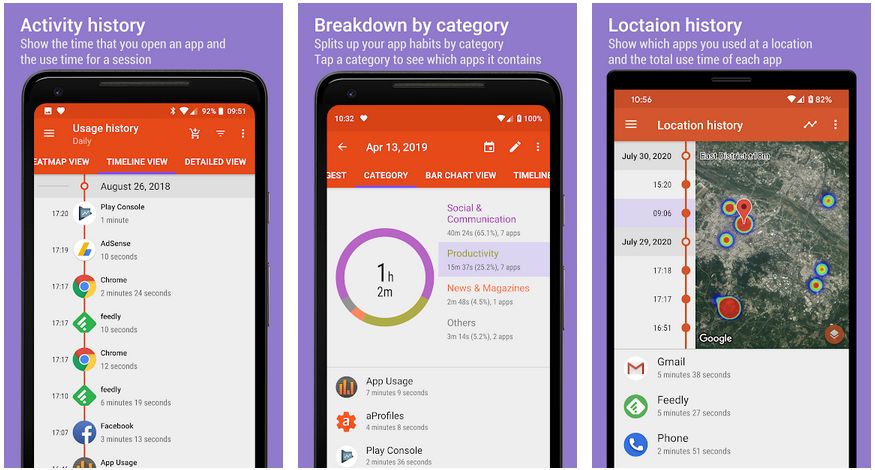 App Usage helps you manage your smartphone activities by showing you average and total app usage during the whole day. It tracks your smartphone activities and displays information like how many times in a day you checked your mobile and shows the whole activity history.
It will track your phone usage and sends you alerts when you cross-set usage limits. It even tracks and reports the most-used apps and apps which are not been in use for a long time. Further, it offers features like root uninstaller, adds personal notes, batches clear cache, and installs reminders.
What Can This App Do?
Show app usage history: gather the usage time for apps that you used.
Check phone history: gather counts of you checking the phone.
Show activity history: gather the time that you open apps.
Over-use reminder: remind when you spend a lot of time on your phone or apps.
Most used apps – show the most used apps on widgets or a notification.
Track all installs: keep track of all installs and uninstalled apps.
App installs reminder: notify when apps are installed and the summary of daily installed apps.
Manage apps: 1-tap to uninstall apps, and sort apps by various options.
6. Keep Me Out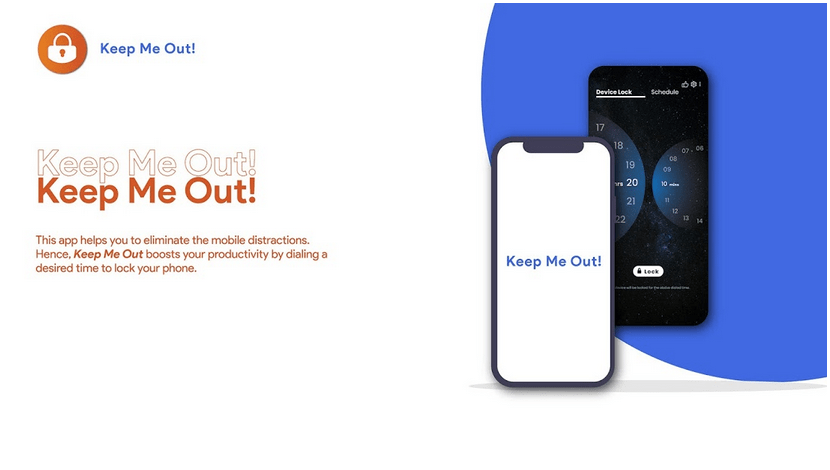 Keep Me Out is a powerful app that is designed to help you enjoy some quality time with your family and friends. It offers you device-free and distraction-free time by offering you immense useful features.
While using this app, you can still make all important calls, answer calls, and access widgets even when the screen is locked. You can use this effective app to improve your focus on your important work.
What Can This App Do?
Allows you to lock yourself out of your mobile device for the time period that you want.
Help you give Quality, device-free, and distraction-free time.
Access to the lock screen and its widgets, so you can still make emergency calls and answer calls.
Lock your device to help you Stay Focused.
7. Phone Usage Time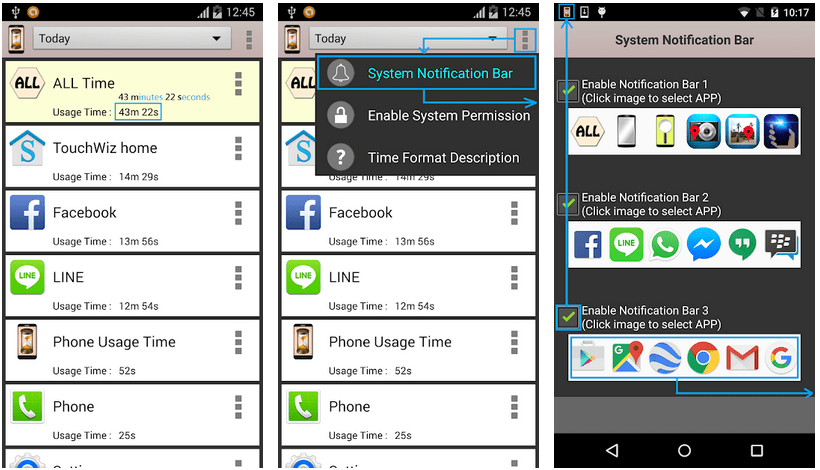 This simple and intuitive app helps you know the total phone usage time. It records app usage time and screen time for individual apps as well. In addition to that, you can add a status bar to instantly view the app usage time and quickly launch any app.
You can even view the total device usage time every day using calendar mode. You can use this app for instant and effective results.
8. Social Fever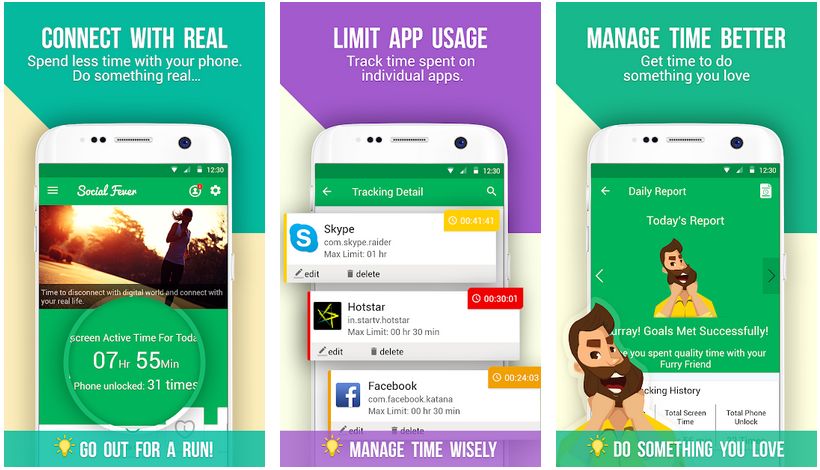 Social Fever is meticulously designed to help users reconnect with the real world. This futuristic app keeps on tracking your cell phone usage and helps you understand what is "wise usage" for you. Further, it keeps a tab on your phone-unlock pattern and app usage to send you alerts when you overuse your mobile.
This app works on smart algorithms and interactive UI, which makes it one of the best apps available to reduce your mobile phone addiction. It offers you daily and weekly reports to help you manage your mobile phone usage. It is also useful to keep your health intact as it sends alerts when you overuse your phone. You can use this app to set goals and achieve them to reduce virtual world dependency.
What Can This App Do?
Let's limit app usage by setting timers
Lets you track your cell phone usage for a better understating of what is 'wise usage'.
Keeps tabs on how many times you unlocked the phone.
Monitors app over usage and shows a pop-up message.
Detects if a user spends too much time on social media.
It's light on system resources and consumes less phone battery.
Includes simple and easy weekly reports to help you understand your performance.
9. AntiSocial: phone addiction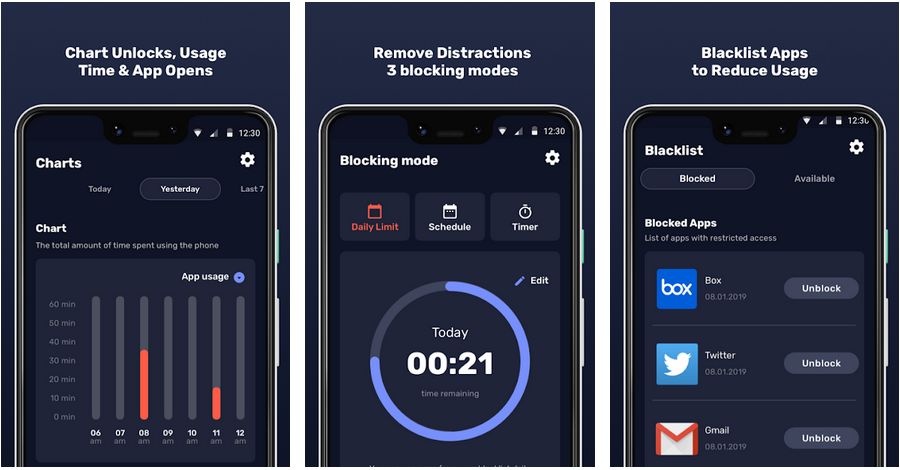 AntiSocial offers you various useful tools to help you manage, block and control your mobile phone usage. It helps you understand "normal usage" while minimizing distractions. It keeps on running in the background to help you track usage by various apps.
This lightweight app consumes less battery while offering the most accurate data to users. You can use this effective app to reconnect with your social circle.
What Can This App Do?
Your cell phone usage will be benchmarked against all other users. Get an understanding of what is 'normal usage'.
Least impact on battery life and data.
Simple and easy-to-understand regular reports.
Extremely user-friendly interface.
Ad-Free – Forever.
10. One Minute Pause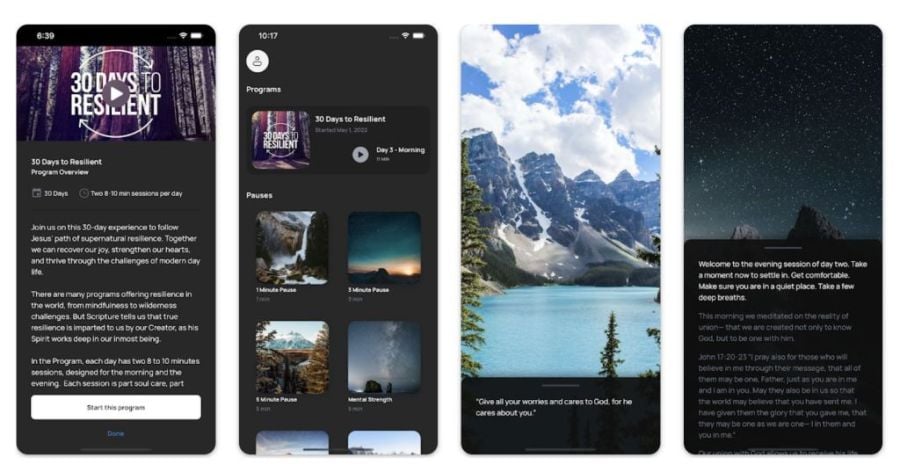 If you're having a hard time giving up your cell phone use, try getting your friends, partner, or family involved in the challenge with Pause.
One of the features of this cell phone consumption control app is that you can compete with your acquaintances to see who can last the longest with their phone in airplane mode. Do you think you can win? At the end of the day, the app displays a ranking with each user's position based on how long they've been using their cell phone. Let the game begin!
11. Forest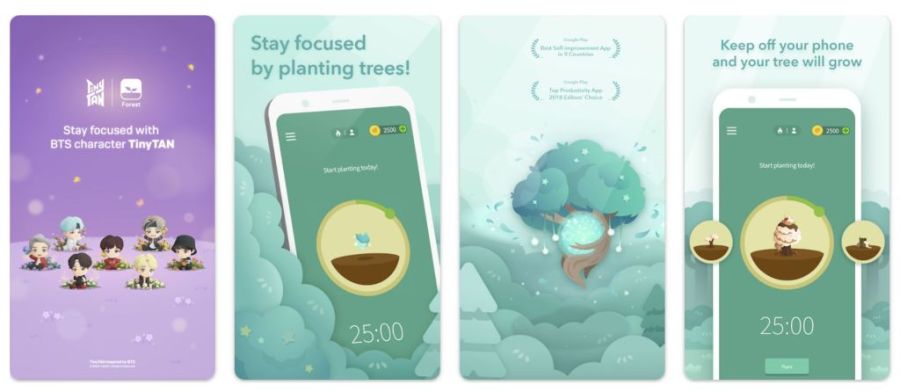 Forest's motto: "Focus and live in the present". The purpose of the app is to help us temporarily disconnect from our cell phones so we can focus on the most important things in life.
To start using Forest, you plant a seed inside the app. Over time, that seed will grow into a tree if we follow the disconnection deadline we set. If we give in to temptation too soon, the tree will wither. On the other hand, if we keep reaching our goals, we will have an ever-growing forest as evidence of our efforts.
12. Detox: Procrastination Blocker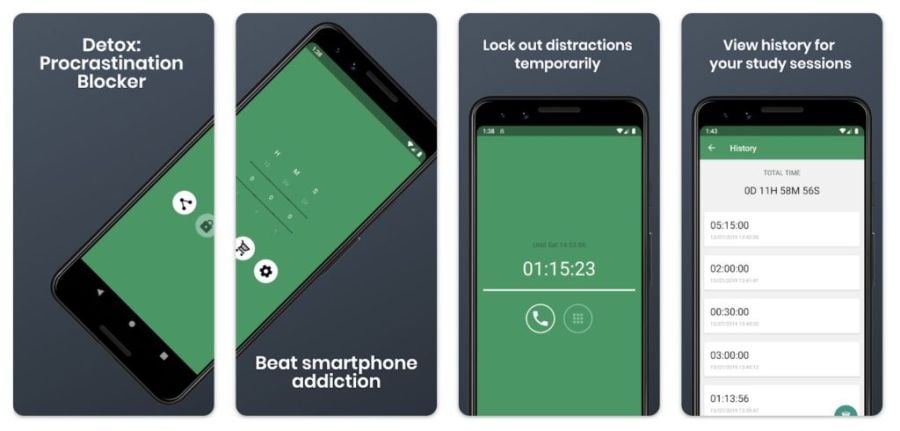 This Android app is designed to help us make our digital detox easy and effective. It is designed to temporarily lock your phone for the period of time you choose. The lock timer will appear on your screen and stay there even if you restart your phone, so no excuses.
13. Flipd: Focus & Study Timer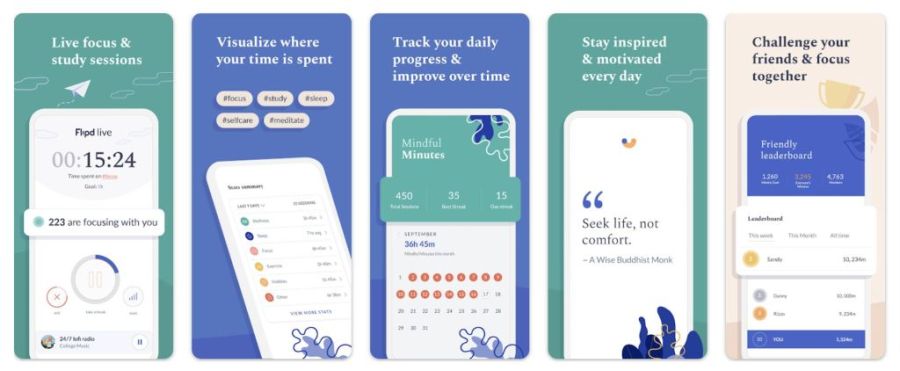 Flipd is an app that promises to help us be more productive and not distracted. Flipd's features include blocking distractions but without completely disabling them because it allows you to take or make emergency calls. It also integrates with other applications to improve productivity and has a community of users from around the world.
14. Offtime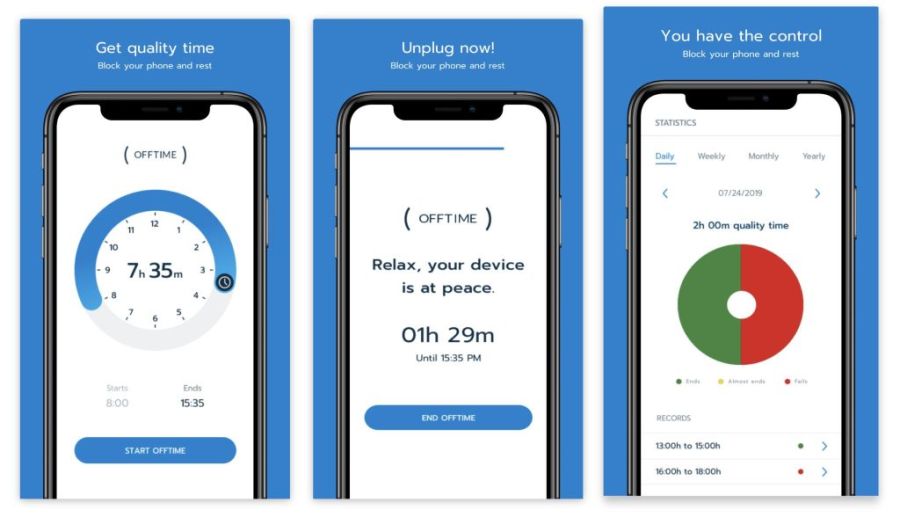 Offtime focuses on maximizing productivity. It does this by restricting access to certain apps, blocking notifications and calls, and generally allowing you to focus on what you really need to pay attention to instead of watching your phone. And to make sure you don't miss anything while you're away, the app makes a list of everything that happened on social media and so on.
It also collects statistics similar to those of other apps: the number of times the terminal was unlocked, the total time spent, the apps that were opened most often, and the time spent on each one.
Here is How To Break Your Phone Addiction
Here are some practical tips to help you break your phone addiction and help you get the work done:
Limit your screen time: Decide how much (and when) you want to use your phone and set strict limits. For example, limit yourself to only using your phone during specific times of the day, or set a timer for how long you can use it.
Make it more difficult to use your phone: Place your phone in a location that is hard to reach or out of sight.
Cut down on apps: Uninstall apps that you don't use and keep only the apps that are absolutely necessary for you.
Take a break from notifications: Disable notifications from apps you don't need to be constantly checking, such as social media.
Turn off your screen: Make sure that you turn off your phone or put it in sleep mode when you are not using it.
Find an alternative activity: Find activities that you enjoy, such as going for a walk or reading a book, to replace the time you usually spend on your phone.
Spend more time with family and friends: Take this time to socialize with family and friends instead of spending it on your phone.
Avoid multitasking at any cost: When doing something, focus on the task at hand; don't try to do multiple things at once.
Get a reward system: Set a goal for yourself and reward yourself with something special when you reach it.
Take a digital detox: Spend a day or two away from your phone, tablets, and computers. • Get help if needed: Talk to friends or family who can help you stay on track and hold you accountable.
Be mindful: Check in with yourself and be mindful of how you feel when you start to go on your phone.
Conclusion
Using these types of apps to track your smartphone usage can surely help you break your smartphone addiction, but still, you need the willpower to use these apps and stop wasting time. You won't get willpower from motivational videos or articles, you need to find passion & inspiration from your inner self. If you find it hard to do then this guide might be of great help. It will guide you to do digital detox at home.
You need to have a solid reason to stop using these apps. That's when these apps really help you achieve what you want. I hope you liked them. If you know any better, don't forget to share it with me.