Do you want to download the GPS JoyStick Fake GPS location apk to fake and spoof your location in Pokemon GO on Android and control your Pokemon character with an on-screen joystick? If yes, then you are at the right place. :D
Believe it or not, GPS location-changing apps for Android like GPS JoyStick and Fake GPS have gained a lot of popularity because it allows the players to spoof their location with overlay joystick control in Pokemon GO so they can play the game, interact with gyms, catch Pokemon, and perform in-game activities without physically going outside.
Features of GPS JoyStick Fake GPS Location
Following are some of the most distinctive features being offered by the Fake GPS Location GPS JoyStick app, including:
Spoof GPS: Ability to instantly change GPS location.
Joystick Controller: Go to any direction/location you want with a joystick.
Teleportation: Ability to teleport to any part of the world by entering latitude and longitude directly from the overlay joystick.
Speed Settings: Three customizable speeds i.e. walk, jog, and run.
Routes: Create custom routes on the map and the app will automatically walk on that route.
Loop: The routes mode even gives you a loop option to continue walking repeatedly.
Favorites: Add routes and locations to your favorite list to access them later.
All of these combined makes this app the most reliable and feature-rich GPS joystick app for Android.
What's interesting is that once the fake GPS location app is active on your device, you can then enter the coordinates and virtually teleport to any part of the world. It's that simple.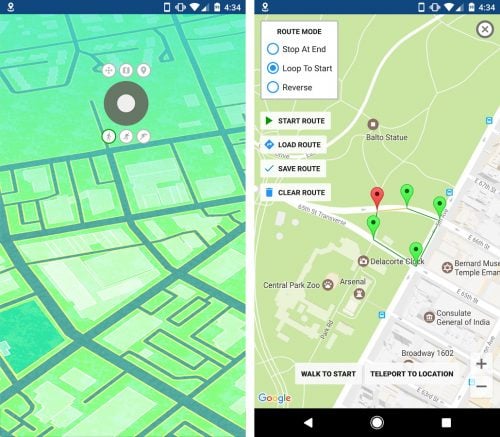 The GPS JoyStick Fake GPS Location app for Android is developed by The App Ninjas and is designed to help you completely overwrite your current GPS location with the one you have provided (for example, New York City), which will force any location-based apps, services, and websites to believe that you are in New York.
Once you are in New York City, you can then easily use the on-screen JoyStick option to explore the city and take your Pokemon character to other popular places like Central Park, the Plaza Hotel, and Radio City Music Hall to catch all the Pokemon.
Simply stated:
You can go to any part of the world by entering its latitude & longitude coordinates and easily catch rare Pokemon from all around the world.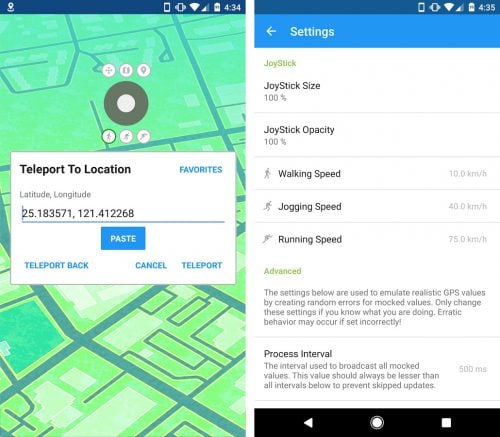 Demo Video of Fake GPS Location
In case you are wondering how this app can change your GPS location then I will recommend you to have a look at this demo video where you can see the Fake GPS Location GPS JoyStick app in action:
Now, as you have seen how this app works, you can easily use it to hack your location in Pokemon GO and spoof to any location using manual coordinates or a joystick.
You can download the latest version of Fake GPS Location (com.theappninjas.gpsjoystick) for Android smartphone and tablet devices from the link provided at the beginning of this page.