You don't have to completely do without your cell phone to free yourself from this addiction, just learn how to use it more consciously. While it may seem paradoxical, there are apps that can help us fight our addiction to others. Here are 10 apps that can help you regain control and limit the time you spend in front of your screen.
Apps that allow you to use your smartphone less
Did you know that people aged 15-30 check their phones more than 40 times a day? Moreover, young people often use their phones to do work, do their homework, and use educational apps. If you're in that age group, it's time to change your digital habits: kick your smartphone addiction by trying one of these apps.
#1. Breakfree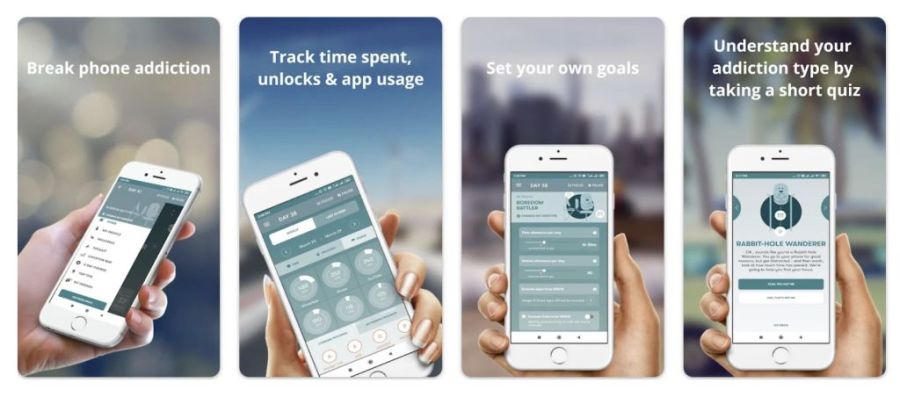 This app will help you maintain a healthy digital lifestyle. It has a simple and very intuitive interface, tracks your phone usage patterns, and determines your level of addiction in real-time. You can then set your phone to turn off social media notifications, stop incoming calls, or prohibit Internet access at certain times of the day.
What's more, the app can even send text messages to your friends to let them know you're on a "digital detox". It's a great idea, isn't it?
Download: https://play.google.com/store/apps/details?id=mrigapps.andriod.breakfree.deux
#2. Quality Time: Phone Addiction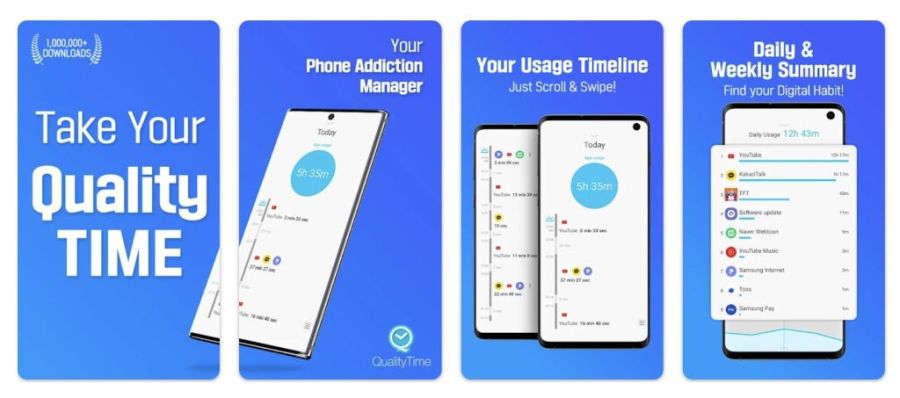 Android users can choose Quality Time, an alternative to Breakfree that offers very detailed daily, weekly and monthly usage times for each of the apps installed on the device. Like the previous app, it allows you to configure your phone to control consumption by creating usage limits with alerts when an app is overused.
One of the benefits of Quality time is that you can collect detailed information about your digital consumption for 6 months. In addition, if you sign up for the app, you can store all your information in the cloud.
Download: https://play.google.com/store/apps/details?id=com.zerodesktop.appdetox.qualitytime
#3. One Minute Pause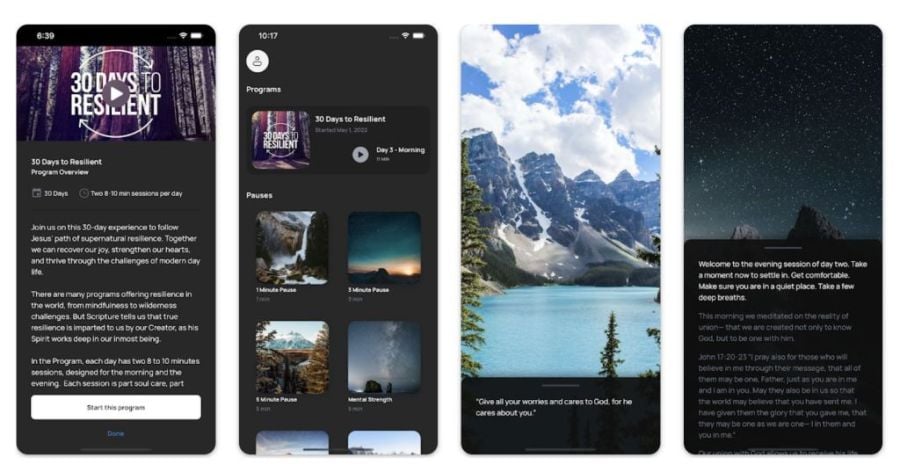 If you're having a hard time giving up your cell phone use, try getting your friends, partner, or family involved in the challenge with Pause.
One of the features of this cell phone consumption control app is that you can compete with your acquaintances to see who can last the longest with their phone in airplane mode. Do you think you can win? At the end of the day, the app displays a ranking with each user's position based on how long they've been using their cell phone. Let the game begin!
Download: https://play.google.com/store/apps/details?id=com.ransomedheart.pause
#4. Forest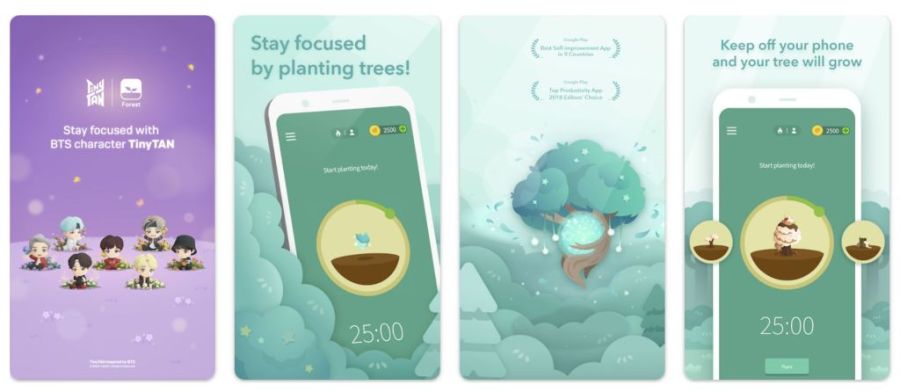 Forest's motto: "Focus and live in the present". The purpose of the app is to help us temporarily disconnect from our cell phones so we can focus on the most important things in life.
To start using Forest, you plant a seed inside the app. Over time, that seed will grow into a tree if we follow the disconnection deadline we set. If we give in to temptation too soon, the tree will wither. On the other hand, if we keep reaching our goals, we will have an ever-growing forest as evidence of our efforts.
Download: https://play.google.com/store/apps/details?id=cc.forestapp
#5. Detox: Procrastination Blocker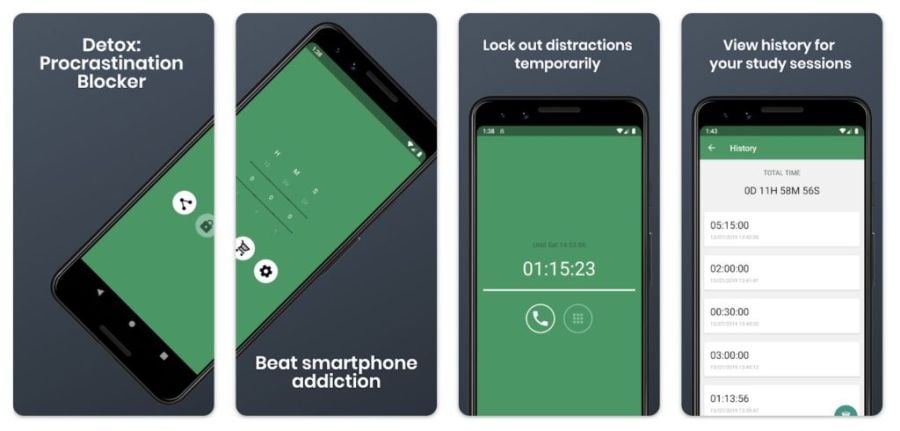 This Android app is designed to help us make our digital detox easy and effective. It is designed to temporarily lock your phone for the period of time you choose. The lock timer will appear on your screen and stay there even if you restart your phone, so no excuses.
Download: https://play.google.com/store/apps/details?id=forinnovation.phoneaddiction
#6. Flipd: Focus & Study Timer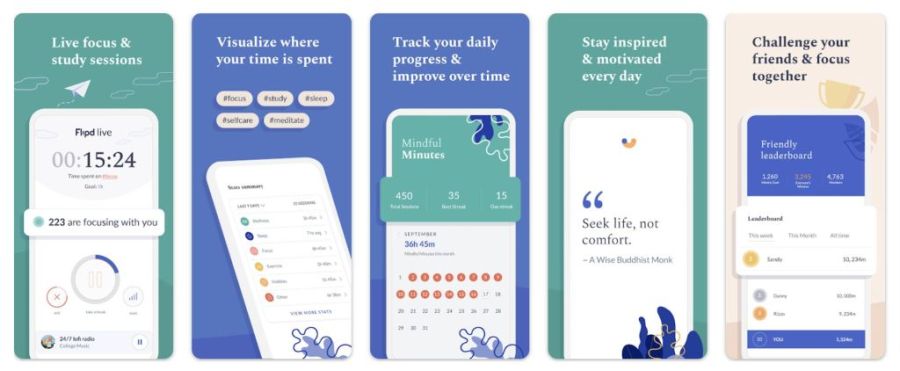 Flipd is an app that promises to help us be more productive and not distracted. Flipd's features include blocking distractions but without completely disabling them because it allows you to take or make emergency calls. It also integrates with other applications to improve productivity and has a community of users from around the world.
Download: https://play.google.com/store/apps/details?id=com.flipd.app
#7. Offtime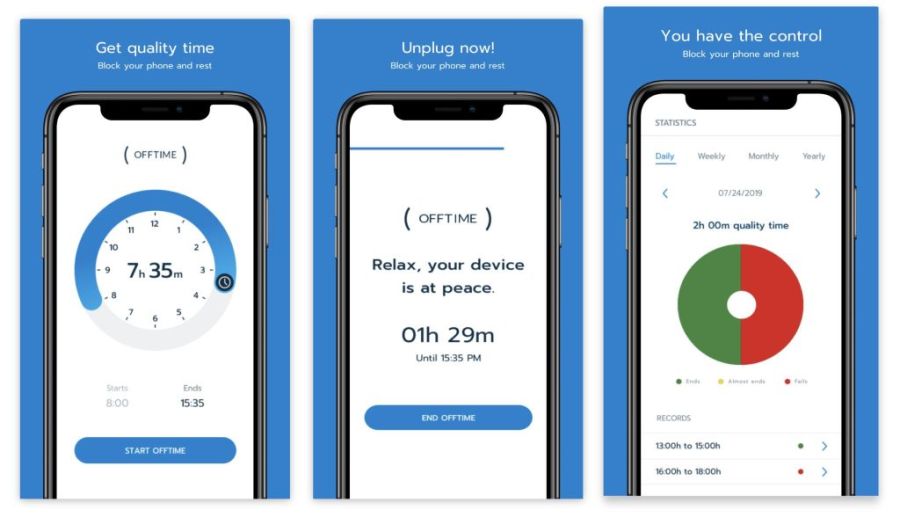 Offtime focuses on maximizing productivity. It does this by restricting access to certain apps, blocking notifications and calls, and generally allowing you to focus on what you really need to pay attention to instead of watching your phone. And to make sure you don't miss anything while you're away, the app makes a list of everything that happened on social media and so on.
It also collects statistics similar to those of other apps: the number of times the terminal was unlocked, the total time spent, the apps that were opened most often, the time spent on each one, etc.
Download: https://offtime.en.uptodown.com
#8. RescueTime Time Management and Digital Wellness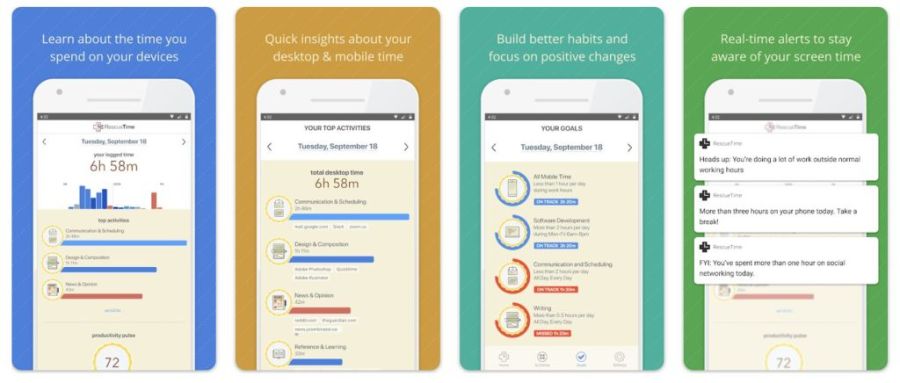 This app combines the concepts of monitoring cell phone usage and productivity. It allows you to track the total time you spend on your smartphone and the apps you use most often during that time, and set goals to improve performance, such as a maximum amount of time per day to check email or a minimum number of hours per day to check email.
The app is only available for Android and has two versions: a free one with limited features, and a paid one (with a monthly fee) that includes more features.
Download: https://play.google.com/store/apps/details?id=com.rescuetime.android
#9. ShutApp (no longer Available)
For mobile junkies, there is also an app that allows you to keep track of your cell phone usage and interact with your friends. The ShutApp allows you to set goals and challenge your friends so you don't feel alone in your digital detox.
It works very simply: download ShutApp to your phone and challenge your friends. Then set a time during which you can't use your phone. Are you ready, ready? Let's go! The countdown starts automatically and whoever uses your phone before the agreed time loses.
#10. Checky – (no longer available)
Checky is an app similar to previous ones that let you see how much you use your phone and compare your stats to other users, friends, or family members, giving you the motivation to improve! Download it for your Android phone.
The reality is that it's easy to get hooked on using cell phones: they encapsulate our entire universe in the form of various applications through which we can work, communicate with loved ones, share files, play games, listen to music, take pictures, write my essay, read the press or even books, listen to podcasts and an endless list of other tasks. It makes sense that the fact that it's all in one space makes it easier to rapidly increase its use and replace other tools.
Do you have a smartphone addiction? What are you waiting to use apps to get rid of it? Ironic, but effective.