In today's world, it's hard to imagine a teenager without a smartphone. The modern teenager has many useful applications that make life easier. You can install not only entertaining or intellectual games but also applications for learning a foreign language, smart calendars, and others. In our article, we propose to consider popular apps for writers. Such apps will be helpful for students who need to write essays. By the way, if you are wondering who could write my research papers, we advise you to use the help of an expert. Writing services provide only quality assistance.
Many apps are available in the Play Market and App Store. These apps help you create texts with ease. In addition, you can use them to combine texts with pictures or your photos.
The most popular among users are:
Evernote (iOS, Android);
GoodNotes (iOS, Android);
MomentDiary (iOS, Android);
FreeNote (Android).
With these apps, you can not only quickly create notes, but also add comments, and reminders, and save contacts as needed. They are slightly different in use and of course in design. Everyone can choose to their liking.
However, if you want something more minimalistic, it's worth considering other alternatives. Read on for more information.
#1. iA Writer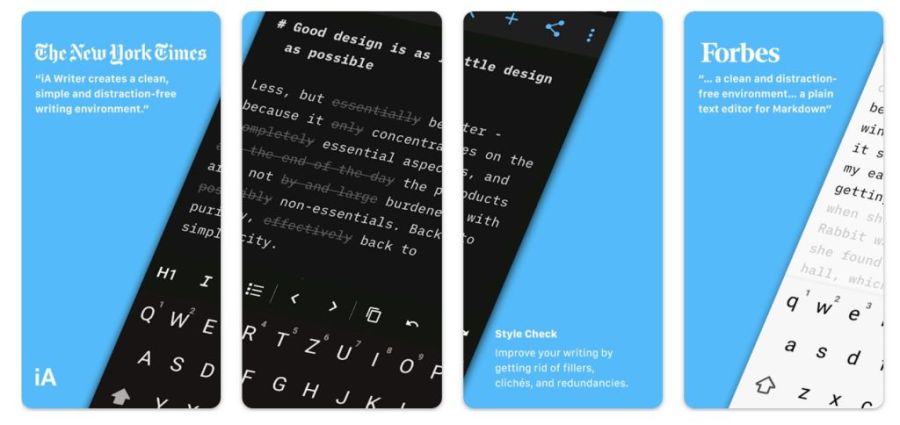 iA Writer isn't an editor, it's a veritable writer's ashes without any features or settings: just you and a white sheet of rough texture. Almost like it was 100 years ago. Strict. Concise. Collected. Saves your notes to Dropbox.
Download For Android: https://play.google.com/store/apps/details?id=net.ia.iawriter.x
#2. DubScript Screenplay Writer
DubScript Screenplay Writer is a very specific and yet very simple editor for screenwriters with special fields for individual lines, fonts for remarks, and a strict layout. You're a playwright, that's all you need. Saves scripts in PDF, Fountain, Final Draft (FDX), and HTML. Entries can be imported into Google Drive.
#3. Writer
The writer is an incredibly simple minimalist app for those who urgently need a piece of paper. Yes, yes, there is nothing else: you just open the program and write. On a single sheet of paper, with no possibility to save in the usual format or import the note somewhere. No unnecessary "noise", but also not much use without synchronization.
#4. Just Write
Just Write is an application from the same series; only here the pages are lined up horizontally (it allows you to flip through your notes like a book). If you want you can take a picture of a piece of written text. In general, it's good for dabbling.
#5. JotterPad
In contrast to previous applications, this has advanced functionality: it is easy to create folders and customize the style of your notes ("essay", "project", "newspaper", "novella"). Clean design and beautiful layout. For complete happiness, there is a possibility to save documents in TXT format and send them instantly to Dropbox. The advanced version allows the use of universal markdown and nice media effects. This app is a favorite among others for successful students and bloggers.
So which App You Should Use?
If you don't want to clutter up your phone with unnecessary apps, the online editor Zenpen and Google's cloud-based Writer service can help you (it works fine in any other browser, too).
With Writer, you just create your account and let your imagination run wild. In this case, you don't need to synchronize your data with cloud storage: everything rests securely on your page, which you can access from any device.
The Writer is extremely laconic and intuitive, while Zenpen is more suitable for quick notes – it opens in the browser and does not require registration. You can write in it endlessly, but don't write there too important data, because when you clear the browser cache, Zenpen is also automatically cleared and becomes a blank white sheet.
Of course, listed applications for writers will not replace the smell and rustle of the paper, or rough sound of a writing pencil, without which it would be difficult to create an illusion of closeness with the great masters of the past, but in exceptional situations, these tools will rescue us and help not to miss the important moment and fix a fleeting thought.
Conclusion
These applications are helpful not only for study but also in everyday life. There are so many apps that everyone can find the best one for themselves. You can try to install each of them to use for a certain period. After that, you can understand all the pros and cons of these applications. And to write a great essay, you can turn to the best essay writing service on reddit, where every student can order their writing assignment from a reliable writer.