| | |
| --- | --- |
| Name: | Minecraft: Pocket Edition |
| Developer: | Mojang |
| Category: | Game |
| Size: | 114.87 MB |
| Package name: | com.mojang.minecraftpe |
| Version: | 1.16.230.50 |
| Price: | Paid |
| Release: | 21 - 05 - 2021 |
| Availability: | WorldWide |
| Safety: | Safe |
| Language: | English |
| Playstore: | Open Play Store Link |
| Requirements: | Android KitKat 4.4 version or above. |
| Rating: | 4.3 |
| Downloads: | 100000+ |
Download APK File
Click below to download the app.
App Details & Guide
Minecraft PE APK full version available for download for your Android phone and tablet devices. Here you can find all the details of the Minecraft Pocket Edition mod along with the guide on how to download and installat the full version for free 😉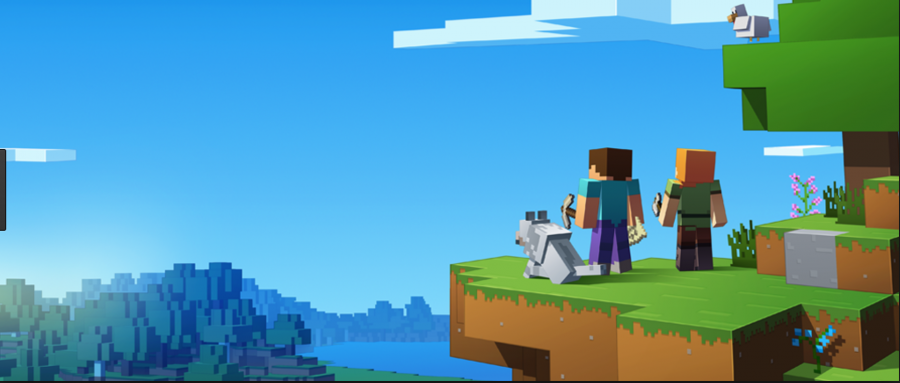 How to Download and Install Minecraft PE Mod without License
Since the Minecraft Pocket Edition is a paid app on the Google Play Store and it is available here for free, so you must need to follow our installation method to successfully download and install the game on your Android phone.
Otherwise, you will see the invalid license verification message: "It appears you don't have a license for Minecraft. Make sure you have downloaded and installed Minecraft from the store". And the game will close automatically.
To bypass Minecraft Pocket Edition license verification, you need to follow this simple tutorial:
Step 1 – Download the latest version of Minecraft PE apk from the link below.
Step 2 – Install the game on your Android phone/tablet device.
Step 3 – If you run the game now, you will see the following message about license verification.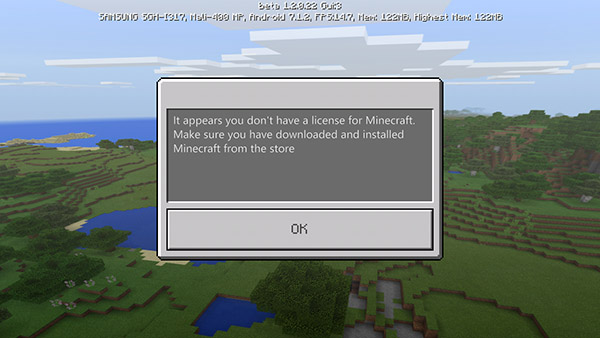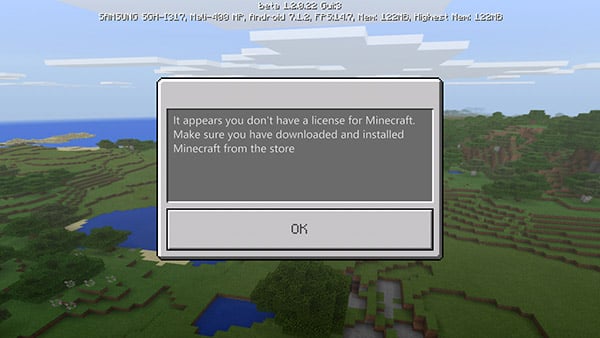 Tap on the "OK" button to close the game and continue following this tutorial. 🙂
Step 4 – Now, we have to bypass this license verification and we will use Lucky Patcher for that. So first, download Lucky Patcher apk. And install it.
Step 5 – Launch Lucky Patcher and in the list of apps look for "Minecraft". Once found then tap on it.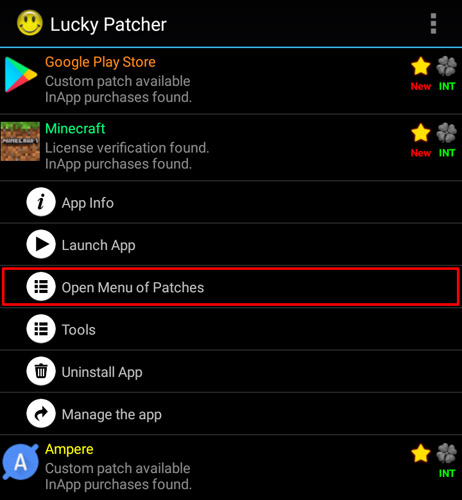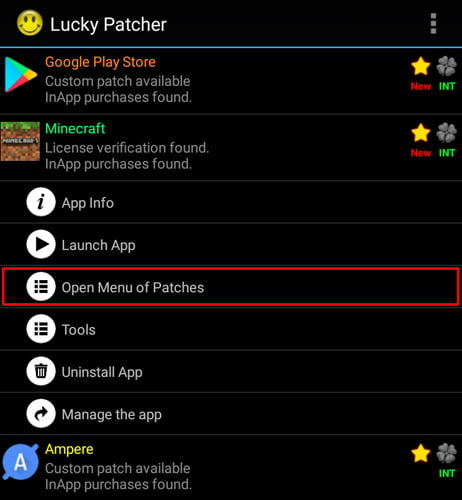 And tap on "Open Menu of Patches".
Step 6 – A popup window will appear, tap on "Create Modified APK file".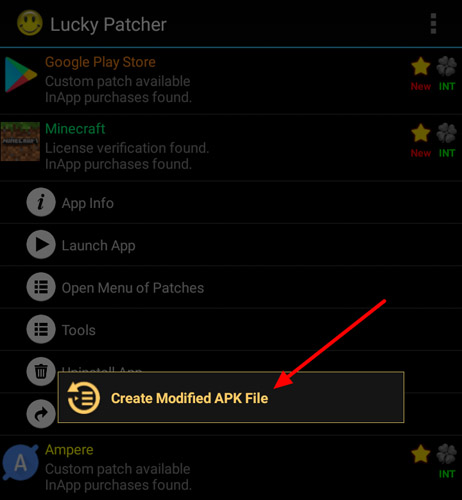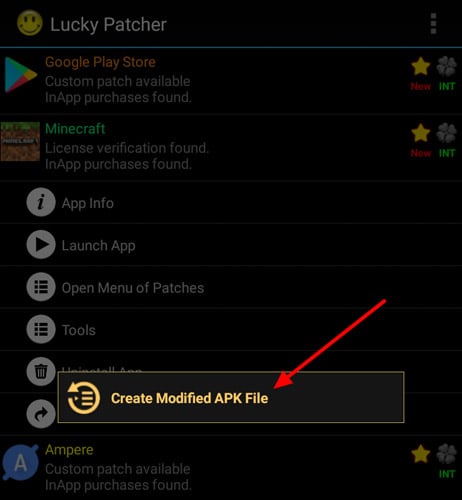 Step 7 – Then tap on "APK without License Verification".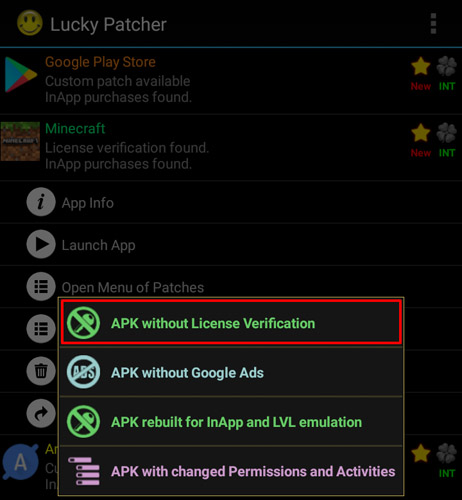 Step 8 – A new popup window will appear with several checkboxes. Make sure ONLY the first box i.e. "Auto Mode" is enabled.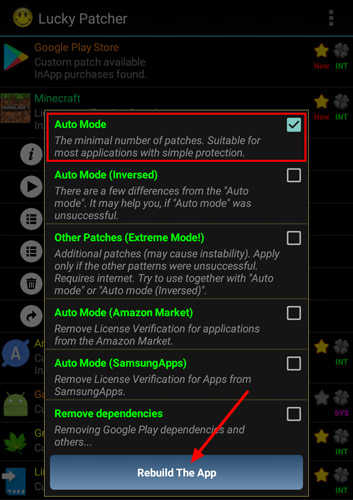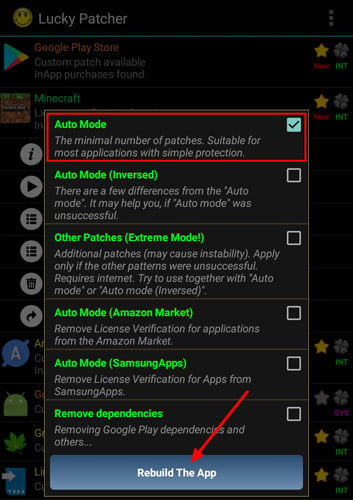 Then tap on the "Rebuild The App" button.
Step 9 – Now you have to wait for Lucky Patcher to create a modified version of Minecraft apk. It will take about 2-4 minutes. So please be patient.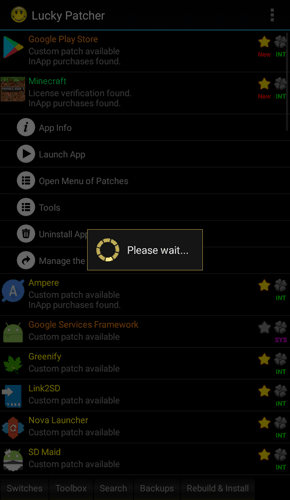 Step 10 – Once done, you will see a box with patch results.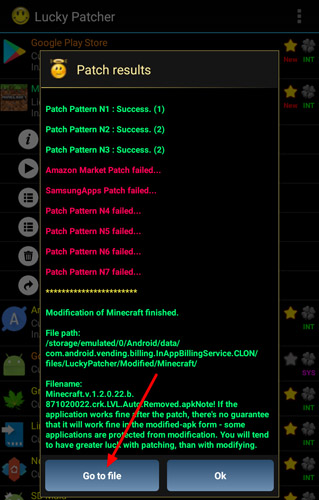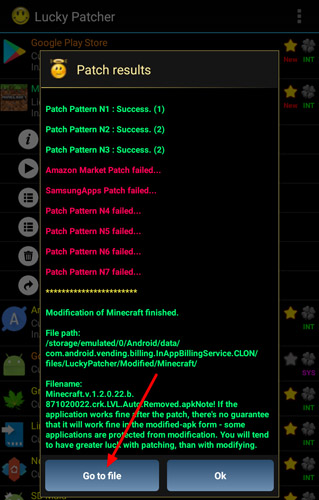 All you have to do is tap on the "Go to file" button.
Step 11 – Now tap on the apk file, as highlighted in the screenshot below.

Step 12 – From the several options, you have to tap on "Uninstall and install".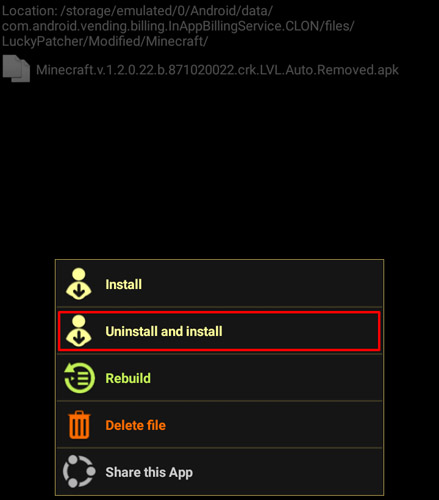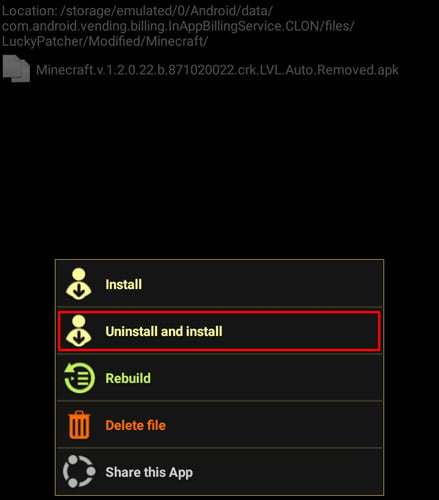 Step 13 – Android will ask you, "Do you want to uninstall this app?"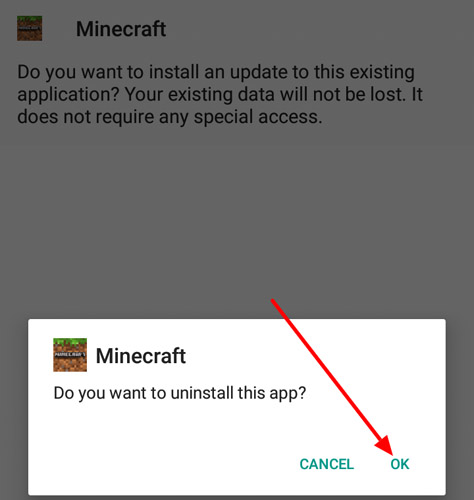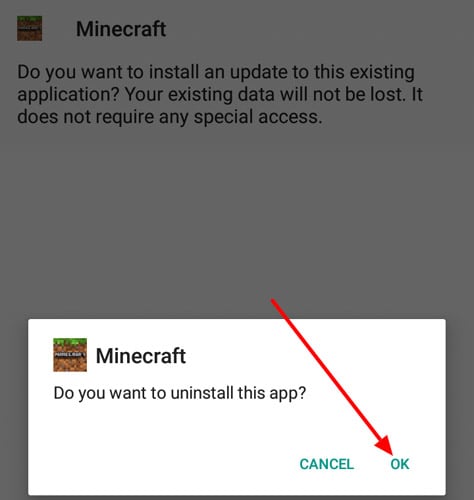 Tap on OK.
Once the app is successfully uninstalled, then tap on the Install button.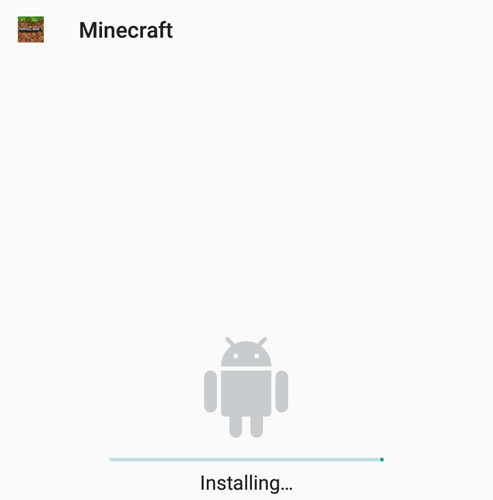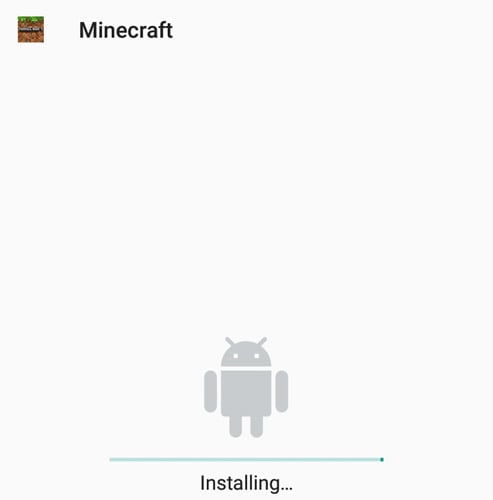 Step 14 – You can now launch Minecraft Pocket Edition and it will work without asking for license verification. 😀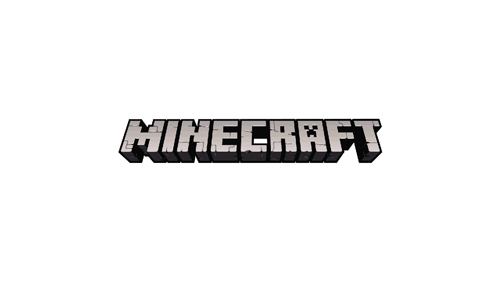 Enjoy the full version game for free and build your ultimate Minecraft empire…
Features of Minecraft PE for Android
We have highlighted few notable features of the Android Minecraft PE apk:
Worlds – Wide variety of worlds to choose from,
Gaming Modes – Two gaming modes i.e. Creative and Survival,
Difficulty Levels – Four difficulty levels to choose from i.e. Peaceful, Easy, Normal, and Hard,
Environment – Provides you a selection to change the environment to either day or night,
Multiplayer – Play with your friends over a local WiFi network.
Minecraft Pocket Edition Demo Video
Do you know how the latest release of Minecraft Pocket Edition apk looks like on Android? Check the demo video below with new features and updates:
About Minecraft Pocket Edition
Developed by Mojang, Minecraft is one of the most highly successful, brilliantly popular, and award-winning game on PC, gaming consoles as well as mobile devices. After a huge number of requests, the developer released an Android version and named it Minecraft: Pocket Edition. Since the release of the Android version of the game, it has gained a lot of traction among the hardcore Minecraft fans who have been playing the game for hours, no matter where they are.
Categorized under the gaming genre of arcade, action, and adventure, Minecraft PE game provides you with a huge randomly generated 3D world along with a large collection of blocks and items to reshape any existing world or use your creativity to build your own.
If you are with your friends and want to build something together in the same virtual world then simply launch a multiplayer mode, which is easy to set up over a local WiFi network, and have fun with your friends.
There is simply no objective and the gameplay seems like an animated version of Lego. You get an unlimited amount of resources and building blocks and you are completely free to visualize, create anything, and have fun in your virtual world.
The latest Ender update released by Mojang for Minecraft Pocket Edition added plenty of new items, add-ons support, new world, resource packs, behavior packs, mash-up packs, texture pack, skin pack, increased height limitation, and lots of other cool stuff which took Minecraft to the whole new level and enhanced the possibilities of the game on your Android device.