| | |
| --- | --- |
| Name: | Lucky Patcher |
| Developer: | ChelpuS |
| Category: | Utility |
| Size: | 4.6 MB |
| Version: | 8.7.4 |
| Price: | Free |
| Release: | 01 - 05 - 2020 |
| Availability: | WorldWide |
| Safety: | Safe |
| Language: | English |
| Playstore: | Not Available on Playstore |
| Requirements: | Android device with root access to use all the features. |
| Package name: | com.android.vending.billing.InAppBillingService.LOCK |
| Rating: | 4.3 |
| Downloads: | 100000+ |
Download APK File
Click below to download the app.
App Details & Guide
Lucky Patcher apk mod download for Android to permanently remove ads from apps, modify its permissions, apply custom patches, free in-app purchases, and bypass license verification of premium/paid apps.
Lucky Patcher latest version is an awesome free Android apps and games hack utility to help you achieve all of that, effortlessly and within a matter of seconds 😉
Lucky Patcher, developed by ChelpuS, is absolutely free and one of the most advanced hacking utilities ever developed for the Android operating system as it has the capability to give you complete control over the apps and games you have installed on your phone.
You can mod countless apps and games, block ads and make apps ad-free, remove unwanted system apps from your Android device, ability to move apps to SD card from internal storage, option to quickly remove license verification from paid games and apps.
However, it is important to keep in mind that to be able to modify and patch apps or perform all the following mentioned advanced tasks, you need to have a rooted Android device.
But, if you don't have root access or looking for a no root Lucky Patcher apk version then the app we have provided on this page will work flawlessly without root too and let you patch/bypass license verification. Apart from that, some expert features will be hidden though.
What You Can Hack With Lucky Patcher?
There are a number of tasks you can perform on the Android apps using the Lucky Patcher hacking apk tool, but each one of those operations is very powerful. Those tasks are:
Ability to load a custom patch,
Remove license verification from apps and games,
Remove Google ads and make apps ad-free,
Patch in-app purchases emulation,
Patch license verification (LVL) emulation,
Modify components/disable permissions of the apps and games,
Manually patch any app using Hex-String, and
You can even create a modified game and app APK file after patching.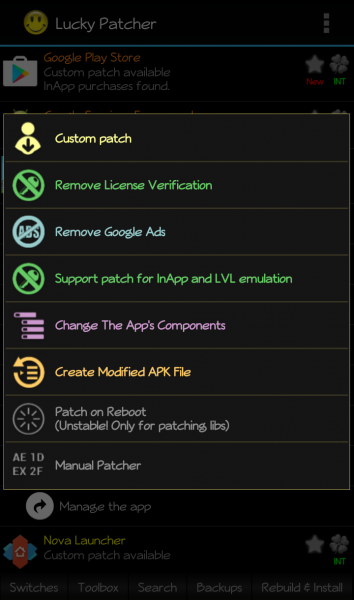 That is cool, isn't it? 😀
Do you know how to hack in-app purchases using Lucky Patcher? We have a complete 100% working step-by-step guide to help you free in-app purchases on Android games and apps with Lucky Patcher on Android.
What's Included in Lucky Patcher Mod Lite
We have also added a Lucky Patcher modded lite version apk for our readers, here is what this version offers you:
All language packs removed except English, Italian, and Spanish.
Optimized graphical aspects.
Compressed all the graphics and images.
Removed duplicate images.
Very smaller file size and footprint.
Features of Lucky Patcher for Android
And that is not all. Those were only the patches and modifications provided by the Lucky Patcher.
There are some additional useful tools too, which come handy at times while patching or hacking games on Android. Like the option to:
Block in-app purchases from paid apps and games, which allows you to buy premium in-game items, coins, gems, and upgrades for free.
Option to remove any unwanted permission from any Android app or game and create a modified version of the app.
Make any supported app or game ad-free by blocking or removing advertisements.
Hack or modify selected games or apps using a huge collection of Lucky Patcher custom patches.
Clone any app and remove any saved purchases,
Disable or freeze the app,
Move any app to the system directory (/system/app),
Create a backup of the app/game and its data,
Restore app/game and its data from the backup,
Move app to external SD card storage (/sdcard).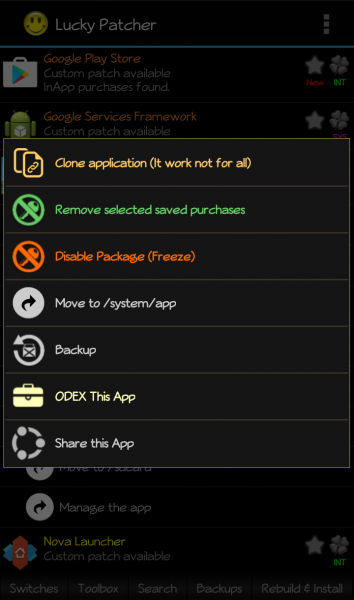 So, whether you want to modify the app to remove ads or want to patch your favorite game, the original latest version of Lucky Patcher apk can help you achieve all of that in a blink of an eye and does not require you to be tech-savvy. 🙂