Snapchat is one of the most highly popular snaps and videos-based chatting and social media apps for Android and iOS devices where you can not only share your personal stories but you can easily find, discover, and watch videos and photos from almost any part of the world. It is a powerful app.
However, to protect the privacy of the uploader, taking a snapshot or screenshot of any snap or video will directly notify the uploader just to make them aware. But to be able to secretly save snaps from Snapchat, we have reviewed over four methods that you can use on Android to achieve that.
Without any further ado, let's just quickly jump onto the best Snapchat Saver apps for Android:
1. Save your Friend's Snapchat Stories, Videos, and Snaps without any App
One of the best methods to safely save snaps shared on Snapchat is using a built-in method that can be used by almost anyone. And using this same method you can not only backup snaps but also you can store videos, stories, and conversations too.
We all are very well aware of the fact that every Snapchat story, video, and photo is automatically removed within twenty-four hours of uploading it. And once that period has passed, you won't be able to access them again.
However, we are going to share with you an easy trick to save any Snapchat snap within seconds. And to achieve that we will be using Snapchat's chat feature.
Follow these steps:
Open your friend's Snapchat story.
While you are viewing the story, just swipe up or tap on the CHAT text to open a chat window.
Write something relevant about that story and tap Send. The message will be sent to your friend.
Now, quickly head over to the Snapchat Chat section and tap on your friend's name. That will open a chat window, and you should see the snap on which you just commented.
Tap and hold on to that snap. You will see, the "SAVED" message. And all the saved messages will be highlighted with a grey background.
Once SAVED, you can tap and hold on to any SAVED message to 'UNSAVE' it whenever you like to.
Easy peasy! You just saved your friend's snap without even letting them know. You can now access these saved snaps in chats whenever you want. And if those saved snaps are sent directly to you then you are allowed to even store them on your device.
2. Built-in Screen Recorder (If there is any)
This is solely your phone manufacturer dependent (or, sometimes your ROM dependent). If your phone doesn't have a built-in screen recorder then skip this one and jump to the next method.
Many phones these days come preloaded with a ROM that has a built-in screen recorder, similar to iOS and iPhone. Some of the manufacturers include this as a feature as it provides better compatibility and user won't have to install any third-party recorder.
Those manufacturers are Google Pixel, Samsung Phones, Xiaomi, and OnePlus as they usually have custom ROM like Oxygen OS or MIUI and they include pre-loaded tools.
If you have one of these devices then a simple search on your phone's settings or app drawer will direct you to the built-in screen recorder app. You can easily use that to record all the snaps and easily store them on your device.
3. Mobizen Screen Recorder
Mobizen is a powerful and feature-rich screen-recording app that has the capability to not only capture and record your screen but it also allows you to edit and personalize the recorded video.
Once installed, you can use it as a Snapchat Saver app and begin recording any snaps within a matter of seconds. The app lets you record in high-quality 2k resolution at over sixty frames per second so you will get crisp and clear recordings of the snaps.
Once recorded, you can use the editing tools to crop, trim, and resize the video. To further personalize the recording, you can add background music as well as an intro and outro to give it a professional touch.
Moreover, if you have planned to upload it on YouTube or any other social media channel then you can add your reactions using the Facecam feature, which records everything on the go so you won't have to spend any time on merging clips later on.
4. AZ Screen Recorder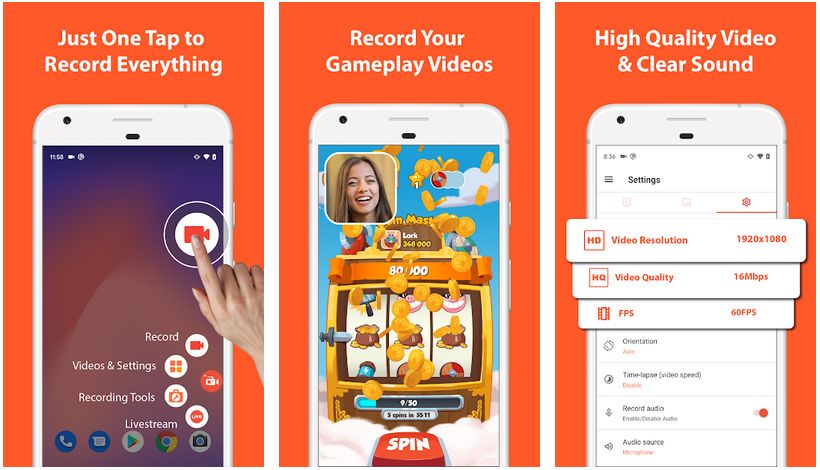 Similar to the previous app, AZ Screen Recorder offers identical features and allows you to record Snapchat, and let you use it as one of the best Snapchat Saver apps for Android phones.
The app allows you to record both, the screen as well as the audio from the snaps. And if you want, you can enable a microphone too, which lets you record your voice and comments. All in one go.
AZ Screen Recorder lets you customize the resolution, quality, orientation, and FPS of the recording for an enhanced experience according to your requirements. And just like any other recorder, you can edit screen recordings and screenshots along with the audio. All of this helps in post-editing if in case the saved snaps need any final touches.
Which Snapchat Saver app did you like the most?
We hope you find out methods helpful and are able to get one of the best Snapchat Saver apps for your Android device to able to save any video or pictures from the highly popular snap-based social media platform.
If our blog post helped you in any way then please don't forget to share your opinions with us in the comments down below, we like to read each one of them! 🙂
Also, if you know about any app that can help us directly save Snapchat snaps without being detected then let us know about it. We will have a look at it and make sure to review and add that app to the article during the next update.